Manfred talks current, future policy changes
Commissioner wants all the facts before deciding domestic violence, hacking discipline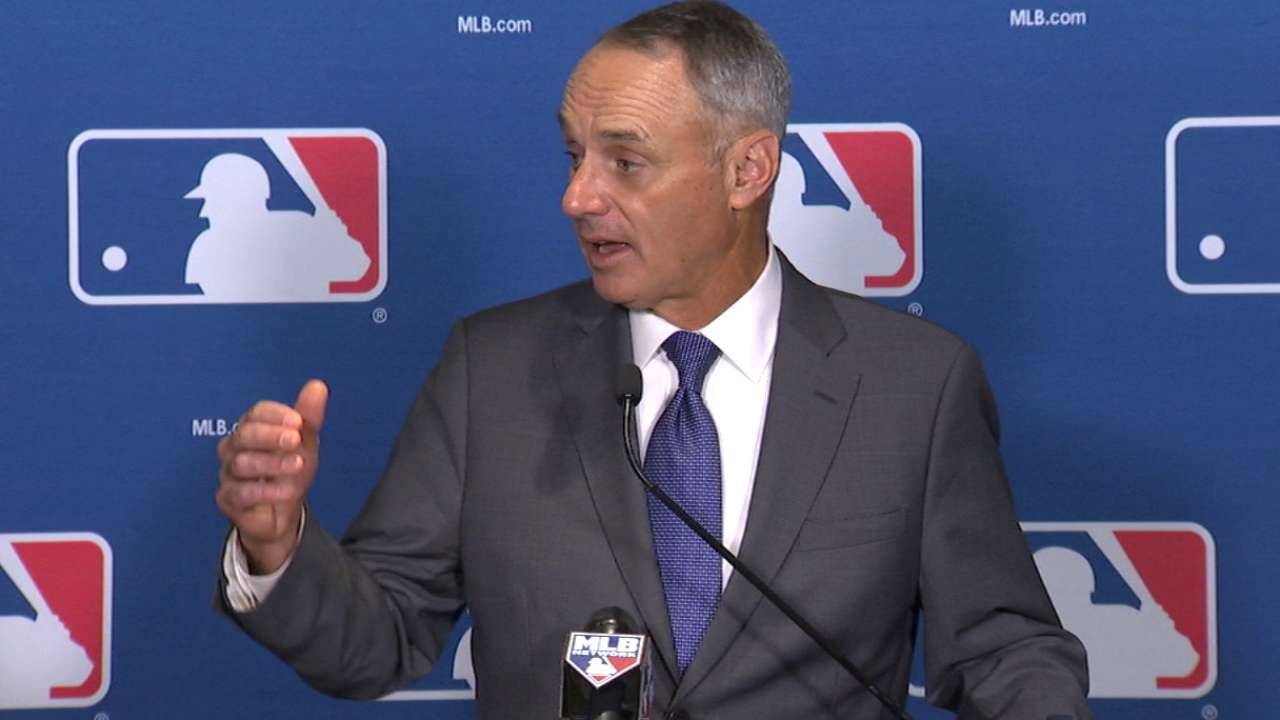 CORAL GABLES, Fla. -- Shortly before the news broke that Yankees reliever Aroldis Chapman would not face criminal charges stemming from a domestic dispute in October, Commissioner Rob Manfred was asked if Major League Baseball would announce possible discipline against Chapman, Dodgers outfielder Yasiel Puig and Rockies shortstop Jose Reyes before Spring Training or the regular season started.
After all, the players and their teams would like to know as soon as possible if suspensions might be forthcoming for the three players who were allegedly involved in incidents since Major League Baseball announced its new domestic violence policy.
Manfred said he could not say, in part because he needed to let the legal process play out.
"I would love to have these resolved before we begin play again," Manfred said as the quarterly Owners' Meetings wrapped up at the historic Coral Gables Biltmore on Thursday.
"But the one thing I've learned about these cases is timing is not mine," Manfred said. "You have to really rely on the criminal process playing out in order to put yourself in a position that you're comfortable what the facts actually are before you impose discipline. So I'd love to get it done on that timetable, [but it's] not completely within my control."
Having the charges dropped arguably helps Chapman's situation. At the same time, the agreement between MLB and the Major League Baseball Players Association gives the Commissioner leeway to act regardless of what happens within the judicial system.
Manfred is keenly aware that getting it right will be even more important the first time the domestic violence policy is applied.
"When you have a new policy, the first ones take on a special significance in terms of tone and precedent and all those things," he said. "So I'm going to make sure to know everything I can possibly know about each of these cases before I make any decisions.
"It's important because it's an important societal issue, an issue that people are passionate about. You know, baseball has tried to be thoughtful and a leader in the space. Like every institution, we're not perfect. We're not always right. But we really would like to send the right message in terms of what we do here. So it's important in that regard."
Manfred touched on a variety of subjects during his 20-minute media availability.
Labor relations: The current Collective Bargaining Agreement expires Dec. 1.
"I'm not going to answer questions about this one, but we did spend considerable time on bargaining preparation efforts," Manfred said. "It is that time when we're proximate to the expiration of the agreement, and obviously, we spent time with the clubs getting ready for that process."
DH debate: There's been renewed talk about the possibility that the National League might adopt the designated hitter rule. Manfred conceded there might be more willingness to accept such a change because of season-long Interleague Play and a desire to protect pitchers from injuries. On the other hand, he also noted that the DH is the strongest remaining way to distinguish between the leagues.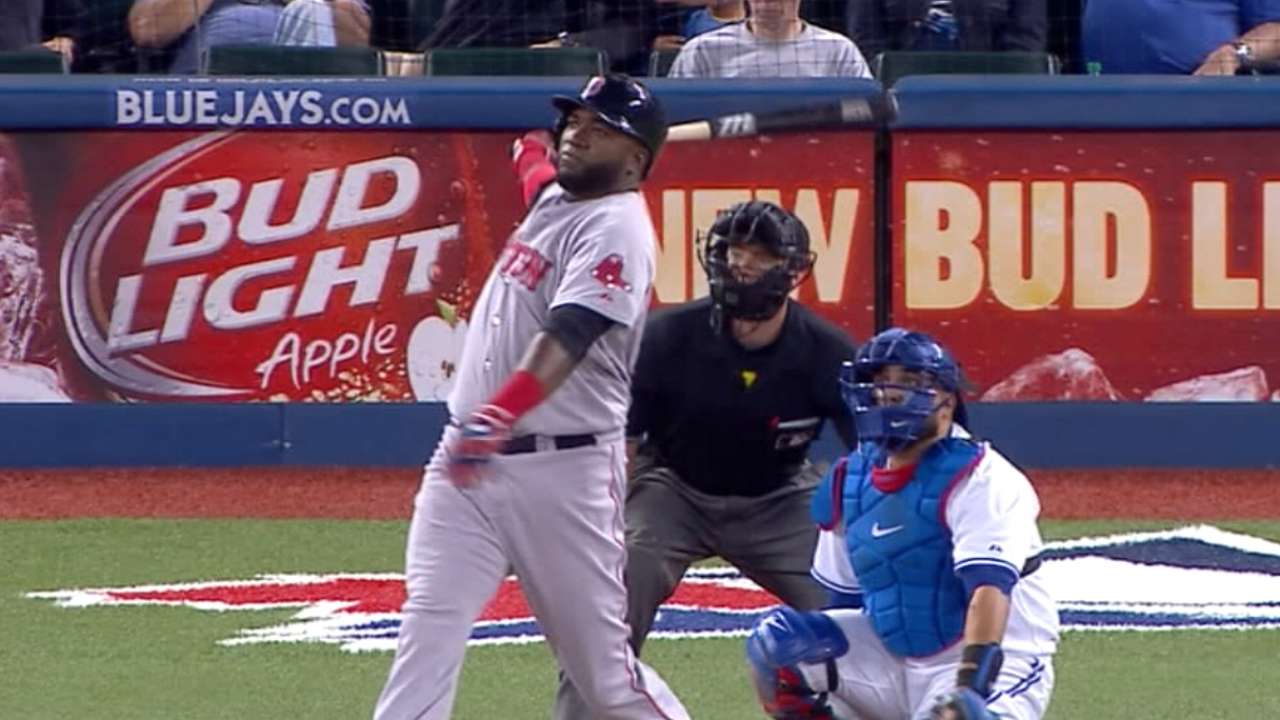 • Justice: Debate picks up, but DH rules not changing soon
Cuban players: The possibility was brought up that normalized relations between the United States and Cuba could soon lead to an influx of players from the island.
"It's more complicated than an agreement [between MLB and] Cuba," Manfred said. "Really, the kind of agreement we would like to see that would allow Cuban players to come here and return home would require a substantial change in the current regulatory framework in the United States. It would have to be something bigger than baseball."
And how about the chance that President Barack Obama could expedite such an agreement with an executive order?
"The Commissioner of Baseball guessing what the President of the United States is going to do would be disrespectful, at a minimum," Manfred noted. "I can say this: Our conversations with the administration convinced me they're interested in fulfilling the sort of goal that President Obama set out. We will continue to work with them in an effort to get the sort of change that will be helpful to our business. Hopefully that will be in line with their policy goals."
Aug. 1 Trade Deadline: The non-waiver Trade Deadline was moved back by one day for this season only because July 31 falls on a Sunday this year.
"Given the way we play games on Sunday, that didn't seem like it made the most sense," Manfred said. "So we decided to move it the one day. We don't think it will be the end of modern civilization to do it one day later and probably much better for the clubs."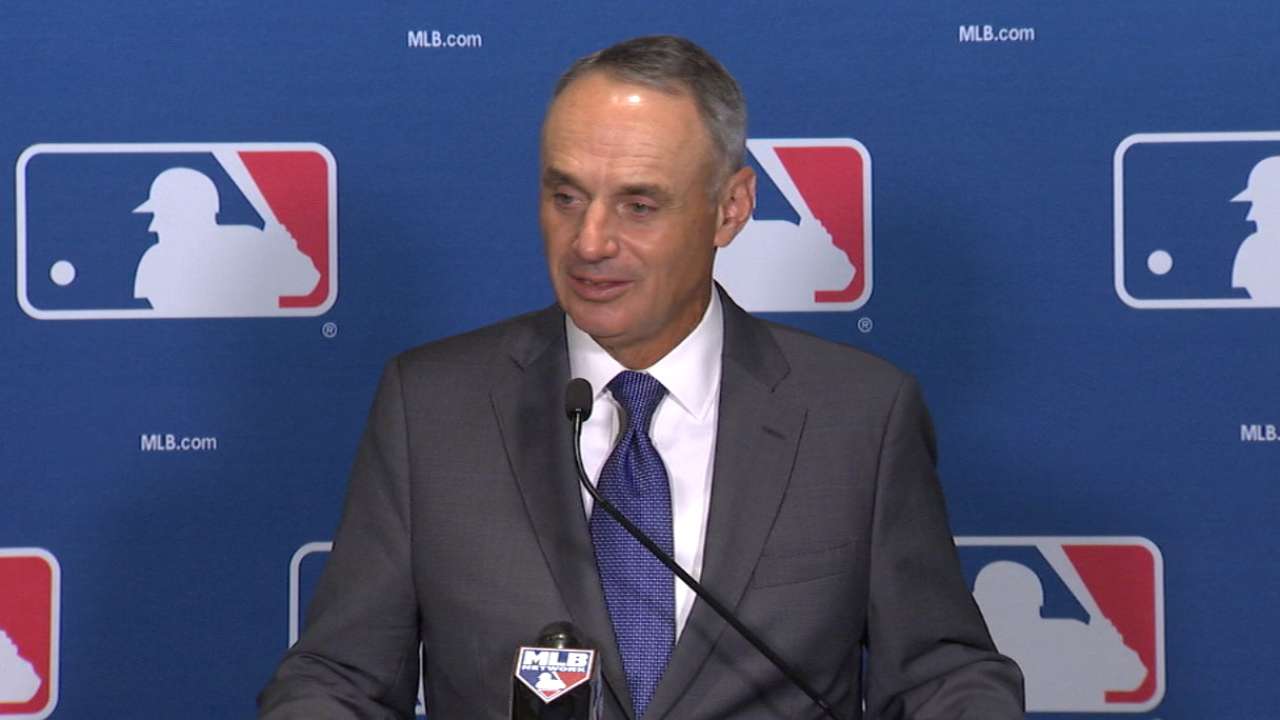 Stadium security: Manfred said that U.S. Director of Homeland Security Jeh Johnson spoke to all the owners on Wednesday and provided a general update of security in the country as a whole, which led to a discussion on keeping the ballparks safe.
Hacking incident: Manfred was asked about the possibility that the Cardinals could be disciplined for hacking the Astros' proprietary computer system. Earlier this month, former team employee Chris Correa pleaded guilty to five counts of unauthorized access to computer information.
"I want to deal with [that] when I'm comfortable that I can know all of the facts," Manfred said. "The government is uniquely positioned to know exactly what happened there. If I conduct my own investigation, the idea that I would be able to uncover the sort of information they can without the benefit of subpoenas and warrants and whatnot is just not realistic. We have not yet received a full briefing on the facts. I'm hopeful that as that process moves along that the U.S. Attorney will share as much information as he can with us, and I'll try to make the best decision possible."
Paul Hagen is a reporter for MLB.com. This story was not subject to the approval of Major League Baseball or its clubs.