Where will Ausmus bat J-Up in Tigers' lineup?
Manager could slot newly signed outfielder in No. 2 spot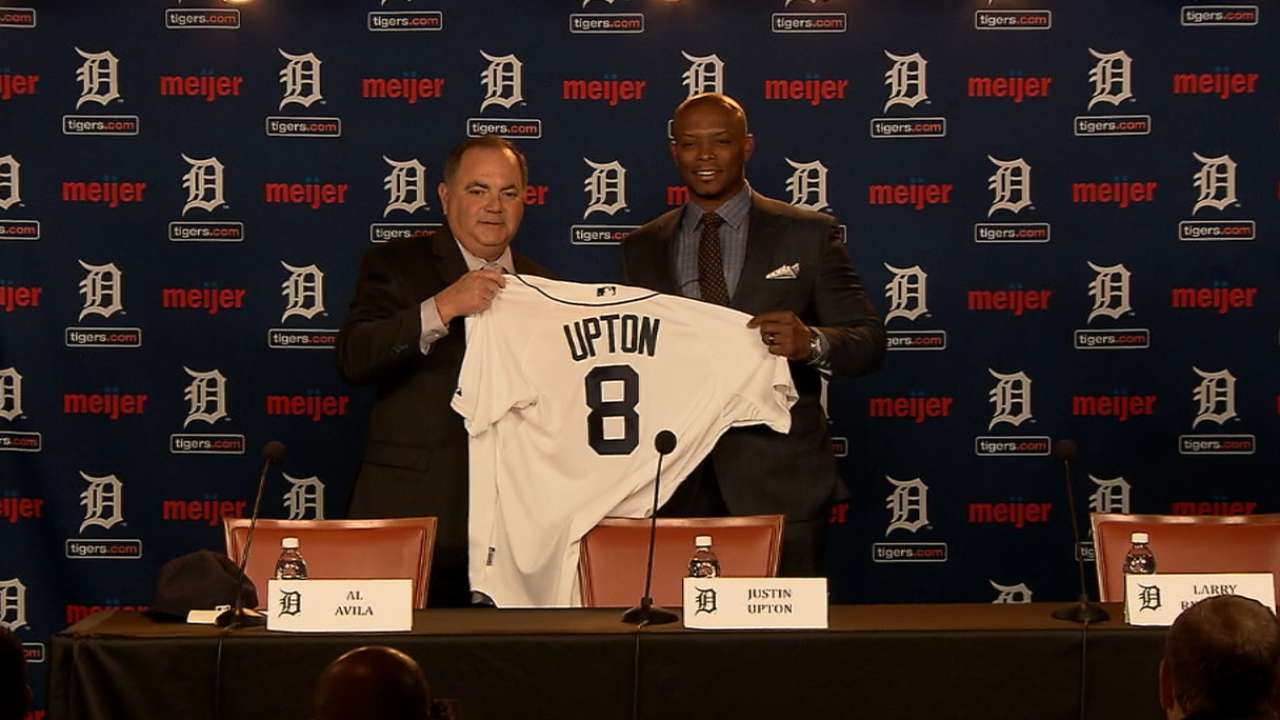 DETROIT -- Tigers manager Brad Ausmus came to town for the Tigers Winter Caravan with a pretty firm itinerary from the team, from visits at the Detroit Police Department and Livonia Fire Department in the afternoon to a Toledo Mud Hens charity dinner at night. By contrast, Ausmus had to change his vacation plans for the team last week.
Ausmus was packing up for a family vacation to Jackson Hole, Wyo., last week when he got the call from Tigers general manager Al Avila, who said he was on his way to Arizona to recruit Justin Upton. Ausmus was on the next flight from San Diego to Phoenix.
• 'Plan A' works out: Tigers welcome Upton
Considering the sacrifice his ultimate boss, owner Mike Ilitch, was making to try to sign Upton, it was an easy decision.
"I was sitting right next to Mr. Ilitch [at the Jordan Zimmermann news conference] when he said he didn't care about the money," Ausmus said. "So my right hand had my fingers crossed behind me, and my left hand was [waving] going, 'I think we're done.'
"I thought once we signed [Mike] Aviles, that might be it, until after the holidays. Then in talking with Al, I got the feeling there might be one more rabbit pulled out of a hat."
• Torii helped to sell Upton on joining Tigers
With Upton, a three-time All-Star and two-time Silver Slugger who signed a six-year, $132.75 million contract, Ausmus has a very nice bat to add to his lineup. He's still weighing how best to utilize Upton in his batting order, either in the front of his cluster of All-Star hitters or on the other end of it.
"In my mind, you hit him second, or you hit him somewhere five or six," Ausmus said.
What Ausmus decides will have a ripple effect on the rest of the lineup. If Upton bats second, in front of reigning batting champ Miguel Cabrera, then Ian Kinsler will return to the leadoff spot, where he spent most of 2014 but just 25 games last year. If Upton bats further down, Kinsler would bat first or second, with a group of candidates -- including shortstop Jose Iglesias and center fielder Cameron Maybin -- for the other spot.
• Bat Pack: Top swingin' quartets ranked
That's assuming Maybin is starting that given game. With Upton taking over in left, the one spot for Anthony Gose to play more than sparingly is in center, where Maybin appeared likely to get the bulk of the playing time.
With Spring Training still about a month away, Ausmus isn't even speculating on how he'll handle it. When asked how he sees center field with Upton in left, Ausmus played coy.
"I think it's massive, huge," Ausmus said of center. "That's how I see it."
His review of a rephrased question on the center-fielder situation was more on topic, though not much clearer.
"I'm going to reserve [judgment] on that," Ausmus said. "We'll wait until we get to Spring Training. Cam and Gosey both can play center. Gosey's probably played the corner-outfield positions a little bit more than Maybin. J.D. [Martinez is] going to play right the majority of the time. Upton's going to play left the majority of the time. We'll just kind of see how center field plays out."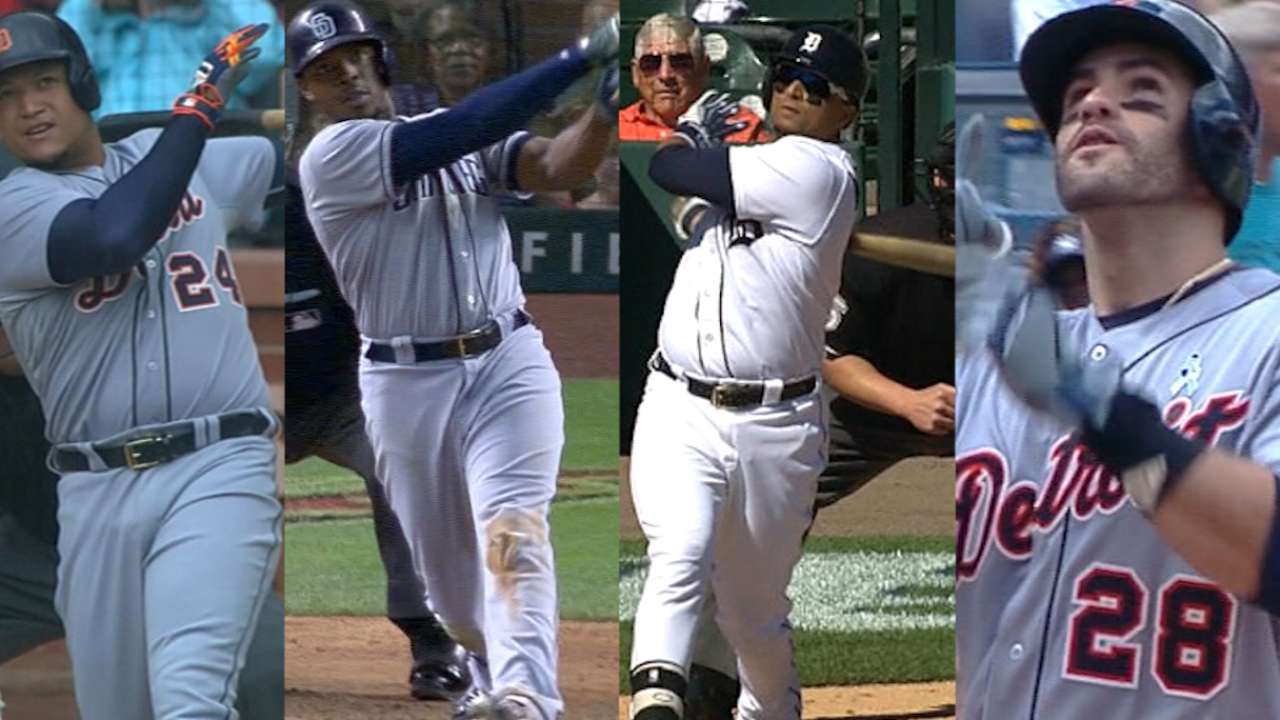 As for Tyler Collins, who made the bulk of the starts in left following the Yoenis Cespedes trade last July, Upton's arrival likely leaves him fighting for a roster spot as a left-handed hitter off the bench. Even that could be tough; Ausmus said Aviles and infielder Andrew Romine will likely be on the roster barring something unforeseen.
"I'm sure [Collins] wasn't ecstatic about the signing," Ausmus said, "but I still think Tyler's got a chance to be a good Major League player. What happens coming out of Spring Training is yet to be seen, but he can run, he can hit, he can hit for a little bit of power. I think he's learning to allow the game to come to him rather than to tackle it, which is part of the maturation process."
Jason Beck is a reporter for MLB.com. Read Beck's Blog, follow him on Twitter @beckjason and listen to his podcast. This story was not subject to the approval of Major League Baseball or its clubs.