MLB.com Columnist
Hal Bodley
Taking stock of Cespedes' suitors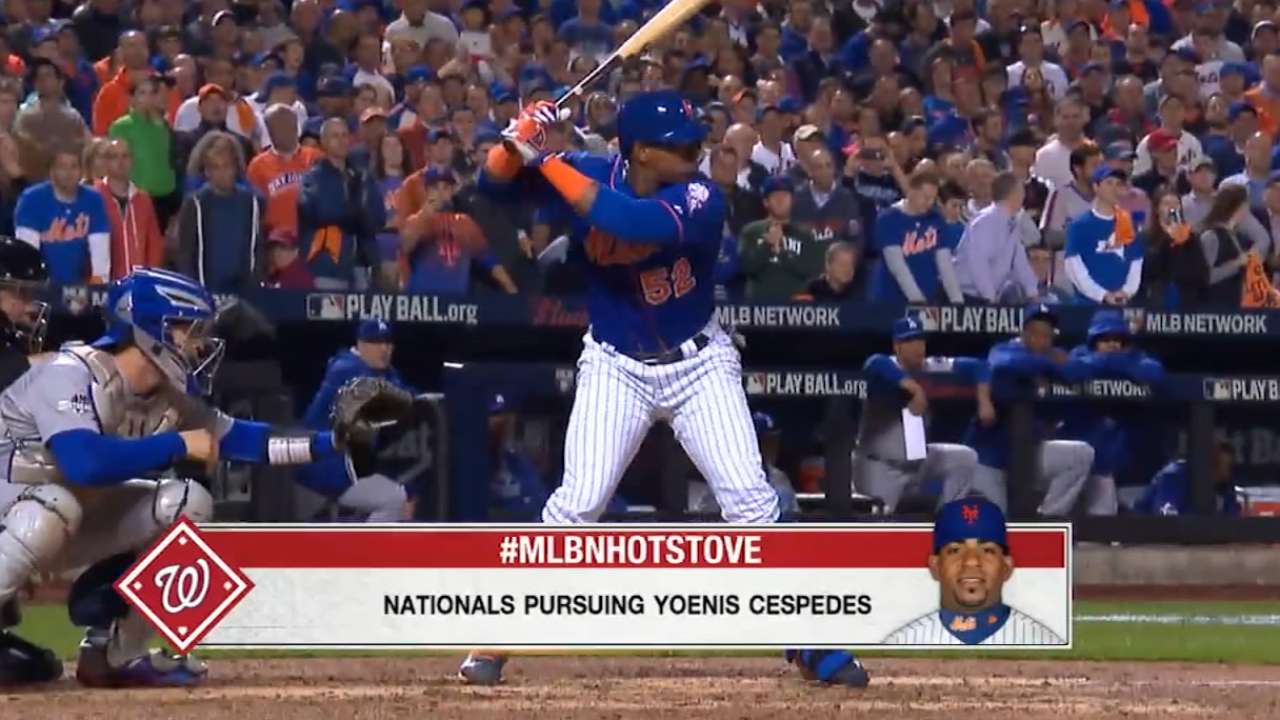 If George Steinbrenner were still alive, I can picture him swooping in, signing prized free-agent outfielder Yoenis Cespedes to a mega-bucks contract and landing his Yankees on the coveted back pages of the New York tabloids. Take that, Mets!
Of course, the Boss, with all his bluster and big spending, is no longer with us. His much more conservative son, Hal, runs the Yankees these days.
So it's unlikely the Yankees will open their checkbooks and give the multitalented Cespedes, who propelled the Mets to the World Series, the deal he wants. The Yankees have yet to sign a big-name free agent this offseason.
But it was Hal Steinbrenner who tickled the imagination of Yankees fans during the Owners' Meetings in Coral Gables, Fla., on Wednesday.
"We're always looking to improve the club. You never know with us," he told reporters, including MLB.com's Paul Hagen. "We've surprised people in the past."
Swinging a deal like that this offseason is unlikely. Yet Hal wouldn't rule out the franchise making eye-catching free-agent acquisitions, once a Yankees hallmark, in the future.
"I've always said when we have a significant amount of money coming off the payroll in any given year, I'm going to put as much of that as I can back into the team," Steinbrenner said. "We had no money come off this year. The money that came off went right back into arbitration."
Meanwhile, the 30-year-old Cespedes is now the premier free agent remaining on the market after Jason Heyward (Cubs, $184 million for eight years), Justin Upton (Tigers, $132.75 million for six years) and Chris Davis (Orioles, $161 million for seven years) signed.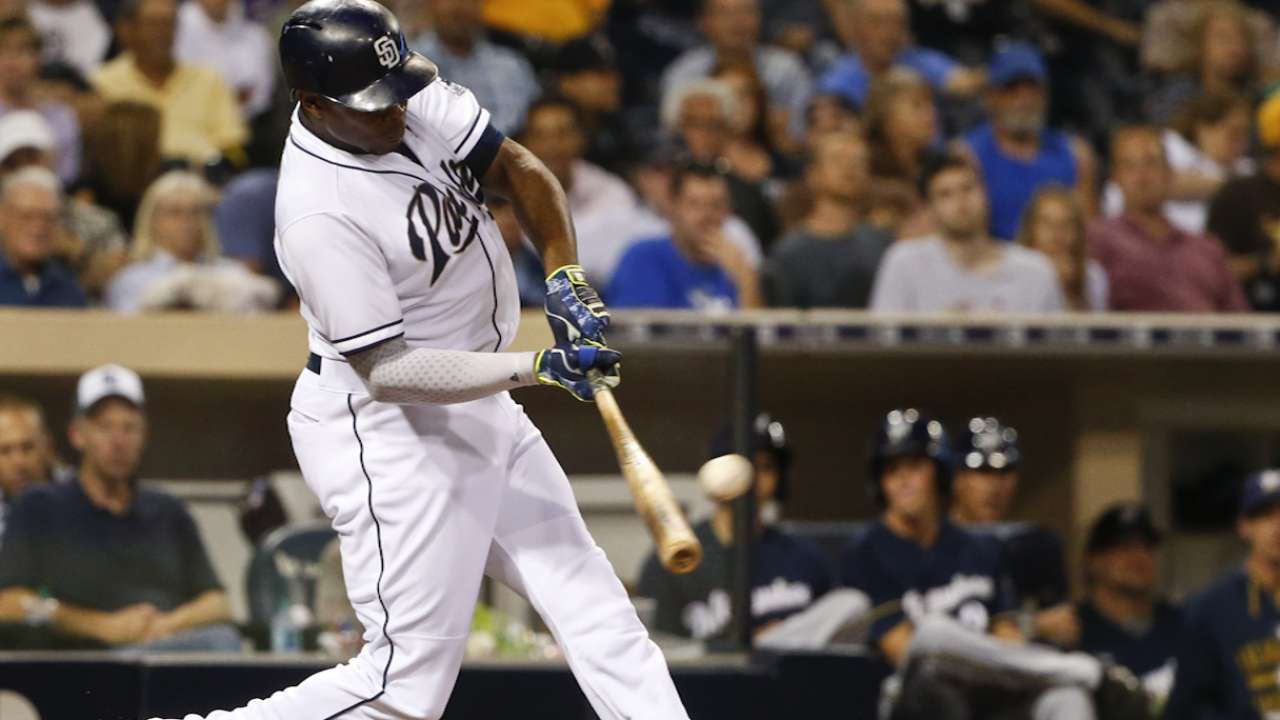 No one doubts Cespedes' talent or potential, but he's been unable to obtain the six-year contract for about $20 million a year he's reportedly seeking.
• Justice: Patience set to pay off for Cespedes
Although Cespedes has received offers and remains in demand, at this point, no team seems willing to give him the multiyear deal comparable to what some of the other big bats have received. And for him, this could be as much about ego as dollars.
FoxSports.com reported Thursday that the Nationals have made an offer to Cespedes, but it's supposedly less than the $132.75 million Upton received.
The Nationals, after 2015's disappointing season, have been making bold moves in an attempt to return to the postseason under new manager Dusty Baker. They signed free-agent second baseman Daniel Murphy, the Mets' National League Championship Series hero, and center fielder Ben Revere, who helped Toronto reach the playoffs for the first time since 1993.
And don't forget: The Nats shocked the market last year when they signed right-hander Max Scherzer to a seven-year, $210 million contact.
Cespedes, a right-handed slugger, would be an important addition to the batting order that revolves around NL MVP Award winner Bryce Harper.
But the Nationals' outfield is already set with Jayson Werth in left, Revere in center and Harper in right. The addition of Cespedes would probably send Werth to the bench.
That said, I don't think you can count the Nats out, because they made a serious attempt to sign Heyward and have some extra cash after Jordan Zimmermann signed with Detroit and shortstop Ian Desmond declined their qualifying offer.
Of all the suitors, I believe the Mets need Cespedes most. After they obtained him from the Tigers at the July 31 non-waiver Trade Deadline, he batted .287, with 17 homers and 44 RBIs in 57 games.
Cespedes had two homers and drove in four runs in the NL Division Series, but he cooled in the next two rounds. He batted just .150 in the World Series vs. Kansas City, with no homers and just one RBI. Overall, in five postseason series, Cespedes has a .277 average, with three homers and 14 RBIs.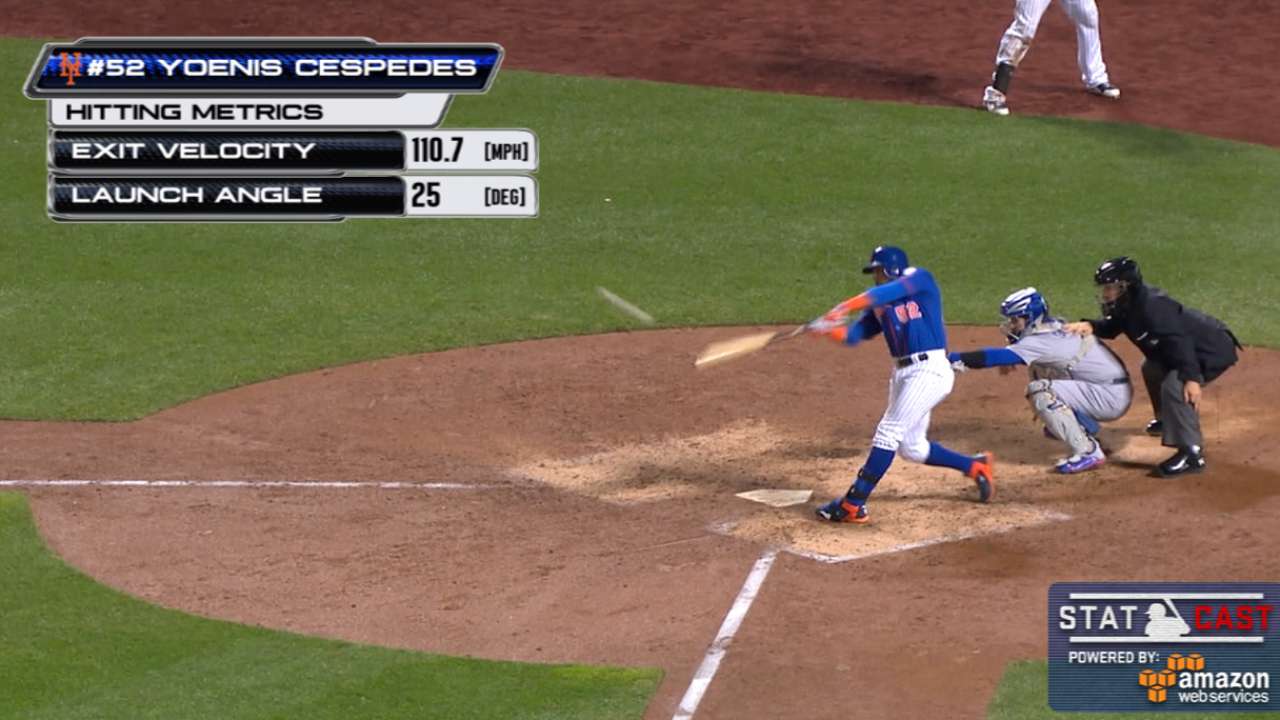 The Angels, White Sox, Cardinals and Padres have also made offers.
Mets owner Fred Wilpon told reporters at the Owners' Meetings his team is still in talks with Cespedes, and the New York Post reported a three-year, $60 million offer has been made.
That's unlikely to bring back Cespedes, who's been with four teams since he broke in with Oakland in 2012.
As we get closer to Spring Training, offers to Cespedes will probably increase. Of course, he could end up signing for one year with hopes an outstanding season would propel him to the dollars he's seeking.
Bottom line: The Mets need Cespedes as much as he needs them.
Hal Bodley, dean of American baseball writers, is the senior correspondent for MLB.com. Follow him @halbodley on Twitter. This story was not subject to the approval of Major League Baseball or its clubs.