MLB.com Columnist
Lyle Spencer
Kings of the road: Trout, Harper among top bats
Pair of young sluggers headline top hitters away from home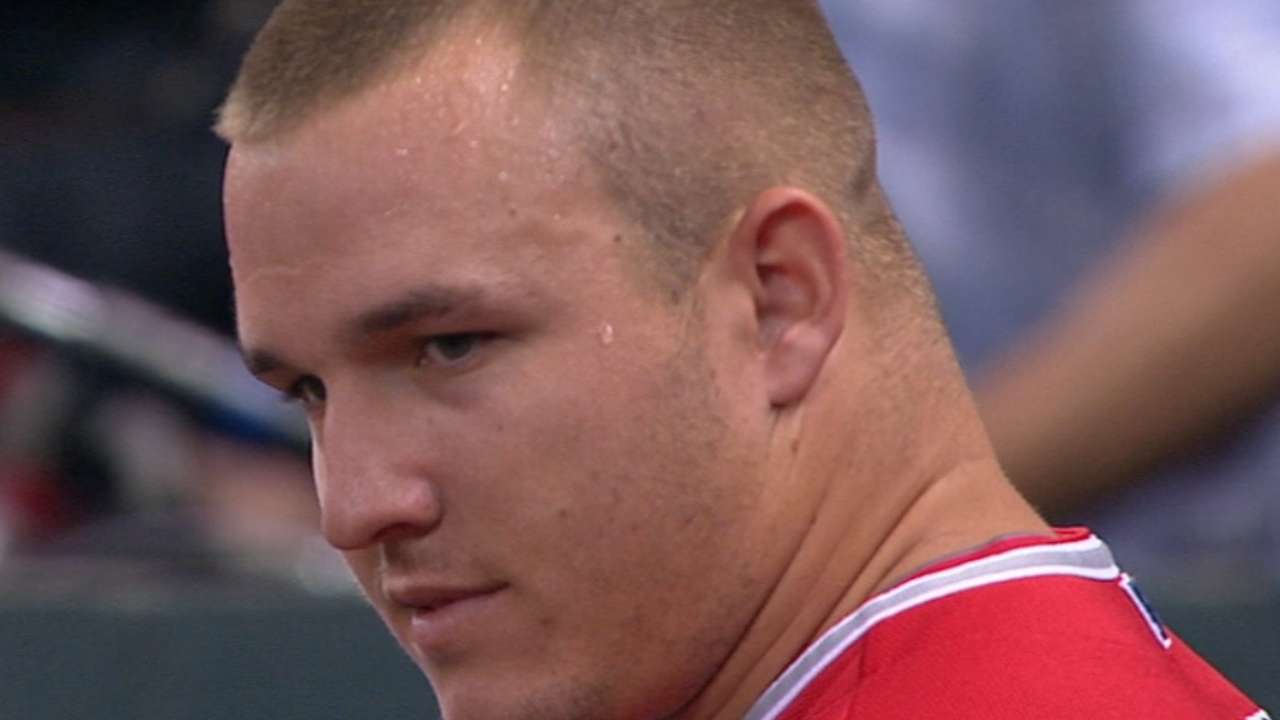 Since his full-time emergence on the Major League scene as the Angels' otherworldly center fielder in 2012, Mike Trout has been, among other things, the "King of the Road," seizing that title from Miguel Cabrera.
Over the past four seasons in road tests, where the playing field levels for everyone, Trout leads the sport in slugging (.572), runs (457), runs created (8.59 per 27 outs), total bases (695) and on-base plus slugging (.974) -- all by substantial margins.
Trout is second in hits (385), RBIs (211) and on-base percentage (.402), third in batting average (.317) and tied with Cabrera for fifth in home runs with 66.
Trout is brilliant defensively -- the eyes don't deceive -- and even as his stolen-base numbers have tumbled, he has remained a smart, aggressive baserunner with few peers.
In 2015, Trout did his customary damage, but Yoenis Cespedes and Bryce Harper emerged as threats to his road supremacy.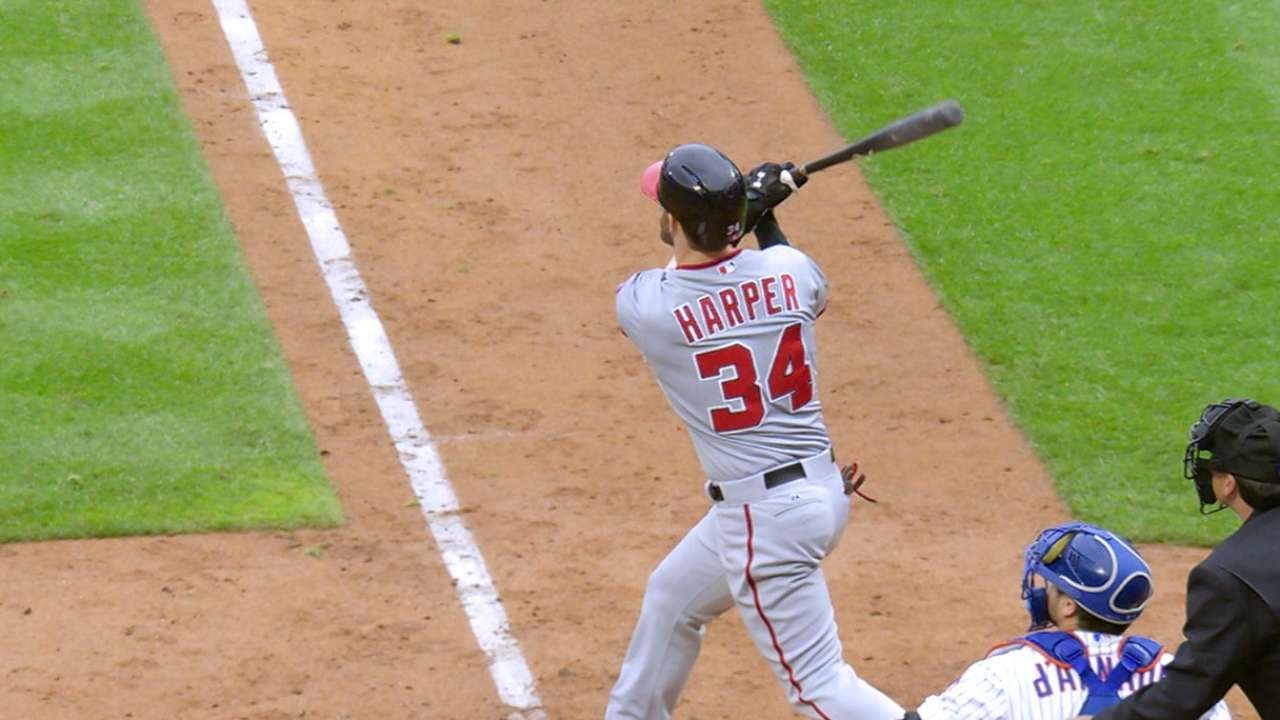 Harper led in road OPS at 1.049, followed by Trout's 1.023, Joey Votto at 1.012 and Cespedes and Nelson Cruz, at .976. Harper was second in OBP (.433) to Votto and third in slugging (.617) behind Cespedes and Trout, both at .623.
Cespedes ruled in road RBIs (73) and runs (65). His 25 homers trailed only Cruz, who bashed 27 for the Mariners away from Safeco Field. Anthony Rizzo (64) and Jose Abreu (57) followed Cespedes in road RBIs. American League Most Valuable Player Award winner Josh Donaldson had 54, one more than MVP runner-up Trout.
National League batting champion Dee Gordon and Ben Revere -- the Nationals' new leadoff man by way of Toronto in a swap for Drew Storen -- shared the road batting crown at .333. Revere is a .315 road hitter the past four years, fourth in the Majors.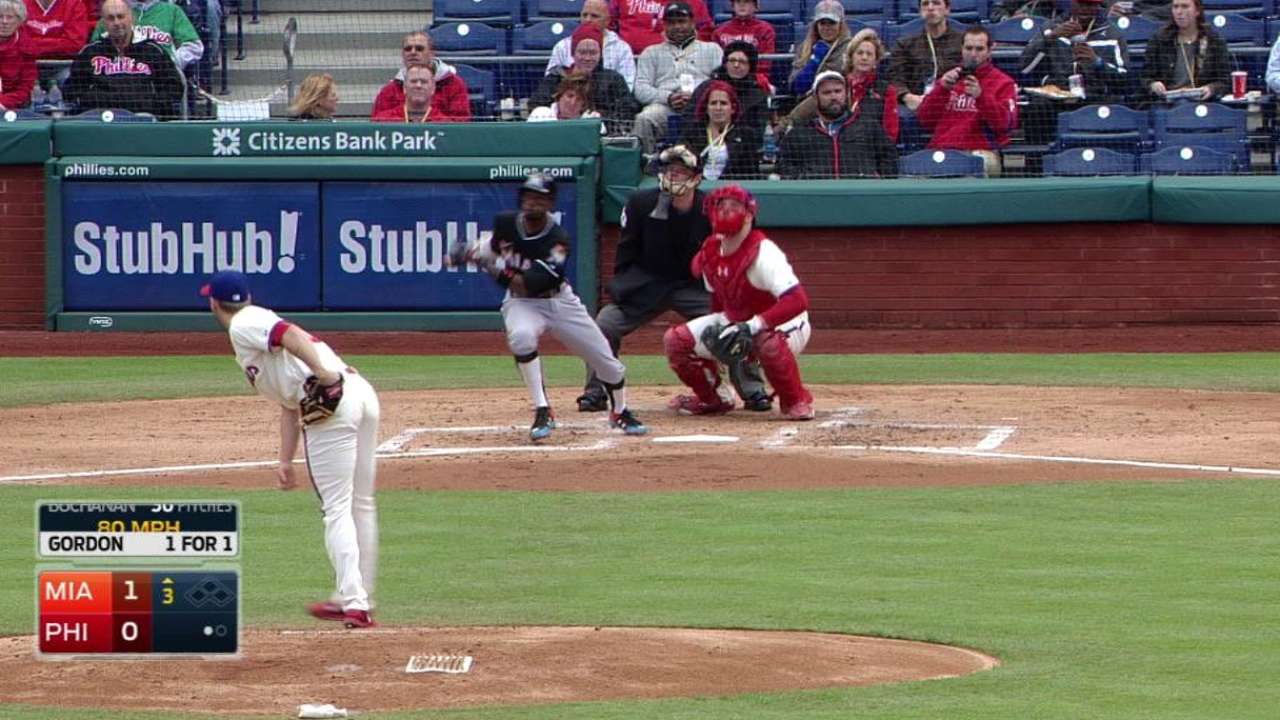 Buster Posey, the road leader since 2012 at .327, batted .330, Votto .326. Cespedes hit .320, tying Brandon Phillips for fifth. Trout and Harper hit .316, right behind Adam Eaton's .317.
The game's elite road bashers:
Trout
Trout's 457 runs scored since 2012 are 73 more than runners-up Ian Kinsler and Andrew McCutchen. One wonders what the Jersey kid would be doing playing home games in a hitters' park. Angel Stadium is historically friendly to pitchers. He's a .312 career hitter with 222 RBIs on the road, .296 with 175 RBIs at home.
Cabrera
In five seasons as a Marlin and eight with the Tigers, Miggy has made every park smaller: .329, 201 homers at home; .314, 207 bombs away. Since 2012, Cabrera trails only Trout in road OPS (.974 to .942) and total bases (695-625), while leading him in average (.320-.317) and RBIs (236-211).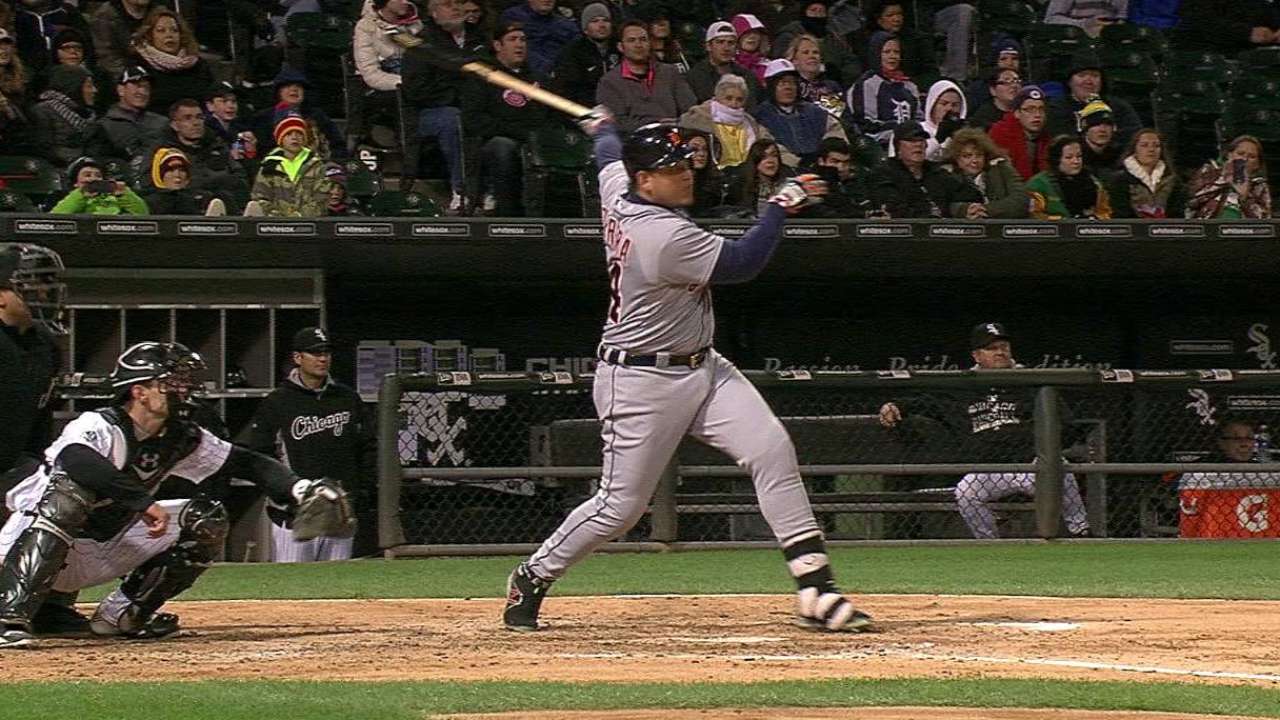 Posey
Arguably the game's most valuable player since 2010 as leader of the three-time World Series champion Giants, the soft-spoken catcher is a .328 career hitter with a .913 OPS on the road, .291/.799 at daunting AT&T Park. Posey has 63 homers away, 39 at home. Imagine what he could do in a hitters' park, playing any other position.
Votto
The game's most disciplined hitter has taken advantage of Cincinnati's dimensions with 104 home runs compared to 88 on the road. But Votto is a .320 hitter with a .963 OPS away from Great American Ball Park, where he hits .301 with a .951 OPS. He's second to Trout in runs created (8.06) the past four years.
Paul Goldschmidt
Chase Field favors the D-backs' superlative first baseman, but Goldschmidt's game travels nicely. Since 2012, Goldy ranks fourth in road OPS (.927), sixth in average (.307), third in runs created (7.34) and is tied for fourth in RBIs (203). He's a first-rate baserunner with 67 steals in 85 attempts, a 79 percent success rate.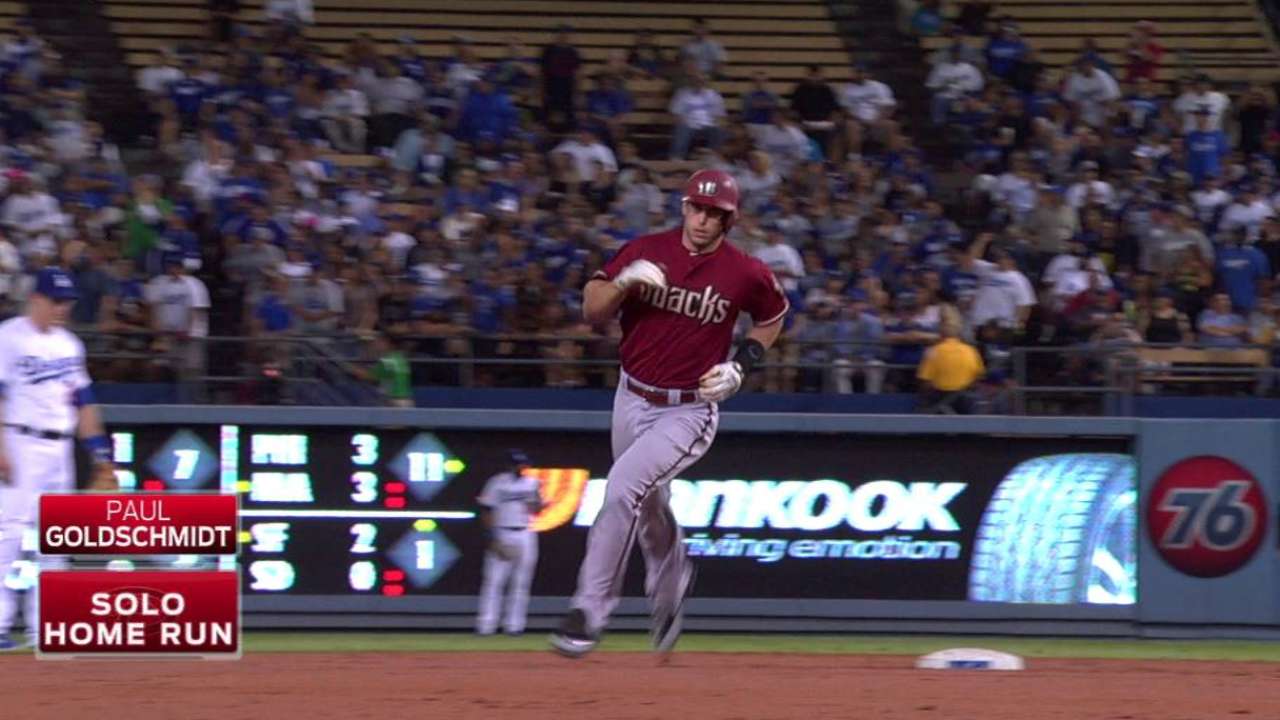 David Ortiz
As kind as Fenway Park has been to Big Papi, he has done more long-ball damage away from Boston: 282 career road homers, 221 at home. Ortiz is second in road homers with 74 the past four years and sixth in OPS (.910) since 2012.
Encarnacion
Beneficiary of a friendly home yard in Toronto, Encarnacion's 79 road homers lead the Majors since 2012. He's sixth in RBIs with 201, seventh in OPS (.907) and runs created per 27 outs (6.72).
McCutchen
Like Trout, Cutch does it all, everywhere he plays. He's eighth in road OPS (.889) since 2012, fifth in OBP (.390), sixth in runs created (7.02).
Nolan Arenado
The Rockies' emerging superstar produced 22 of his 42 homers away from cozy Coors Field in 2015, tying Goldschmidt for fourth in road RBIs with 56 while slugging .539.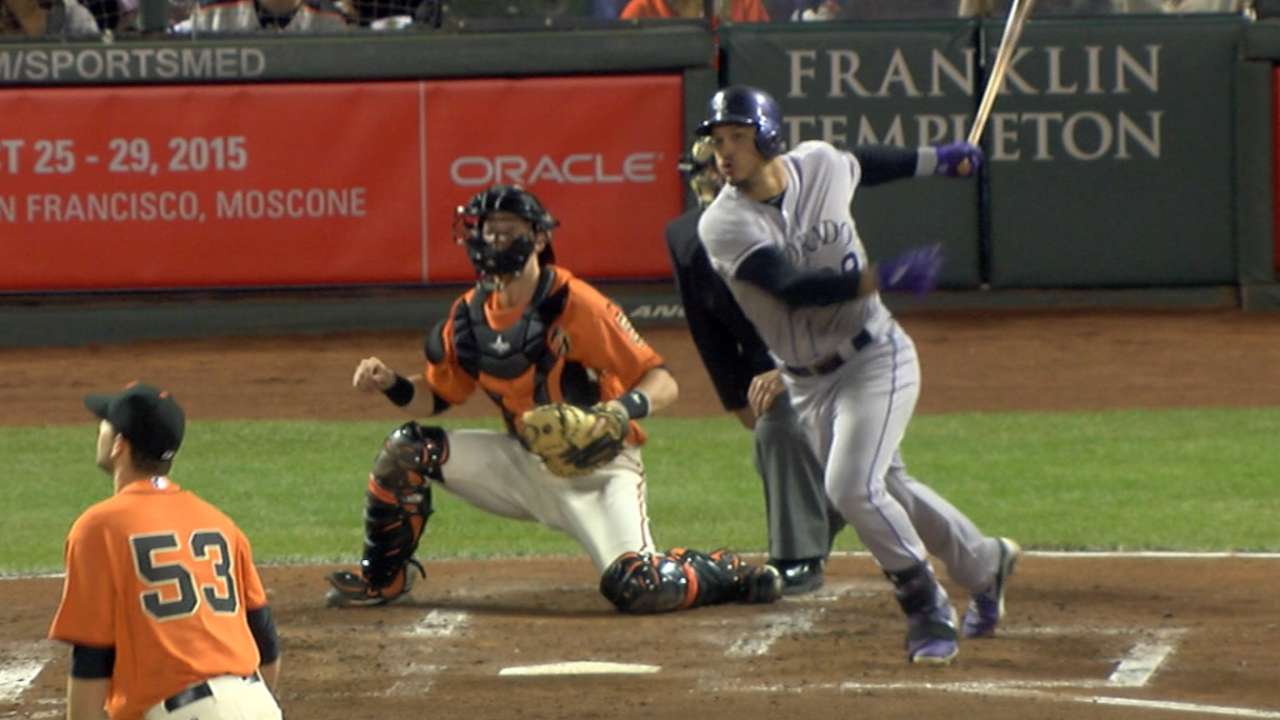 These are the big road boppers, but there are other notable road stars along with Harper, Cespedes, Gordon and Revere.
Brandon Moss is ninth in OPS at .882 since 2012, sixth in slugging at .532 -- just ahead of Cruz (.528) and Ryan Braun (.526). Cruz is third in homers with 72, Chris Davis fourth with 67. Adrian Gonzalez is third in RBIs (206).
Robinson Cano leads the Majors in road hits since 2012 with 387, two more than Trout, three more than Jose Altuve. Adam Jones is third in total bases (608), while Kyle Seager is fifth (599). Jose Bautista has 64 homers with an .860 OPS. Pedro Alvarez has 61 homers, one more than Albert Pujols, who is seventh with 195 RBIs. Jonathan Lucroy (.305), Melky Cabrera (.302) and Daniel Murphy (.300) have delivered with impressive batting averages.
Where's Giancarlo Stanton? He's 14th in road OPS (.846) since 2012, tied with Seager for 14th in homers with 57. The big man needs to stay healthy to join Harper and Cespedes in pursuit of Trout, King of the Road.
Lyle Spencer is a national reporter and columnist for MLB.com. Follow him on Twitter @LyleMSpencer. This story was not subject to the approval of Major League Baseball or its clubs.