Bat Pack: Top swingin' quartets ranked
Addition of Upton gives Tigers' offense one of baseball's hardest-hitting cores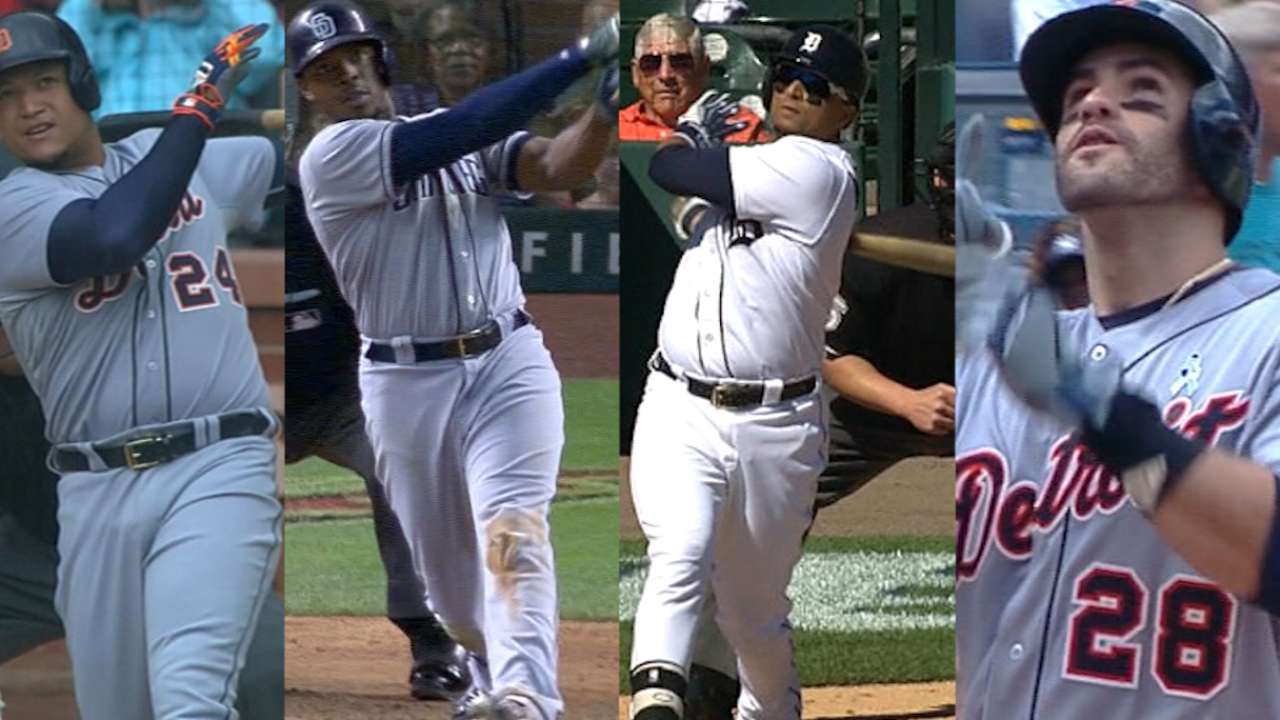 On Wednesday, the Tigers officially added Justin Upton to a lineup that already featured some accomplished offensive players.
Miguel Cabrera is one of the best hitters of a generation, a two-time American League Most Valuable Player Award winner with four batting titles in the past five seasons. J.D. Martinez has broken out in a big way the past two seasons, with 61 home runs and a .543 slugging percentage. Victor Martinez had a rough 2015 but led the AL in OPS the year before. And Upton, who received a six-year contract worth $132.75 million, has eclipsed 25 homers in five of his past seven campaigns.
"It is already a great lineup," Upton said at his introductory news conference. "I think I can do nothing but strengthen it."
• Tigers unveil newest big bat in Upton
But how does the core of the Tigers' lineup, which also includes Ian Kinsler, compare to the best in baseball? To answer that question, we used the 2016 Steamer projections to figure out the best quartets for the upcoming season. Steamer, available at FanGraphs.com, uses a player's past performance and age to project his future statistics.
With the help of those numbers, here is a look at the top five lineup foursomes for next season, based on cumulative offensive runs (Off), a component of wins above replacement (WAR) that includes batting and baserunning value. Each player's weighted runs created-plus (wRC+), a park-adjusted offensive metric, also is included. Pitchers, you've been warned.
1. Chicago Cubs (96.8 Off)
Anthony Rizzo: 143 wRC+, 31.2 Off
Kris Bryant: 137 wRC+, 29.1 Off
Jason Heyward: 123 wRC+, 20.2 Off
Kyle Schwarber: 124 wRC+, 16.3 Off
Such is the Cubs' strength, coming off a 97-win season and National League Championship Series trip, that this quartet doesn't even include offseason acquisition Ben Zobrist or a potential breakout candidate such as Jorge Soler. Steamer projects both Rizzo and Bryant to finish in the top 10 in the Majors in homers and wRC+, with Heyward and Schwarber joining them in the top 30 of the latter category. In his first year with the Cubs after signing as a free agent, the 26-year-old Heyward is pegged to produce his best wRC+ since his rookie season of 2010 with the Braves. Schwarber, who impressed after a midseason promotion in '15, projects for an .819 OPS and 26 homers over 126 games in his first full year.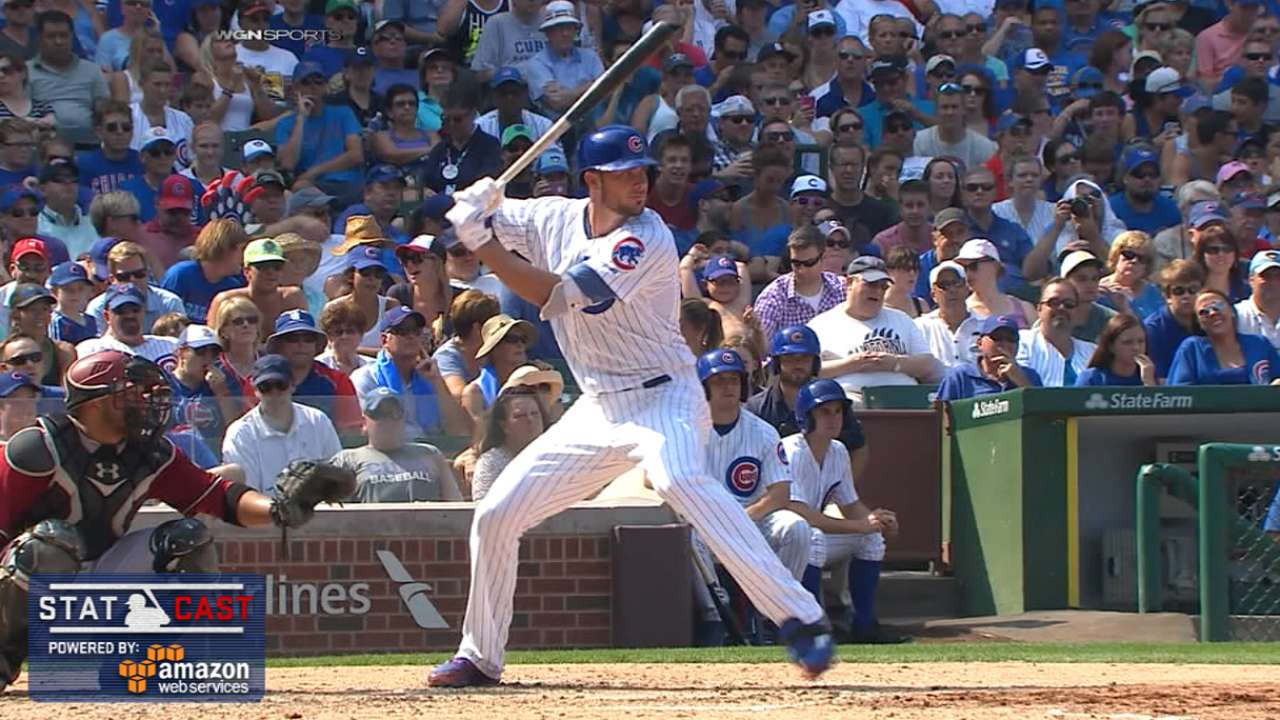 2. Washington Nationals (76.5 Off)
Bryce Harper: 164 wRC+, 48.7 Off
Anthony Rendon: 116 wRC+, 11.9 Off
Daniel Murphy: 114 wRC+, 9.0 Off
Jayson Werth: 112 wRC+, 6.9 Off
This placement might come as a surprise considering the Nationals' disappointing 2015, but having Harper obviously makes up for a lot. After leading the Majors in wRC+ (197) and WAR (9.5) last season, Harper is projected by Steamer to trail only Mike Trout in both categories in '16. The system also sees solid comebacks from Rendon and Werth, who both are coming off ineffective, injury-plagued campaigns. Murphy, so far the club's most significant addition, has posted a wRC+ between 103 and 110 for each of the past four seasons and is expected to continue that solid production. However, Steamer doesn't buy a continuation of his postseason power binge, forecasting nine home runs. If the Nats' rumored interest in free agent Yoenis Cespedes (111 wRC+, 9.0 Off) results in a deal, this quartet could get even stronger.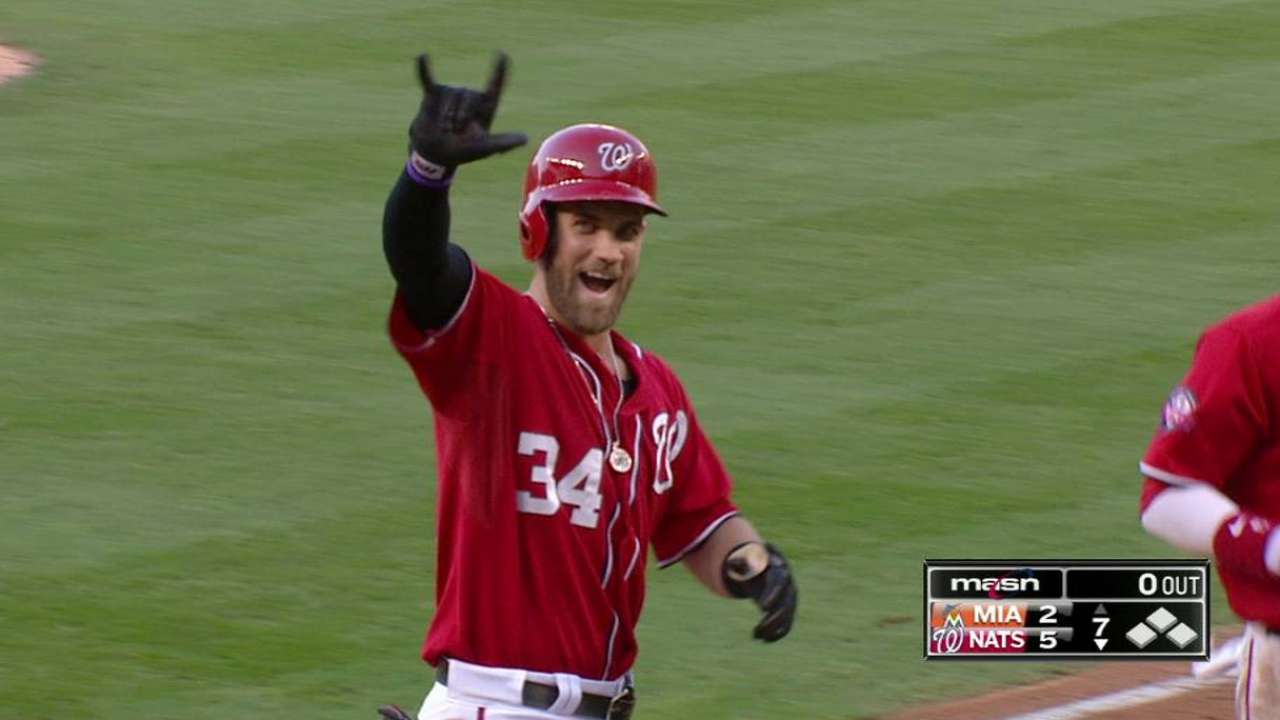 3. Toronto Blue Jays (75.3 Off)
Jose Bautista: 137 wRC+, 25.2 Off
Josh Donaldson: 131 wRC+, 23.9 Off
Edwin Encarnacion: 135 wRC+, 21.5 Off
Troy Tulowitzki: 110 wRC+, 4.7 Off
The Blue Jays boasted easily the best offense in baseball last year and certainly could repeat that feat, especially with the potential for a full season from Tulowitzki. While they don't have someone with the ceiling of Harper, they are the only club that projects to field three players with a wRC+ of at least 130 (only the Cubs have two). Bautista, Donaldson and Encarnacion also all are slated to reach 30 homers, with the reigning AL MVP Award winner ranking behind only Trout and Harper in WAR for the second year in a row. Tulowitzki (139 wRC+ from 2009-14) has the ability to provide much more than what he gave Toronto after last summer's trade, as long as he stays healthy.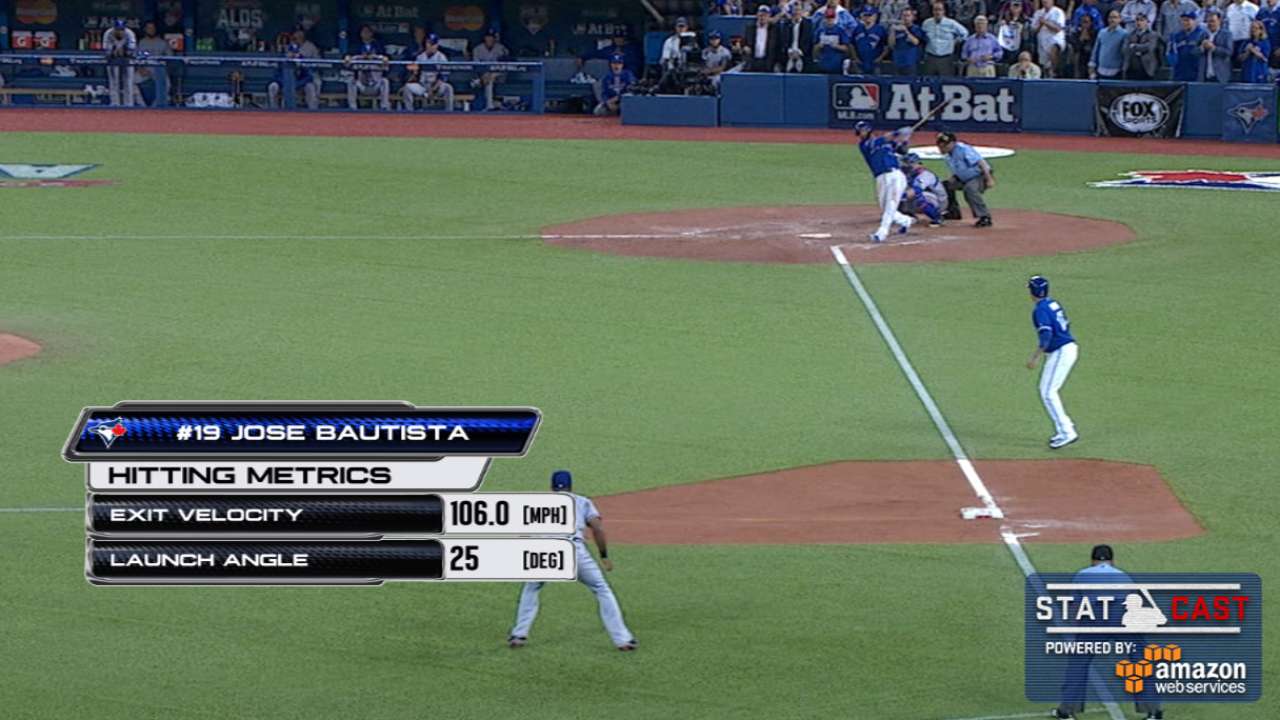 4. Los Angeles Angels (73.0 Off)
Trout: 175 wRC+. 59.1 Off
Kole Calhoun: 108 wRC+, 6.9 Off
Albert Pujols: 116 wRC+, 6.3 Off
C.J. Cron: 103 wRC+, 0.7 Off
Even more than the Nationals, this is a top-heavy quartet. Trout's exploits go a long ways, as he is projected to lead the Majors in runs, RBIs, slugging percentage and wRC+ while finishing third in average, on-base percentage and homers. As usual, Pujols' health will be a major determining factor in how much of a force he can be behind Trout. If Pujols reaches his projection of 27 homers -- 13 fewer than he hit in 2015 -- he would pass Frank Robinson for ninth on the all-time list, with 587. Cron, entering his age-26 season, has mashed 27 homers in 657 career plate appearances but posted a .296 OBP.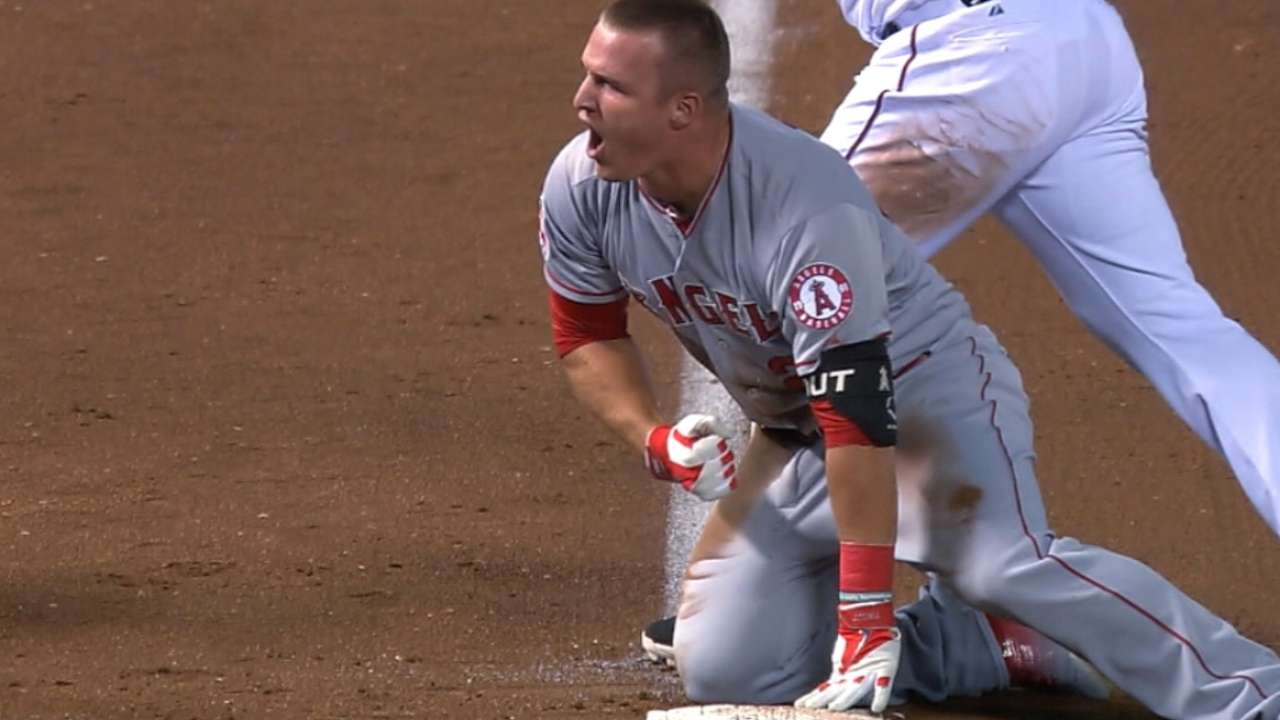 5. Detroit Tigers (70.2 Off)
Cabrera: 151 wRC+, 32.6 Off
Upton: 127 wRC+, 21.8 Off
J.D. Martinez: 119 wRC+, 12.3 Off
V. Martinez: 113 wRC+, 3.5 Off
In his Motor City debut, Upton projects to hit 28 homers, which would be his fourth straight season between 26 and 29. Cabrera (.314) lines up for another batting title and the fourth-highest wRC+ in the Majors, while Victor Martinez gets a significant rebound, landing comfortably between his 2014 career best (167 wRC+) and '15 slump (77). That could help turn things back around for a Tigers club that finished 10th in the AL in runs last year, on its way to a 74-87 record.
Andrew Simon is a reporter for MLB.com. Follow him on Twitter @AndrewSimonMLB. This story was not subject to the approval of Major League Baseball or its clubs.