Tigers still looking to add pitching depth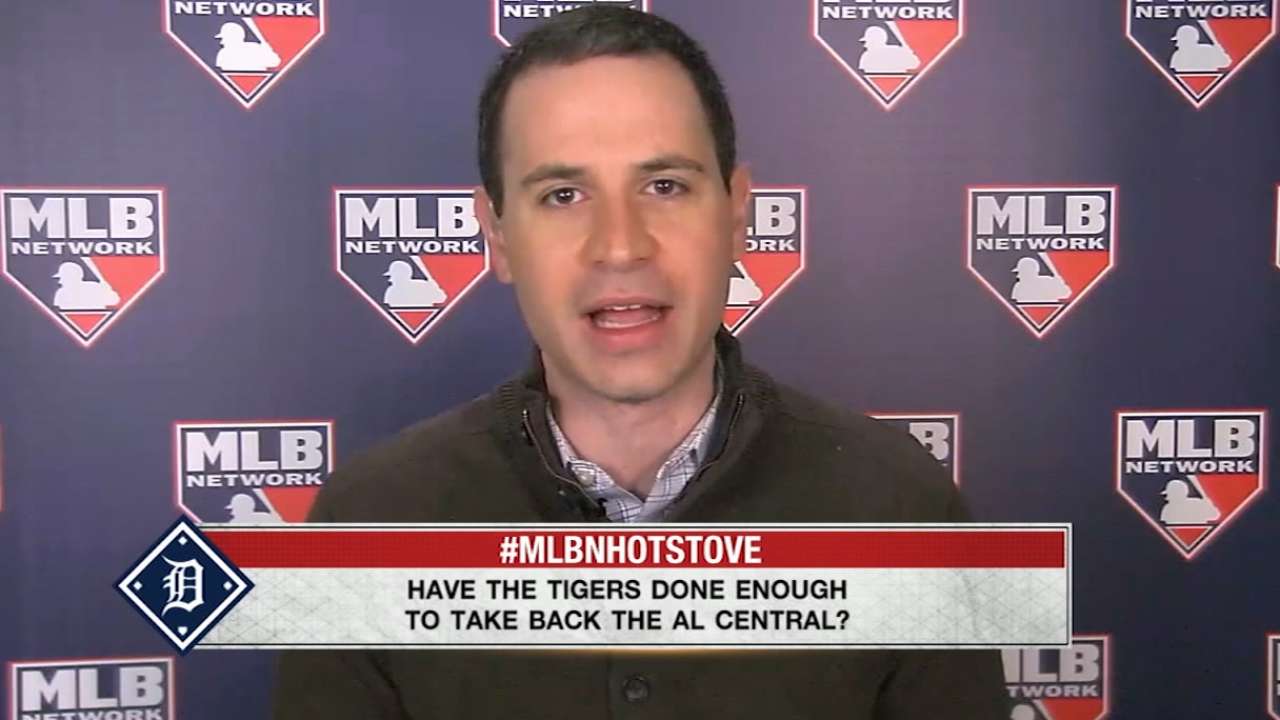 DETROIT -- The Tigers have spent just under $270 million in free agency this offseason, including the now-official six-year, $132.75 contract with outfielder Justin Upton. And yet, they might not be done.
Before owner Mike Ilitch last week authorized the payroll bump it would take to sign Upton, showing a willingness to pay the eventual luxury-tax penalty, general manager Al Avila noted bullpen depth alongside outfield help as his late-offseason needs. The outfield is now set, but the desire for another pitcher apparently remains.
Detroit might not flex its financial muscles quite so much to fill it, but with Major League relievers still available, Avila isn't resting on what he has accomplished in his first offseason as GM. When asked what Upton's arrival does for the team and its chances of winning, Avila cited the need for depth.
"We could bring Babe Ruth here tomorrow and it's not going to guarantee a championship here," Avila said. "It's going to take the entire roster. … It's going to be a team effort.
"Guys are going to get injured, and guys are going to struggle at times, and we have to get through that. That's why I like the depth. I like the depth in the infield. I like the depth in the outfield. I'd still like to have more depth in pitching, truth be told. But it's adequate right now."
Asked later if he was referring to starting pitching or relief depth, Avila said, "In general."
The rotation seems set with the additions of free agents Jordan Zimmermann and Mike Pelfrey. Avila has made a point of leaving one spot open for a young pitcher, with lefty Daniel Norris expected to get every look at the first opportunity.
The bullpen need seems more obvious. The late innings now rest on the arms of Francisco Rodriguez, Mark Lowe and Justin Wilson, recent acquisitions all. Beyond that, Alex Wilson and Blaine Hardy are all but assured of jobs, with Drew VerHagen holding a strong position for another spot. That still leaves at least one spot open.
Detroit has no shortage of young arms to compete for it, from enigmatic Bruce Rondon to converted starters Kyle Ryan, Buck Farmer and possibly Shane Greene. Even top starting prospect Michael Fulmer could compete for a spot, though he's likely to begin the season at Triple-A Toledo.
The remaining free-agent relief market includes former Tigers prospects Burke Badenhop and Jason Frasor from the right side, along with Matt Belisle, Tyler Clippard, Tommy Hunter, Casey Janssen, Joel Peralta, Dale Thayer and Ryan Webb, to name a few. The left side includes Craig Breslow, Brian Duensing, Sean Marshall, Franklin Morales, Eric O'Flaherty and Manny Parra.
Marte designated to make room for Upton
The Tigers had to open a spot on their 40-man roster to add Upton. Jefry Marte, the former Minor League signee who helped fill Miguel Cabrera's void during the slugger's midseason DL stint, was moved, his contract designated for assignment.
The 24-year-old Marte homered in his first Major League start, on July 8 at Seattle, and held his own for somebody who hadn't batted above Double-A until last year. The corner infielder batted .213 (17-for-80) in Detroit with four homers and 11 RBIs, walking eight times against 22 strikeouts. He also batted .275 (98-for-357) for Toledo with 25 doubles, 15 homers and 65 RBIs.
Detroit has 10 days to trade, release or outright Marte to the Minor Leagues. He has enough seasons in the Minors to become a Minor League free agent, which is how he found his way into the Tigers' farm system last offseason.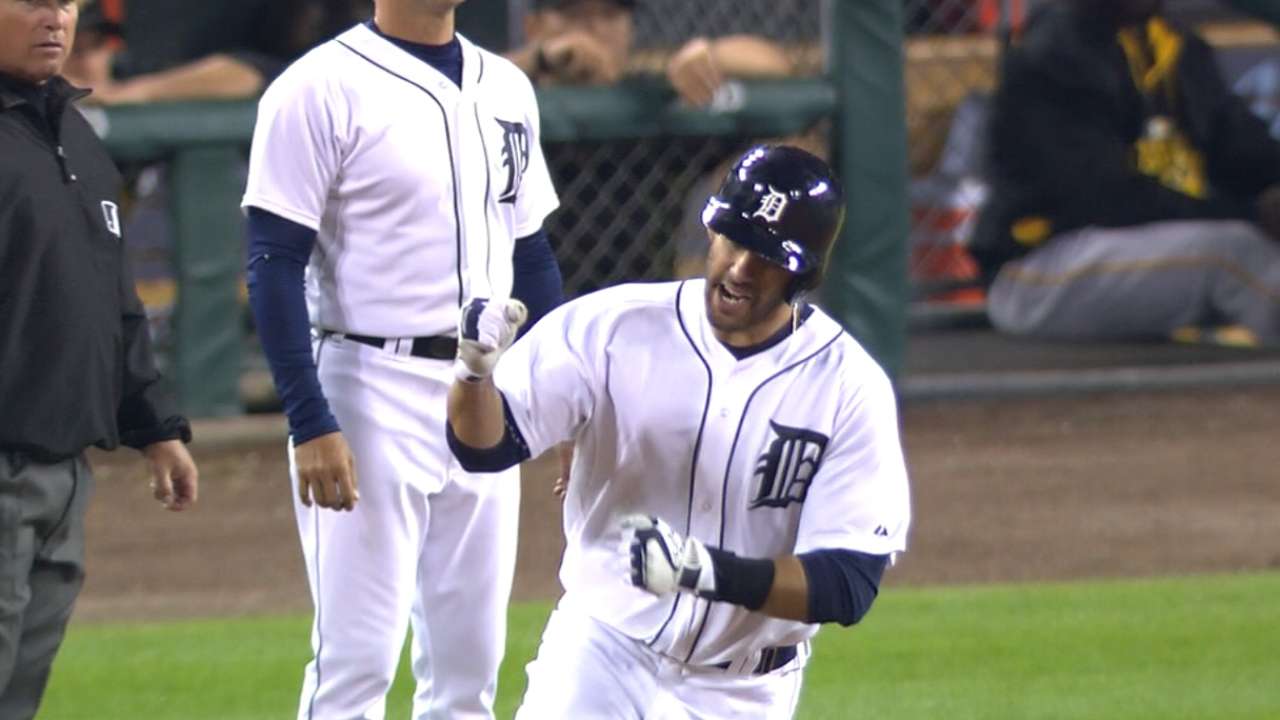 Does Upton deal affect Martinez?
Though Upton's contract is expected to put the Tigers into luxury-tax territory this season and possibly next, Avila gave no indication it would rule out a long-term contract for Detroit's other starting corner outfielder.
Before Ilitch authorized the payroll boost to pursue a top free agent, J.D. Martinez was expected to get the largest contract for a Tigers outfielder this winter. The 38-homer slugger is on track to become a free agent in two years, the same offseason Upton can exercise his opt-out clause.
The Tigers and Martinez were $2 million apart in their arbitration proposals last Friday. Avila had made no secret of his desire to sign Martinez long-term. He was less open on Wednesday.
"I can't really comment on the negotiations with J.D. Martinez," Avila said. "I hope for the best, because we love J.D. Martinez. As you know, I have a good history with him, and I think he's a very important part of this team."
Upton's status beyond 2017 with the opt-out would seem to have a major impact on Martinez. If Upton chooses to stay, the payroll is dramatically different. If he goes, he could potentially join Anibal Sanchez, Ian Kinsler, Lowe and Pelfrey on the open market.
"Obviously we have him for this year and next year through arbitration," Avila said of Martinez, "but we're hoping we can make a deal with J.D., and we're hoping for the best."
Jason Beck is a reporter for MLB.com. Read Beck's Blog, follow him on Twitter @beckjason and listen to his podcast. This story was not subject to the approval of Major League Baseball or its clubs.