MLB.com Columnist
Richard Justice
Marlins' fate tied to health of Stanton, Fernandez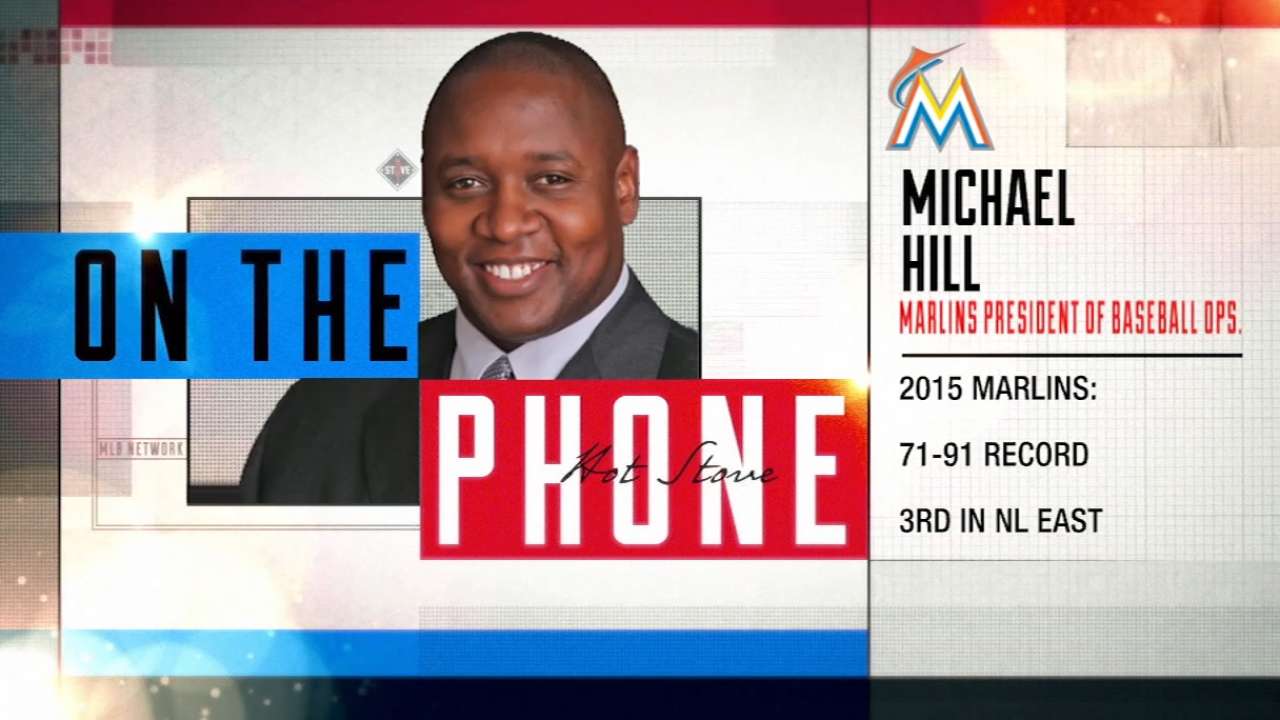 CORAL GABLES, Fla. -- Since pitcher Jose Fernandez made his Major League debut three years ago, the Miami Marlins have dreamed of greatness. Not just his individual greatness, although there was plenty of that.
At the time of Fernandez's arrival in 2013, another Marlin, Giancarlo Stanton, had already established himself as one of baseball's best players. Like Fernandez, Stanton had magical skills. Like Fernandez, he had a long list of intangibles.
The Marlins saw the two of them as cornerstone-type players, the kind an entire franchise can be built upon. Together, Stanton and Fernandez came to represent the hopes of a team that has seemed to be on the cusp of a breakthrough for a few years.
Will this finally be the season that both of Miami's superstars stay healthy? And if so, will this be the season the Marlins finally break through? As club officials put the finishing touches on their offseason work, they're again optimistic about what the club is capable of doing.
Perhaps the most intriguing moves the Marlins made this offseason were off the field in the hiring of Don Mattingly as manager and Barry Bonds as hitting coach. Mattingly led the Dodgers to three straight division championships before departing after last season. Bonds has never coached, but his 762 career home runs bring instant credibility.
"Mattingly's unbelievable," Marlins president of baseball operations Michael Hill said Wednesday at MLB's quarterly Owners Meetings. "It's hard to imagine that a player of his caliber is so humble. It's a humble confidence. It's been great."
Of Bonds, Hill said, "Barry is so excited to get going. Just truly excited to see what he can do with our young hitters."
Now about that optimism.
"I love the talent we've been able to put together," Hill said. "We're incredibly excited."
The Marlins were excited at this time last year, but they ended up 71-91. Last season was undone by injuries and a string of disappointing performances. It was a reminder that young players don't come with time tables or guarantees.
"I think the optimism we had coming into last year is a great learning experience for our guys," Hill said. "They were young and confident. We fell on our face through injury, non-performance. I think it was a valuable lesson learned for them. They came out of it, and in the second half of the season, we played the baseball we thought we were capable of. I think it'll propel us into 2016."
Having Stanton and Fernandez healthy at the same time would also help. Fernandez blew out his right elbow in May 2014 and didn't return until July 2 last season. By that time, Stanton's season had ended because of a wrist injury. Stanton had never been better than he had been at the start of the 2015 season -- 27 home runs in 74 games. And then it was over.
"He was on his way to a season for the ages," Hill said. "He's just a special player. He's completely healthy now and excited to have a full, productive season for us."
Because the Marlins are so confident in their core group of position players, their offseason has been focused on improving the rotation. Earlier this week, they signed free-agent left-hander Wei-Yin Chen to a five-year, $80 million contract.
• Marlins introduce left-hander Chen
"We wanted to add that piece that could settle in behind Jose and were able to do so with Chen," Hill said.
The Marlins are shopping for more starting pitching after using 13 last season. In Fernandez, Chen and Tom Koehler, they have three who could realistically get in the 180-innings range. After them, young guys like Jarred Cosart, Adam Conley and Justin Nicolino have big arms and high upsides.
Hill also signed veteran Edwin Jackson.
"He's a very interesting buy-low, high-reward starter who we're going to give an opportunity to," Hill said. "Unfortunately, we've gone through a number of starters. Circumstances. Injury. You can never have enough depth. For us, it's difficult to go buy it in the marketplace. You want to cultivate that through your system. We're happy with the depth we've been able to accumulate."
The Marlins are cautiously optimistic about every other part of the team. They have a very good young shortstop in Adeiny Hechavarria and two outfielders, Christian Yelich and Marcell Ozuna, who've shown star potential at various times.
Miami likes its bullpen, too. Behind closer A.J. Ramos, there's a proven setup man in Carter Capps, and a pair of impressive young arms in Kyle Barraclough and Brian Ellington.
What the Marlins need as much as anything is some good luck. If they can keep Stanton and Fernandez on the field and if their young players continue to fight through the inevitable ups and downs of proving themselves, they believe they've got a chance to compete for a postseason berth.
But Miami has been optimistic a time or two in recent years and been unable to put anything together.
"I always table predictions," Hill said. "It's up to the guys in uniform to take care of the business. But it's fair to say we're excited."
Richard Justice is a columnist for MLB.com. Read his blog, Justice4U. This story was not subject to the approval of Major League Baseball or its clubs.