Inbox: What can Giants expect from Cueto?
Beat reporter Chris Haft answers fans' questions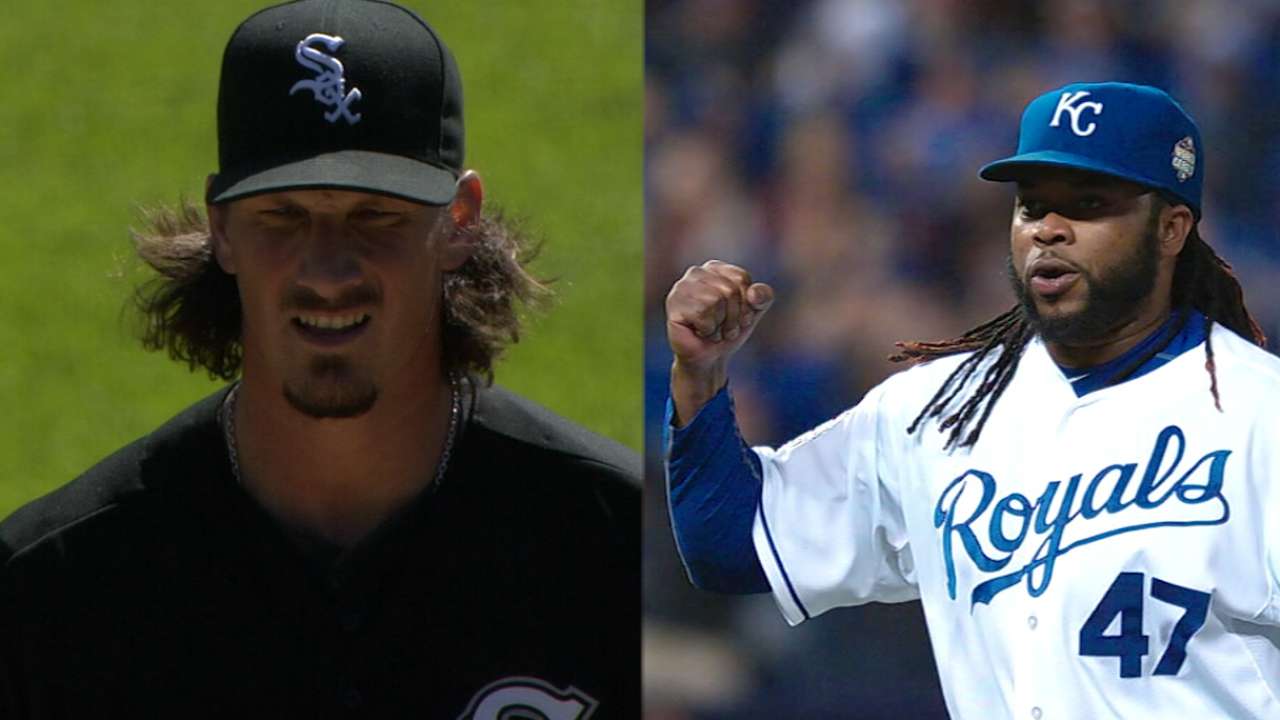 Johnny Cueto had a rough September in Kansas City and then mostly seemed to turn it around in the postseason. Are the Giants worried about this Jekyll-and-Hyde aspect of Cueto?
-- Gary B., Geneva, Switzerland
The Giants believe that Cueto's inconsistency was an aberration. Besides, even the best starting pitchers are vulnerable to enduring a subpar outing or two in September. It's a long year. Example: in September 2008, Tim Lincecum yielded five runs in one start and six in another while totaling 9 1/3 innings in those games. One year later, he laid a five-run egg in September. He won the National League Cy Young Award in both years anyway.
• Submit a question to the Giants Inbox
Also, Cueto wasn't as bad as you recall. He worked three innings while yielding five runs to the White Sox on Sept. 6, and surrendered eight runs in two innings in Game 3 of the American League Championship Series at Toronto. But he lasted at least six innings in eight of his other 10 starts in Sept.-Oct. His regular-season ERA for the final month was 5.58.
Who can we expect to start in the home opener at AT&T Park on April 7 against Los Angeles?
-- Patrick H., Santa Rosa, Calif.
More than likely, either Jake Peavy or Matt Cain. I hate to give you a non-answer, but at this juncture, it's impossible to determine exactly how manager Bruce Bochy will align the rotation. Sore arms and injuries have a way of disrupting plans. But, barring any drama, Madison Bumgarner, Cueto and Jeff Samardzija will start the season-opening series in Milwaukee. Based on last year's performances, Peavy (8-6, 3.58 ERA) would have the edge on Cain (2-4, 5.79) to get the ball in the home opener. However, if Cain is relatively healthy and throwing well, it would be no surprise to see him receive the assignment as a show of respect for his status as the longest-tenured Giant. If that were to happen, I assure you that the first player to congratulate Cain would be Peavy.
What's up with "Clark Kent" (Kelby Tomlinson)? Will he be back?
-- Linda A., Los Angeles
Not only does Tomlinson have a strong chance of making the Opening Day roster, but he also could establish himself as the club's top utility infielder, handling the role that formerly belonged to Joaquin Arias.
Knowing that the Giants are desperate for a big bat in left field and have money to spend, why wouldn't they be involved in the Yoenis Cespedes talks? With the talk of the designated hitter coming to the NL in the not-so-distant future, this becomes more of a long-term plan.
-- Anthony Z., New York
First of all, I like your big-picture outlook, which you demonstrated with your remark about the NL bringing aboard DHs (which would nauseate me, but that's a debate for another time). As for Cespedes, multiple sources told me that, for geographic reasons, he had little or no desire to play on the West Coast, since he reportedly has a home in Florida. Cespedes apparently developed this antipathy while beginning his big league career with Oakland.
Chris Haft is a reporter for MLB.com. Read his blog, Haft-Baked Ideas, follow him on Twitter at @sfgiantsbeat and listen to his podcast. This story was not subject to the approval of Major League Baseball or its clubs.