MLB, US mayors urge kids to 'Play Ball' in '16
Youth events in works nationwide from June to August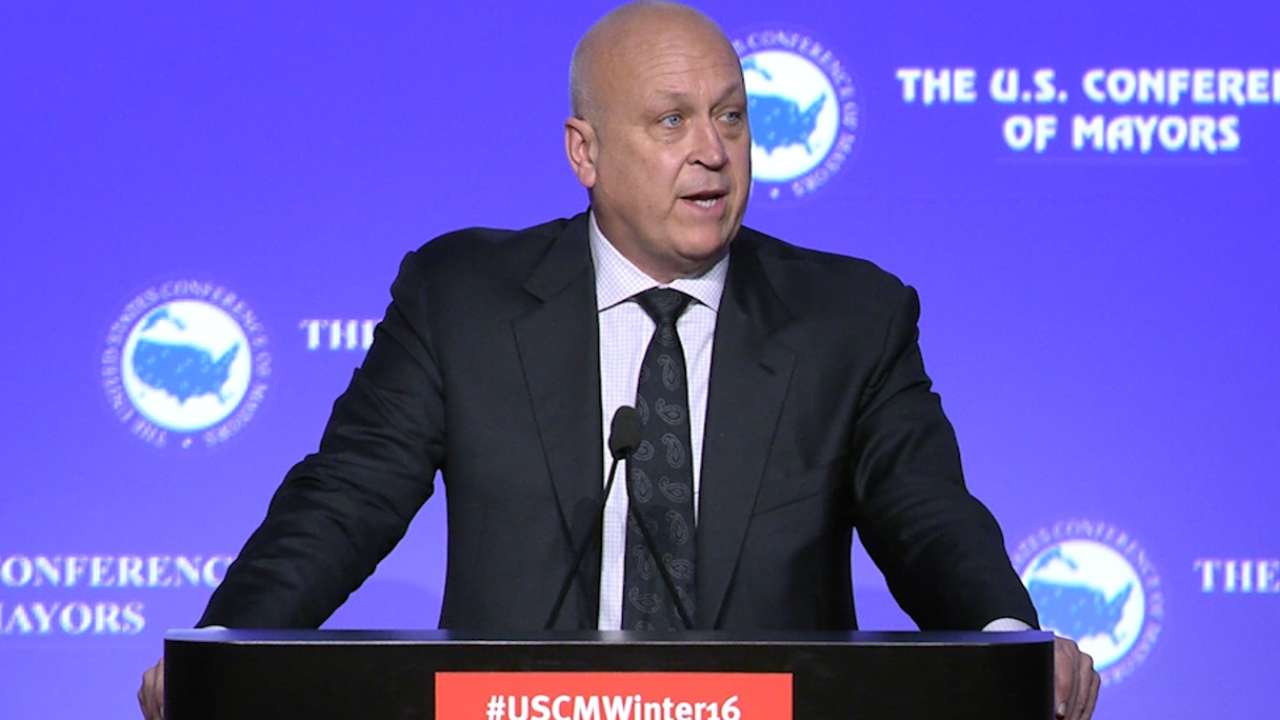 Ryan Ripken is a first-base prospect in the Nationals organization, and to reach this point he and his father each had to make a simple but important choice many years ago.
"When my son was young, I remember having a choice," Cal Ripken Jr. said on Wednesday to attendees of the U.S. Conference of Mayors in Washington. "Ryan, in his free time, loved his video games. He was playing video games with baseball. And he wanted me to sit down and enjoy his video games with him.
"So I made a choice. It would have been fun to sit down and talk to him and play his video games with him. But I said, 'Daddy likes to play the real sport. Dad likes to go out and play catch and do those sorts of things. So if you want to spend this time now going out and playing catch with me, then I'm game.'
"I'm pleased to tell you that every time I offered that suggestion to him, he chose me."
Cal announced an exciting partnership between @MLB #PlayBall and @usmayors today! #MayorsPlayBall #USCMWinter2016 pic.twitter.com/jnb18Oxj7B

— Ripken Baseball (@RipkenBaseball) January 20, 2016
Ripken's words were especially suited for just this moment, which is why Commissioner Rob Manfred recently appointed him as Major League Baseball's senior adviser for youth programs.
MLB and the U.S. mayors announced a renewal of support by USCM for the Play Ball initiative with "Play Ball Summer," an effort by American mayors that will span from June through August. Mayors have begun pledging commitments to host Play Ball-themed, youth-focused events in their communities.
Play Ball Summer will encourage mayors across the country and in Puerto Rico to host activities to engage citizens, families and city departments to organize individual and community-based events (such as playing catch, "running bases" in the backyard, family gatherings, park and recreation activities and business-supported activities). These activities will provide an opportunity for kids to enjoy the sport in a fun environment, particularly in underserved communities.
Making the announcement were two key figures from Baltimore -- Ripken and the person who introduced him, USCM President and Baltimore Mayor Stephanie Rawlings-Blake.
"As you know from his remarks to you last year, Commissioner Manfred is committed to growing baseball, particularly in the underserved communities," Ripken told the assembled mayors. "That's where the Play Ball campaign comes in. Since retiring in 2001 -- man, that's quite a long time ago -- I've focused my energy on growing the game of baseball through the grassroots levels, through the Cal Ripken Sr. Foundation and also from Ripken Baseball.
"Recently Commissioner Manfred named me as a senior adviser to help lead MLB's efforts in this area. So if you add up the time, I've been 15 years in this space. We've made some successes, and I've learned a heck of a lot. But one thing I've learned is that kids nowadays need to be directed. They're used to being organized in every part of their schedule. They go from one thing to another, and even in their free period of time, they have to be directed."
That is when Ripken told them the story of the choice he and his son Ryan each made.
"So we would go out," Ripken said. "We wouldn't play a whole game. We would play parts of games. We would enjoy some of the simple pleasures of dad and son playing catch -- him learning to play parts of the game.
"That's really what the Play Ball campaign is all about. The Play Ball campaign encourages all kids to enjoy and experience the sport in a fun and casual environment. The goal is to remind people that there are many ways to enjoy baseball that don't necessarily require two teams of nine players and a full ballfield and umpires."
The Play Ball Summer program also will serve as a way to introduce to the sport kids who otherwise would not get a chance to experience it. Through Play Ball, MLB also looks to offer an opportunity for kids to enjoy a healthy and active lifestyle where many of those opportunities are being taken away or offered less frequently, such as elimination of phys ed classes in some schools.
This effort is a continuation of USCM's strong support in 2015 for the Play Ball initiative, a joint program from MLB and USA Baseball that focuses on the fun nature of baseball and encourages widespread participation in baseball-related activities.
The Play Ball Summer initiative will focus on recruiting a minimum of one city in as many of the 50 states and Puerto Rico as possible. Primary targets are cities with Major League or Minor League Baseball clubs, although the initiative toolkit and self-reporting strategy will be electronically distributed to hundreds of cities across the country with the assistance of MLB.
Visit PlayBall.org for more information.
Mark Newman is enterprise editor of MLB.com. Read and join other baseball fans on his MLB.com community blog. This story was not subject to the approval of Major League Baseball or its clubs.