Inbox: What was Mariners' best offseason move?
Beat reporter Greg Johns answers fans' questions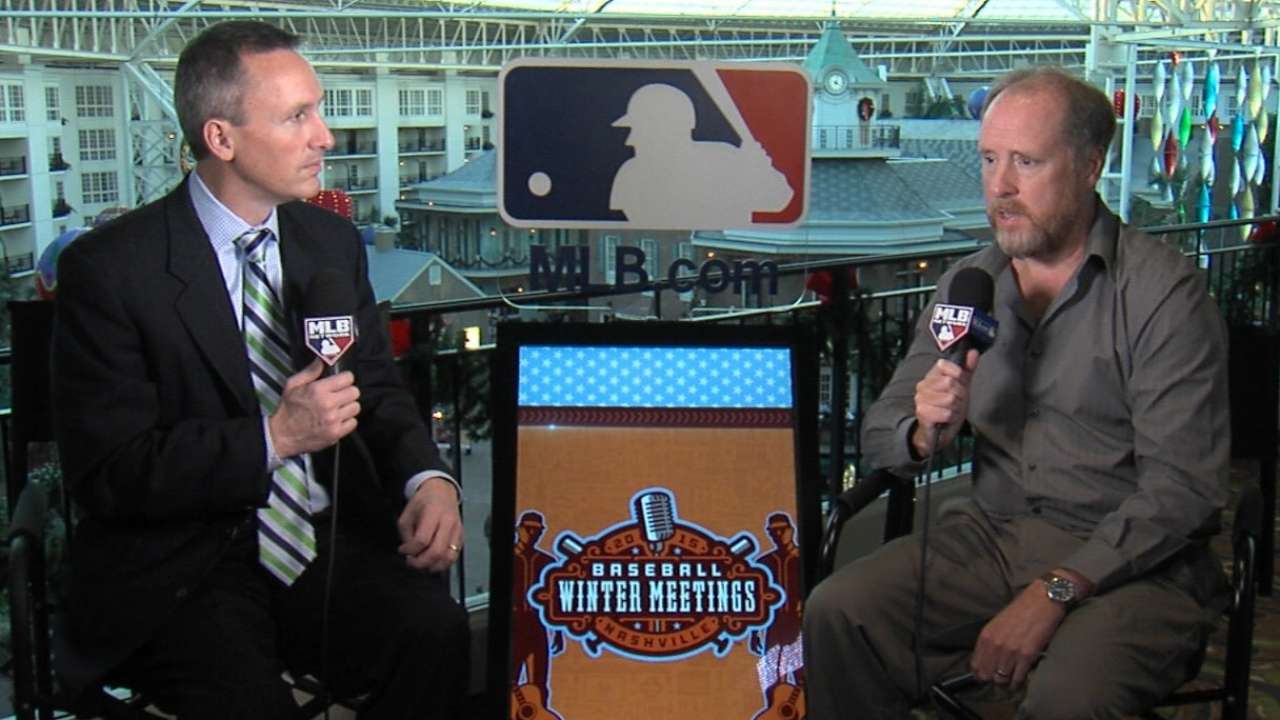 Of all the roster additions Jerry Dipoto has made this offseason, which one do you think will wind up being his best move?
-- Frank R., Renton, Wash.
I liked the trade for Joaquin Benoit and the signing of Steve Cishek to solidify the back of the bullpen, which is certainly an area that could greatly affect the Mariners' chances next season. And the acquisitions of outfielder Nori Aoki, first baseman Adam Lind and catcher Chris Iannetta should improve the offensive production at those three spots, while Leonys Martin beefs up the defense in center. But if you want me to pick one, I'm going to go against the grain and say that acquiring starter Wade Miley will wind up being the most surprisingly successful addition.
That was a trade many fans questioned, giving up right-hander Carson Smith and lefty Roenis Elias. But I think a lot of people are underestimating Miley, who I expect to have a very solid season as he's much better suited to Safeco Field -- where left-handers tend to fare very well -- after pitching at Arizona and Boston his first five years. Combined with the return of Hisashi Iwakuma, Miley's veteran presence should really help solidify the rotation behind Felix Hernandez. Miley is also under team control for the next three years at $27 million, which looks like a bargain compared to many of the recent deals for comparable starters.
Smith had a very good year in 2015, but relievers are volatile. We'll see how that works out in the long run, but regardless, I like the addition of Miley to a rotation that needed an upgrade and a proven innings-eater to help ease the pressure on both the other starters and the bullpen.
• Submit a question to the Mariners Inbox
With the major offseason moves largely completed, how does the 2016 payroll compare with what was expected?
-- Tim G., Yakima, Wash.
Seattle's 25-man Opening Day roster last year had a combined salary of about $123 million. This year's projected group is at $140 million, plus another $12 million in potential performance bonuses if Iwakuma, Cishek, Iannetta and Franklin Gutierrez have productive seasons. The Mariners went a little above their anticipated budget to bring back Iwakuma when that situation played out, and I sense there could still be some wiggle room at midseason if needed.
Why haven't the Mariners signed any big players this offseason?
-- Dayton F., Auburn, Wash.
As Dipoto has repeatedly said, this is a franchise that did its "big-game hunting" in the previous few years with the signings of Robinson Cano and Nelson Cruz and contract extensions for Hernandez and Kyle Seager. This year has been about raising the level of talent around those players and working around a budget already largely set by those long-term contracts. While the club hasn't made the big splash for one high-priced free agent, it has brought in a number of mid-level veterans who should provide better roster balance and depth.
Any chance the Mariners would be interested in bringing back Doug Fister? It seems as if the price could be right.
-- David P., Brush Prairie, Wash.
I'm a big fan of the former Mariners righty and I thought he might be a good fit earlier in the offseason as a bounce-back candidate coming off a down season, but the return of Iwakuma and the trade for Miley eliminated that possibility. Seattle's budget is pretty tapped out now, and the club has six solid rotation candidates so it's no longer looking for another veteran starter, and I'm sure Fister is seeking a landing place with more of an opening for him as well.
In a previous Inbox, you said that Gutierrez and Seth Smith would likely platoon in right field. Where would that leave Cruz?
-- Jon G., Seattle
At least going into Spring Training, the plan will be for Cruz to play more games at designated hitter this season. He started 80 games in right field last year and 72 at DH. It sounds like Aoki will be the primary left fielder, with Martin in center and Guti and Smith splitting time in right. But Gutierrez's health is always an issue, so that bears watching. And Martin likely will get some days off against tough left-handed pitchers, with Aoki sliding over to center in those situations and Gutierrez presumably playing left. So Cruz will still get some right field time, particularly against lefty starters.
When will regular-season tickets go on sale? I would like to get tickets for the Mariners' home opener.
-- Phil C., Blaine, Wash.
Single-game tickets go on sale March 5 to the general public, though there is a special pre-sale starting March 1 for Mariners Mail subscribers, which just requires registering at Mariners.com/Mail. Or season tickets -- as well as 10- and 20-game packages that can include Opening Day -- are on sale now at Mariners.com/16.
Greg Johns is a reporter for MLB.com. Follow him on Twitter @GregJohnsMLB, read his Mariners Musings blog, and listen to his podcast. This story was not subject to the approval of Major League Baseball or its clubs.