#TBT: Musial takes a pay cut
Remembering Stan 'The Man's' noble deed years before Hall induction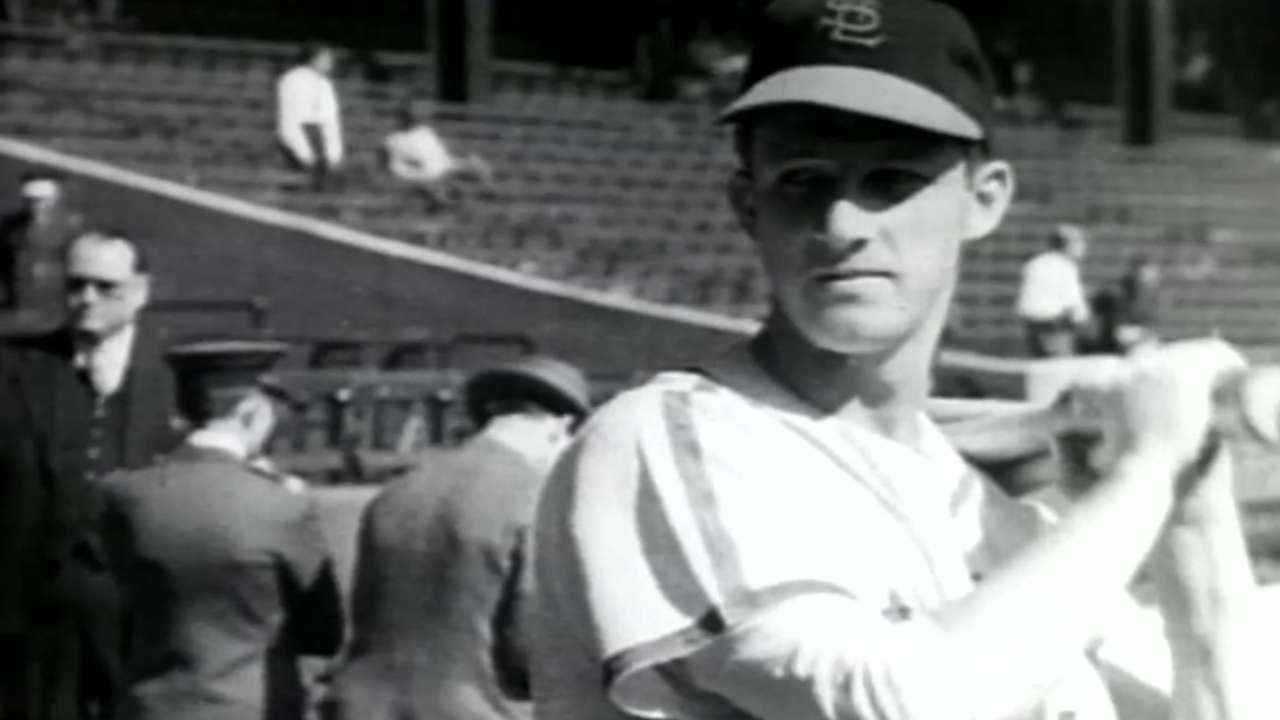 One was inevitable. The other, as the decades go by, seems more or less impossible.
When it comes to the myriad baseball feats and accomplishments of simple humanity achieved by the legendary Stan Musial, it turns out that Jan. 21 is a very special date for moments that make up "The Man."
We're picking two on this Throwback Thursday to honor one of the game's undisputed greats: Musial being elected to the National Baseball Hall of Fame in 1969, and Musial electing to take a pay cut for the 1960 season after a subpar (to his standards, at least) '59 campaign.
The first is the most indelible. On Jan. 21, 1969, Musial was elected to the Hall as a mere afterthought, one of the biggest no-brainer votes in Cooperstown history. Musial had played 22 years in the Majors and conducted himself as an exemplary gentleman on and off the diamond throughout his career. Former Commissioner of Baseball Ford C. Frick had summed up his presence neatly by saying, "Here stands baseball's perfect warrior. Here stands baseball's perfect knight."
The incredible numbers as a career St. Louis Cardinal led to unforgettable numbers as a Hall immortal that day. Musial, who had a .331 career batting average, a .976 career OPS, rapped out 3,630 hits, blasted 475 home runs, drove in 1,951 runs, scored 1,949 runs and had 6,134 total bases, seven batting titles and three National League MVP Awards, was named on 93.2 percent of the ballots (317 of 340) in his first year of eligibility, stacking up quite favorably with the totals of other icons of the game including Willie Mays (94.7), Ted Williams (93.4), Joe DiMaggio (88.8) and Mickey Mantle (88.2).
Former Dodgers pitcher Carl Erskine once said, "I've had pretty good success with Stan by throwing him my best pitch ... and then backing up third," but Musial himself, in his Hall of Fame speech during the summer of 1969, was typically humble.
Musial made sure to mention the other players who were inducted with him: Dodgers catcher Roy Campanella and Veterans Committee selections Waite "Schoolboy" Hoyt and Stan Coveleski, while offering a perspective that he had walked as well as talked.
"I've been extremely fortunate, of course, and I'll tell you this: I would have played baseball and stayed for a lot less [money], because what better way is there to make a living than something you like that you do and get paid for doing this?" Musial said. "And as Campy and the rest of our Hall of Famers said, 'We're getting paid for playing a boy's game.'"
That outlook on life had influenced the other this-day-in-baseball-history moment we're looking back upon, and that one occurred 56 years ago today … and most likely will never happen again.
On that day, Jan. 21, 1960, Musial went to Cardinals management with regret for his previous season. He had hit .255, which marked the first sub-.300 campaign of his career, and had contributed only 14 homers and 44 RBIs in 341 at-bats. So Musial came up with a simple and now unfathomable solution: he'd take less money.
"He did acknowledge the miserable year by accepting the maximum pay cut allowable under union rules, twenty percent, from $100,000 to $80,000," wrote biographer George Vecsey in his 2012 book, "Stan Musial: An American Life."
Musial, by then well-established as a storied player with an equally storied nickname of "Stan the Man," explained the move in the next week's edition of The Sporting News, saying, "The Cardinals have been generous to me the past few years, so I thought I'd be kind to them," and he embarked on rectifying the situation in short order.
"In the same winter," Vecsey wrote, "he worked out under the noted physical educator, Walter Eberhardt of St. Louis University, along with other players, and when Musial reported to Spring Training in 1960, he looked five years younger."
Musial backed up the gesture with an improved year at the age of 39, posting a .275/.354/.486 slash line with 17 homers and 63 RBIs, and in 1962, at the age of 42, he went .330/.416/.508 with 19 homers and 82 RBIs. He retired after the 1963 season and left an indelible mark on a team, a city, a sport and its fans forever.
Almost five decades later, another great St. Louis Cardinals hitter, Albert Pujols, honored the legacy of a local hero he'd come to call his friend. Pujols, who grew up in the Dominican Republic and whose first language is Spanish, was given the nickname of "El Hombre," which translates to "The Man."
In February 2010, Pujols announced that he would have none of it.
"I don't want to be called that," Pujols said. "There is one man who gets that respect, and that's Stan Musial. He's The Man. He's The Man in St. Louis. And I know 'El Hombre' means 'The Man' in Spanish. But Stan is The Man. You can call me whatever else you want, but just don't call me 'El Hombre.'"
Doug Miller is a reporter for MLB.com. Follow him on Twitter @DougMillerMLB. This story was not subject to the approval of Major League Baseball or its clubs.