Stroman ready to step into Blue Jays ace role
Righty's knee (and outlook) healthy as 2016 season dawns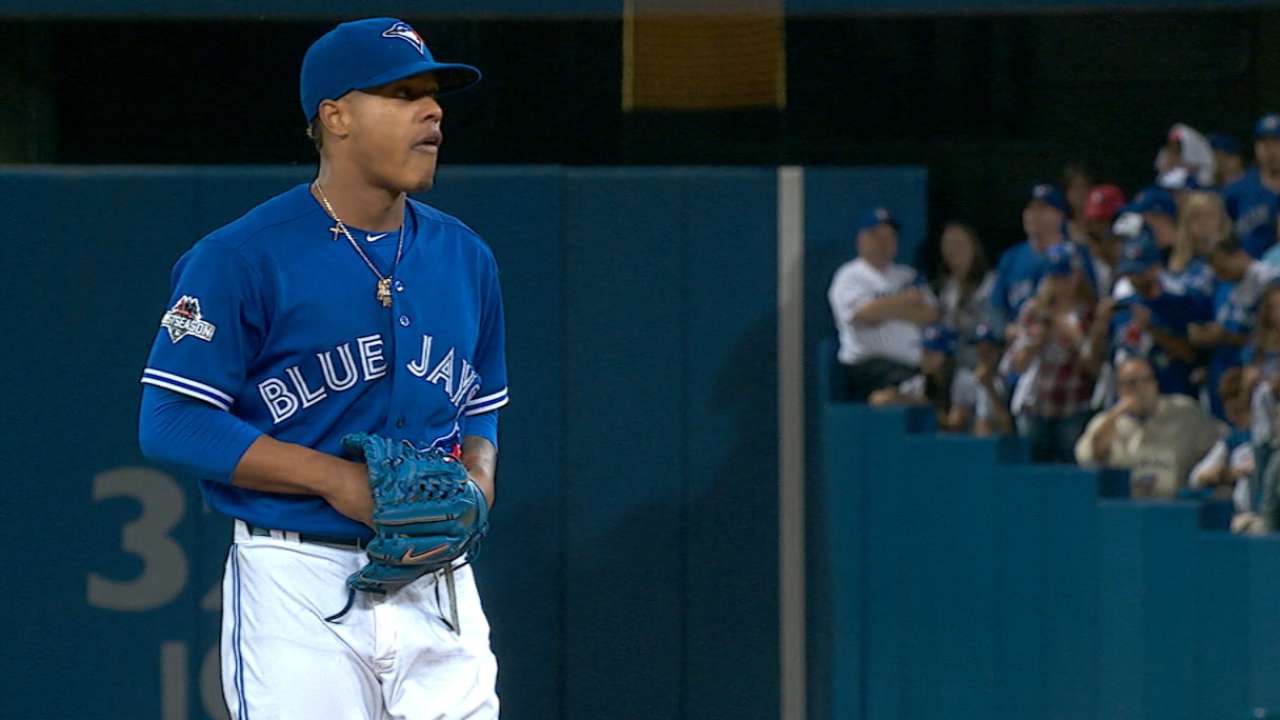 TORONTO -- The Blue Jays might have lost David Price this offseason, but they don't have to look very far to find the guy who wants to be his replacement. In Marcus Stroman's mind, he's already there.
Toronto's promising 24-year-old right-hander has yet to pitch a full season in the big leagues, and he's coming off a year in which he made just four regular-season starts because of a major knee surgery. The track record isn't there, at least not yet. But if you expect Stroman to care, think again.
• Blue Jays Spring Training info
Stroman has never lacked confidence, and that's a good asset to possess when the task is taking over the reins of a rotation from a perennial American League Cy Young Award candidate like Price, who signed with the Red Sox. The job won't be easy, but in Stroman's mind, the No. 1 starter status isn't exactly new. He has been there before.
"This is a family here, so every time I went out there, I felt like I was the guy," Stroman said during the Toronto stop of the Blue Jays' annual Winter Tour. "That was the kind of atmosphere we created, the fans that we have here and the confidence that the guys have behind me.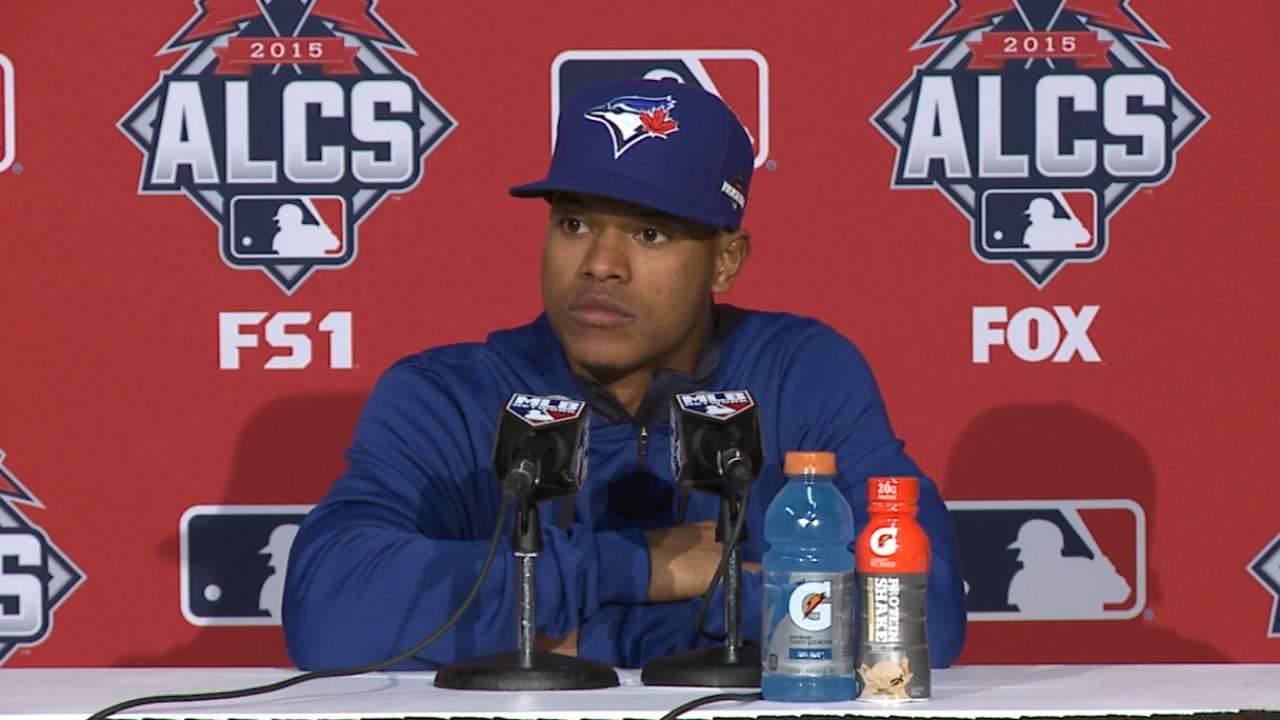 "Honestly, I felt like the guy the entire time I've been here, but I'm excited to actually be the guy this year and go after it every five days and be the one that everyone [counts] on. I've done everything in my preparation to make sure that I'm at my best ability out there every fifth day, so I'm excited for 2016, my first Opening Day. I can't wait."
Stroman technically hasn't been named Toronto's Opening Day starter yet, but it seems like only a matter of time before that news becomes official. He is set to lead a rotation that also includes Marco Estrada, R.A. Dickey, J.A. Happ and several candidates for the fifth and final spot.
The path to get here wasn't exactly conventional. Sure, Stroman was a first-round pick back in 2012, and the upside has always been evident. But it hasn't been easy. The breakout season came in 2014, when he posted a 3.29 ERA in 20 starts. But an encore performance the following year wasn't in the cards.
Stroman tore the ACL in his left knee during Spring Training and at the time was ruled out for the season. That set the stage for a remarkable rehab program that had Stroman back on the mound in September and rounding into form just as the Blue Jays were about to embark on their first postseason run in more than two decades.
The native of New York didn't just make it back, he dominated upon his return. By the end of the AL Division Series, he became manager John Gibbons' preferred choice, and in the winner-take-all Game 5, it was Stroman, not Price, who got the ball. So perhaps this "ace" status isn't so far-fetched after all.
"I feel like I'm ready to step into that role and be the guy," said Stroman, who has been working out every day this offseason with teammate and close friend Aaron Sanchez. "I feel like I prepare and work to be that guy, and I'm excited to be in that role."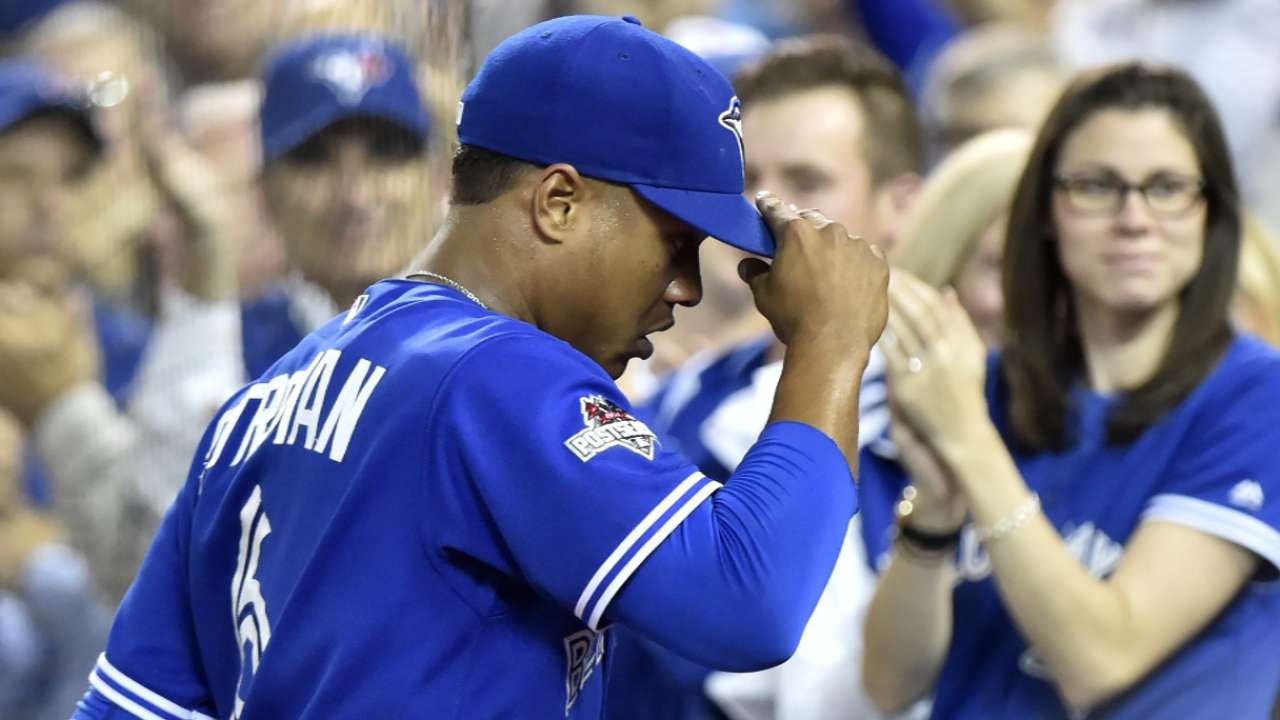 Toronto's lineup speaks for itself as arguably the most potent offense in baseball. The pitching staff is a different story with Price and veteran Mark Buehrle no longer around and plenty of question marks surrounding who will be on the roster. The arrivals of Happ and Jesse Chavez will help, but the extra burden will be felt by Stroman more than anyone else.
All of this from a guy who has a total of 157 2/3 innings under his belt at the big league level. Others might have been disappointed Toronto wasn't more active this offseason, but considering the opportunity, Stroman isn't one of them.
"I'm excited with where we're at," Stroman said. "I'm not really focused on any other team but us. I think the group of guys that we have, I think we're capable of doing extremely exceptional things this year.
"[Drew] Storen is unreal, I've been a huge fan of his since Day 1, and that's a huge addition to our 'pen. Now we have [Brett] Cecil, Storen and [Roberto] Osuna back there, which I have 100 percent confidence to hand the ball off to those guys 100 percent any day of the week. I don't think enough people are talking about those seven, eight, nine guys, because it's pretty legit."
Gregor Chisholm is a reporter for MLB.com. Read his blog, North of the Border, follow him on Twitter @gregorMLB and Facebook, and listen to his podcast. This story was not subject to the approval of Major League Baseball or its clubs.