Around the Horn: Corner infield
Longoria's production remains big key to Tampa Bay's success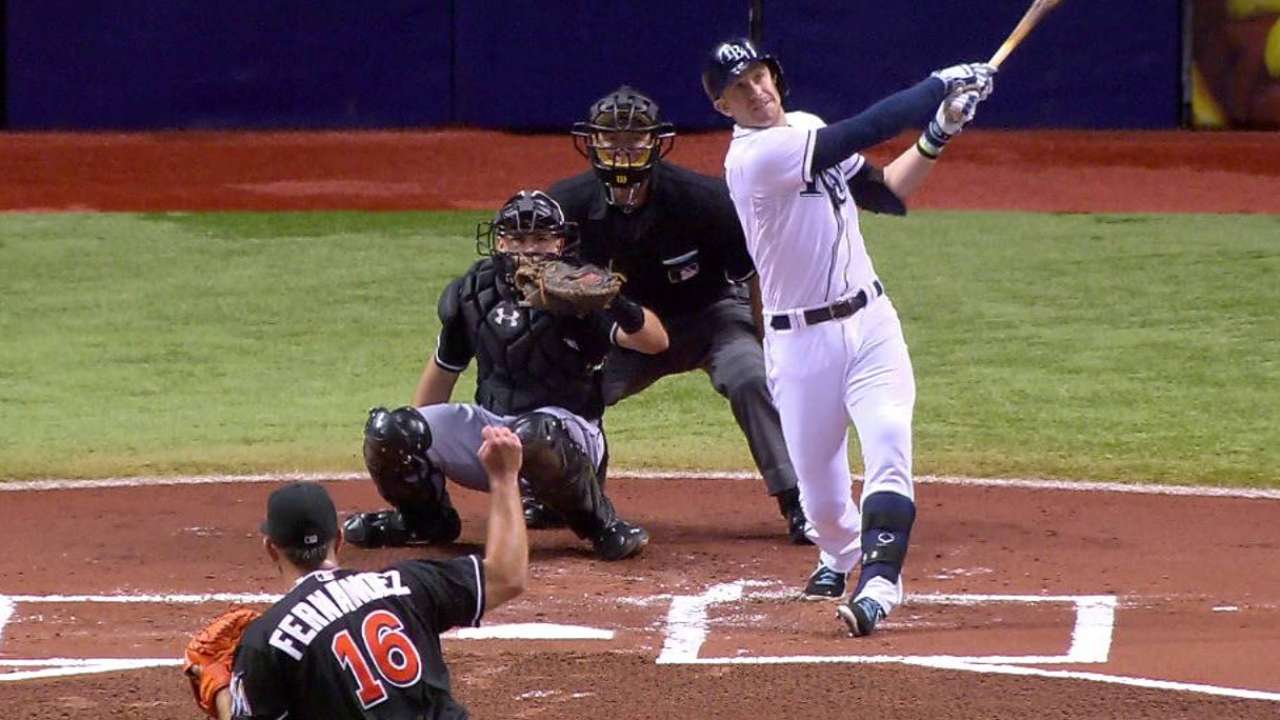 The following is the second in a series of weekly stories that will focus, position by position, on the 2016 Rays. Right up until Spring Training camps open, we'll preview a different position. Today: Corner infielders.
ST. PETERSBURG -- The corner-infield positions for the Rays will hold the most experience and the most intrigue for the coming season.
Evan Longoria is poised to begin his ninth season with the Rays. He is Tampa Bay's longest-tenured player and remains the most consistent bat in the lineup. But there are questions.
The biggest of the questions is this: Have Rays fans seen the best of Longoria?
Longoria played in 160 games last season and led the team with 21 home runs and 73 RBIs while hitting .270. He also led American League third basemen with a career-high .976 fielding percentage, which broke the franchise record previously held by Akinori Iwamura.
In addition, in 2015, Longoria became the first third baseman in Major League history to record 200 home runs and 250 doubles in his first eight seasons. He is just the 20th player in Major League history to turn the trick, joining the likes of a list that includes Ted Williams, Joe DiMaggio, Hank Aaron and Barry Bonds.
Longoria remains the face of the franchise, so perhaps that is why more is expected of him by the fans.
Chances are, the better the lineup gets surrounding him, the better numbers Longoria will put up in 2016. Ten of his home runs came after July 31, which coincided with a major upswing by the rest of Tampa Bay's offense. That alone would seem to support the notion that Longoria could use a little help from his friends.
If for some reason Longoria is not at the hot corner this season, Richie Shaffer would most likely be the one to step in. Shaffer hit a combined 30 home runs last season (Double-A, Triple-A, Majors), but he needs to find consistency at the big league level. The sample survey for Shaffer's 2015 Major League numbers isn't large enough to determine whether they were a precursor for what's to come. While he does have a big swing, when he hits the ball, it goes a long way. In addition, Shaffer has a strong arm and looks best in the field while playing third base.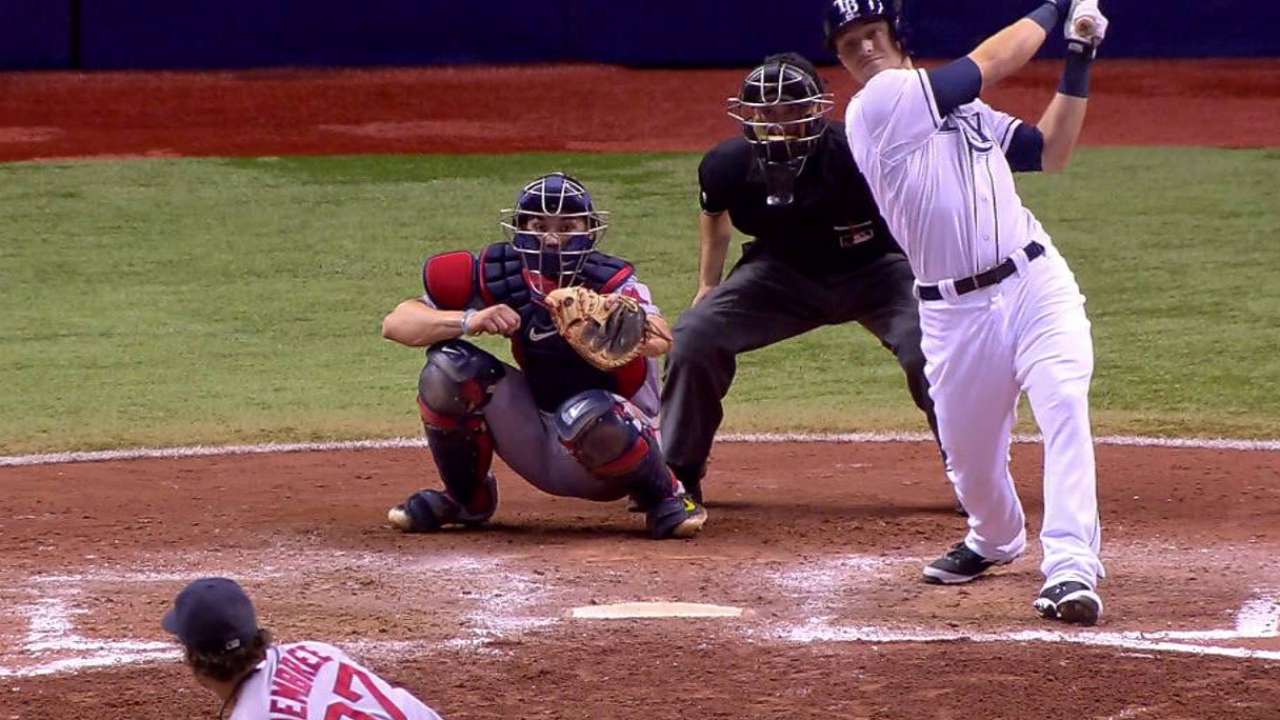 Unless the Rays find a suitor for James Loney, the veteran will return at first base for a fourth season with the team. He has one season remaining on his contract, which will pay him $8 million. That number will make Loney difficult to trade. But that could end up being a good thing.
After averaging 156 games in his previous seven seasons, Loney made two trips to the disabled list in 2015 and played in just 104 games, his fewest since 2007. That left him with a .280 average with four home runs and 32 RBIs.
How quickly people forget Loney's consistency when he's in the lineup. Though he doesn't hit home runs, he's a tough out and he's an above-average fielder.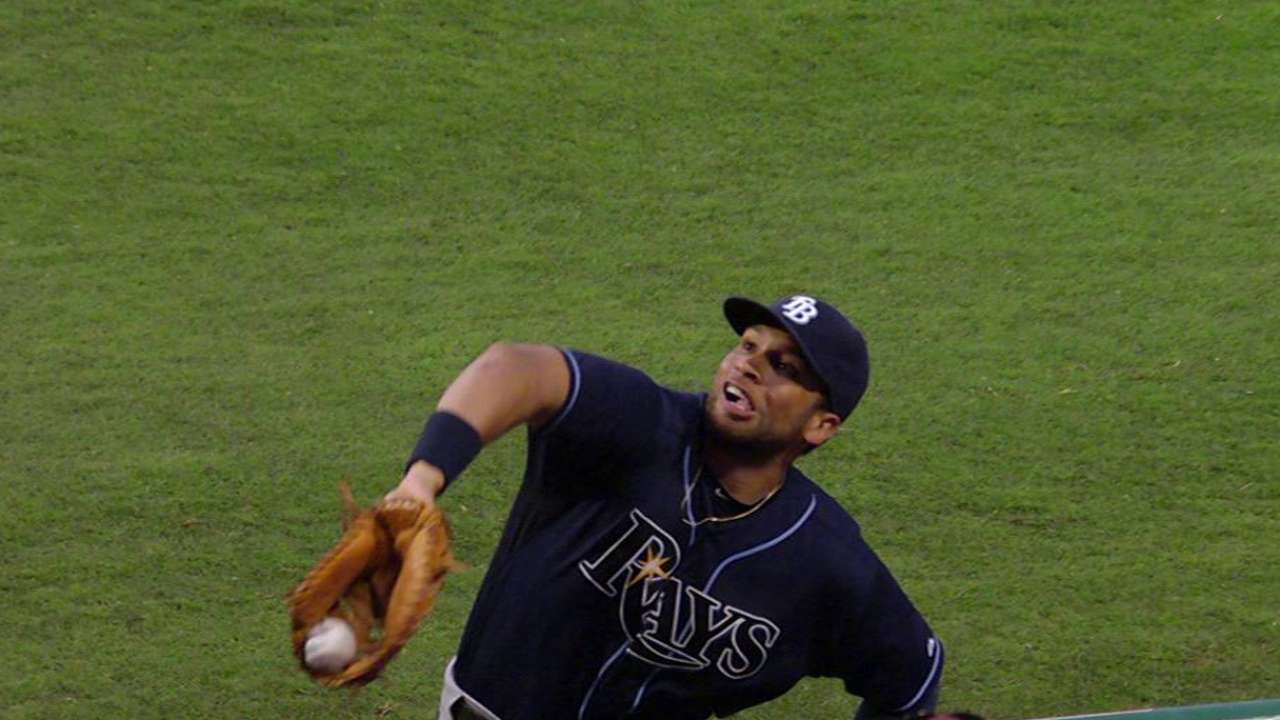 If the Rays do trade Loney, the position would likely go to newcomer Logan Morrison, whom they acquired in a Nov. 5 trade with the Mariners, or Shaffer.
Morrison, 28, hit .225 with 17 home runs and 54 RBIs in a career-high 146 games in 2015, his first time appearing in at least 100 games since 2011. His home run and RBI totals were his most since he had 23 homers and 72 RBIs with the Marlins in 2011.
In his career, Morrison has made 284 starts at first base and 249 starts in the outfield.
The Rays struggled against right-handed pitching in 2015. This trade immediately fortified next season's lineup to do better when facing right-handers.
Morrison hit .241 with 17 home runs and 45 RBIs in 315 at-bats against right-handers last season. Miller hit .266 with 11 home runs and 37 RBIs vs. right-handers in 2015.
Morrison hit just .190 with no home runs and nine RBIs in 142 at-bats against left-handers last season after hitting .333 with two home runs and 10 RBIs against left-handers in 2014, leading to the question of whether he feels he can turn that around if given the opportunity.
If Loney does not get traded, Shaffer could find work as the part-time first baseman, designated hitter or third baseman when Longoria needs a day off.
Bill Chastain is a reporter for MLB.com. This story was not subject to the approval of Major League Baseball or its clubs.