'Plan A' works out: Tigers welcome Upton
While hesitant at first to pay up, club lands top target with owner's blessing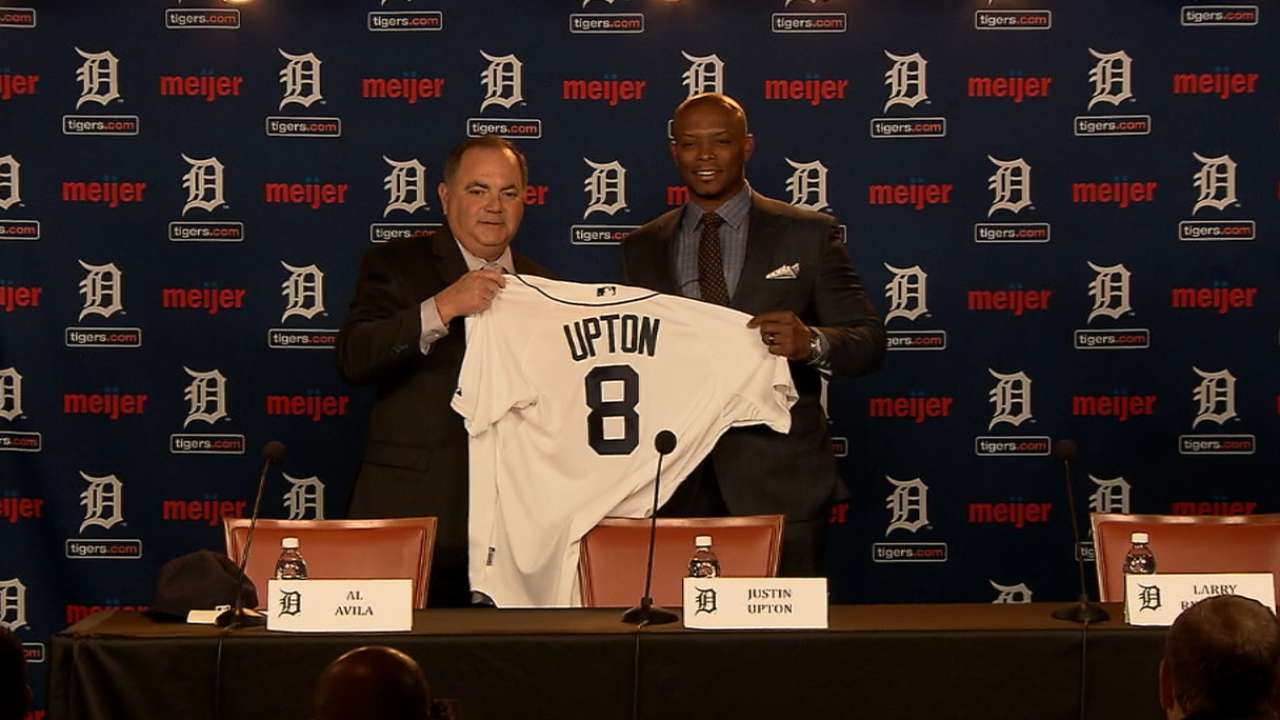 DETROIT -- The change of course that brought Justin Upton to Comerica Park on Wednesday, putting a Tigers jersey on his back, his signature on a six-year, $132.75 million contract, and his bat in the middle of an already formidable lineup, began just before Christmas. General manager Al Avila remembers it happening around the organization's holiday party.
Avila had been working all offseason on addressing left field with smaller moves. Then came the first sign of concern from owner Mike Ilitch.
"He starts mentioning to me that he's worried about our offense," Avila said, "and that never stopped. He just kept on telling me, 'I like what you've done, you've done a great job.' He was very proud of everything that had developed, but he was still worried about the offense.
"He kept on referring to that all the way through the holidays and into the New Year. I got back into the office on Jan. 4, and that week he called me several times saying, 'I'm worried about the offense.' I said, 'Well, Mr. Ilitch, I'm trying to tweak it. We'll get a guy here, a guy there. We're looking into it. We'll make it a little bit better and we'll make it work.'"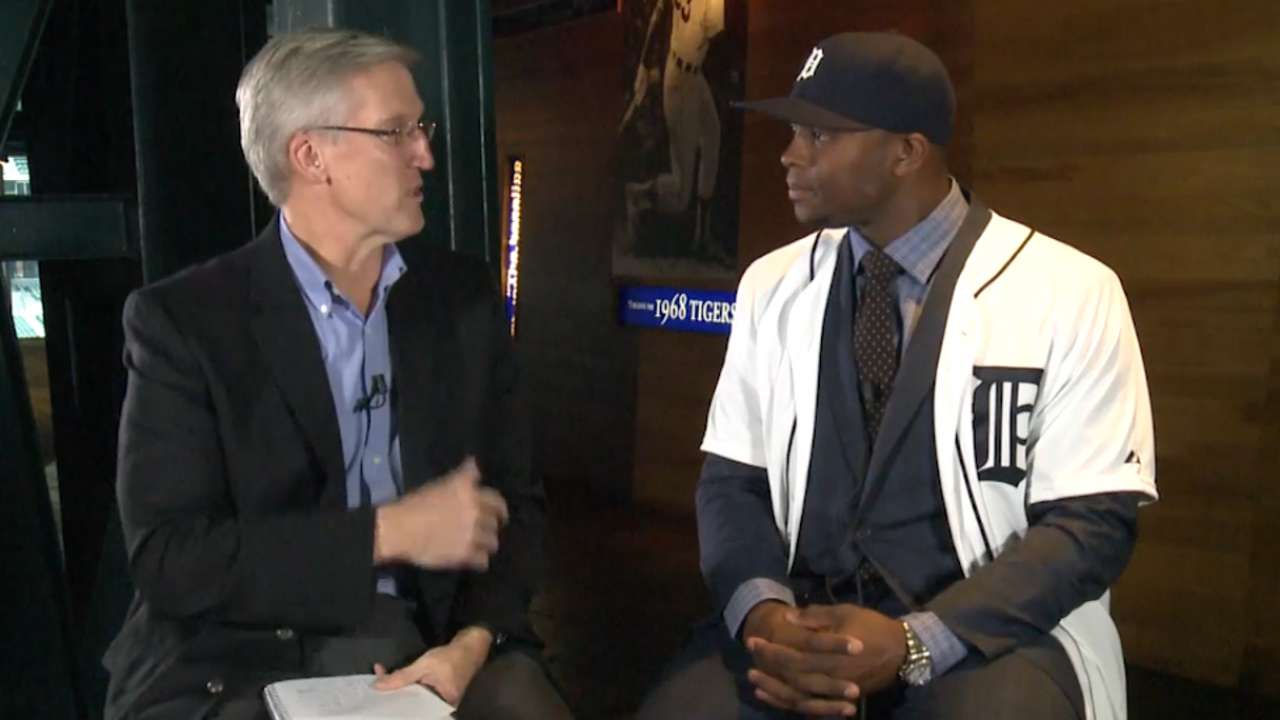 Avila had been talking with agents representing less talented players, checking the trade market and talking with his scouts and analysts. He had kept tabs on top free agents, but hadn't talked seriously. Then came the follow-up call from Ilitch.
"He said, 'Well, I appreciate you trying to tweak it,'" Avila recalled, "'but I want more than a tweak.' And so later on that week, he said, 'No, I think we have to go after one of these guys.'"
From that point on, Avila said, he and Ilitch were in touch every day, sometimes twice a day. A week later, Avila was on a flight to Arizona to try to recruit Upton. Manager Brad Ausmus got the call and was on the next flight from San Diego.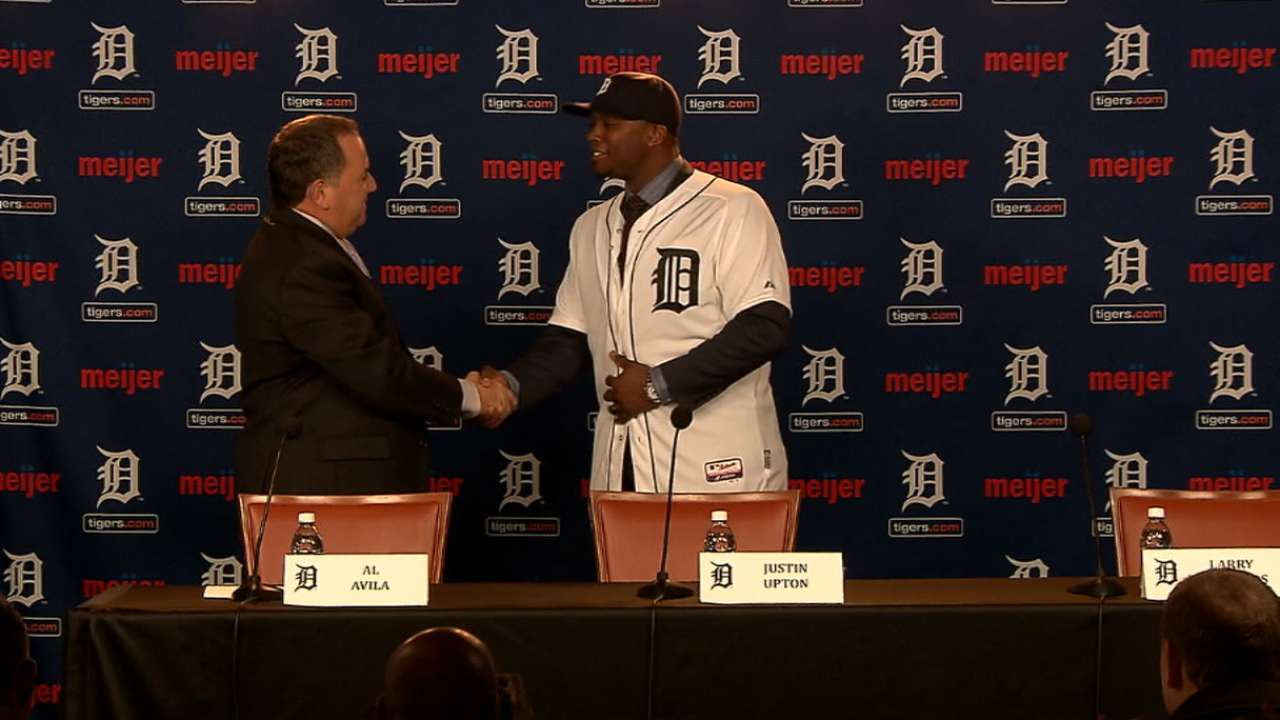 "With Al and Brad coming to town, having a chance to sit and talk with those guys, I think what sold me the most was Mr. Ilitch wanting to win ballgames, wanting to win a championship," Upton said.
On Wednesday, Upton took the podium at the Tiger Club and put on his Tigers jersey, wearing No. 8, talking about the six-year contract that brought him to Detroit. Ilitch wasn't there -- Upton said he was in Florida -- but the owner's influence was all over the event.
It was the kind of move many thought the Tigers would do. It was a possibility Avila kept in mind when he and his assistants made out their board, including the top names in their rankings. After talking with scouts, analysts and former opponents, they had Upton at the top. Two months later, he was still out there.
"If you had told me you're going to be able to go get an outfielder in November, December, whenever, he would've still been Plan A," Avila said. "Here he was, available in January. I think we were pretty lucky in that sense."
They were lucky on a couple levels -- lucky to have a slow-moving outfield market, and lucky to have an owner more worried about his lineup than his luxury tax bill, no matter how much Avila warned him of the consequences.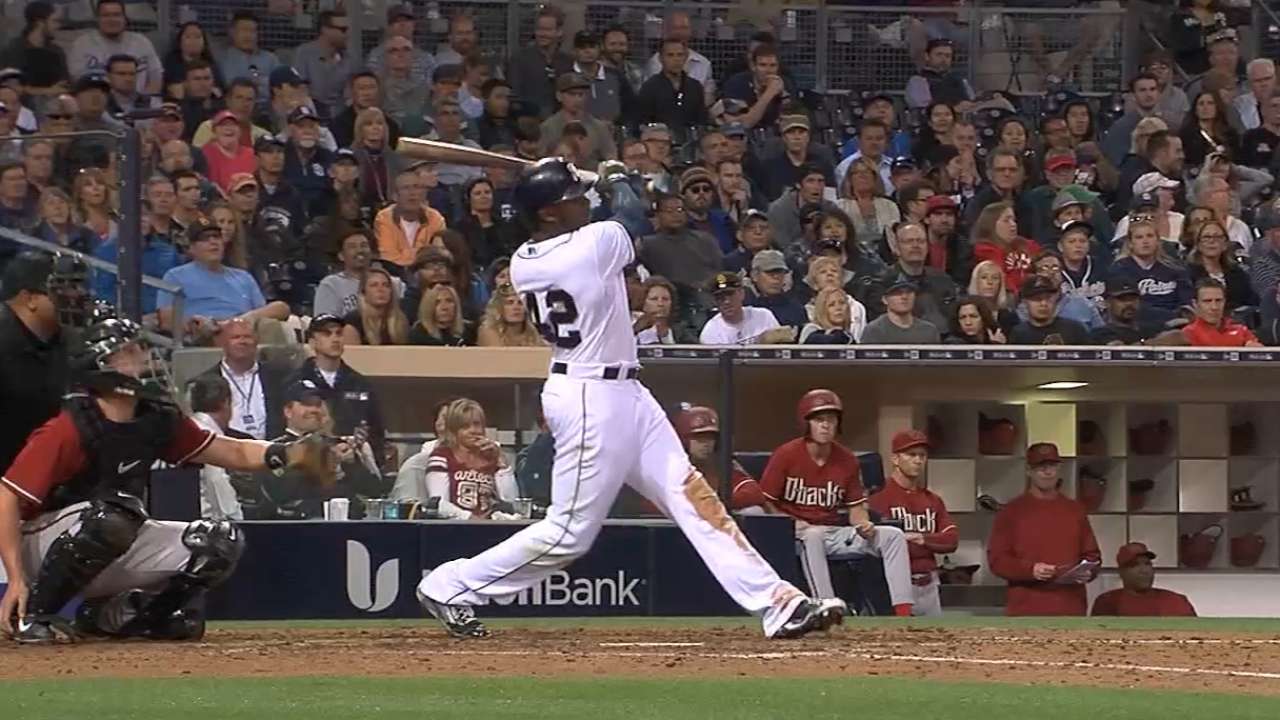 Upton's deal pushes the Tigers' 2016 payroll past the $185 million mark, including a $6 million payment to Texas to help offset Prince Fielder's salary from their trade two years ago, and a $1 million buyout of Joe Nathan's option. If the Tigers settle with J.D. Martinez and fill out their roster with minimum-salary players, they'll be around $195 million, passing the $189 million luxury tax threshold. Add in $14-15 million in player benefits, included in luxury tax calculations, and Detroit's payroll ends up around $210 million.
The Tigers paid luxury tax in 2008 under a previous Collective Bargaining Agreement, but would qualify as first-time payers this year, leaving them paying 17.5 percent on the overage. With the current CBA set to expire next winter, the same situation and rate could apply. As it stands, Detroit has at least $165 million committed for next season, including another payment to Texas and options or buyouts on Cameron Maybin and Francisco Rodriguez.
"It was very well explained," Avila said. "As a matter of fact, it was discouraged to a certain degree. I had mentioned it wouldn't look good moving forward. But he knows it, and he went into it with wide eyes. He's an amazing man, a very generous man, and very passionate."
Done deal! Excited to officially be a @tigers Looking forward to meeting my new teammates and fans pic.twitter.com/YaPkY75CXc

— Justin Upton (@JUST_JUP) January 20, 2016
As a result, a team that fell from four-time AL Central champions to the division cellar last year doesn't have to rely quite as much on the good health and production of its aging stars to get Detroit back toward the top.
The deal became official Wednesday, with Upton having undergone a physical in the morning. The contract includes a straight salary of $22.125 per season, and an opt-out that would allow Upton to become a free agent again after the 2017 season. He's the latest January signing for a club that signed Fielder, Johnny Damon, Jose Valverde, Magglio Ordonez and Ivan Rodriguez in this similar fashion.
Upton is the first of the group to get an opt-out, following an industry trend over the last year or two. His agent, Larry Reynolds, said it wasn't a must; one proposal they made to the Tigers had no opt-out but was for a longer term.
"Opt-outs generally are in there and people will exercise them, but one of the things we wanted to emphasize was that was not our intent, to come here for two years," Reynolds said. "Justin's been on enough teams. He needs to stay put for a minute."
Jason Beck is a reporter for MLB.com. Read Beck's Blog, follow him on Twitter @beckjason and listen to his podcast. This story was not subject to the approval of Major League Baseball or its clubs.