No. 2 spot one of lone uncertainties in Royals' lineup
Escobar entrenched as leadoff man, Yost talks about batting order with Zobrist gone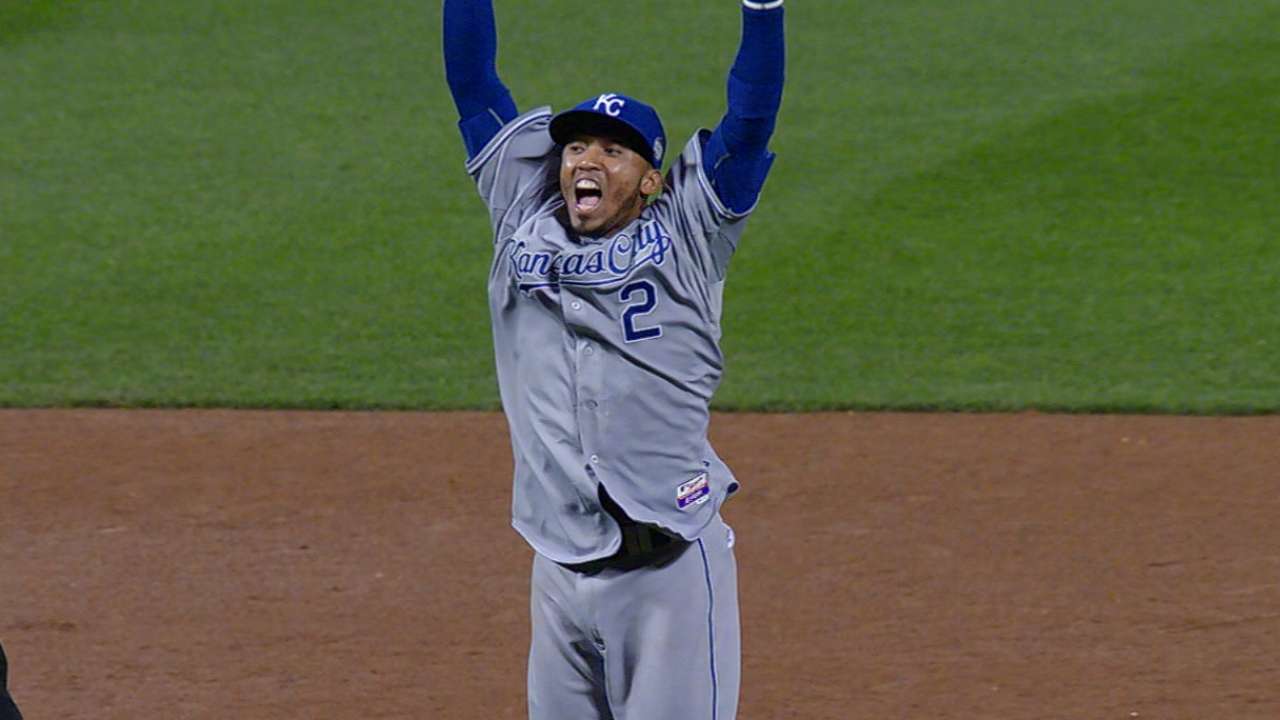 KANSAS CITY -- With Spring Training just a bit more than four weeks away, it's never too early to start debating the Royals' batting order again.
There's one position not up for debate: Shortstop Alcides Escobar will again be the Royals' leadoff hitter in 2016, manager Ned Yost told MLB.com by phone on Tuesday.
"Hey, it just works for us," Yost said. "That's proven now."
The Royals began using Escobar in the leadoff spot toward the end of the 2014 regular season. With Escobar there, Kansas City went 11-4 in that postseason.
And the Royals went 82-54 in the 2015 regular season, mostly with Escobar in the top spot, before Yost moved him to ninth and elevated Ben Zobrist and Alex Gordon. But the Royals went into an immediate tailspin, losing 11 of 17. Yost reinserted Escobar to No. 1, and the team won its final five regular-season games and then won all three postseason series, including the World Series.
"We just respond with him up there," Yost said.
Much of the 2016 batting order will look familiar, Yost said, in that Lorenzo Cain will hit third, Eric Hosmer fourth and Kendrys Morales fifth.
"We have to decide on the No. 2 spot," Yost said. "Losing [Ben] Zobrist leaves a pretty big hole. But we got guys who can do it. We got Moose [Mike Moustakas] who did it. And we got Gordo [Alex Gordon]."
It's likely that between Moustakas and Gordon, one will hit second and the other sixth.
The new addition to the starting lineup, right fielder Jarrod Dyson, is slated to hit ninth.
"We like the idea of having a backup leadoff guy down there," Yost said. "That way we have our best hit-and-run guy, Esky, hitting with him on base.
"But we haven't set things in stone. Those are conversations we'll have at our organizational meetings next week. I'll talk with the coaches and everyone else. It's a decision we make together."
A possible Royals' 2016 batting order:
Alcides Escobar SS
Mike Moustakas 3B
Lorenzo Cain CF
Eric Hosmer 1B
Kendrys Morales DH
Alex Gordon LF
Salvador Perez C
Omar Infante /Christian Colon 2B
Jarrod Dyson RF
Jeffrey Flanagan is a reporter for MLB.com. Follow him on Twitter at @FlannyMLB This story was not subject to the approval of Major League Baseball or its clubs.