Twins top prospect Buxton knows time is now
Hicks trade opens door for touted center fielder to play every day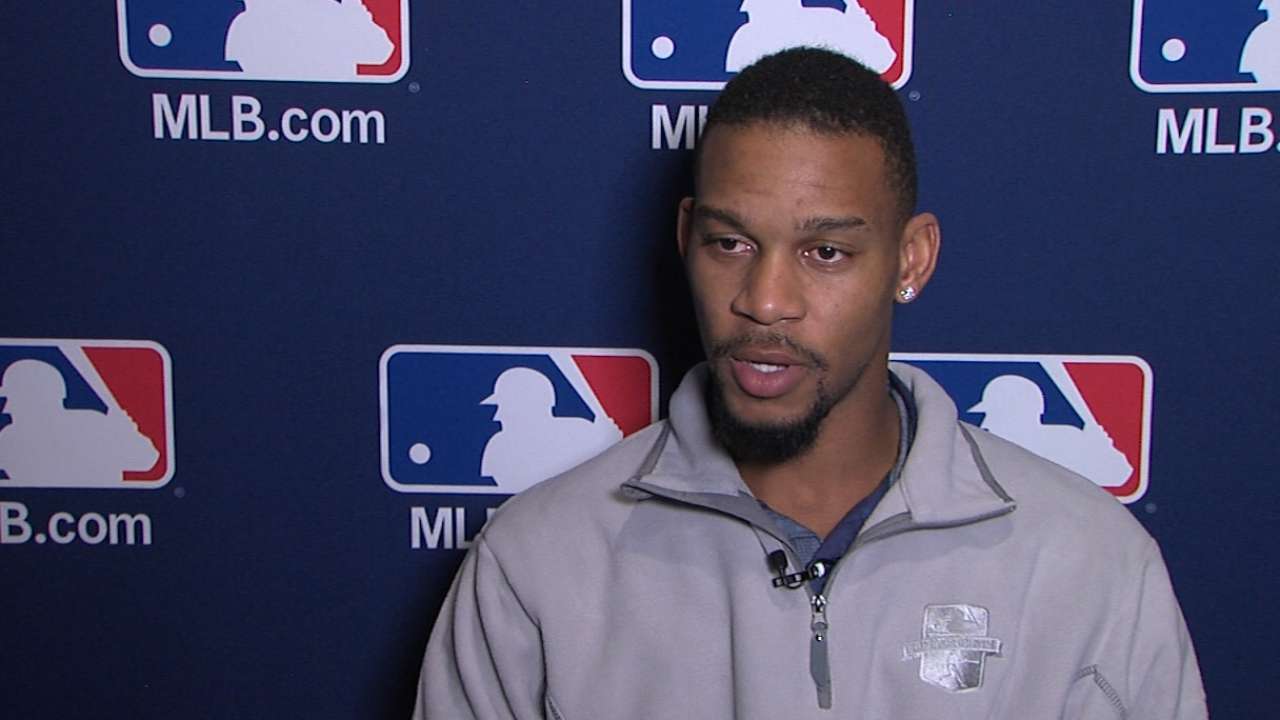 BEMIDJI, Minn. -- Byron Buxton was caught off-guard when he heard the news that fellow center fielder Aaron Hicks was traded to the Yankees for catcher John Ryan Murphy in mid-November.
Buxton was with his family when he found out from first-base coach Butch Davis via text, and Hicks called him shortly after to tell him about the trade. It was bittersweet for Buxton, as Hicks was one of his best friends on the team, but it also opened the door for him to be Minnesota's everyday center fielder this season. Buxton, ranked as the No. 1 overall prospect by MLBPipeline.com, said he took that as a signal that the organization believes he's ready to take over in center field.
"I worked hard this offseason and probably harder than I worked the last three," said Buxton, who is on his first Twins Winter Caravan. "I just want to be prepared and stay healthy. That's my biggest goal. That's my biggest key this year. I feel like I have to go out there and prove myself and go out there and take it."
.@OfficialBuck103 walked on (frozen) water for the first time today in Detroit Lakes, MN. #TwinsWinterCaravan pic.twitter.com/7OIsLNobtp

— Minnesota Twins (@Twins) January 19, 2016
Buxton made his long-awaited debut last season, but it didn't quite go as planned, as he hit .209/.250/.326 with two homers, six RBIs, two stolen bases and 44 strikeouts in 46 games. In his exit interview after the season, the Twins stressed to him the importance of being both more patient and more aggressive at the plate.
"Patient as in picking out good pitches to hit," Buxton said. "Also being more aggressive on first-pitch fastballs and get-me-over breaking balls. Stuff like that. So it's tough. But it started to click for me at the end."
As Buxton noted, he did play better down the stretch, hitting .273/.314/.515 over his last 20 games. He said the success at the end of the season boosted his confidence heading into 2016.
"I got a little taste of it last year, so most of the nerves or butterflies have gone away," Buxton said. "I'm just ready to get out there and go."
But how Buxton will fare could dictate the fate of Minnesota's year, as a breakout season could help put them over the top in their bid for their first postseason berth since 2010. But if he struggles or has to spend time at Triple-A Rochester, the Twins don't have another natural center fielder on the roster to take his place. Eddie Rosario, Danny Santana and fellow prospect Max Kepler can handle center, but Buxton is the best of the bunch defensively.
"There's a lot of scenarios that could be painted, but we're hoping he takes the next step," manager Paul Molitor said. "It will make things a lot smoother if he's the guy. Because if he's not, it's going to be interchanging parts that might not look too pretty at the start. So I'm hoping it works out. It would be the best-case scenario if Byron Buxton is ready to be our center fielder."
Molitor, though, said he believes the Twins have enough talent that Buxton won't make or break their season. But the manager knows just how talented the 22-year-old is, and he believes Buxton has the smarts and work ethic to become a star.
"I think he knows what areas are holding him back," Molitor said. "Whether it's anxiousness, strike-zone recognition, maybe trying to do too much on a given day to live up to the hype. I think he's intelligent enough to see the game and what works and what he needs to do."
Rhett Bollinger is a reporter for MLB.com. Read his blog, Bollinger Beat, follow him on Twitter @RhettBollinger and listen to his podcast. This story was not subject to the approval of Major League Baseball or its clubs.