Inbox: Where will Mets get their muscle in 2016?
Beat reporter Anthony DiComo answers fans' questions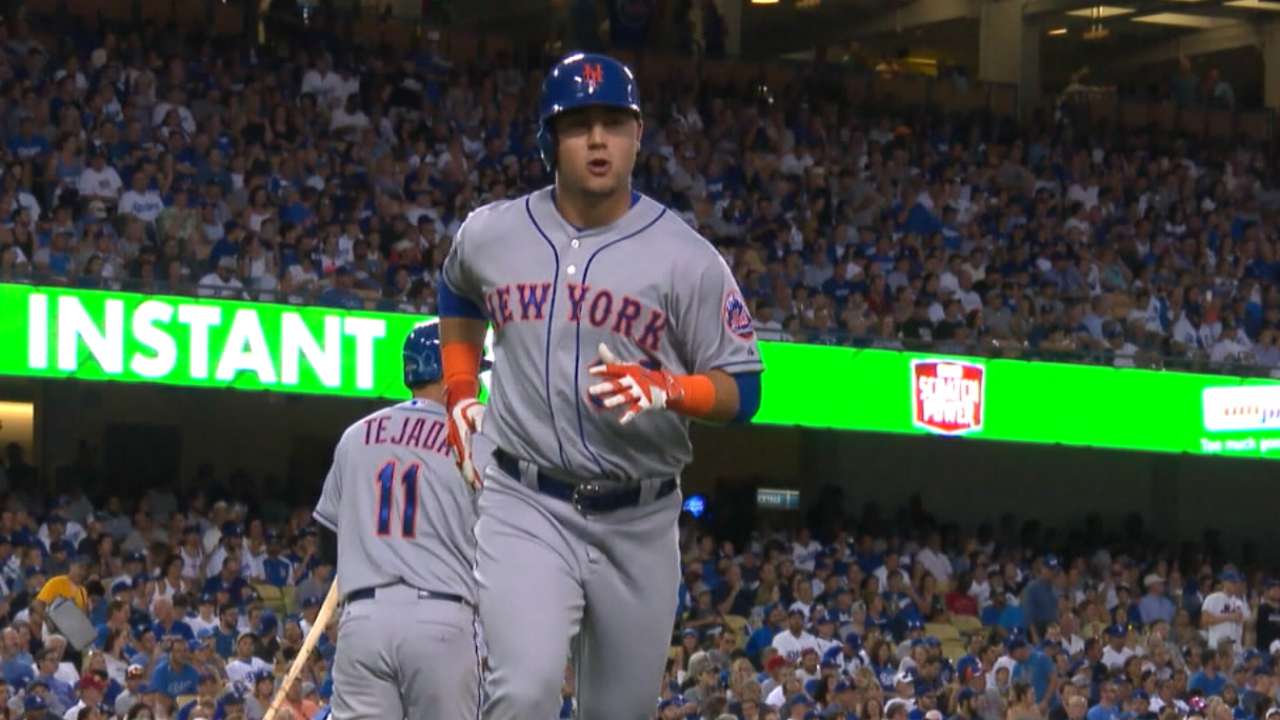 Don't look now, but the official start of Spring Training is just four weeks away. The Mets still have a few loose ends to tie up between now and then, but the team you see today is more or less the one that will fly to Kansas City for Opening Day. It's a relatively complete club, though not without its flaws. So we start the latest Mets Inbox with a pertinent question: Where's the power?
How will the Mets address the issue of having no "power player" on the team? After all, the Cespedes Era ended once we acquired Alejandro De Aza.
-- Matthew, Sherman, N.Y.
• Submit a question to the Mets Inbox
I would tend to agree with you on the end of the Cespedes era, despite some rumblings of a reunion late last week. And it's a fair question -- one many fans feel the Mets have not adequately addressed this offseason. We've talked often about the losses of Yoenis Cespedes and Daniel Murphy, who combined to hit 23 home runs for them in August and September alone, helping the Mets finish tied for eighth in the Majors in homers. The front office has responded with talk of increased versatility and prominent platoon advantages, mostly within the infield. But that's not going to make balls go over fences.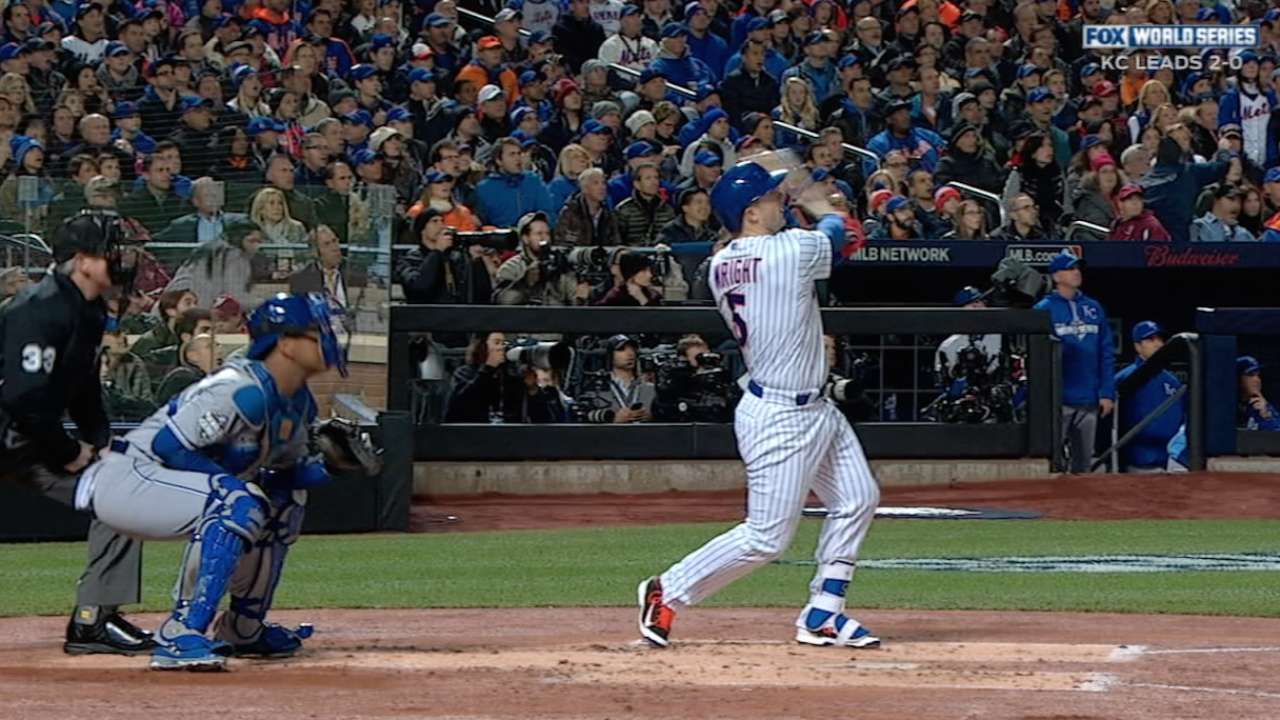 Simply put, with no major acquisitions on tap, the Mets are going to have to prove their power ability with what they already have in-house. Murphy, for example, hit 14 home runs last season; new second baseman Neil Walker is a good bet to club a handful more than that. David Wright hit just five homers in limited time last season; a healthy 2016 could see him at least double that total, if not triple it. The Mets received 15 homers from their shortstops last year; Asdrubal Cabrera has hit at least 14 in each of his past five seasons.
Keep going down the list. Curtis Granderson hit 26 long balls last season and, if healthy, should approach that number again. Lucas Duda has hit 30 and 27 in consecutive seasons; smack in the middle of his prime, there's no reason he can't deliver a repeat performance, too. Travis d'Arnaud missed more than half the year due to injury, but still parked a dozen balls into the stands; his backups didn't do much of anything.
The wild card here is Michael Conforto, who clubbed nine home runs in 194 plate appearances last season. This year, he should more than double his number of trips to the plate.
This isn't me defending how the Mets went about their offseason. It's simply me demonstrating that for a team that ranked in the upper third in the Majors in power production last season, there is room for improvement.
The counterargument is that the Mets have left themselves precious little margin for error. There are no guarantees that Wright and d'Arnaud stay healthy, that Granderson and Duda maintain the status quo, that Conforto takes a leap forward, and so on and so forth. The Mets seem to be banking on most if not all of those things to happen, which is a dangerous game to play. Because this time, a Cespedes-type player probably won't be waiting to save them come Trade Deadline.
What are the chances that, upon returning from Tommy John surgery, Zack Wheeler goes to the bullpen?
-- Michael (hometown omitted)
What are the chances that Matt Harvey, Jacob deGrom, Noah Syndergaard, Steven Matz and Bartolo Colon all stay healthy and make every start from April through July? Almost zero, because that never happens with any team.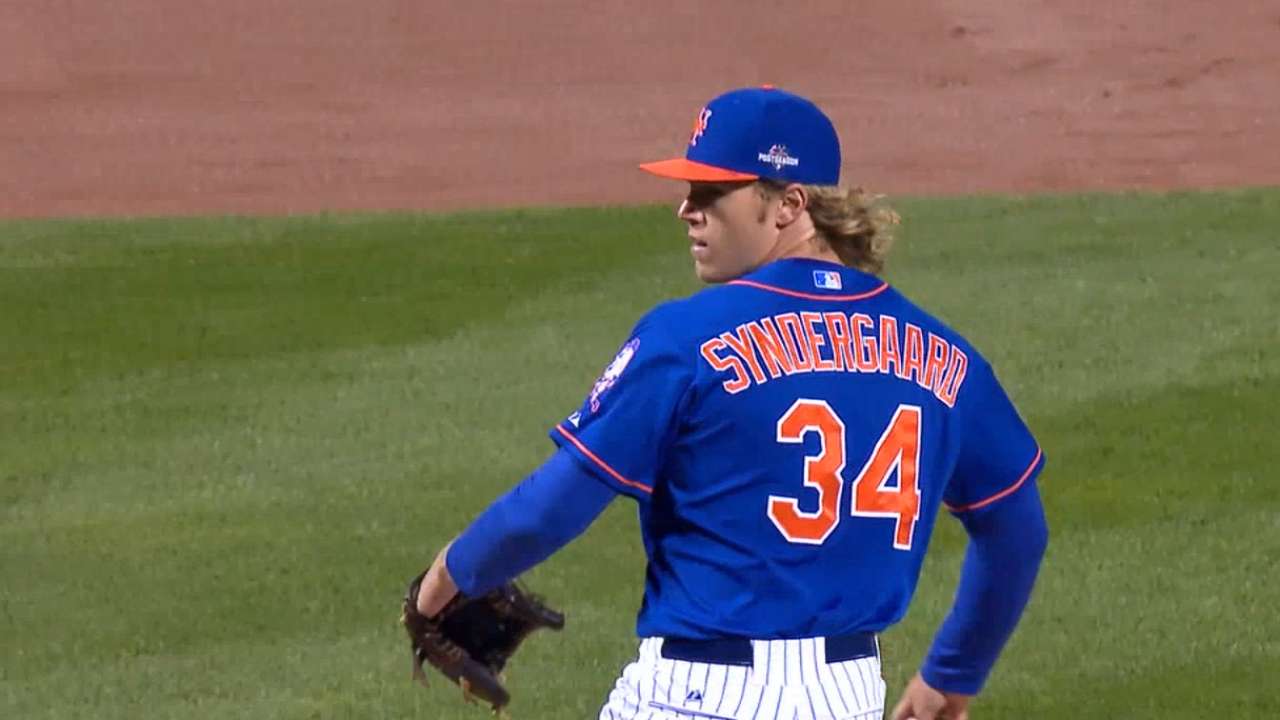 Fact is, the Mets need Wheeler. And Wheeler, who is just 25 years old, still has a chance to be a very, very good starting pitcher. People forget that he was once every bit as highly regarded a prospect as Syndergaard, and even more so than Harvey, deGrom or Matz. Maybe Wheeler will struggle a bit this year as he grows accustomed to his new elbow ligament. But the Mets are operating under the assumption that by next year at the latest, he will be a productive and durable member of their rotation. Sending Wheeler to the bullpen now would only undermine his chance at success.
That was part of the allure of signing Colon. The veteran pitcher has proven he's happy to pitch out of the bullpen if needed, and he has a history of success there. If any Mets starter gets pushed to relief work from a crowded rotation, it's bound to be Colon -- not a 25-year-old with a bright future ahead of him.
With Murphy gone and Michael Cuddyer retired, what are the Mets' plans for a backup at first base?
-- Mike B., Bronx, N.Y.
In a perfect world, the right-handed outfield backup the Mets still plan to sign will also be capable of playing first base, a la Ryan Raburn. Barring that, the team has already spoken publicly about giving Wilmer Flores reps at that position in Spring Training, knowing a healthy Duda can start 150-plus games there. The final option is Eric Campbell, for whom the Mets' front office has long held fondness. As a right-handed hitter, Campbell makes sense, but there may not be room for him in a crowded infield mix.
Will Josh Edgin be ready by Spring Training to contribute to the team?
-- Brendan C., Islip, N.Y.
He's on the cusp. Rehabbing from Tommy John surgery right now, there's a chance Edgin could make the Opening Day roster 13 months removed from his operation. More likely, the Mets will move slowly with him, particularly with veteran lefty specialist Jerry Blevins back in the fold. A May or June arrival for Edgin seems apt.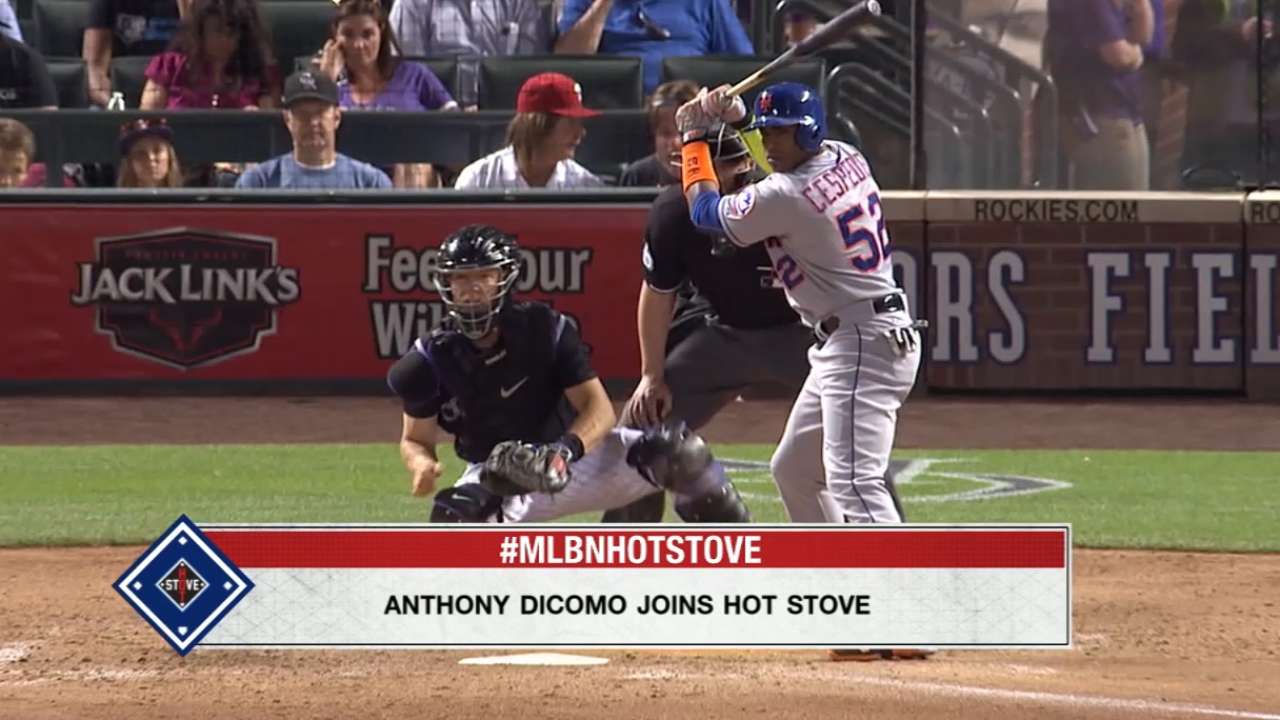 Why do I never hear Vic Black's name? He was helpful in 2014, and was in the Minors all of 2015. The Mets need relief help ... why not Vic?
-- Nick M., Queens, N.Y.
Black struggled through injuries last season and was ineffective when healthy, walking 30 batters with a 5.94 ERA over 36 1/3 Minor League innings. He became a Minor League free agent shortly after the Mets outrighted him off their 40-man roster, and he is currently looking for a new team. A popular clubhouse figure and once a potential future closer, Black now must work, at age 27, to resuscitate his career.
Why when talking about Mets prospects does Gavin Cecchini's name hardly ever come up? First-round pick, Sterling Minor League Player of the Year for the Mets, hit over .300.
-- James W., Warrington, Pa.
Mostly because Cecchini didn't do much of anything in the Minors until last season, and because he's long been outshined by other shortstops in the system. Though Matt Reynolds doesn't boast Cecchini's ceiling, he's received loads of attention for his success at the upper levels. Conversely, Amed Rosario may be younger than Cecchini, but he possesses true superstar potential.
Cecchini fits somewhere in between, particularly after posting a .317/.377/.442 slash line at Double-A Binghamton last season and raking in the Arizona Fall League. He's 22 now, and finally close to the Majors. A strong half-year at Triple-A Las Vegas will spark all sorts of hubbub about Cecchini.
Anthony DiComo is a reporter for MLB.com. Follow him on Twitter @AnthonyDiComo and Facebook, and listen to his podcast. This story was not subject to the approval of Major League Baseball or its clubs.