Around the Horn: Corner infield
Teixeira, Headley form formidable duo for Yanks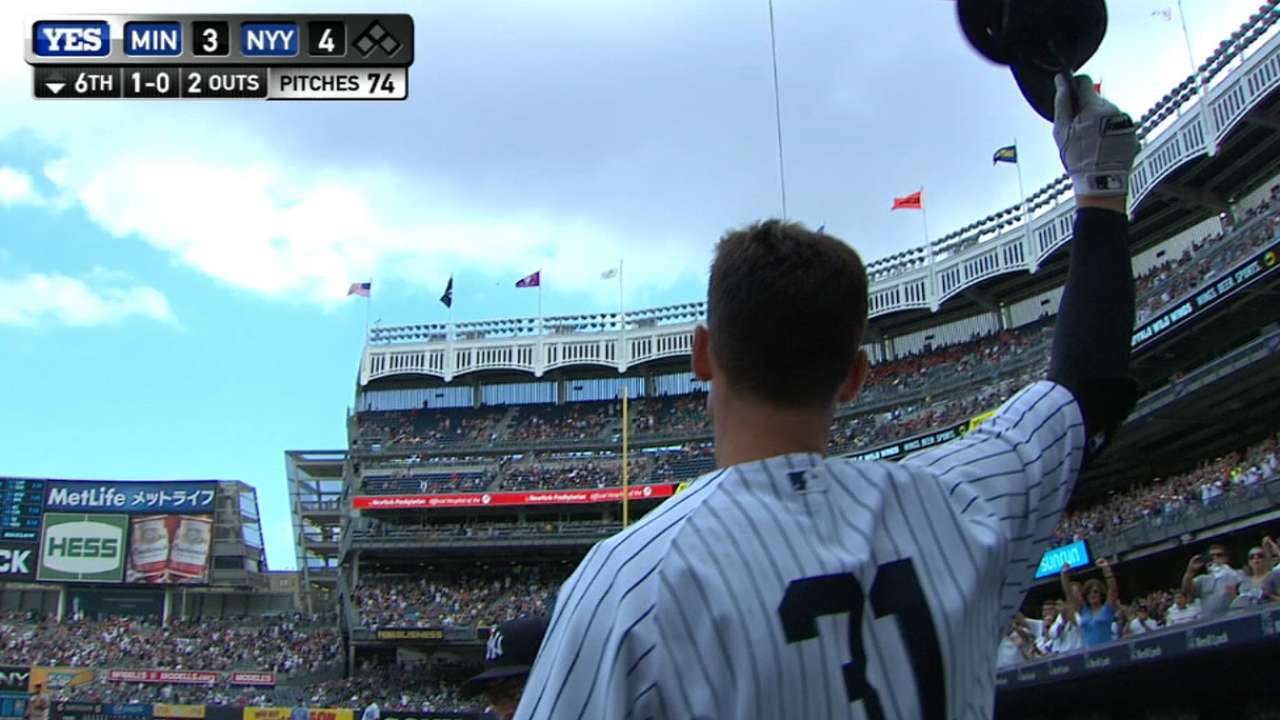 With the start of Spring Training almost here, anticipation is building for the 2016 season. MLB.com is going around the horn to break down each area of the Yankees' roster, continuing this week with the corner infield spots.
The Yankees enjoyed plenty of production from their first basemen this past season, with Mark Teixeira earning an All-Star selection and wading into the early American League MVP Award discussion before rookie Greg Bird stepped in nicely to help end the team's playoff drought.
Teixeira's return to form and Bird's promise will give the Yanks plenty to be excited about over the next year-plus, as Teixeira looks to complete his eight-year, $180 million contract on a strong note while Bird tries to establish himself as a significant part of the organization's future.
While the Yankees believe in Bird's abilities, they have made it clear that if Teixeira is healthy come Opening Day, he will be their starting first baseman in 2016. If so, Bird will begin the season in the Minors through no fault of his own.
"It's not new. You hope you have that type of depth at every position," general manager Brian Cashman said. "Unfortunately you don't, but it would be nice to have something like that, some high-end guy pushing up in the mix who can't get up at times because somebody who is really high-end is blocking him. It creates a good dynamic; it means your system is catching up with your roster."
Bombers first basemen combined to hit .248 with 43 homers, 116 RBIs and an .852 OPS last season. Teixeira was responsible for 31 homers and 79 RBIs -- his first 30-homer season since 2011, thanks in large part to a surgically-repaired right wrist that had finally returned to full strength.
Teixeira's year was truncated due to what was revealed to be a fractured right leg, the result of an Aug. 17 foul ball. Bird stepped in, and from the time of his Major League debut on Aug. 13 through the end of the season, he led the team in homers (11) while tying Carlos Beltran for the lead in RBIs (31).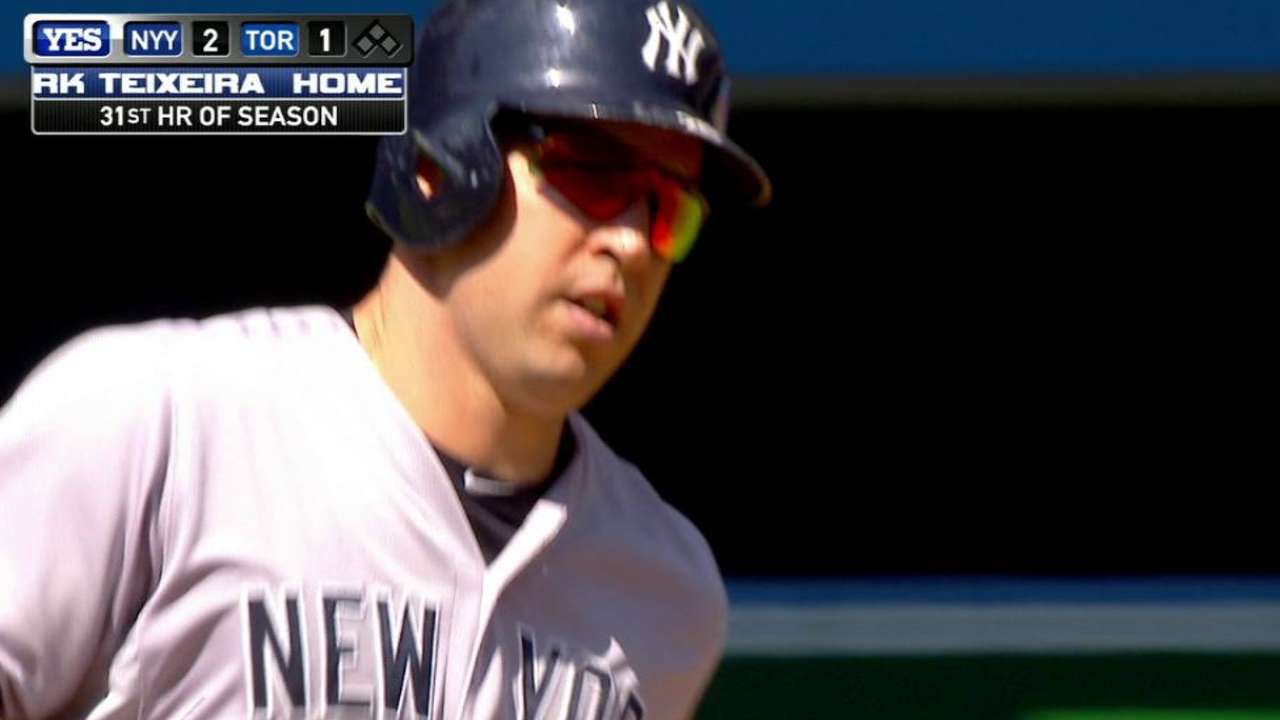 "I think when you look at what Greg Bird did for us, it was extremely impressive last year, the job that he did," Yankees manager Joe Girardi said. "And we believe that he's going to be here for a long time."
Even with Bird's emergence, the Yankees sorely missed Teixeira's switch-hitting presence down the stretch, particularly against left-handed pitching. They are happy to report that Teixeira has ditched his crutches and is expected to be ready for Spring Training, but Bird also vows to be prepared for his next chance.
"My mentality is not to sit back and wait," Bird said. "It's, 'I've got to be ready.' It's something I took into the Fall League last year, getting used to playing in October or November. That's when everyone should want to play."
At the opposite infield corner, Chase Headley will return for his second full season as the Yanks' third baseman. Headley batted .259 with 11 home runs and 62 RBIs in 156 games, leading the team with 150 hits, but the former Gold Glover committed a career-high 23 errors.
"I think he had his ups and downs, but it was mostly defensively, where he played extremely well at times and at times he struggled," Girardi said. "This is a guy that works really hard and worked really hard all year. I don't expect him to have those struggles this year. It's important we get him back to where he was when he had him the year before."
While Alex Rodriguez will bring his glove to camp, the Yankees were so pleased with his adjustment to a full-time designated hitter role that he may not be asked to use it much. Rodriguez made just four appearances at third base and two at first base in 2015, and Girardi said that he doesn't envision using Rodriguez much defensively in '16.
Instead, it figures that Dustin Ackley could pick up some reps at first base on days when Teixeira is out of the lineup, as Girardi would like to continue seeing Ackley take on right-handed pitching at Yankee Stadium. Headley has also been used at first base, while the Yanks have discussed using second baseman Starlin Castro as an occasional fill-in at third base.
Bryan Hoch is a reporter for MLB.com. Follow him on Twitter @bryanhoch, on Facebook and read his MLBlog, Bombers Beat. This story was not subject to the approval of Major League Baseball or its clubs.