Around the Horn: Angels eyeing corner infield
With Pujols looking to get healthy, Cron option at 1B; club confident in Escobar's offensive potential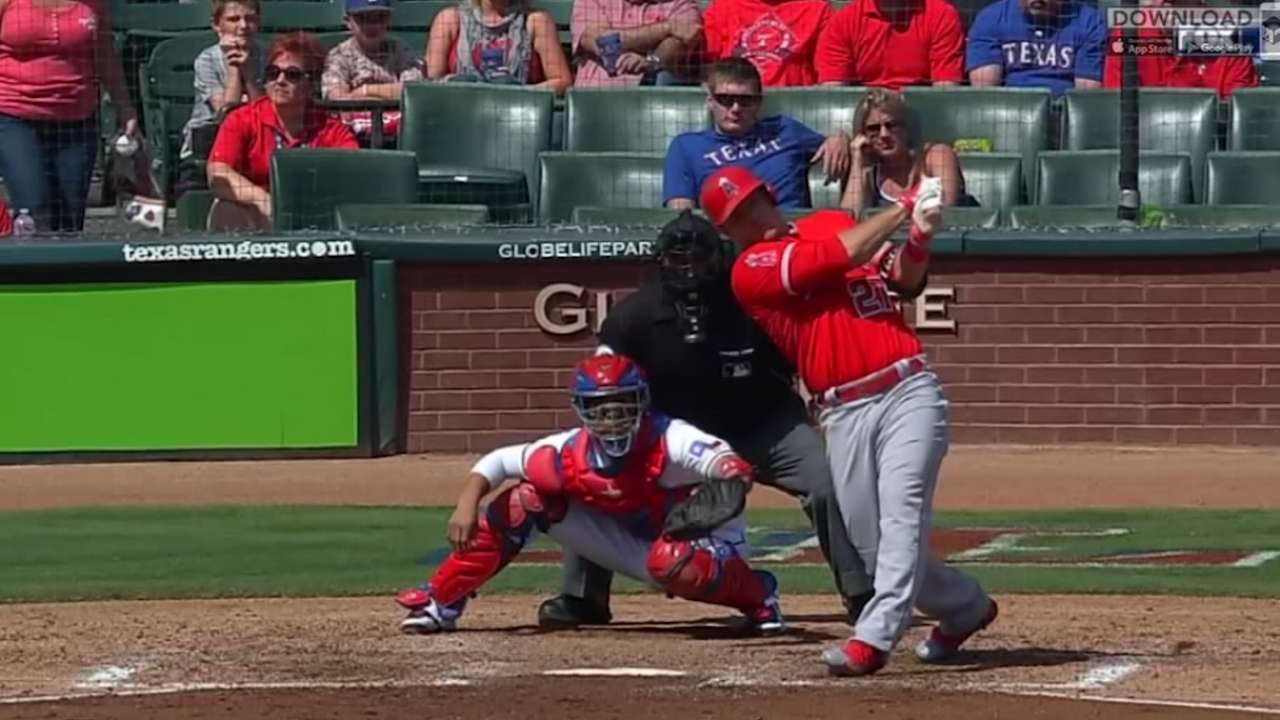 With pitchers and catchers scheduled to report to Tempe, Ariz., by Feb. 18, it's time to dissect the Angels' 2016 roster. This is the second of a six-part Around the Horn series taking a position-by-position look at projected starters and backup options heading into the season. Next up: corner infielders. (previously: catcher)
ANAHEIM -- Gary Gaetti, Rene Gonzales, Spike Owen, Tony Phillips, Dave Hollins, Maicer Izturis, Chone Figgins, Alberto Callaspo, David Freese and, now, Yunel Escobar. These are the Angels' third basemen who never really should've been. They were -- and are -- Plan B, fallback options that came about because a well-regarded prospect was ultimately deemed incapable.
Jack Howell struggled as Doug DeCinces' replacement from 1988-90, prompting Gaetti, Gonzales, Owen and Phillips to all come over and hold down the position for the next five years. George Arias wasn't ready in '96, so Hollins was signed as a free agent to play every day in '97 and '98.
Seven years later there was Dallas McPherson, unfit to replace Troy Glaus and prompting Izturis and Figgins -- two natural middle infielders -- to spend a lot of extra time at third base.
Then there was Brandon Wood, who flopped dramatically in 2010 and forced the Angels to reacquire Callaspo via trade. Then, with Kaleb Cowart lagging behind his '14 projection, Freese came over in a deal with the Cardinals in November 2013 and played every day for the next two seasons. And that brought us to Escobar, acquired from the Nationals on Dec. 10 because Cowart and fellow prospect Kyle Kubitza -- acquired from the Braves 12 months ago, as a fallback option for Cowart -- still have more to prove.
A first-round Draft pick (18th overall, for Cowart), a high-ceiling starting-pitching prospect (Ricardo Sanchez, for Kubitza) and a talented young reliever (Trevor Gott, for Escobar) have all been burned on third basemen currently residing on the Angels' 40-man roster. It's a heavy price, but it'll be a manageable one if the Angels get the type of production they expect out of their corner infielders.
Escobar transitioned from shortstop to third base in 2015 and is coming off one of his best offensive seasons. Albert Pujols is fresh off his first 40-homer season in five years, but also one that saw his batting average (.244) and on-base percentage (.307) drop to career lows.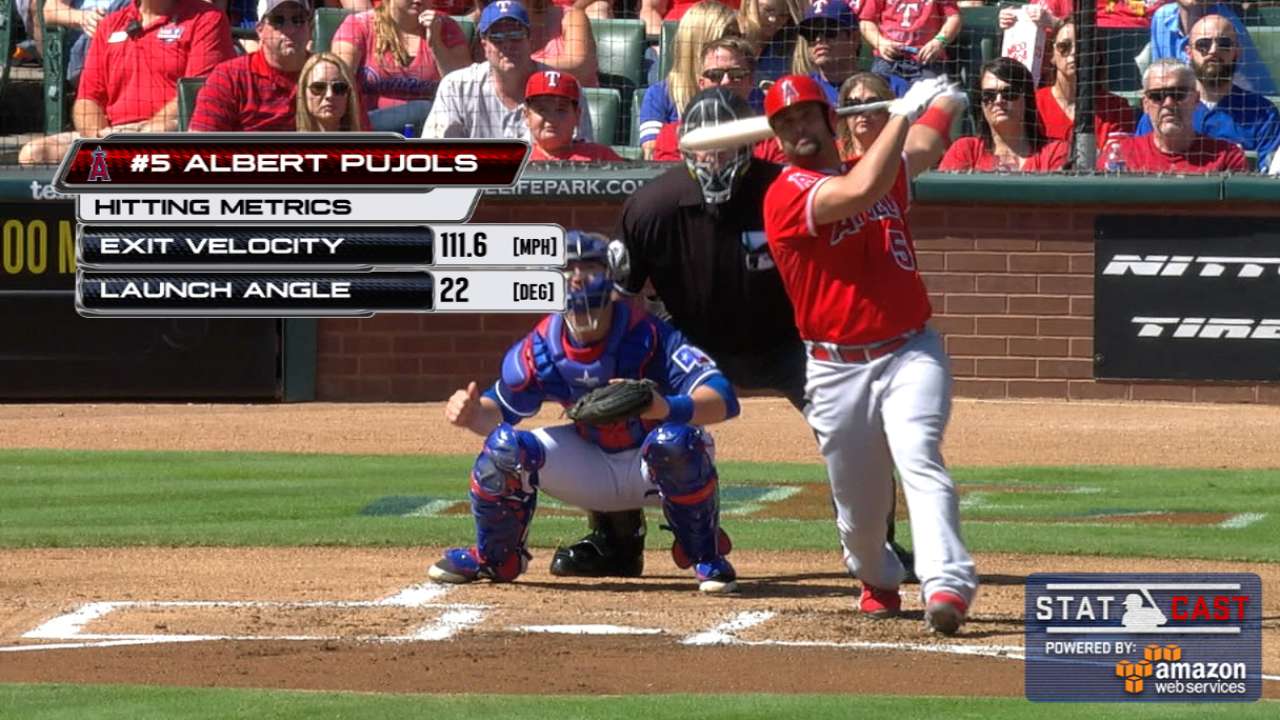 The latter numbers can at least be partly attributed to the pain Pujols nursed near the arch of his right foot throughout the final month, which greatly restricted his plate coverage and prompted him to start the season's final 28 games at designated hitter. Pujols surgically repaired the issue in early November and isn't expected to get into baseball activities until sometime in March, a reality that could force him to start the season on the disabled list.
Pujols is now three days removed from his 36th birthday, with a long list of lower-body ailments on his medical report and $165 million remaining on his contract. The Angels will do everything they can to maximize Pujols' playing time in 2016, even if it means limiting his elite glove.
"The most we need from Albert is his 650 plate appearances and hitting in the middle of our lineup, and being as productive as he is," manager Mike Scioscia said during the Winter Meetings in December. "If we can do that with him playing the Gold Glove-caliber first base that he can bring, great. But we definitely don't want to jeopardize his ability in the batter's box with what he does at first base."
That's why C.J. Cron is so important.
The 26-year-old power hitter enters 2016 as the Angels' DH, thanks largely to the .289/.330/.506 slash line he posted over the final three months. After an early season demotion, Cron proved how dangerous he can be in the middle of a Major League lineup. And down the stretch, while playing first base on an everyday basis, he began to show he might not be so much of a detriment with the glove, either.
"He has gotten a lot better," a veteran American League West scout said. "If he makes 50 percent of the strides this year that he made last year, he will be an average Major League defender."
The metrics were unkind to Escobar, however.
The 33-year-old's minus-7.7 Ultimate Zone Rating was the fourth-worst among qualified third basemen last season, while his minus-11 Defensive Runs Saved was tied with Pablo Sandoval for last place. But defensive metrics can mislead in one-year samples, and a veteran National League East scout believes Escobar -- athletic enough because of his shortstop background -- handled his move to third "as well as expected."
The Angels don't seem worried. They'll have plenty of coverage on the left side of their infield now that GIF machine Andrelton Simmons occupies shortstop. Their priority is offense. And in Escobar, they have someone who batted a robust .314/.375/.415 in 2015 and sports a career .350 on-base percentage, ranked 16th among those with at least 5,000 plate appearances since 2007.
"I think he brings the ability to hit for average, he brings selectivity at the plate, can hit a sizeable number of homers, solid defense, and a lot of contact, as well," Angels general manager Billy Eppler previously said of Escobar. "He can do a lot of things that Mike likes to do over the course of a baseball game."
FanGraphs WAR projections (by Steamer)

Pujols: 1.4
Escobar: 1.3
Cron: 0.4
Beyond the starting lineup

Cowart resurrected his career early in the 2015 season, making a key adjustment at Class A Advanced Inland Empire, scorching through Triple-A and earning a big league promotion in place of an injured Freese. But the 23-year-old hit just .174/.255/.283 in 52 Major League plate appearances, while Kubitza batted .194/.256/.194 and underwhelmed in his first stint of Triple-A. Both have experimented with left field and first base in the past, and may do so again.
Efren Navarro and Rule 5 Draft pick Ji-Man Choi appear poised to compete for playing time off the bench, as a lefty pinch-hitter and late-game defensive replacement on the days Cron starts at first base. Navarro and Choi both lack traditional first base power, but have shown solid on-base ability in their Minor League careers. Choi will have to be offered back to his original team if not on the active roster, but Navarro has an option year left.
Alden Gonzalez is a reporter for MLB.com. Follow him on Twitter @Alden_Gonzalez and Facebook , and listen to his podcast. This story was not subject to the approval of Major League Baseball or its clubs.