Altherr hosts free clinic as part of Phils' outreach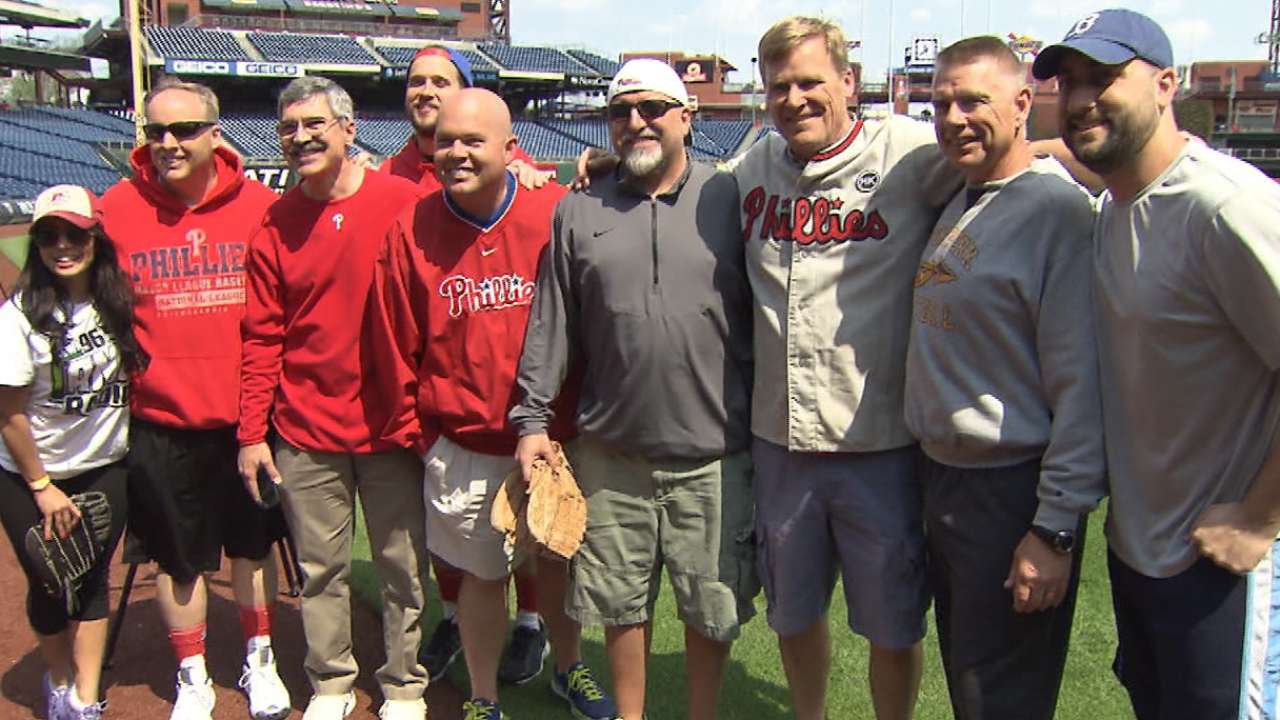 HADDON TOWNSHIP, N.J. -- Outside, the wind chill was in the single digits. Inside Sports 4 All, though, the batting cages hummed with activity, a reminder that Spring Training is a month away.
This was more than just another day, though. The Phillies are holding a series of promotional caravans this week, and kicked it off Monday with outfielder Aaron Altherr hosting a free clinic for their North Camden RBI and Junior RBI teams. It was part of the organization's observation of Martin Luther King and the corresponding Day of Service, but Altherr said he's always happy to give back.
"Just to interact with some young kids, maybe give them some pointers to help them out along the way. And just get them excited to want to play baseball, to want to get to the big leagues," he said, wearing a home Phillies jersey. "Anything like this is fun for me. It doesn't matter what day it is. But this is definitely a great day and a way to honor Martin Luther King. Anytime I can do something like this, it's great."
Earlier in the day, Altherr visited the African American Museum in Philadelphia, taking part in a scavenger hunt as well as arts and crafts.
As the kids gathered in the cozy space that features large banners from several of the Phillies' championship seasons and players like Jimmy Rollins, Ryan Howard and Curt Schilling, Altherr gave the group a short pep talk that stressed perseverance, having fun and keeping an even keel.
He started by noting that after being taken in the ninth round of the 2009 Draft, his rise to the Major Leagues was hardly meteoric: "I worked my way up, played at a different level every single year. It definitely took me awhile to get up here. It's a process sometimes, and it can be frustrating at times.
"But always remember that baseball is a game. Don't get too frustrated with it. Just have fun," hs said. "That's something I've learned over the years. I used to really get down on myself if I'd go 0-for-4 or something. I'd be down for the next two or three games. So you've got to have fun with it, no matter how good you do or how bad you do. Have the same mentality and have fun. That's the main thing. If you do that, you can go far."
Altherr's career has been on an upswing since he began his sixth pro season at Class A Advanced Clearwater in 2014. By July of that season, he had made a brief big league stint. He then really began to establish himself playing at Zulia in the '14 Venezuelan Winter League. After that, he had an extended audition after being called up last August and now is projected as one of the Phillies' starting outfielders, along with Odubel Herrera and Peter Bourjos.
The youngsters flocked to get their picture taken with Altherr on Monday. The 25-year-old is taking nothing for granted, though.
"I just feel like I have a good shot at making the team if I stay healthy and put up some good numbers in the spring. So I'm definitely excited to have that opportunity, and I'm looking forward to Spring Training," he said.
"It a confidence issue, I think. The year before, I was battling a wrist injury, still getting over that. Last year, I felt fine. I just found a groove and tried to stick with it. I didn't really change anything, but I think my confidence probably stemmed from [playing well in winter ball]. I did really well down there; I just tried to keep that same feel for the season. And I was able to put up the numbers I did."
It also helped that Altherr had six weeks last season to become comfortable in the big leagues.
"Ending like I did last year in the big leagues was definitely huge for me, getting that experience and knowing I belong up there," he said. "It was definitely good for my confidence."
Paul Hagen is a reporter for MLB.com. This story was not subject to the approval of Major League Baseball or its clubs.