Buxton, Molitor bat leadoff for Twins' Caravan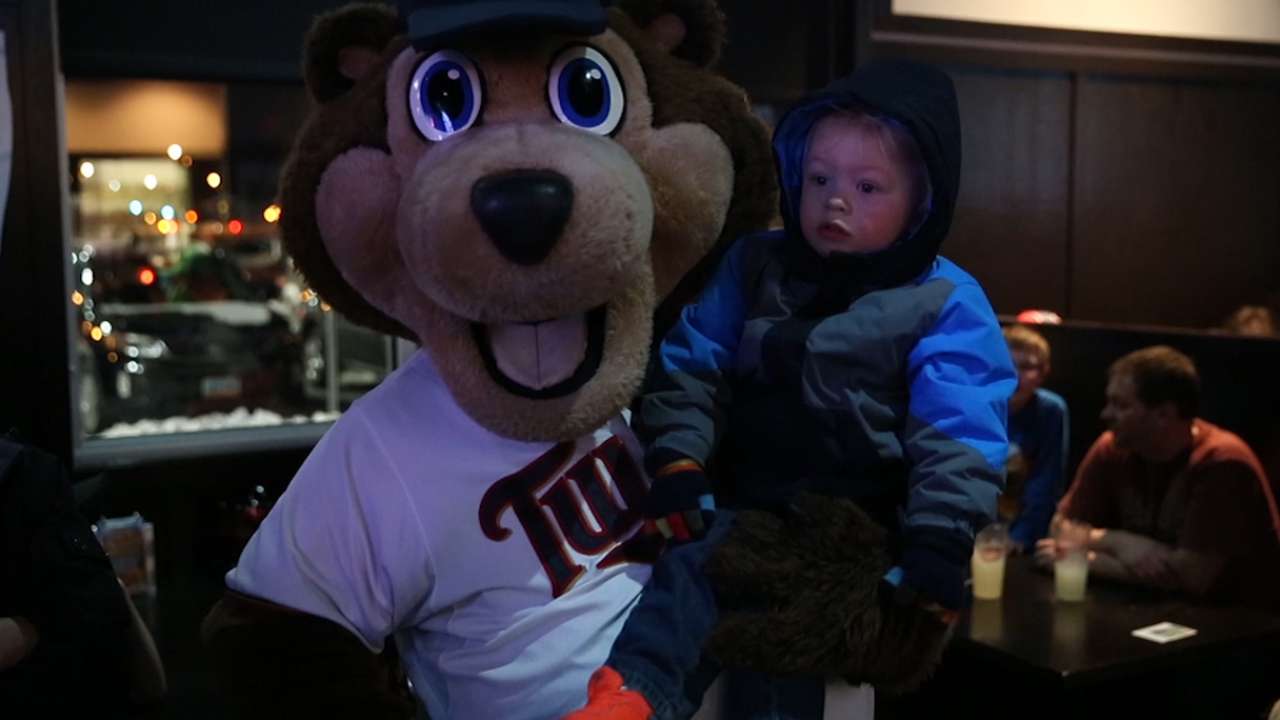 WADENA, Minn. -- Despite subzero temperatures throughout Minnesota on Monday, the first day of the annual Twins Winter Caravan witnessed huge crowds to see Hall of Famer Paul Molitor, top prospect Byron Buxton and reliever Casey Fien.
The trio helped begin one of four legs of the caravan, which features stops in 48 communities in Minnesota, South Dakota, North Dakota, Iowa and Wisconsin over the next two weeks. And fresh off the club's first winning season since 2010, there were noticeably bigger crowds, which excited Molitor as he heads into his second season as manager.
But the caravan isn't anything new for Molitor, as the St. Paul native also went as a player while with the Twins in the late 1990s and feels it's a big part of his job to go on the trip and meet with fans.
"I remember talking last year, after I got the job, with [Twins president] Dave St. Peter, and he told me this is important for us if you can include these types of things as part of your offseason routine," Molitor said. "And we all know how important TwinsFest is to the organization. So I said I'd do my best while I'm in this role to be a part of that."
So while Molitor has plenty of experience with it, the caravan is new for Buxton, who said he volunteered to go on the trip. But Buxton, the outfielder who lives in his hometown of Baxley, Ga., in the offseason, admitted he was a bit taken aback by the weather.
"When I got in yesterday, it took my breath away," said Buxton. "Just getting off the plane and walking through the tunnel to the airport, it was freezing. But two years ago, it was -18 on the day I left TwinsFest, and that was my first one, too. So it broke me in."
Buxton, ranked as the No. 1 overall prospect by MLBPipeline.com, helped attract large crowds at the first three stops of the caravan in Little Falls, Alexandria and Wadena. The stop at a luncheon in Alexandria drew roughly twice as many fans as last year.
"I think Byron is a big part of that," Molitor said. "He's still making covers of magazines. He's got a presence and people like to come out to see him. But we had big crowds at the hardware store and at the luncheon on maybe the coldest day of the year."
Fien, a key member of the bullpen who posted a 3.55 ERA in 63 1/3 innings last year, joked that he's just along for the ride with a Hall of Famer and the game's top prospect. But it's the second caravan for Fien, who has become a dependable veteran for the Twins and drew laughs when he told the crowds that his favorite player growing up was Molitor.
"I mean, it's awesome, but I know they're here to see Mollie and Byron," Fien said with a laugh. "It's fun. You get to meet the kids, and that's the most fun part. Fans get a chance to hear what's going on from Mollie and from Byron. I just think it's really cool we get to come and meet the fans face to face."
Rhett Bollinger is a reporter for MLB.com. Read his blog, Bollinger Beat, follow him on Twitter @RhettBollinger and listen to his podcast. This story was not subject to the approval of Major League Baseball or its clubs.