Tribe curator focuses on future, not just past
Feador always looking to unearth, and spotlight, team artifacts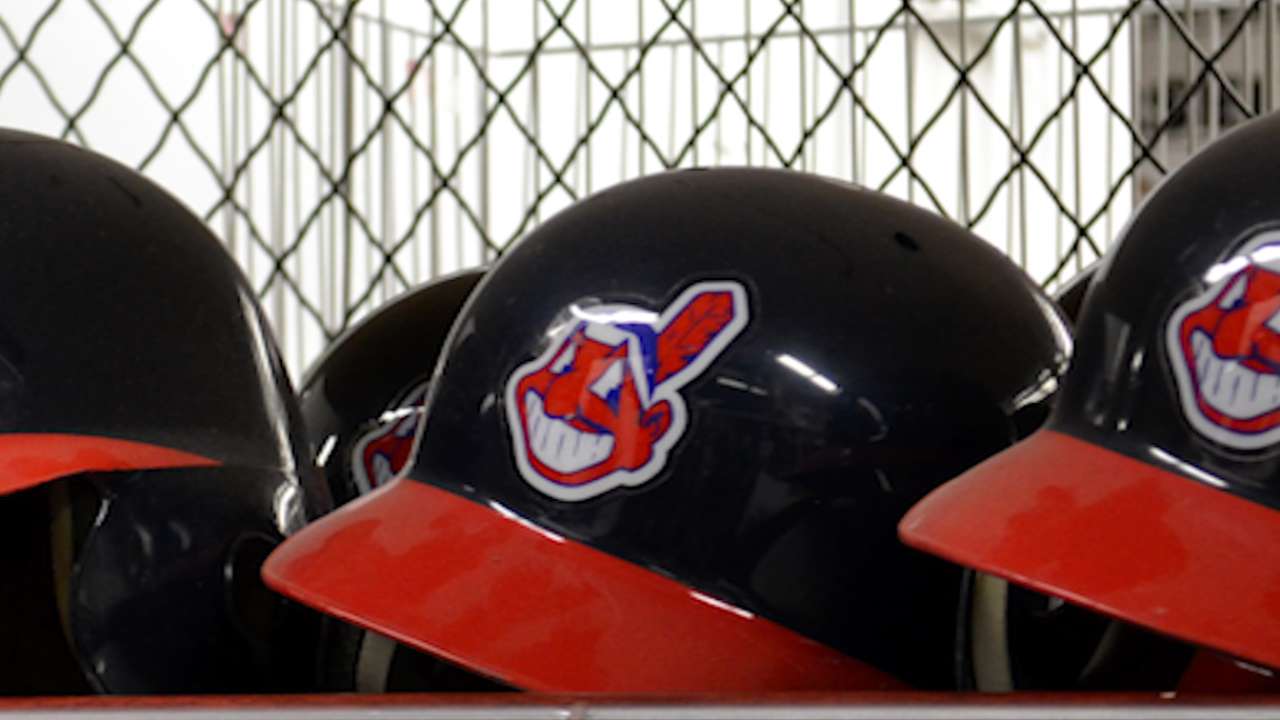 This is the final installment in this week's three-part series on Indians.com going behind the scenes to get a glimpse of the team's growing history archives. The stories feature the collection of items from recent seasons, the creation of the Bob Feller exhibit and what the future holds for the team's collection. Today: Looking back for the future.
CLEVELAND -- There had to be a reason someone saved the bat. The black barrel was intact, but the handle was gone, probably splintered away by an inside heater. A unrecognizable signature was carved into the wood, which was found in a pile of other old items in a room inside Progressive Field.
Jeremy Feador, the Indians' team curator, brought the bat down to the archives in the lower level of the stadium and placed it in a storage bin filled with other historic sticks from Cleveland's past. Many of those bats have been identified, tagged and cataloged. This one remains a mystery.
• Part 1: Tribe curator's labor of love | Part 2: Feller still a star -- in exhibit
"I brought it in here and I was just staring at it," Feador said. "You try to figure out, why would it make sense for someone to save this? Why is this here? It could be junk, or it could be something meaningful."
Part of Feador's job is being a kind of history investigator. Think of him like the Indiana Jones of the Indians' growing collection of artifacts. Since joining the organization two years ago, he has found an assortment of items throughout the ballpark in offices, closets and storage rooms. He has fielded countless calls from fans claiming to have collectibles. He has searched auctions for clues as to where missing pieces of history have gone.
From archives: Lineup board from Muni last game; 1st pitch ball from Jacobs; Feller, Hornsby, Boudreau signed ba. pic.twitter.com/jarKBje3yy

— Jordan Bastian (@MLBastian) January 15, 2016
As he continues to gather items and information, Feador keeps a long-term vision in mind.
The Indians already have started to introduce more historic elements to the ballpark as part of the renovations it has undergone in each of the past two winters. Heritage Park, which features plaques of Indians Hall of Famers, is in center field. Feador also played a key role in the creation of the Bob Feller exhibit in the Terrace Club at the stadium.
Maybe a small museum will be in the plans someday for the ballpark.
"I don't know what the future holds," Feador said. "My ultimate goal is, I'd love to have something, but whether or not it happens, I don't know. But that's my goal. I'm going to keep working like I'm working towards that and build an awesome collection and get this stuff out so fans can see it."
The Indians are at least keeping an open mind.
Some unique Bob Feller items: Navy bag; Envelope stamp from 1938; telegram from scout Cy Slapnicka pic.twitter.com/hwXtUYzgLU

— Jordan Bastian (@MLBastian) January 15, 2016
"Enhancing our efforts to celebrate our rich history is an ongoing discussion in our offices," said Bob DiBiasio, the Indians' senior vice president of public affairs.
Feador proudly shows off some of the items already in hand.
Inside a plastic bag found at the ballpark was red, white and blue bunting, and a note that indicated it was from the Kingdome the day the Indians clinched the American League pennant in 1995. There is a home plate, with a large wooden base, that was used for the final game at Municipal Stadium and the first game at Progressive Field (Jacobs Field at the time). There is a commemorative base from the 1997 All-Star Game in Cleveland, plus seats from League Park, Municipal Stadium and Progressive Field.
From archives: Lindor's 1st-hit base, jersey; Kipnis May '15 bat; Kluber replica Cy; rosin bag from Anderson debut. pic.twitter.com/B4X6i4uLRp

— Jordan Bastian (@MLBastian) January 15, 2016
There are jerseys, bats, helmets and promotional items from different eras, and a large collection of baseballs. One is signed by Feller, Rogers Hornsby, Lou Boudreau and other greats from yesteryear. Another has "1,000" written on it in dark ink with a red zig-zagged bubble circling the number. That was from the 1,000th run scored by the potent 1999 Indians squad.
A lineup board from Municipal Stadium still has the final starting lineups written on it in chalk. Before Municipal Stadium was torn down, a staffer also had the foresight to save boxes of old contracts, including the one Larry Doby signed in 1947, making him the first African-American player in the American League.
"You can look at Gettysburg or the Mona Lisa online," Feador said, "but there's nothing like actually standing there with it in front of you."
The 29-year-old Feador -- who plays for the Forrest City's vintage Base Ball Club in his spare time -- grew up in North Olmsted in Cleveland's west suburbs and was raised on the '90s Tribe. He spent his undergraduate years at Baldwin Wallace University and received a masters degree at Wright State University in its archive and museum administration program. Before working for the Indians, he did similar work as an intern with the NFL's Cleveland Browns.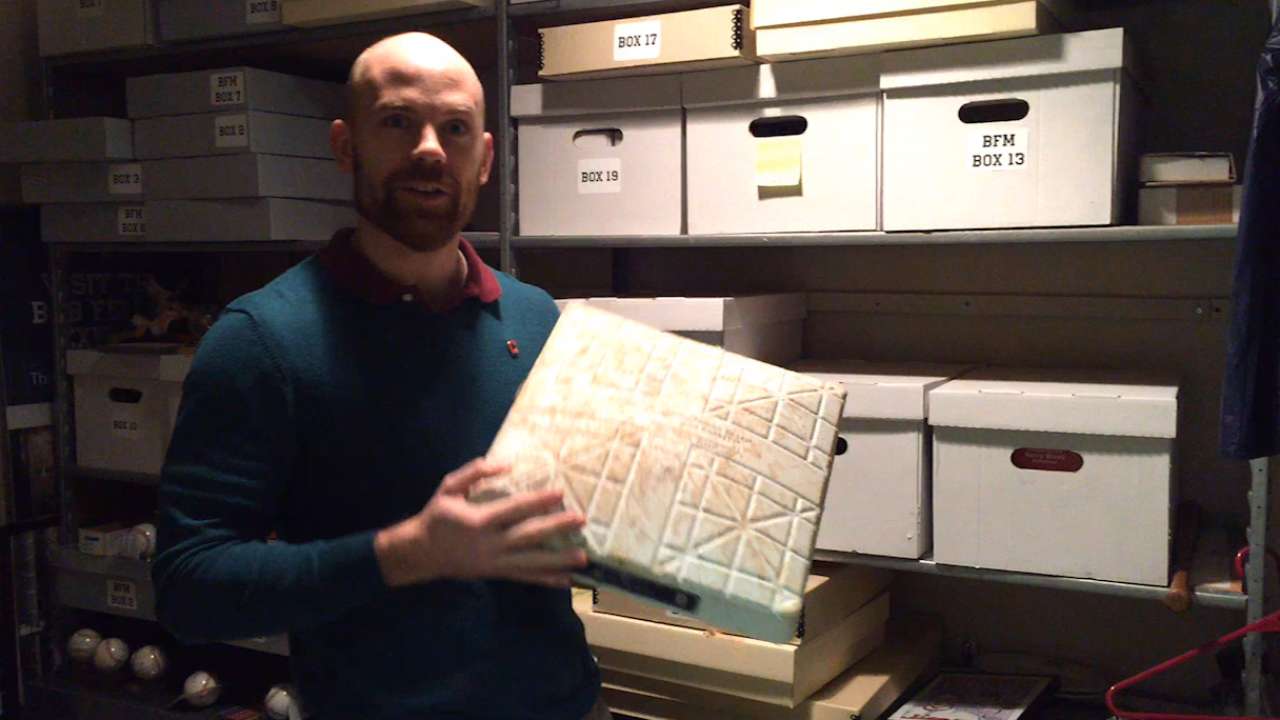 His path toward being the curator for the Major League team he grew up watching was actually paved in a cemetery.
"I thought I wanted to be like a Ph.D. history professor," Feador said. "And then when I was in B.W., we did a big cemetery project. It was mostly me. We identified where people were buried. We had a ground-penetrating radar come through. We had 100 unmarked burials and we were sort of dispelling urban legends and stuff. It was fun."
Feador spends countless hours researching and reading up on baseball history, and now is on the hunt for items that could boost Cleveland's collection.
There are some notable artifacts, for instance, that have gone missing since having a home in the Ohio Baseball Hall of Fame (no longer in existence) and Indians Hall of Fame (once located near Section 11 in Municipal Stadium). There was a baseball from Feller's no-hitter in 1951, a baseball from the playoff game against the Red Sox in 1948 and the ball used to turn an unassisted triple play in the 1920 World Series.
Sometimes, artifacts on Feador's radar turn up in an auction, but the Indians are not in the business of buying pieces for their collection. Donations are welcomed, and Feador said he has reached out to the owners of many artifacts to see if they would have interest in loaning items if the Indians had a place to put them on display.
When people call and say they have certain items, Feador turns to photographs, video footage and other means to try to help verify the authenticity.
"Bob Feller often said young people believe history began the day they were born," DiBiasio said. "The merits of that statement can be debated, but when you come across a young person like Jeremy who has a true passion and dedication for researching, collecting and documenting our rich history, you know we are in good hands. And, that the process will be done right. His energy and enthusiasm will be impactful as we continue to bring more historic elements to Progressive Field."
League Park chair, Buck O'Neil signed photo for Satchel Paige, home plate for last game at Muni/1st game at Jacobs pic.twitter.com/uXYVJwwXkb

— Jordan Bastian (@MLBastian) January 15, 2016
And what about that shattered bat Feador found?
As he stared at it, a spark went off, and the curator wondered if it could possibly be the bat used by Jolbert Cabrera to record the game-winning single in Cleveland's historic comeback win over Seattle on Aug. 5, 2001. Feador looked up the video highlights and studied the manner in which Cabrera's bat shattered. Then, he compared the footage to the cracked bat in his hands.
It was not a match.
"I got pretty excited," Feador said. "But, it's not the same bat. I'll keep looking."
Jordan Bastian is a reporter for MLB.com. Read his blog, Major League Bastian, follow him on Twitter @MLBastian and listen to his podcast. This story was not subject to the approval of Major League Baseball or its clubs.