Feller still a Cleveland star -- in Tribe archives
Hall of Famer's artifacts center stage at Progressive Field exhibit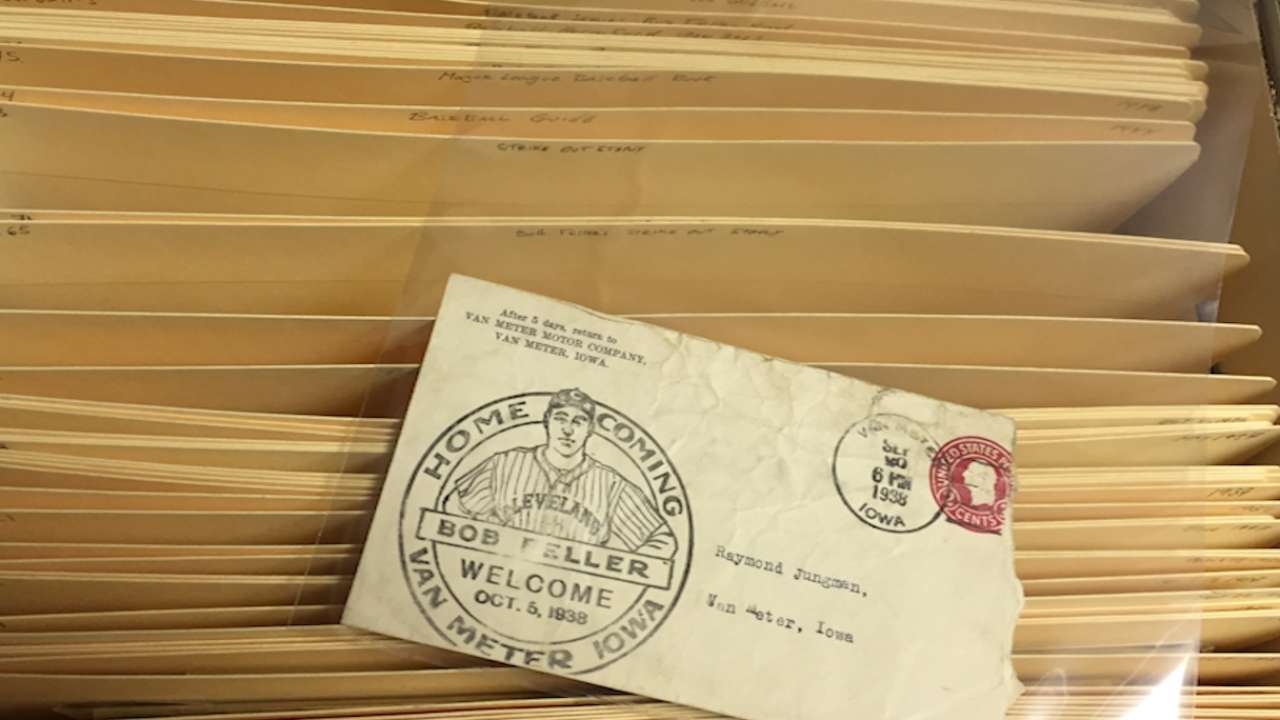 This week, indians.com will have a three-part series going behind the scenes to get a glimpse of the team's growing history archives. The stories will feature the collection of items from recent seasons, the creation of the Bob Feller exhibit and what the future holds for the team's collection. Today, Part 2: Bringing Feller back to Cleveland.
CLEVELAND -- Jeremy Feador placed a manila folder on a counter and carefully flipped it open, revealing a stack of papers. The protected letter on top was from the National Baseball Hall of Fame, complete with an image of the brick building on the letterhead, notifying Bob Feller on his election in 1962.
Feador, the Indians' team curator, then pulled out a Western Union telegram from beneath that letter. The small, yellow slip of paper, which included a red banner and a depiction of roses, was addressed to Feller and read:
My most sincere congratulations. I am honored to go into the Hall of Fame with you.
Jackie Robinson.
• Part 1: Tribe curator's labor of love
• Part 3: Tribe curator focuses on future, not just past
"It's just such a neat piece of baseball history," Feador said with a smile. "To see the kind of respect between both players in a telegram like this is really neat, and kind of just an incredible piece of baseball history. You have two legendary names on this document."
That telegram, along with many more just like it from a long list of historic names from baseball's past, were unearthed in the basement of the former Bob Feller Museum in Van Meter, Iowa. After the Feller museum closed more than a year ago, the Indians worked closely with Feller's son, Steve, and the city of Van Meter to determine the best way to handle the large collection of artifacts.
Some unique Bob Feller items: Navy bag; Envelope stamp from 1938; telegram from scout Cy Slapnicka pic.twitter.com/hwXtUYzgLU

- Jordan Bastian (@MLBastian) January 15, 2016
The Indians were able to bring a large portion of the items to Cleveland, where many pieces now are on display in the Bob Feller exhibit in the stadium's Terrace Club for fans to enjoy. The city of Van Meter turned the old museum into its City Hall and kept a selection of items related to Feller's hometown. There also were items from Feller's Navy days that went to the USS Alabama, on which he served in World War II.
"It was a sad day when Steve Feller, Jeremy and I closed the doors to the Bob Feller Museum in Van Meter," said Bobby DiBiasio, the Indians' vice president of public affairs and a former board member of the Feller museum. "In the end, it was the right thing to do, transferring the building to the city of Van Meter, thus keeping his legacy alive in his hometown while bringing specific artifacts to a larger audience here at the ballpark.
"The Bob Feller exhibit at the ballpark has been met with rave reviews. I know Bob would be very happy with the win-win result."
Above Feador's desk inside the Indians' offices is a sheet of paper with an excerpt from a New York Times article that ran in February last year.
DiBiasio and another Indians employee, with the help of volunteer firefighters, filled a rented truck with memorabilia in December and drove it to Cleveland.
"I'm 'another Indians employee,'" Feador quipped.
And that is fine with Feador. He does not want the spotlight.
From archives: Lineup board from Muni last game; 1st pitch ball from Jacobs; Feller, Hornsby, Boudreau signed ba. pic.twitter.com/jarKBje3yy

- Jordan Bastian (@MLBastian) January 15, 2016
What the team's curator does want is for the Feller exhibit to become a regular stopping point for fans who come to the ballpark. Opened last season, there is a pair of large display cases filled with an assortment of items from Feller's life and baseball career. Feller's Navy jacket is included, along with a collection of baseballs from notable events. Even the glove used by Feller's father for rounds of catch is there for fans to see.
Inside the entrance to the Terrace Club, a tall, rectangular case holds a bat that belonged to Feller. This particular bat was borrowed by a cancer-ridden Babe Ruth, who leaned on the strip of lumber while addressing the Yankee Stadium crowd on June 13, 1948 -- his last appearance at the stadium.
"Babe was in the dugout talking to Bob," Feador said. "And when they called his name at Yankee Stadium to come out and acknowledge the crowd, he needed a bat to use as a cane. He just so happened to grab Bob's bat. ... So, it's a bat Babe Ruth and Bob Feller both touched, and it's part of a Pulitzer prize-winning photograph."
League Park chair, Buck O'Neil signed photo for Satchel Paige, home plate for last game at Muni/1st game at Jacobs pic.twitter.com/uXYVJwwXkb

- Jordan Bastian (@MLBastian) January 15, 2016
There are even more artifacts tucked away in the storage room in the ballpark's lower level, where items from throughout Cleveland's 100-plus year history are kept safe. Feador shows off a large Navy bag that once belonged to Feller that still has a parachute inside. There also is a long wooden box that has Feller's telescope from his days as a chief petty officer.
"It's cool," Feador said, "but I have to find somewhere to display it."
As Feador works to catalog and collect items from the Indians' long history, his goal is to eventually have a larger space for fans to see the pieces. The Feller exhibit is a start, and the curator plans on rotating items in and out of that area. For instance, the baseball used by Corey Kluber to record the 14th of his 18 strikeouts against the Cardinals on May 13 last year was on display for a period of time.
Kluber actually struck out those 18 on the day the Feller exhibit opened, and that total tied Feller's 1938 franchise record for strikeouts in a nine-inning game. Feller's widow, Anne, and two of Feller's sons were in attendance that day.
"The same day we opened this exhibit," Feador said, "Corey then channeled his inner Bob Feller."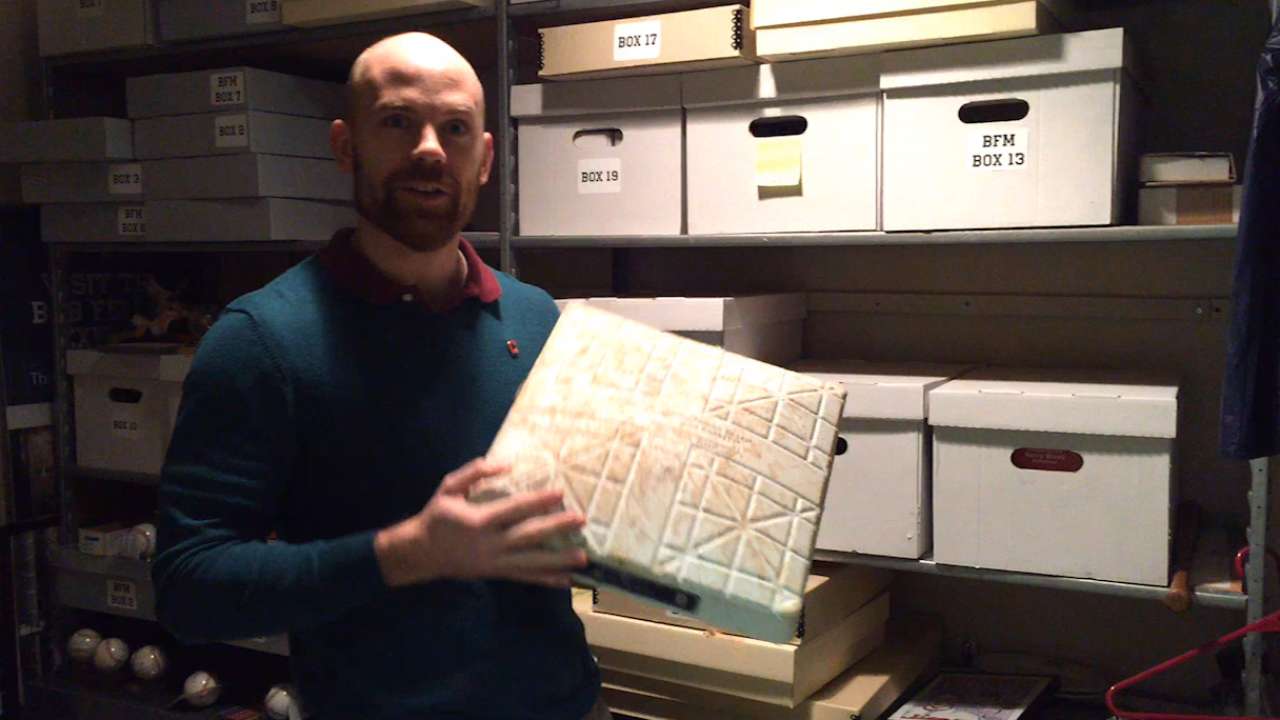 For the younger generation of fans, Feador said, it helps when a team is able to link someone like Kluber to Feller in that way.
"For our kids, when you think of Bob Feller, you think of the marbled statue," said Feador, referring to the statue outside Gate C at Progressive Field. "But when you look at his jacket or his glove, this was a real person.
"Bob's your American story. That's the best thing about him. You couldn't ask for a better representation or an ambassador of your team. Bob's perfect. We're so lucky to have this stuff."
Jordan Bastian is a reporter for MLB.com. Read his blog, Major League Bastian, follow him on Twitter @MLBastian and listen to his podcast. This story was not subject to the approval of Major League Baseball or its clubs.