Inbox: Impact of Aybar on Braves' offense?
Beat reporter Mark Bowman answers fans' questions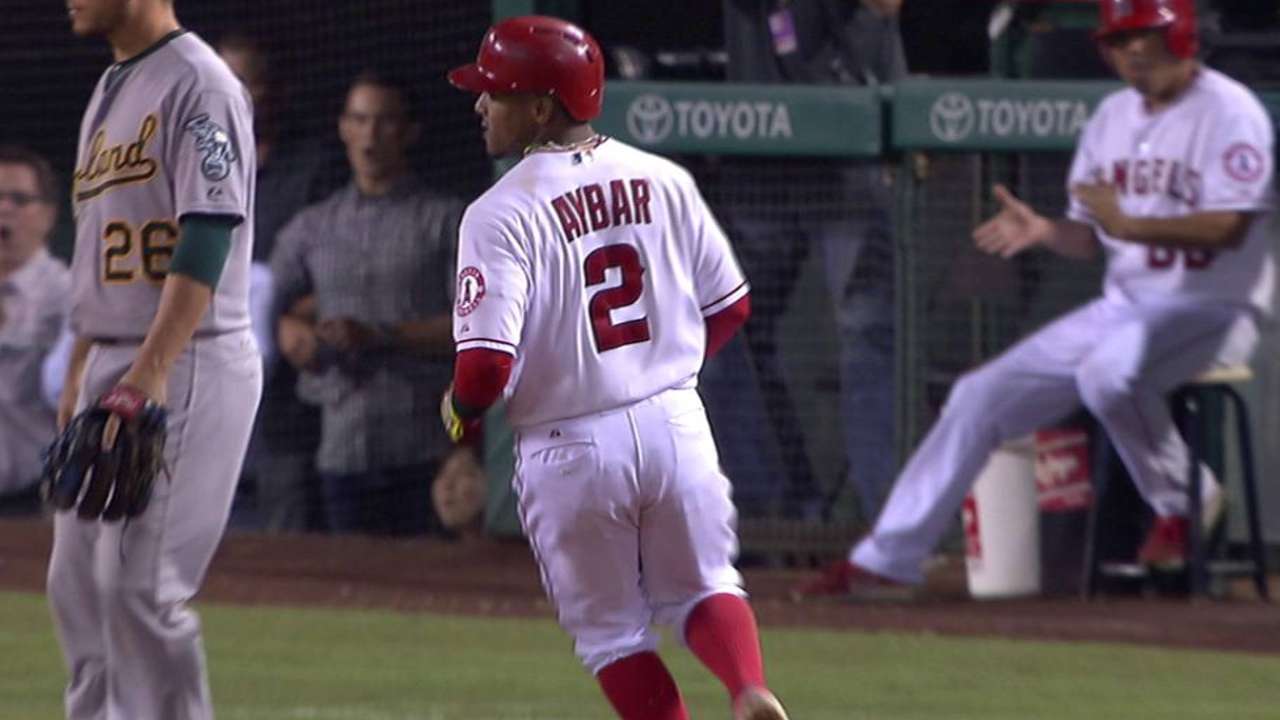 Which of the projected position players could make the most improvement at the plate this year?
-- Ron L., Columbus, Ga.
You've heard more than enough about Freddie Freeman's wrist and the September woes that added to the concerns surrounding Hector Olivera's potential. So instead of discussing how Freeman's health or a much more improved Olivera could benefit the Braves, we'll look at Erick Aybar, who is coming off one of the worst offensive seasons of his career.
When the Braves acquired Aybar in the November trade that sent Andrelton Simmons to the Angels, they felt they gained an offensive upgrade at the shortstop position. Time will tell whether this proves to be true, as these two shortstops were trending in different directions last year.
Aybar proved to be an effective offensive contributor as he batted .280 and compiled a respectable .712 OPS from 2009-14. But the 32-year-old struggled last year as he produced a .639 OPS, which ranked 16th out of 18 qualified Major League shortstops.
Nobody is expecting Aybar to regain the unexpected power he possessed when he produced a .418 slugging percentage from 2011-12. The Braves are hoping that he simply proves consistent enough to produce a .320 on-base percentage (a mark he has bettered in four of the past seven seasons). This kind of consistency from the second spot of the lineup could maximize the enhanced value Atlanta could receive from Ender Inciarte in the leadoff spot.
• Submit a question to the Braves Inbox
Are the Braves serious contenders to sign free agent Yoenis Cespedes?
-- William R., Copperas Grove, Texas
No, they have never been considered legitimate contenders for Cespedes. But I do think their fans should appreciate that the front office was at least willing to do its due diligence once the Cuban outfielder lingered on the free-agent market longer than expected.
The Braves have no interest in entering into a long-term agreement with the 30-year-old Cespedes. Nor does it appear the slugger has any desire to sign a short-term deal. But you never know unless you ask, and as the Braves' aggressive front office has shown over the past year, Atlanta is not afraid to ask about anybody at any time.
Why did the cost-conscious Braves last year elect to trade for Nick Swisher and Michael Bourn?
-- Dave T., Greenville, S.C.
As has been the case with any previous swap of bad contracts, you simply evaluate the financial effects and count yourself lucky if any of the players involved provide some unexpected value on the field. For the Indians, this was a deal that enabled them to save some money for 2016 by parting ways with both Bourn and Swisher. They've already parted ways with the only player (Chris Johnson) they received in the deal.
For the Braves, this was a deal aimed toward creating more financial flexibility (the $9 million they had owed to Johnson) for the 2017 season. While it appears Swisher will likely be traded or released before the start of the regular season, Atlanta is still hoping that Bourn can provide some value as a backup outfielder and mentor to promising prospect Mallex Smith.
Is Max Fried making progress in his recovery from Tommy John surgery? If so, where is he projected to play in '16?
-- Keith K., Hiram, Ga.
Because Fried has missed most of the past two seasons because of elbow discomfort that led to Tommy John surgery, the Braves will likely keep him at extended spring camp until the weather warms enough for him to begin pitching in Minor League games. This could set him up to debut with Class A Advanced Carolina in late April or early May.
Fried had a lot of interesting and encouraging things to say when he visited Atlanta last month. If you missed the story, click here to get some of his thoughts about the upcoming season
Mark Bowman is a reporter for MLB.com. This story was not subject to the approval of Major League Baseball or its clubs.