Indians aggressive in preserving team history
Growing archives a labor of love for Tribe curator Feador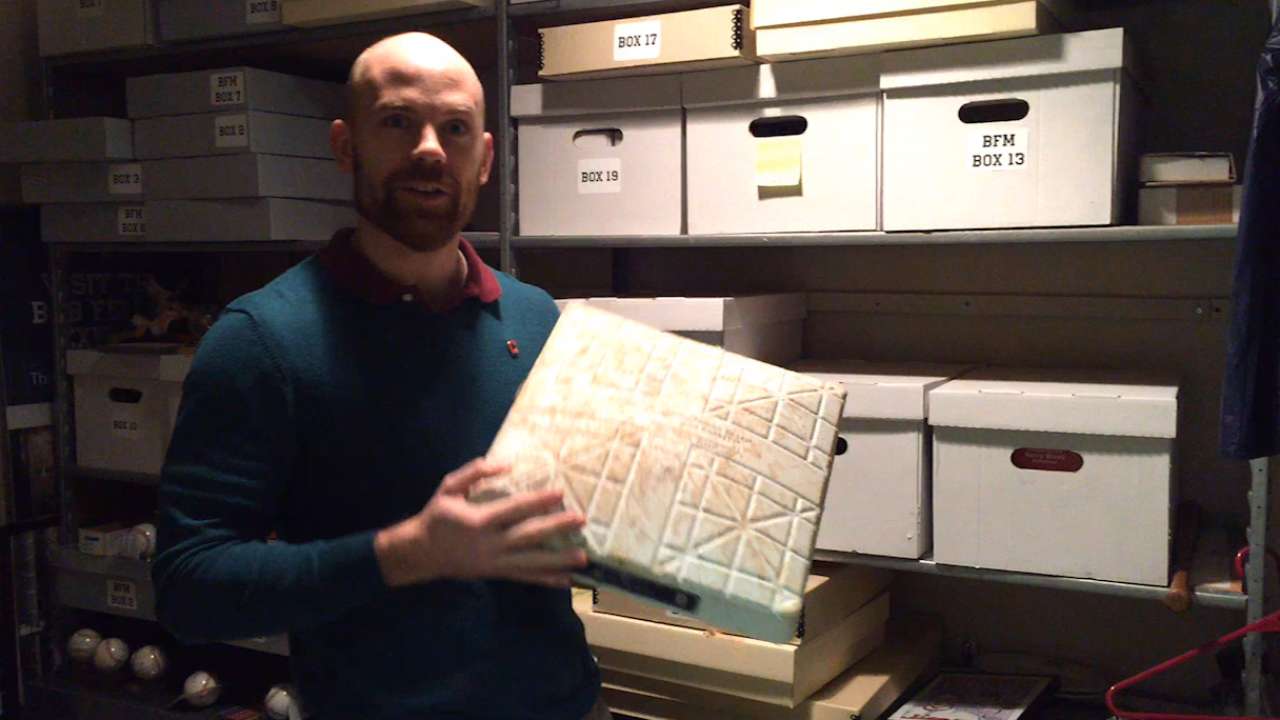 This week, indians.com will have a three-part series going behind the scenes to get a glimpse of the team's growing history archives. The stories will feature the collection of items from recent seasons, the creation of the Bob Feller exhibit and what the future holds for the team's collection. Today: History in the making.
CLEVELAND -- A thin layer of infield dirt remains scattered across the top of the base. A small, hard plastic plate on one of the sides has a severe crack, perhaps the result of a pair of sprinting spikes. The square piece of history was donated to the Indians by their rivals in Detroit.
This base, which sits in a storage room in the bowels of Progressive Field, is the one Francisco Lindor tripped over on June 14 last season while recording the first hit of his Major League career, at Comerica Park. With the help of an authenticator, the Indians' public-relations team and the Tigers, Jeremy Feador, the Indians' team curator, was able to obtain the item for the team's growing archives.
"With a player like Lindor," Feador explained, "you take a bet, you take a gamble that this guy is going to be great. He's a highly touted prospect, so something like this, it's cool. We could've gotten a baseball from that game and that would've been cool, but this is something that's unique.
Here's team historian Jeremy Feador showing off base from 1997 All-Star Game. And ball used for 1,000th run in 1999. pic.twitter.com/uPVNJjUmJ5

— Jordan Bastian (@MLBastian) January 15, 2016
"It's a great piece and, hopefully, when Lindor becomes our next Omar Vizquel, it'll be, 'Hey, this is from his first hit.'"
Feador, 29, who grew up in North Olmsted in Cleveland's west suburbs, fell in love with baseball with the help of the powerful Tribe teams of the '90s. He joined the Indians' organization prior to the 2014 season and has spent the past two years sorting and cataloging the incredible collection of historic items found throughout the stadium from various points in the team's 115-year history.
• Part 2: Feller still a star -- in Indians exhibit
• Part 3: Tribe curator focuses on future, not just past
Beyond the past, however, Feador has also been extremely proactive in the collection of items that will become historic artifacts over time. That has included obtaining bats and baseballs from significant events, collecting at least one version of each jersey worn by the Indians and securing other unique pieces that could become special over time.
After all, the present will soon be the past.
"We want to acquire artifacts as they happen," Feador said. "You might not think of last year being this great history year, but 20 years from now, it's going to be pretty amazing, or 30 years, depending on the careers a lot of these guys have. Corey Kluber has already won a Cy Young Award. So, preserving artifacts of his, in 50 years, it could be just as cool as Bob Feller artifacts."
Some unique Bob Feller items: Navy bag; Envelope stamp from 1938; telegram from scout Cy Slapnicka pic.twitter.com/hwXtUYzgLU

— Jordan Bastian (@MLBastian) January 15, 2016
The Indians do not currently have a museum space at the stadium -- aside from a small exhibit honoring Hall of Famer Feller in the Terrace Club -- so the bulk of the team's historic collection is housed in a pair of storage rooms that are located off the main tunnel in the lower level of Progressive Field.
Feador retrieves a box from one of the metal floor-to-ceiling shelves and carefully slides off the lid. Inside is a rosin bag used by rookie Cody Anderson in his Major League debut for the Indians last season.
"You might whiff on some things too," Feador said. "I mean, will Cody Anderson be a Cy Young-caliber pitcher at some point? I don't know, but we have a ball and a rosin bag from his first game. Something like that, it's easy to store. It's small."
Just inside the door of the room is a large wood box with a grid of square holes in the top. Most of the slots contain a baseball bat -- each marked with a small tag on a string.
Feador pulls out a recent model with a brown handle, black barrel and Jason Kipnis' name etched into the wood. The bat was used by Kipnis during his torrid May last season, when the second baseman became the first Indians player since 1938 to have at least 30 runs and 50 hits in a single month. There is also a broken bat that used to belong to catcher Yan Gomes, who won a Silver Slugger Award in 2014.
From archives: Lindor's 1st-hit base, jersey; Kipnis May '15 bat; Kluber replica Cy; rosin bag from Anderson debut. pic.twitter.com/B4X6i4uLRp

— Jordan Bastian (@MLBastian) January 15, 2016
While collecting items, Feador is always thinking ahead to potential displays around the ballpark or possibly down the road in a museum.
"Gomes was the first Brazilian player in baseball," Feador said. "So, getting more Gomes stuff would be good in case later on you want to do something on diverse Cleveland players, or something like that. You have to sort of think outside the box a little bit."
On May 13 last season, the Indians officially opened the Bob Feller exhibit with his widow, Anne, and his sons on hand for the ceremony and game that day. Kluber then went out and struck out 18 batters, tying Feller's 1938 franchise record for strikeouts in a nine-inning contest. With Kluber's blessing, the team was able to secure the baseball used to record the 14th strikeout.
Feador said having players understand what the team is trying to do is integral to the process.
"Having that relationship with players," Feador said, "having them understand we're trying to preserve stuff towards history, is good. Corey also let us use his jersey in the Feller display. Ultimately, he wanted it back, and that's fine. You just try to build that rapport."
The Indians also have a reproduction of Kluber's 2014 American League Cy Young Award on hand. Teams often order duplicates of such awards for displays around the ballpark. Last year, for example, Kluber's plaque was on hand in The Corner bar at Progressive Field. There is a reproduction of former Indians player Nick Swisher's 2014 Bob Feller Act of Valor Award on display in the Feller exhibit, too.
From archives: Lineup board from Muni last game; 1st pitch ball from Jacobs; Feller, Hornsby, Boudreau signed ba. pic.twitter.com/jarKBje3yy

— Jordan Bastian (@MLBastian) January 15, 2016
Before each season, Feador also notes what milestones are coming up for the club.
Is there anything interesting coming this year?
"We'll be playing our 18,000th game," Feador said with a smile.
He'll surely secure a baseball to commemorate the event when it arrives in September.
It's not every day a curator can land a unique piece like the Lindor base.
"Once Lindor tripped over it," Feador said, "it made it a thing."
Jordan Bastian is a reporter for MLB.com. Read his blog, Major League Bastian, follow him on Twitter @MLBastian and listen to his podcast. This story was not subject to the approval of Major League Baseball or its clubs.