MLB.com Columnist
Bill Ladson
Kendrick remembers Irvin, talks Negro Leagues
Museum president sits down with MLB.com for exclusive Q&A session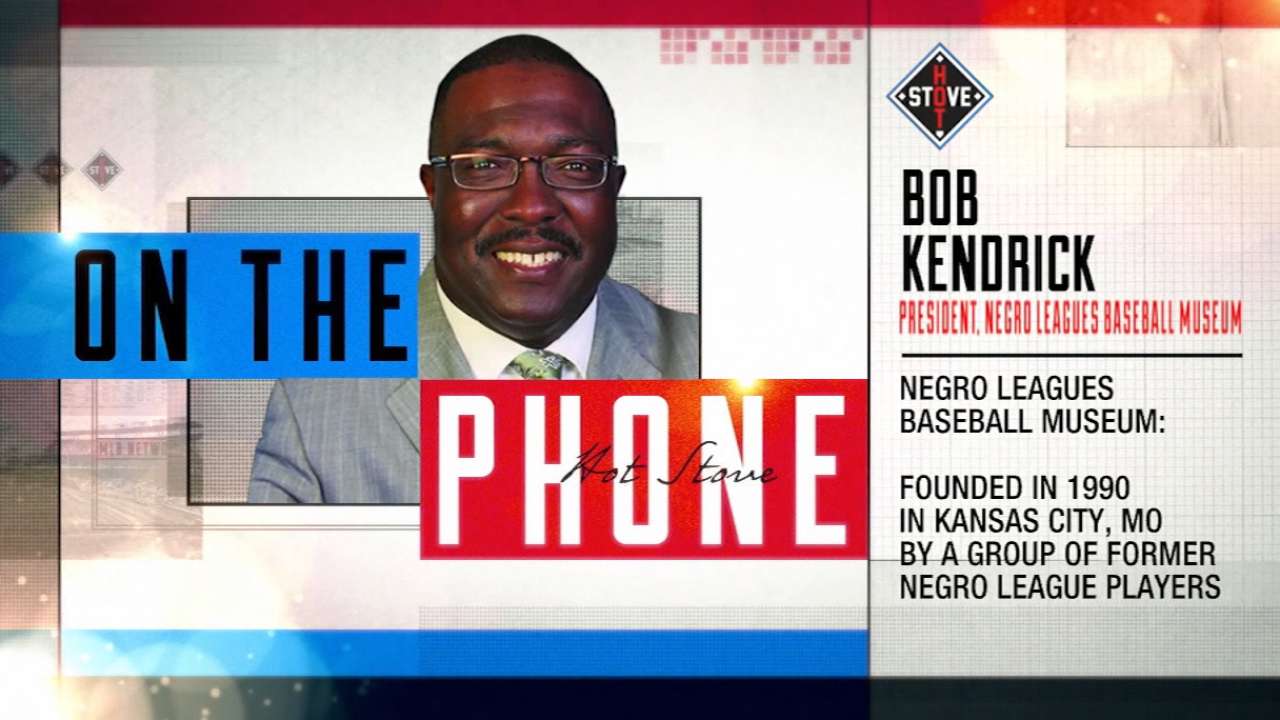 With the passing of Monte Irvin last week, there are 126 Negro League players -- including Hank Aaron, Willie Mays and Don Newcombe -- who are still alive. Nevertheless, the Negro League Baseball Museum in Kansas City is making sure the league is never forgotten.
A few days before Martin Luther King Jr.'s birthday, MLB.com caught up with museum president Bob Kendrick and talked about Irvin's passing and keeping the Negro League legacy alive.
MLB.com: You have 126 Negro League players who are still alive. The passing of Monte Irvin was a big loss.
Kendrick: It's a tremendous loss for baseball and a tremendous loss for the Negro Leagues family. Monte was such an important part of it. Monte was a superstar player. He was one of the few remaining players before integration -- when the Negro Leagues were the Negro Leagues. Monte's passing leaves only two living Negro League players who are in the Hall of Fame: Willie Mays and Hank Aaron. Monte leaves a tremendous void, because he was a great player and he was a great ambassador of the game. To me, he epitomized the kind of athlete that played in the Negro Leagues, but also was the kind of man that called the Negro Leagues home. So he is an important figure in Negro League Baseball history. He reminds us of just how fragile this history really is. We are losing the people who made this history at an alarming rate. So it's not a matter of if, it's a matter of when they are all gone.
MLB.com: Will the museum do anything to honor Monte Irvin?
Kendrick: There will be a traveling exhibition called Barrier Breakers. We'll look at the complete integration of the game of baseball, tracing it from 1947, when Jackie Robinson broke the color barrier, through 1959, when the Red Sox became the last team to integrate with Pumpsie Green. It will be dedicated to Monte Irvin.
MLB.com: What impressed you the most about Monte Irvin?
Kendrick: Most of us fell in love with Monte Irvin because he lived his life in a decorated fashion. Players like Irvin demonstrated that you can get further in this life with love instead of hate. There are some of us that saw Monte Irvin play in the Major Leagues. He was the total package. As great as he became on the field, he was equally great off the field.
MLB.com: What do you want people to know about the Negro League players?
Kendrick: It's not true that they were vagabonds, tramps and illiterate. These were bright men who forged a glorious history. They are to be celebrated for what they accomplished in the face of tremendous social adversity. Every one of them who played in these leagues -- even if it was for a cup of coffee -- they are important in helping advance this story. We just want people to understand what their stories represent in the annals of American history. That is our job as an institution to do so. We take great pride in having that responsibility.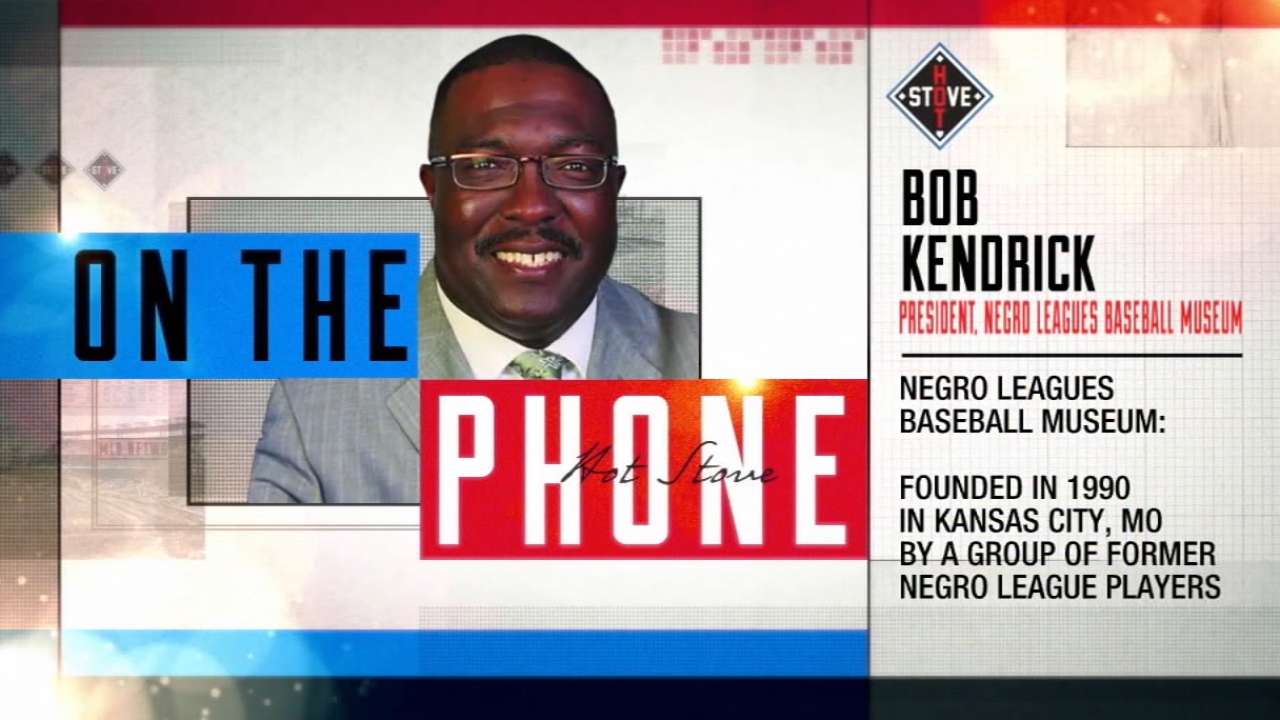 MLB.com: Mays, Aaron and Newcombe are the most well-known players from the Negro Leagues. How much do you keep in touch with them?
Kendrick: We just had Hank in Kansas City in November. Hank was here for our 25th anniversary gala celebration. Any time Hank is in the room, it's special. Hank Aaron was my childhood idol growing up in Georgia. Every time I see him, he is the only person I've ever been starstruck around, because I idolized him as a child. He is one of the greatest players that ever played this game. But he's also such a great human being -- the way he conducts himself.
MLB.com: Do any of the current Major League players remind you of the Negro League players?
Kendrick: Of course. Andrew McCutchen. He could have played in the Negro Leagues. Mike Trout could have played in the Negro Leagues. We have a player in our own backyard -- Lorenzo Cain. He could have played in the Negro Leagues very easily. Those are players in the Major Leagues who embody the spirit of the Negro Leagues.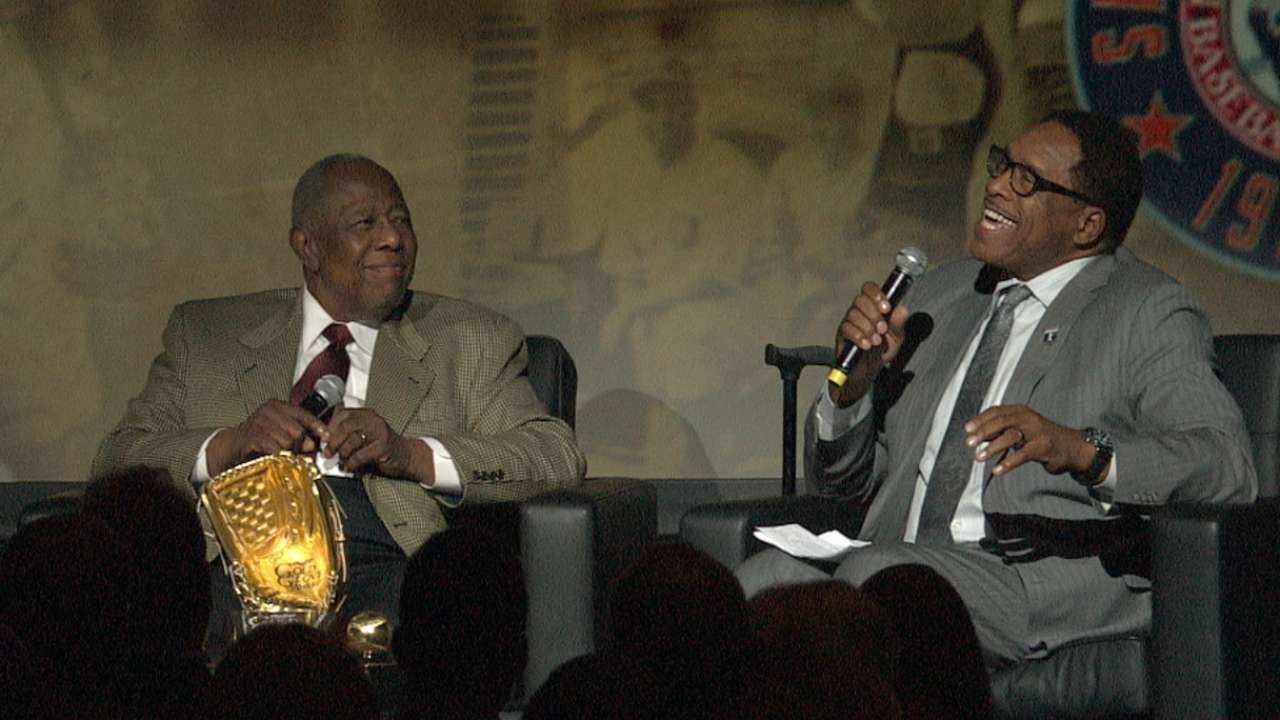 MLB.com: You have the Kansas City Royals in your backyard, and I assume having the World Series champions in your city doesn't hurt.
Kendrick: They have a tremendous impact on our business. The last two years have been amazing for the museum. A lot of it is directly coordinated with the success of the Royals -- from the 2014 magical run in the playoffs to last year's World Series championship. The national media that ascended on Kansas City found reasons to come to the museum and help tell the story for us. The awareness of the Negro League Museum is at an all-time high due in large part to the great success of our Kansas City Royals. We hope that continues.
Major League Baseball has been a partner of the Negro Leagues Baseball Museum. Obviously, we want to grow that relationship. What we do -- even though it's from an historical prospective -- we are still promoting the game of baseball. We are still building new fans through the history. People are falling in love with the game of baseball through this history that we tell.
Bill Ladson is a reporter for MLB.com and writes an MLBlog, All Nats All the Time. He also can be found on Twitter @WashingNats. This story was not subject to the approval of Major League Baseball or its clubs.