Inbox: Can Rays turn on the speed?
Beat reporter Bill Chastain answers questions from Tampa Bay fans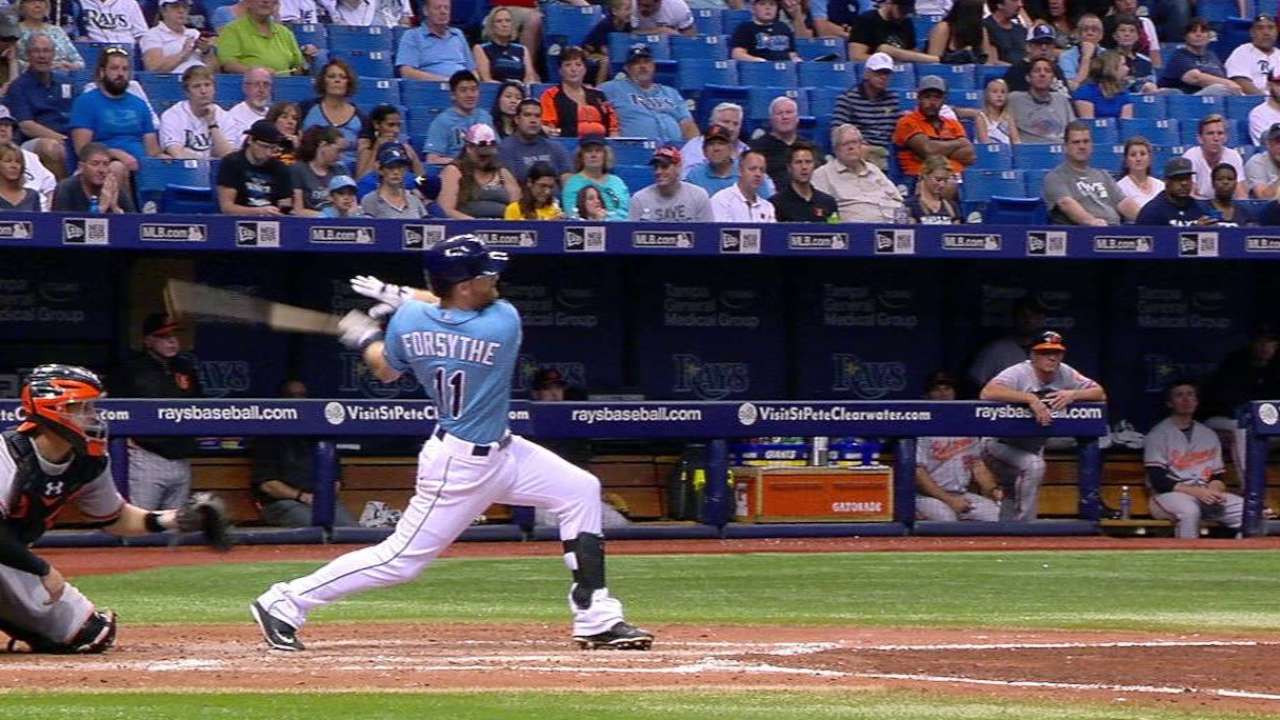 I know the Rays have been offensively challenged the past few years, but I think they are turning the corner. Logan Forsythe, Kevin Kiermaier, Steven Souza Jr. and others seem to be nice complements to Evan Longoria, James Loney and Desmond Jennings. But it seems the team is too focused on power. How about baserunning skills and speed?
-- Joshua S. St. Petersburg
All teams want to run, but they have to have the speed and the know-how to do so. The Rays generally have decent speed, but it's not like the days when they had burners like Carl Crawford and Melvin Upton Jr. (formerly B.J. Upton). I do look for the young players on the team with speed to run more, but the last thing the team wants to do is run itself out of an inning.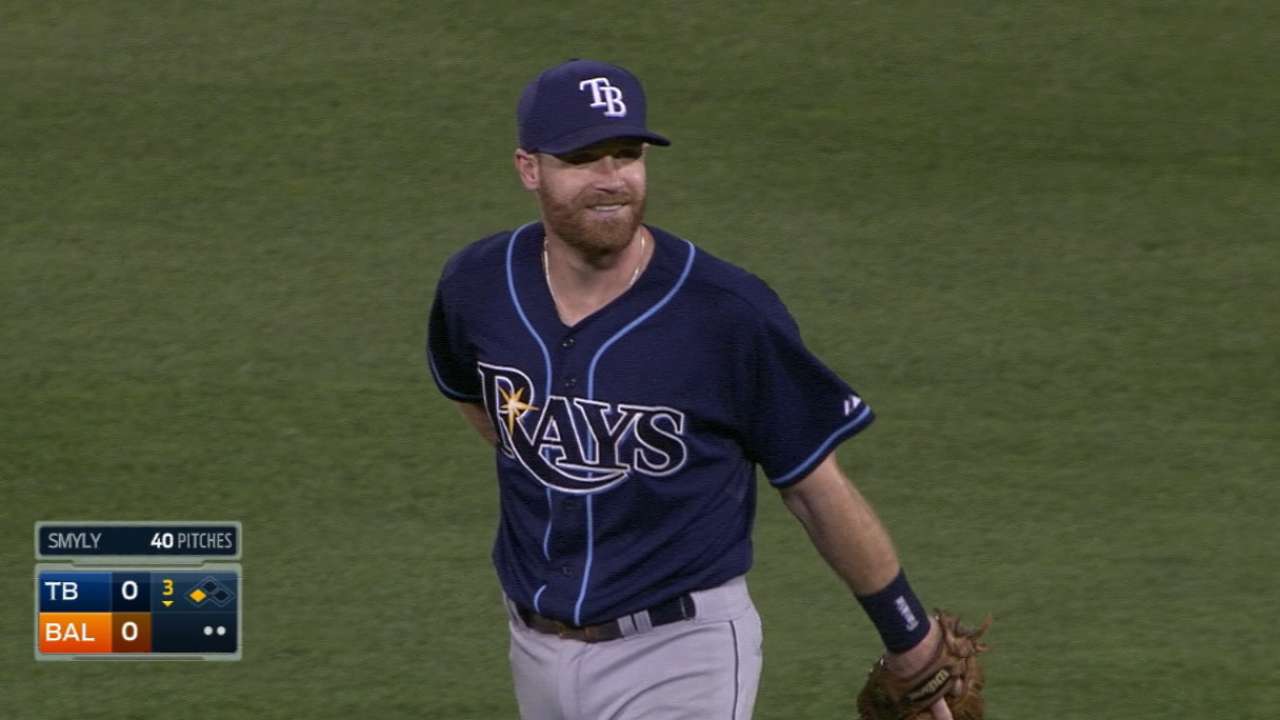 The Rays and the Cubs have been in trade talks off and on. If the Rays did net Javier Baez from the Cubs, where would he play? He plays shortstop mainly, but he is getting some work in the outfield this offseason. He would upgrade the offense if he lives up to his projected potential.
-- Michael B., Odessa, Fla.
• Submit a question to the Rays Inbox
Baez has been one of the Cubs players mentioned going to the Rays in a trade. Obviously, all of this has been speculation, but going along with your premise that Baez gets traded to the Rays, let's ponder where he would play. For starters, if the Rays traded for him, we don't know what players the Rays would trade to get him. Aside from that big variable, I could see him making a run at the starting shortstop position or perhaps left field. Again, there are a lot of variables in place regarding that speculation.
• Cubs-Rays trade possibilities
The team batting average in 2015 was .252. So why would the Rays not keep John Jaso (.286) and Joey Butler (.276)? Are any of them too expensive? Without them, what would the team average have been? Even Asdrubal Cabrera hit higher than the team average, after a miserable first half of the season.
-- Bob W., Fuquay-Varina, N.C.
The Rays opted to not protect Butler when they had the chance, and that decision came down to having other players they valued more. As for Jaso, his days were numbered once the Rays acquired left-handed-hitting Logan Morrison, who seems to have more power. Finally, Cabrera. The veteran shortstop had a nice offensive season, but that increased his value as a free agent and the Rays simply could not afford him.
With the Rays always searching for a big bat and a designated hitter, is there anyone in the farm system that could develop into a big power threat at the plate in the coming years?
-- Hunter G., Holmes Beach, Fla.
The top names that come to mind are Casey Gillaspie, Richie Shaffer and Jake Bauers.
Gillaspie hit 17 home runs in 275 at-bats at Class A stops Bowling Green and Charlotte in 2015. He is a switch-hitter and has power from both sides of the plate.
Rays fans got to see Shaffer last season, which allowed them to get a look at the power that delivered 26 home runs in 393 at-bats at Double-A Montgomery and Triple-A Durham in 2015, along with the four home runs he hit at the Major League level. Some say Shaffer has too big of a swing. Conversely, he seems to use that swing effectively.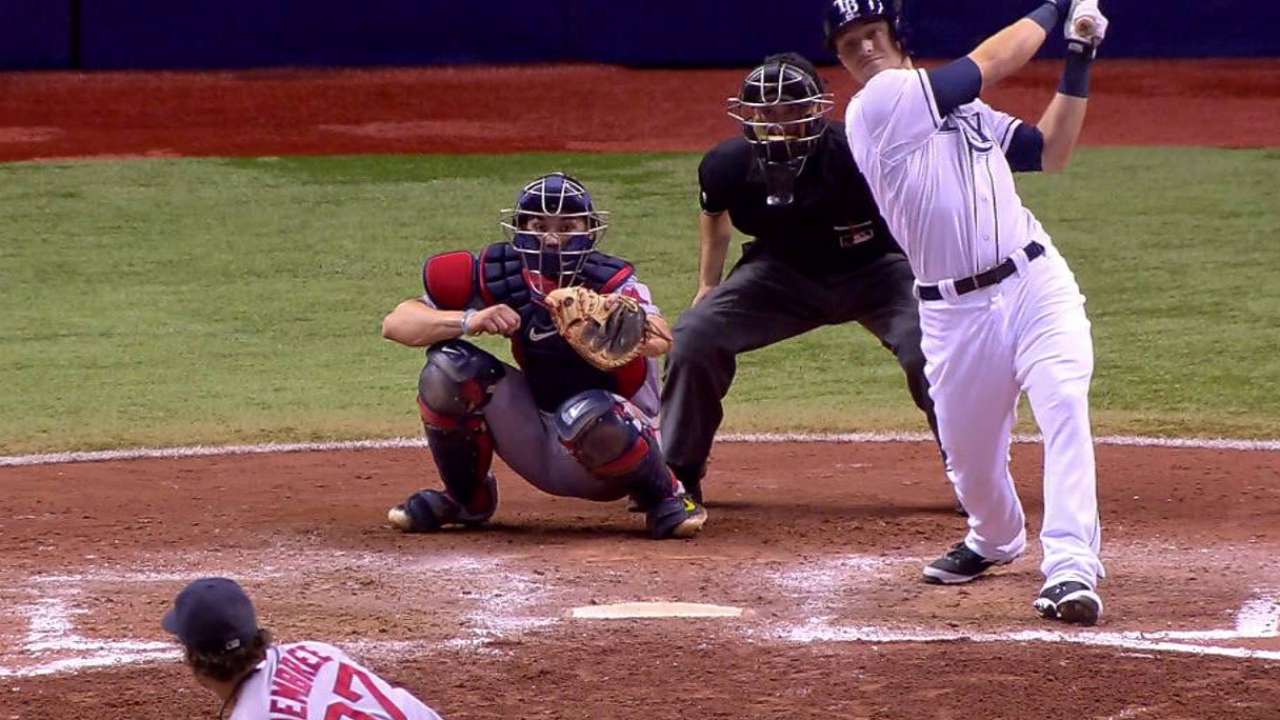 Bauers hit 11 home runs in 474 at-bats at Charlotte and Montgomery in 2015 while hitting .272. According to reports I've read, he has a compact swing with budding power.
Finally, there's Chris Betts, who did not play in 2015. After having an elbow problem that eventually required surgery, the Rays were able to draft him in the second round of last year's Draft. He's said to have above-average power. Sounds to me like he's one to watch.
What are the plans at catcher? Since we let Buster Posey get away, we have struggled at this position. Why can't we go after a catcher who can hit?
-- Max S., Dunedin, Fla.
Most Rays fans lament the fact that the Rays did not draft Posey with the No. 1 pick of the 2008 Draft. I'm sure the Rays lament that as well, but there's nothing they can do about that now. There are a lot of teams that would love to have an offensive catcher, but as former scouting director R.J. Harrison was prone to say: "Johnny Bench isn't out there."
Is there a chance that Brad Miller will be traded back to Seattle?
-- David L., Seattle
I don't believe that's a reasonable possibility.
Bill Chastain is a reporter for MLB.com. This story was not subject to the approval of Major League Baseball or its clubs.