Marlins make 5-year deal with Dee official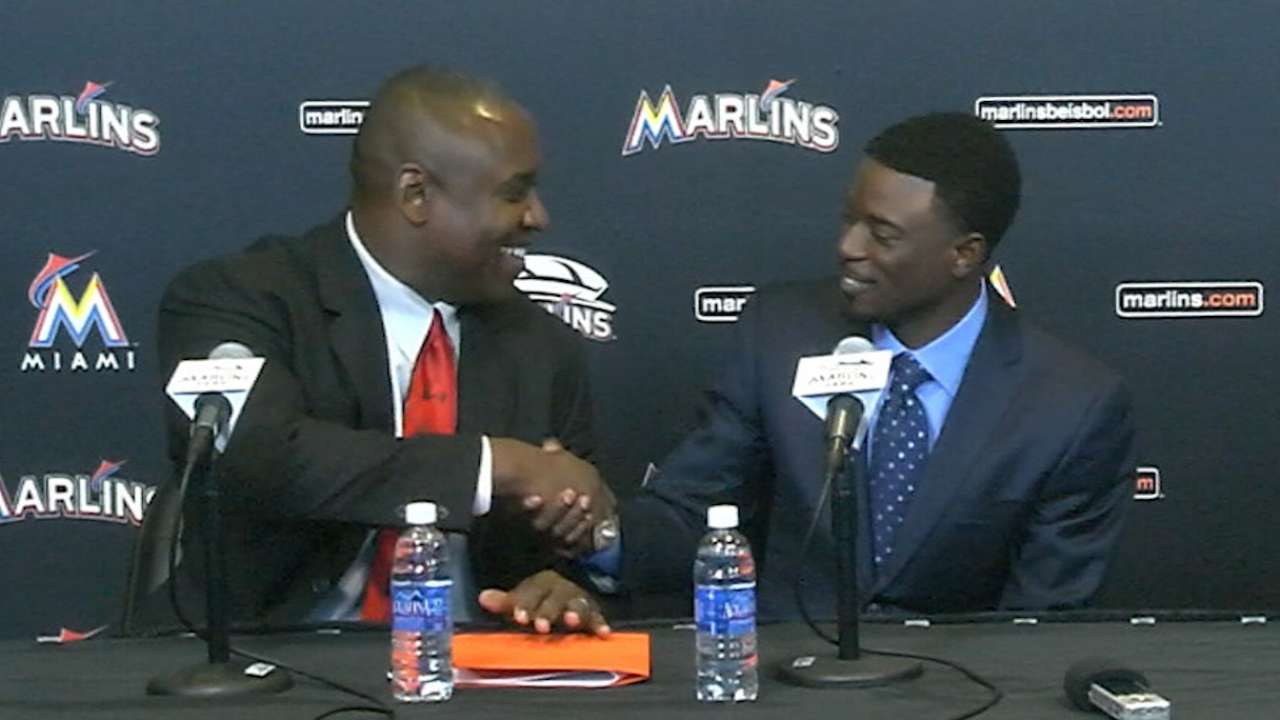 Energized by a change of scenery that reintroduced him to his home state of Florida, Dee Gordon spent this past season proving why the Marlins believe he has the capability to serve as a difference-making speed element within their lineup for many years to come.
Gordon certainly did not attempt to hide his happiness when he returned to Marlins Park on Monday afternoon for the official announcement of his five-year, $50 million deal with the Marlins, which includes a vesting option for 2021. The fleet-footed second baseman seemed genuinely appreciative of the chance to share this moment with the family members who had enriched his life dating back to his childhood days in Orlando.
"I'm just thankful," Gordon said. "This is a thankful time. My family has stuck with me through the hard times, and I'm glad they're here for the good times.
"Once I got traded here from [Los Angeles], I instantly loved it. I love the way they treat me here, so signing the extension was pretty much a no-brainer because I love it here. I get to see my grandmother, my uncles, my dad all the time, so yeah, it's pretty much a no-brainer."
Let's make it official. pic.twitter.com/hNMrCCfLX3

— Miami Marlins (@Marlins) January 18, 2016
This commitment buys out Gordon's three arbitration years and two years of free agency, keeping the 27-year-old a part of the team's core through at least 2020.
After having a breakout 2014 season with the Dodgers, Gordon was traded to the Marlins, essentially because Los Angeles viewed Howie Kendrick as a better option at second base. A little more than a year later, there is certainly reason to wonder how long the Dodgers might regret this deal.
Meanwhile, the Marlins are hopeful that Gordon will continue to do what he did in 2015, when he became the first National League player since Jackie Robinson in 1949 to lead the league in batting average (.333) and stolen bases (58). With the help of Marlins infield coach Perry Hill, Gordon also won a Gold Glove Award during his memorable first season in Miami.
"I want to keep doing the things I've been doing the last few years and just keep helping us win ballgames," Gordon said. "That's it. I want to help us win any way possible and continue to be a good teammate and good citizen for the city of Miami."
After Gordon showed some flashes of promise when he got his first taste of the Majors in 2011, he struggled during the next two seasons with the Dodgers. But over the past two seasons, he leads all NL second basemen in batting average (.311) and ranks second in on-base percentage (.342).
Gordon leads MLB with 122 stolen bases since the start of the 2014 season. He and the Reds' Billy Hamilton (113) are the only two players who have swiped as many as 95 bags during that span.
"I'm focused on this year," Gordon said. "I can't do anything about what I did in the past. I just have to focus on this year."
Mark Bowman is a reporter for MLB.com. This story was not subject to the approval of Major League Baseball or its clubs.