MLB alums help youth pursue dreams
Breakthrough Series camp teams up Draft prospects with former big leaguers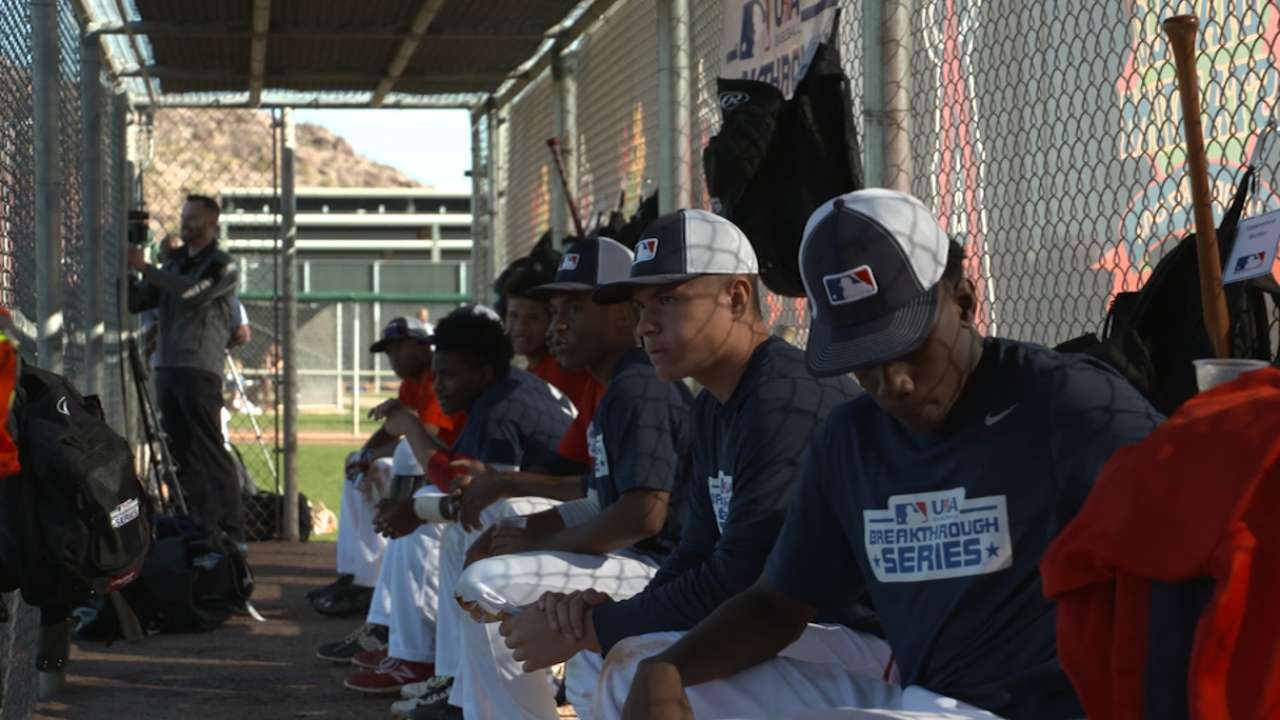 TEMPE, Ariz. -- The crack of the bat and the thump of the ball competed with Martin Luther King Jr.'s voice at the Angels' Minor League complex on a brilliant Sunday morning.
The soundtrack for the workout of 60 campers at MLB's Breakthrough Series was provided by the haunting jazz track emanating from speakers set into the bed of a golf cart behind Field No. 1. Words by King, music by Jerry Manuel -- the very same former manager who had assembled the Majors-steeped instructors for the weekend event.
To the tones of King's "I Have a Dream" speech, the blue-chip prep ballplayers swung, scooped, sprinted and threw, chasing their own dreams of collegiate, and maybe pro, baseball.
It's always baseball somewhere. #MLB Breakthrough Series lads take their morning cuts in Tempe. pic.twitter.com/UqvADocbiP

— Tom Singer (@Tom_Singer) January 17, 2016
Ron Washington Jr., a 6-foot-1, 210-pound outfielder from Houston, is 16 but has doubled up on his studies to graduate from Ridge Point High School this June and be eligible for the 2016 Draft. This accelerated track was taken most recently by ...
"Bryce Harper?" Washington asked rhetorically, then explained, "I just want to go play at the next level, college ball [he has committed to the University of Texas] or getting drafted. High school is fun, I just want to step up my game."
Washington, by the way, is not related to the former Rangers manager, despite the name and Texas roots.
"Very confusing," he acknowledged. "Every time I go someplace for baseball, I get the question three or four times."
Here, Marquis Grissom (429 steals in 17 big league seasons) is giving baserunning tips. There, Bob Didier, who once caught Phil Niekro and Luis Tiant, tutors catchers. Everywhere, the boys field and hit the cutoff man under watchful Major League eyes.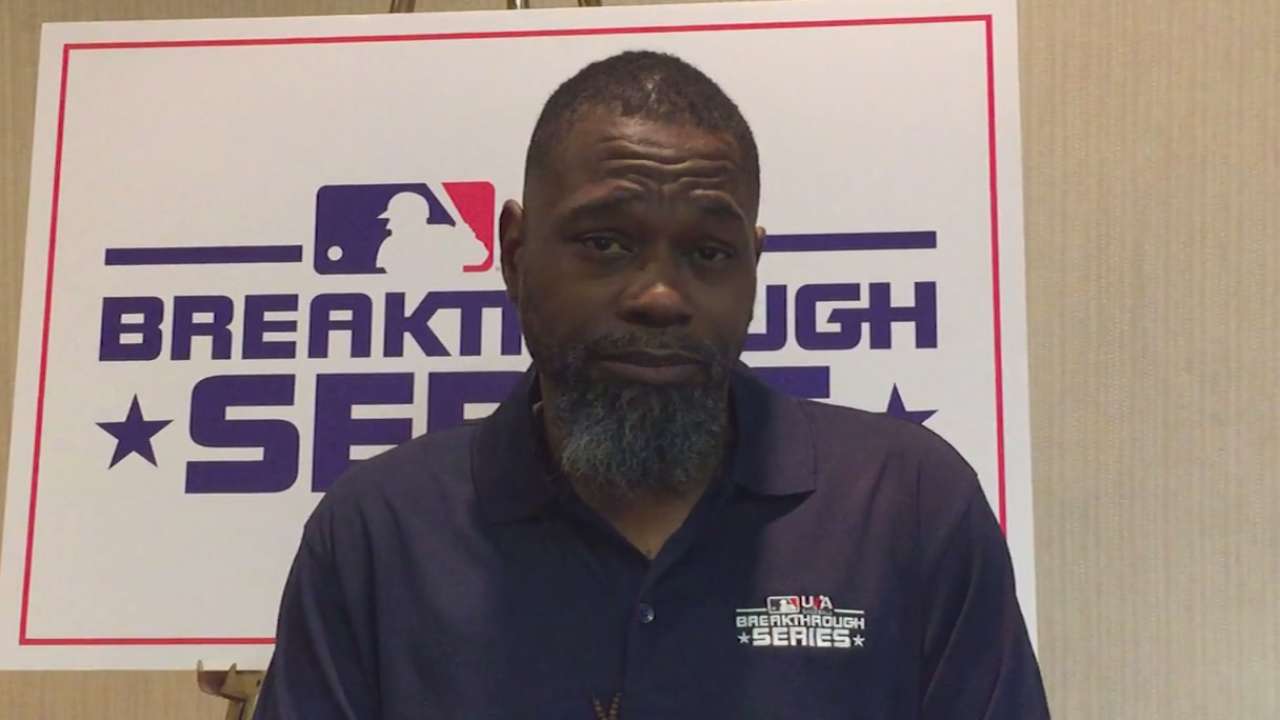 Luis Curbelo, an 18-year-old line-drive smashing shortstop from Rockledge, Fla.:
"Knowing the history these coaches have, it's an amazing experience. You see them on TV, on the MLB Network, and here they are taking the time to talk to you and you're thinking, 'Hey, look at this, Jerry Manuel just spoke to me.'"
Curbelo, one to watch in June's Draft, is definitely going to the University of Miami -- either on his talents or on some MLB team's dime.
"We'll see how things go on June 9. If I can go pro, I'd want the college as part of a contract. Scholarship or not," he said, "I want the education, because you never know what might happen, injuries or whatever."
Washington was in Great American Ball Park in July to compete in the High School Home Run Derby as part of the All-Star Game festivities. Curbelo is a one-time MVP of Puerto Rico in the Little League World Series. Both have college commitments.
And they aren't alone. A quarter of the campers already have college commitments. So the invited players here aren't under anyone's radar. They have all the tools -- but perhaps not the means to best showcase them.
"We wanted to eliminate the economic barrier to participation," said Tony Reagins, MLB's senior vice president for youth sports. "We thought it was important that if kids wanted to get this type of instruction, there would be no economic barrier to helping these kids grow and learn the game from the best out there."
Lunch break. Rodney Davis stands in the middle of the locker room and talks to the boys about "the carrot." The director of the Compton (Calif.) Urban Youth Academy -- a former player, coach and scout -- isn't referring to anything on the menu.
"If you see other guys getting scholarships and they're in the 10th grade, don't think about getting overlooked. Don't fall into the trap of wanting respect in high school," Davis said. "Work hard. Every day. And one day, you'll look up, and there'll be a second deck in the park."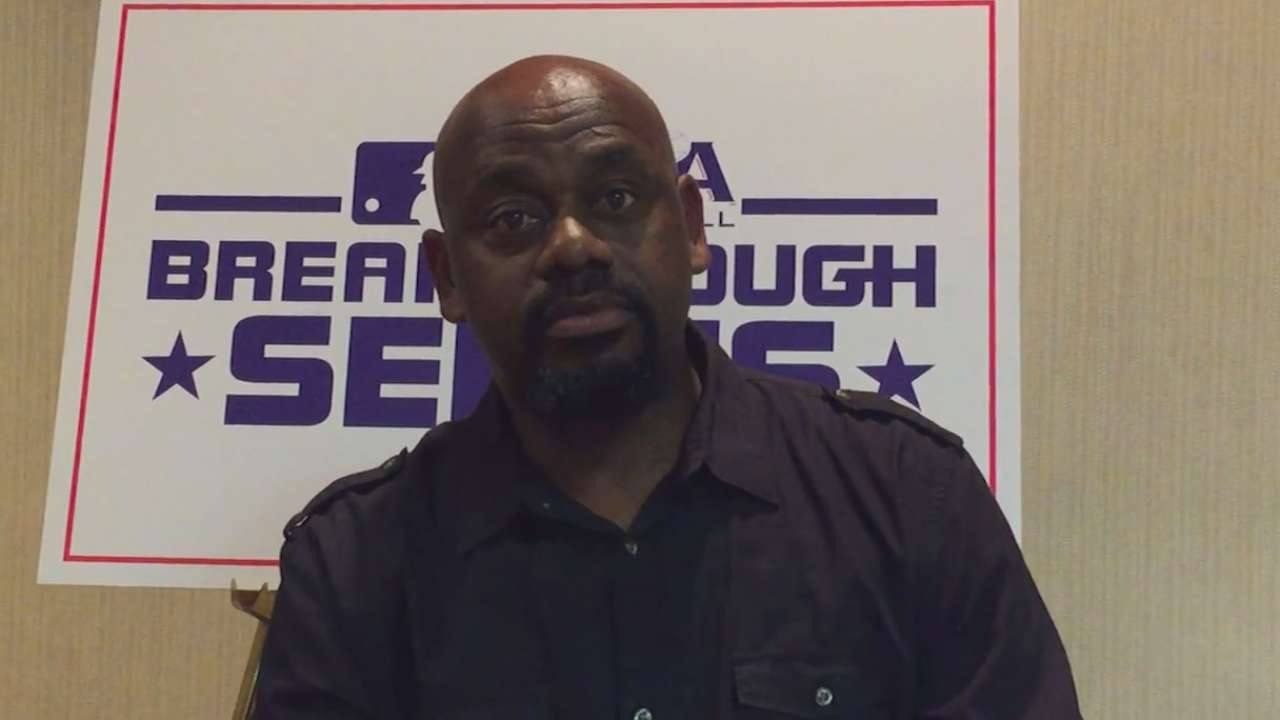 Khris Davis, Rodney's son, takes his turn in front of the boys.
"Like you, I sat once in that chair. You look so young ... you look like babies," said the Brewers' left fielder. "I love to play baseball. That's the one thing ... surround yourself with teammates who love playing. You'll push each other."
Not a problem for Je'Von Ward, a 6-foot-4 junior outfielder from Long Beach who has a commitment to the University of Southern California:
"When you get to a higher level, you have these guys all over the country who can play, and you have to separate yourself with something. For me, it's that passion I have for baseball. No one talks about it, but it's something you have to have."
Anyone looking to spread that baseball fever, the boys here could be carriers.
Jayson Gonzalez, a 6-foot-2, 210-pound junior from renowned Bishop Amat High School in Covina, Calif.:
"Being here, hanging out with other players from all over is special. You form friendships that last. And it's very helpful to get pointers from these coaches who have already experienced what you hope to one day."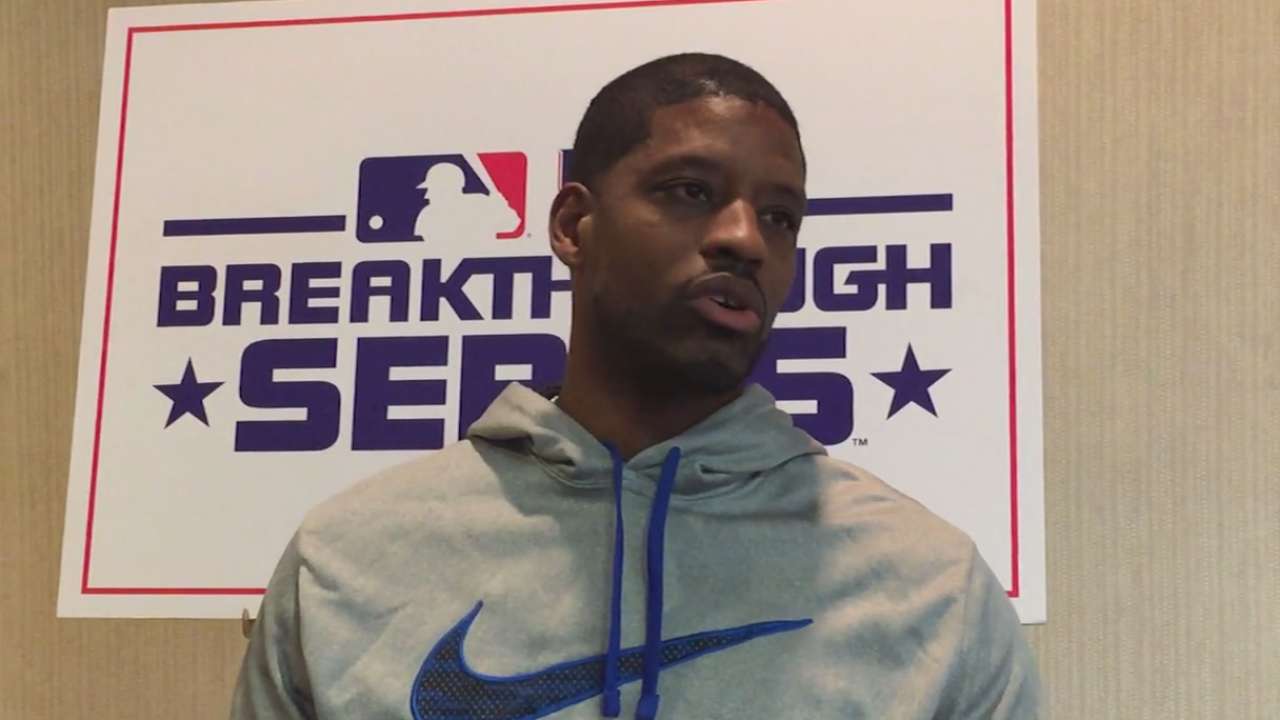 Which former Major Leaguer has been most impressive?
"Eric Davis," Gonzalez quickly nominated the former Reds outfielder. "He's a special guy. His personality ... he's funny, cool. He likes to joke around. But when it's time, he gets to work."
"Eric Davis, that's the guy," Ward echoed. "That dude was ridiculous, the one guy I really looked up to. I watched a lot of film on him, and he was something else. Words can't even describe what he did. He was amazing."
"I'll take it," Davis, grinning, said of the props. "Any time you're around the game and feel you have something to offer, you just hope they're receptive to what you have to say."
Davis came out of the inner city -- Los Angeles' Fremont High School -- and that tacit message resonates loudly here.
"Being a black athlete," Ward said, "and playing the game of baseball ... it's hard. There aren't a lot of us in the game. But I want to get there, to be at that level, and I'll keep working to do that."
Tom Singer is a reporter for MLB.com. This story was not subject to the approval of Major League Baseball or its clubs.