Five phenomenal San Diego center fielders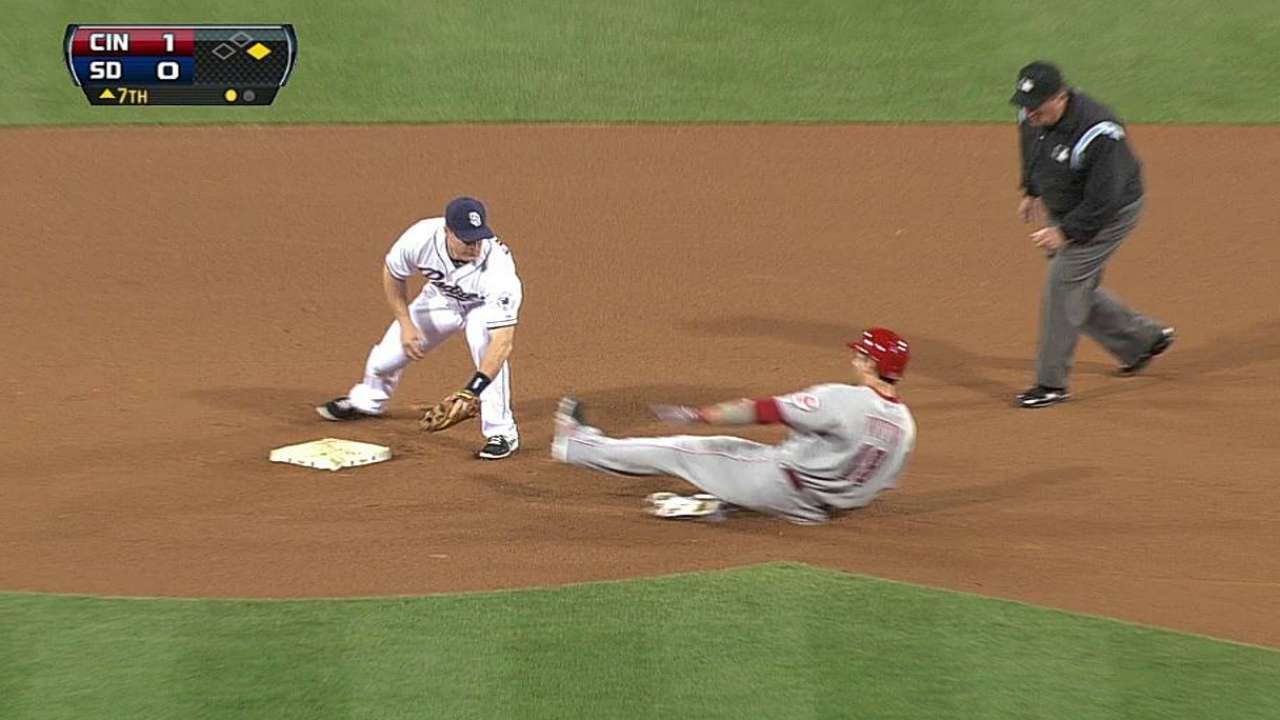 Bill Center, longtime sportswriter for U-T San Diego, is an employee of the Padres.
Center field is one of the deepest positions in Padres history. Five players who spent time in center field represented the Padres in All-Star Games. Five were the team's Most Valuable Player for at least one season. Three have won Gold Glove Awards. And eleven spent at least two seasons playing center field regularly for the Padres.
The list of Padres center fielders even includes Tony Gwynn, who won National League Gold Glove and Silver Slugger Awards in 1989 while playing more than half the season in center field.
It was easily the toughest position to narrow down to a top five list. My honorable mentions included Cito Gaston, Ruppert Jones, Derek Bell,Cameron Maybin and Will Venable (who played only 259 games in center).
My Top Five Padres center fielders:
1. Steve Finley (1995-1998)
Finley was the near-perfect blend of speed and power. In four seasons with the Padres, Finley hit .276 with 134 doubles, 28 triples and 82 home runs. He also stole 85 bases. So, he averaged 20.5 homers and 21.3 stolen bases per season while also winning three Gold Glove Awards and being named to the 1997 All-Star Game. Finley was the center fielder on the 1998 team that won the NL pennant. As a Padre, Finley also had a .334 on-base percentage and a .458 slugging percentage. The slugging percentage is the highest by any center fielder who played as many as two full seasons for the Padres. Finley drove in 298 runs and scored 423 runs as a Padre. The 126 runs he scored in 1996 is the highest single-season total in Padres history. He hit .296 in 1996 with 195 hits, 45 doubles and 30 home runs. Finley ranks 10th on the Padres' all-time list in runs scored, although he played at least two fewer seasons in San Diego than anyone else in the top 10. His slugging percentage is also the ninth-highest mark ever by a Padre. Finley's WAR as a Padre was 8.6. Finley and third baseman Ken Caminiti came to San Diego from Houston in the same blockbuster 12-player trade on Dec. 28, 1994. Finley was lost to the Arizona Diamondbacks as a free agent after the 1998 season.
2. Kevin McReynolds (1983-86)
Like Finley, McReynolds was the center fielder on a Padres team that won an NL pennant. The Padres' first-round pick in the 1981 draft (sixth overall), McReynolds made his Major League debut with the Padres on June 2, 1983, at the age of 23. In three-plus seasons with the Padres, McReynolds hit .263 with a .319 on-base percentage and a .438 slugging percentage. He had 84 doubles, 17 triples and 65 home runs with 260 RBIs and 233 runs scored in 496 games. Because he played 39 games in 1983, McReynolds wasn't eligible for the NL Rookie of the Award in 1984. But he finished 17th in MVP voting after hitting .278 with 20 homers and 75 RBIs during the Padres' run to the NL title. Like Finley, McReynolds was a blend of speed and power. McReynolds' 12.4 WAR was the highest by any Padre who spent the majority of his playing time in center. On Dec. 11, 1986, the Padres traded McReynolds to the New York Mets for outfielders Shawn Abner and Stan Jefferson and third baseman Kevin Mitchell.
3. Mike Cameron (2006-2007)
Kevin Towers once said the worst decision he made during his 15 seasons as Padres general manager was not re-signing Cameron as a free agent after the 2007 season. Cameron was a better combination of speed and power than Finley and McReynolds. The only reason that he doesn't rank higher on my list is because he played only two seasons with the Padres and didn't hit for as high a batting average. Cameron hit .255 with 67 doubles, 15 triples, 43 homers and 43 steals in just 292 games. He had a .341 on-base percentage and a .456 slugging percentage. His WAR as a Padre was 7.6 in just two seasons, during which he had 161 RBIs and 176 runs scored. But Cameron's ability is just as impressive as his stats -- he was a great center fielder whose trademark was leaping catches at the then-distant left-center and right-center fences at Petco Park. George Hendrick, Derek Bell and Ruppert Jones had offensive numbers to rival those of Cameron during short stays in San Diego. But none of the three came close to the overall package that was Mike Cameron. Acquired in a Nov. 18, 2005, trade with the Mets for Xavier Nady, Cameron signed as a free agent with the Milwaukee Brewers on Jan. 11, 2008.
4. John Grubb (1972-1976)
The Padres' first-round pick in the secondary (January) Draft of 1971, Grubb made his Major League debut with the Padres on Sept. 10, 1972, at the age of 24. The Florida State product played four full seasons for the Padres before being traded with catcher Fred Kendall and infielder Hector Torres to the Cleveland Indians on Dec. 6, 1976 -- for Hendrick, the player who replaced Grubb in center for the Padres. Grubb finished sixth in NL Rookie of the Year voting in 1973 after hitting .311 with a .373 on-base percentage. As a Padre, Grubb had a career batting average of .286 -- the highest by any Padres center fielder with two full seasons -- with a .363 on-base percentage and a .397 slugging percentage. He was the Padres' representative in the 1974 All-Star Game. The left-handed-hitting Grubb was not a power hitter (101 doubles, 11 homers and 25 homers in 513 games) and didn't have the great speed of a classic center fielder. But he had 145 RBIs and 235 runs scored during the formative years of the Padres and finished the San Diego portion of his career with a 7.1 WAR.
5. Mark Kotsay (2001-2003, 2012-2013)
The last spot came down to two of my favorite Padres, Kotsay and Clarence "Cito" Gaston, whose six seasons in a Padre uniform began as a member of the original cast in 1969. But both spent only three seasons in center field -- and Kotsay had the edge in those three seasons, although Gaston hit .318 with 29 homers and 93 RBIs in 1970 and finished 24th in NL MVP voting after being the Padres' representative in the All-Star Game. Kotsay was the last center fielder at Petco Park from 2001-2003 and returned to the Padres in 2012-2013 as a reserve outfielder and first baseman as well as a pinch-hitter. Overall as a Padre, Kotsay hit .273 with a .343 on-base percentage and a .403 slugging percentage. He had 94 doubles, 12 triples and 37 homers, driving in 183 runs and scored 230. He spent 379 of his 586 games as a Padre in center field. Kotsay had a 9.2 WAR as a Padres center fielder. Gaston, who hit .257 as a Padre with 77 homers and 316 RBIs, had a 4.4 WAR in center field.