Breakthrough Series mentors urban players
Former big leaguers impart wisdom to underserved youth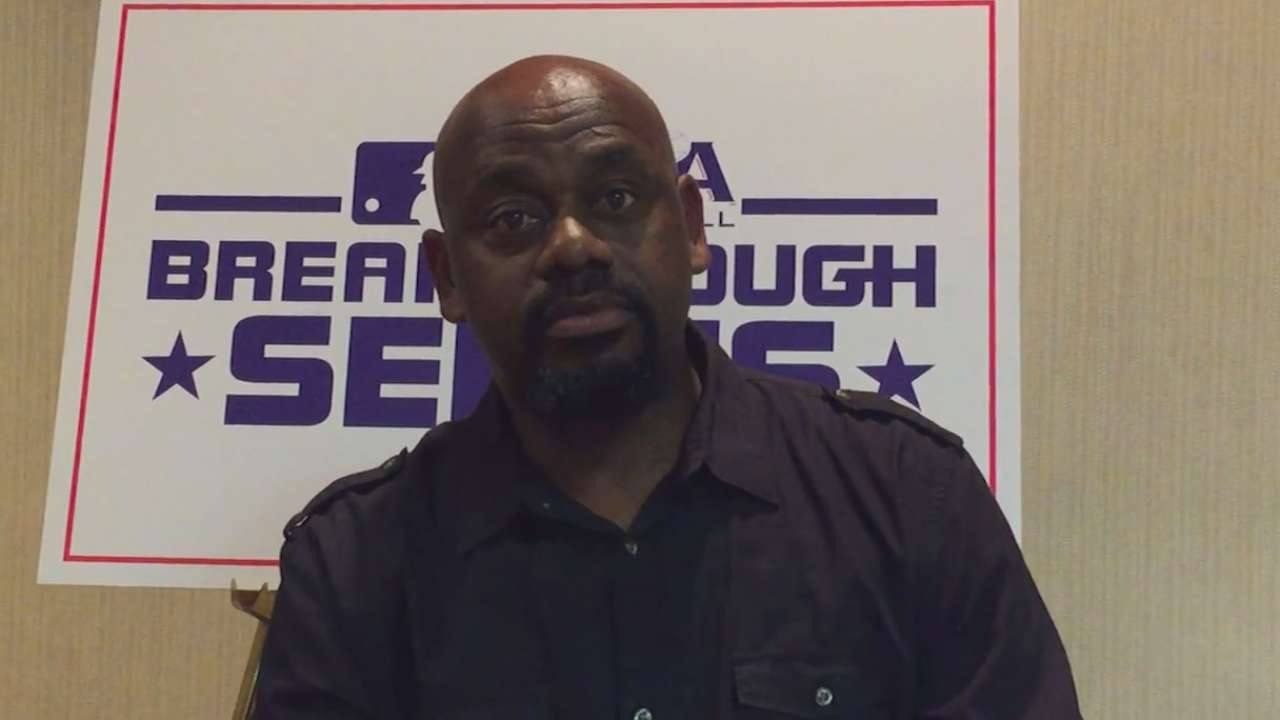 TEMPE, Ariz. -- They have come here from all over the map and all over the baseball field, bearing seeds. They intend to cultivate the next bountiful crop of Major Leaguers from inner cities, and help reverse the trend of the vanishing black big leaguer.
Marquis Grissom, Eric Davis, Darren Oliver, Dmitri Young, Tom Gordon, Darrell Miller, Lou Collier, Rob Picciolo and Bob Didier are former, some very recent, Major Leaguers who will serve as instructors for the opening stage of the 2016 Breakthrough Series, through Sunday at the Angels' Spring Training complex.
At its very basic core, the program jointly organized by MLB and USA Baseball aims to help expose young baseball talent to professional scouts and collegiate recruiters. The Breakthrough Series' aim is to "promote baseball as a viable collegiate and professional option for urban youth, especially those from underserved communities."
The Breakthrough Series has grown from a one-location deal eight years ago to five regional events in 2016.
Is it working? Current big leaguers Addison Russell, Jon Singleton and Carlos Rodon are "graduates" of past Breakthrough Series.
The 60 invited prep ballplayers here will experience two days of drills, lectures and games to prepare them for whatever is the next step: senior seasons, showcases, scholarships, pro contracts. That's the big picture.
The bigger picture is having black athletes take back their game, by reviving a lost connection.
"If we can keep this momentum going, then we're in a position of having a movement," said Jerry Manuel, the former big league infielder and manager who assembled and coordinates the roster of instructors. "We get the culture back in the game. Our culture ... there is a disconnect."
Didier: "We have guys coming from all over the world, and here in the United States we're sitting on all these great athletes. It would definitely be nice to see more blacks in the game."
Oliver: "It's all about opportunity. Colleges have only 11 baseball scholarships, and if parents have to come up with 10 grand -- it's not gonna happen. That kid will go play football. And the coach that gave that football scholarship isn't going to let you play a second sport."
So they have come to teach and inspire and impart valuable lessons, in baseball and life.
Young: "They want to be where we were at. That's the big thing with me -- giving back. If I wasn't a baseball player, I would've been a teacher."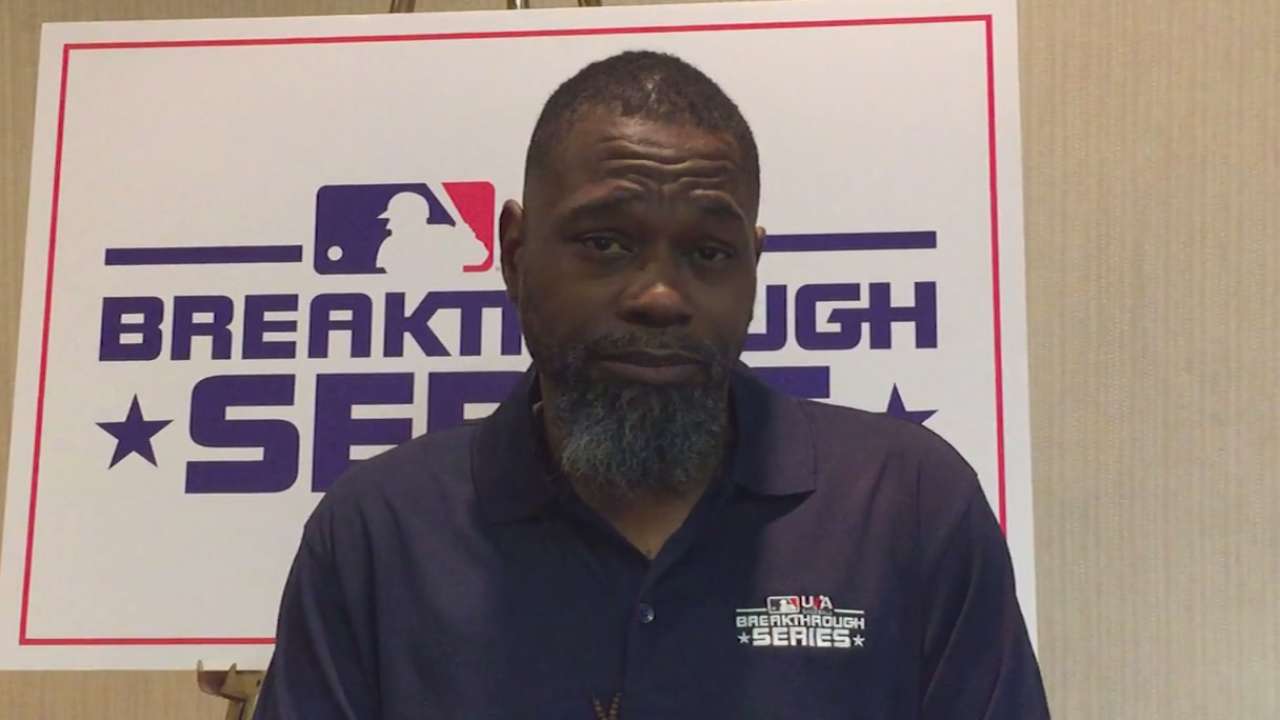 Collier: "A program like this ... the main message is, 'Keep working and you'll do great things.' It may not be Major League Baseball or college. But you could be a productive member of society and raise a family."
It isn't explicitly an African-American event. One of the most intriguing campers here, for instance, is Luis Curbelo, a Puerto Rican infielder already projected to be selected in June's Draft.
But by the very definition of that mission statement, the majority of the attending players are black.
This isn't a clinic, a scouting combine or a think-tank. The invited players, all expenses paid, are already elite. But they can also be invisible, and the Breakthrough Series shines a light on them.
"The genesis of the name 'Breakthrough' came from the opportunity to give a kid a chance he wouldn't normally have to break through to a higher level of play," said Tony Reagins, MLB's senior vice president for youth sports.
Collier: "A lot of kids can benefit from information I've learned. They need mentors, they need guidance. When I look at them, I see myself, dealing with limited resources."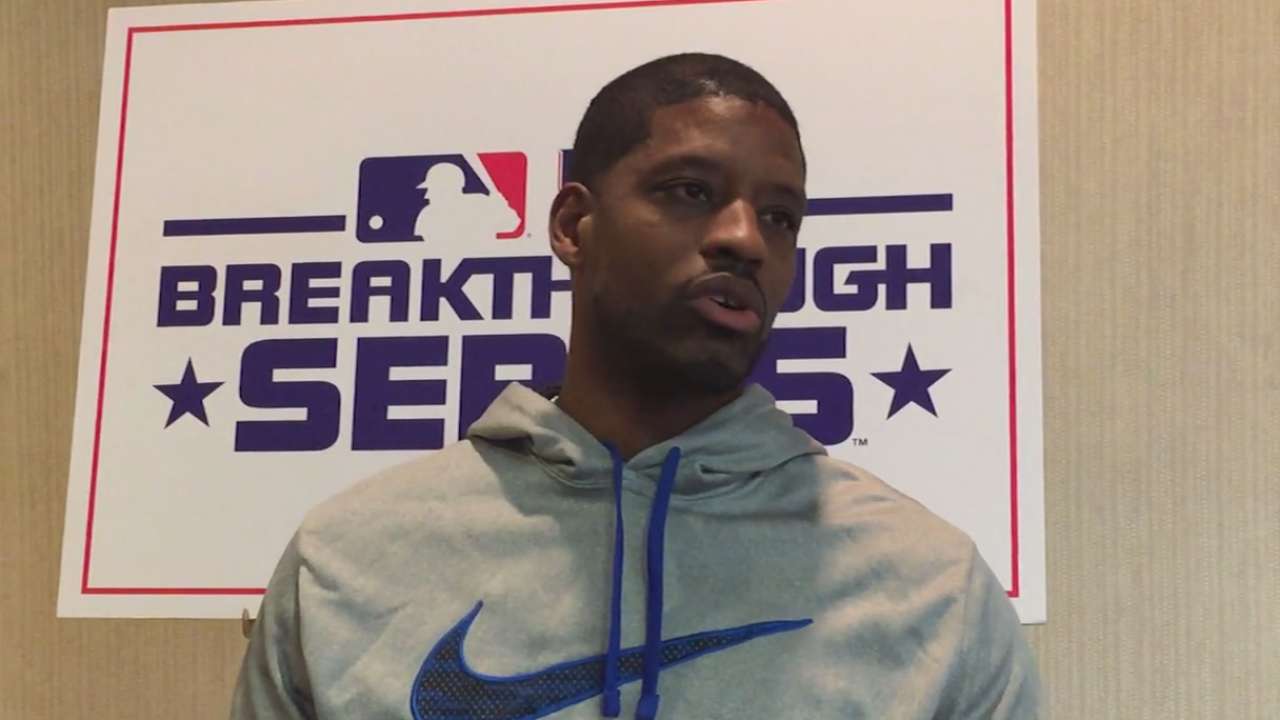 Grissom: "This is important. When I was growing up, I had guys who helped me compete and get to the next level, coaches who took me under their wings. I felt obligated to go back and serve. I was raised, as one of 15 children, to look out for others. It's a privilege to try to change someone's life."
Miller, the former catcher who has been a driving force for years of the RBI (Reviving Baseball in the Inner Cities) program and is MLB's vice president of youth development: "We decided in 2008 that we had to do something to get all our kids more exposure. If they can't afford to go to a showcase -- which most of these kids can't -- let's invite them to something like this, and it's great to give them this opportunity."
Tom Singer is a reporter for MLB.com and writes an MLBlog Change for a Nickel. He can also be found on Twitter @Tom_Singer. This story was not subject to the approval of Major League Baseball or its clubs.