Arb deadline tracker: Follow all the activity
Dozens agree to deals before deadline to submit salary arbitration figures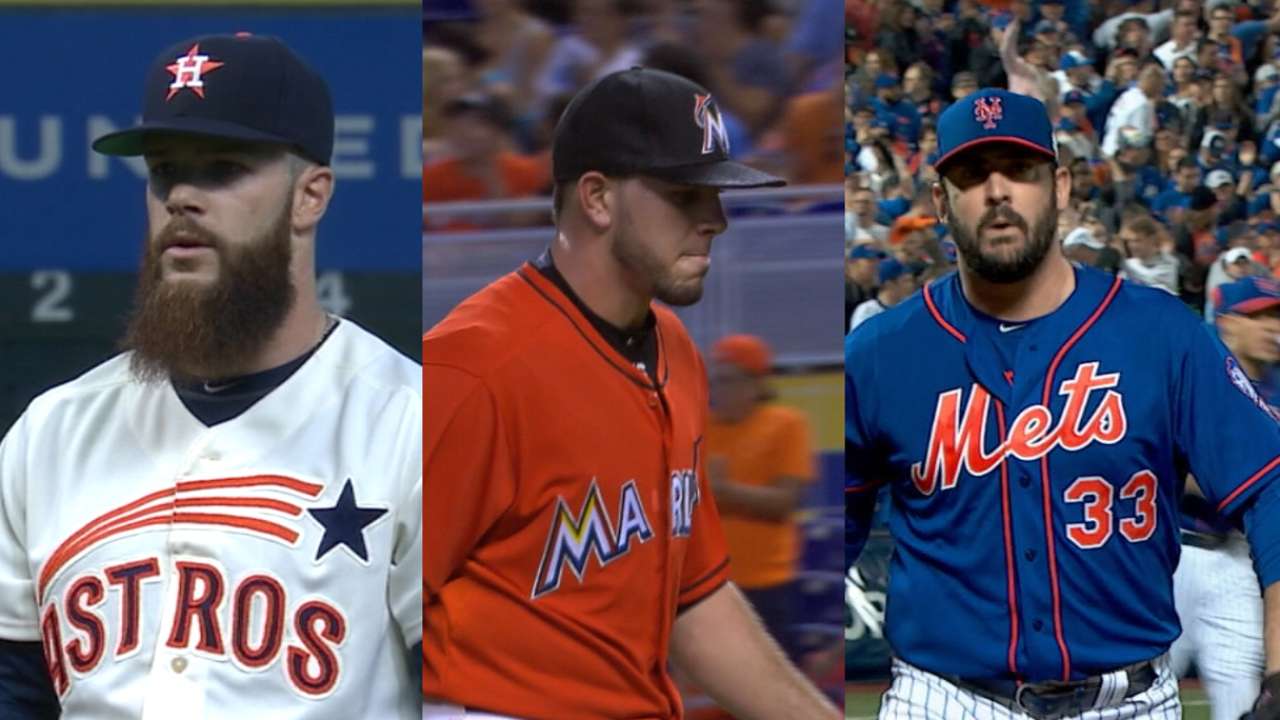 Several big-name players, however, were unable to reach agreements and instead exchanged salary figures. If the two parties do not settle and end up going to a hearing, an arbitrator decides between the salaries being presented by each party and the player will play for the salary that is decided.
Here's a club-by-club look:
Angels
Exchanged figures: OF Kole Calhoun seeks $3.9M; club offers $2.35M. RHP Garrett Richards seeks $7.1M; club offers $5.3M.
More >>
Astros
Signed: RHP Josh Fields, INF Marwin Gonzalez, LHP Dallas Keuchel and INF Luis Valbuena
Exchanged figures: C Jason Castro seeks $5.25M; club offers $5M. DH Evan Gattis seeks $3.85M; club offers $3M.
More >>
Athletics
Signed: OF Josh Reddick and RHP Fernando Rodriguez.
More >>
Blue Jays
Signed: LHP Brett Cecil, RHP Steve Delabar, RHP Drew Hutchison, LHP Aaron Loup, OF Michael Saunders and RHP Drew Storen
Exchanged figures: RHP Jesse Chavez seeks $4M; club offers $3.6M. INF Josh Donaldson seeks $11.8M; club offers $11.35M.
More >>
Braves
Signed: RHP Arodys Vizcaino and RHP Chris Withrow
More >>
Brewers
Signed: RHP Wily Peralta, SS Jean Segura and LHP Will Smith
More >>
Cardinals
Signed: 1B Matt Adams, RHP Seth Maness, OF/1B Brandon Moss and RHP Trevor Rosenthal
More >>
Cubs
Signed: OF Chris Coghlan, RHP Justin Grimm, RHP Hector Rondon, RHP Pedro Strop, RHP Adam Warren and LHP Travis Wood
Exchanged figures: RHP Jake Arrieta seeks $13M; club offers $7.5M
More >>
D-backs
Signed: RHP Randall Delgado, RHP Daniel Hudson and C Welington Castillo
Exchanged figures: OF A.J. Pollock seeks $3.9M; club offers $3.65M
More >>
Dodgers
Signed: LHP Luis Avilan, C Yasmani Grandal, RHP Kenley Jansen and INF Justin Turner
More >>
Giants
Exchanged figures: INF Brandon Belt seeks $7.5M; club offers $5.3M. RHP George Kontos seeks $1.35M; club offers $0.85M.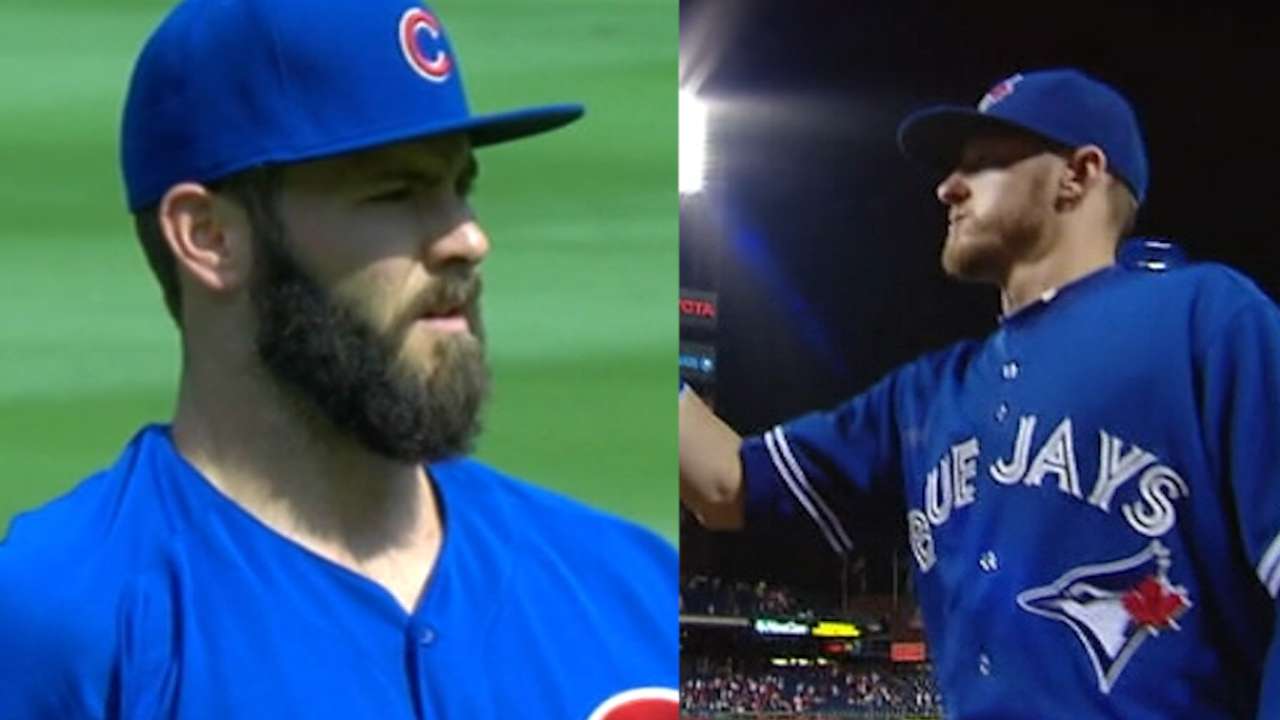 Indians
Signed: RHP Cody Allen, OF Lonnie Chisenhall, RHP Jeff Manship and RHP Josh Tomlin
More >>
Mariners
Signed: LHP Charlie Furbush and RHP Evan Scribner
More >>
Marlins
Signed: RHP Carter Capps, RHP Jose Fernandez, SS Adeiny Hechavarria, RHP Tom Koehler, RHP David Phelps and RHP A.J. Ramos
More >>
Mets
Signed: LHP Josh Edgin, RHP Matt Harvey, RHP Addison Reed, INF Ruben Tejada and RHP Carlos Torres
Exchanged figures: INF Lucas Duda seeks $7.5M; club offers $5.9M. RHP Jeurys Familia seeks $4.8M; club offers $3.3M. RHP Jenrry Mejia seeks $2.595M; club offers $2.345M. INF Neil Walker seeks $11.8M; club offers $9.4M.
More >>
Nationals
Signed: INF Danny Espinosa, INF Anthony Rendon, OF Ben Revere and RHP Stephen Strasburg
More >>
Orioles
Signed: INF Ryan Flaherty, RHP Miguel Gonzalez, 3B Manny Machado and RHP Chris Tillman
Exchanged figures: LHP Zach Britton seeks $7.9M; club offers $5.6M. LHP Brian Matusz seeks $4.4M; club offers $3.5M.
More >>
Padres
Signed: RHP Andrew Cashner, RHP Tyson Ross
More >>
Phillies
Signed: RHP Jeremy Hellickson
More >>
Pirates
Signed: C Francisco Cervelli, RHP Jared Hughes, LHP Jeff Locke, RHP Mark Melancon, SS Jordy Mercer, C Chris Stewart (2-year deal; club hasn't confirmed) and LHP Tony Watson
More >>
Rangers
Signed: C Robinson Chirinos, INF Jurickson Profar and RHP Tanner Scheppers
Exchanged figures: LHP Jake Diekman seeks 1.55M; club offers $0.975M. RHP Shawn Tolleson seeks $3.9M; club offers 2.6M. INF Mitch Moreland seeks $6M; club offers $4.675M.
More >>
Rays
Signed: RHP Alex Cobb, C Hank Conger, INF Logan Forsythe, OF Brandon Guyer, OF Desmond Jennings, LHP Jake McGee, 1B/OF Logan Morrison, RHP Erasmo Ramirez and C Rene Rivera
Exchanged figures LHP Drew Smyly seeks $3.75M; club offers $3.2M
More >>
Red Sox
Signed: RHP Joe Kelly
Exchanged figures: LHP Robbie Ross Jr. seeks $1.325M; club offers $1.075M. RHP Junichi Tazawa seeks $4.15M; club offers $2.7M
More >>
Reds
Signed: INF Zack Cozart
Exchanged figures: RHP J.J. Hoover seeks $1.4M; club offers $1.225M.
More >>
Rockies
Signed: INF Nolan Arenado
Exchanged figures: OF Charlie Blackmon seeks $3.9M; club offers $2.7M. INF DJ LeMahieu seeks $3.3M; club offers $2.8M.
More >>
Royals
Signed: C/1B Drew Butera, OF Lorenzo Cain (2-year deal; club hasn't confirmed), RHP Louis Coleman, C Tony Cruz, LHP Danny Duffy and OF Jarrod Dyson
Exchanged figures: INF Mike Moustakas seeks $7M; club offers $4.2M
More >>
Tigers
Signed: INF Jose Iglesias, INF Andrew Romine and LHP Justin Wilson
Exchanged figures: OF J.D. Martinez seeks $8M; club offers $6M
More >>
Twins
Signed: INF Eduardo Escobar, RHP Casey Fien, LHP Tommy Milone and INF Eduardo Nunez
Exchanged figures: RHP Kevin Jepsen seeks $5.4M; club offers $5.05M. INF Trevor Plouffe seeks $7.95M; club offers $7M.
More >>
White Sox
Signed: OF Avisail Garcia, RHP Zach Putnam
More >>
Yankees
Signed: INF/OF Dustin Ackley and RHP Michael Pineda
Exchanged figures: LHP Aroldis Chapman seeks $13.1M; club offers $9M. RHP Nathan Eovaldi seeks $6.3M; club offers $4.9M. INF Didi Gregorius seeks $2.525M; club offers $2.3M. RHP Ivan Nova seeks $4.6M; club offers $3.8M.
More >>