MLB.com Columnist
Jesse Sanchez
Hall puts on show as D-backs honor sponsors
Club's 2016 Most Valuable Partner Awards a big hit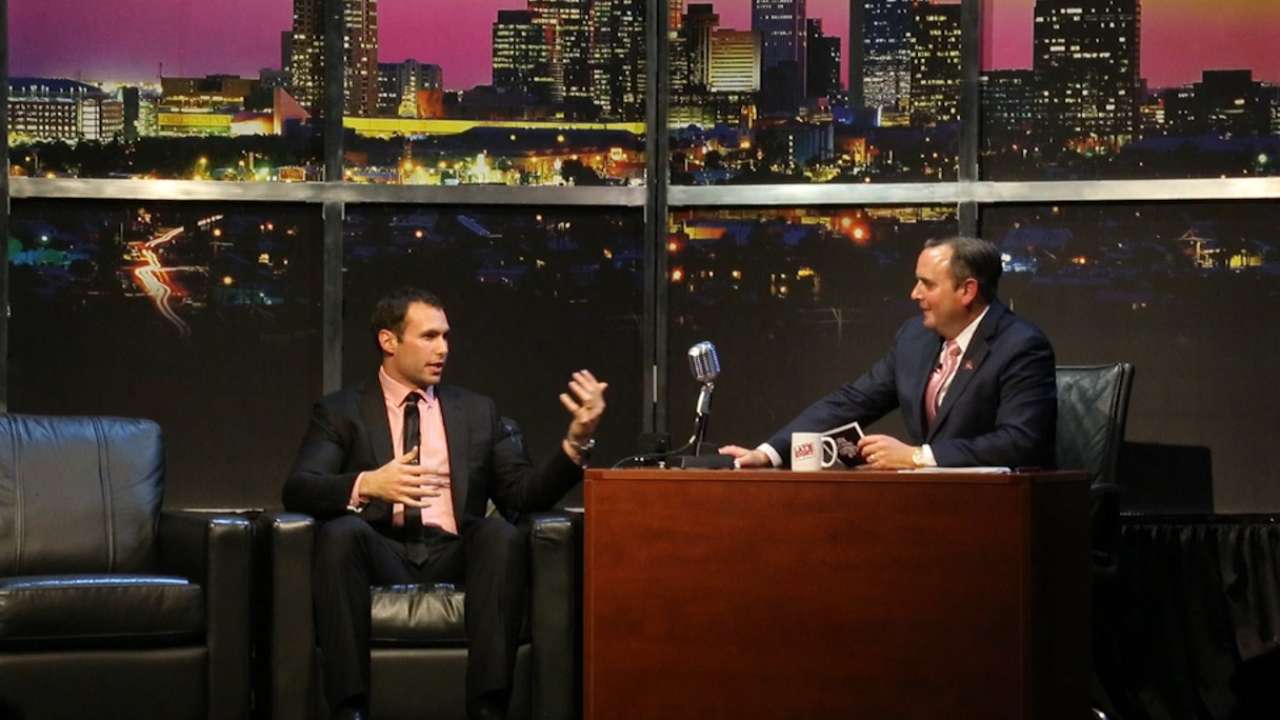 CHANDLER, Ariz. -- D-backs first baseman Paul Goldschmidt mingled with the crowd in the lobby of the Gila River Casinos' Wild Horse Pass and Casino Hotel. Inside the Ovations Live! Showroom, new D-backs pitcher Shelby Miller introduced himself to teammates Patrick Corbin, Tuffy Gosewisch, and Chris Owings and then took a seat at their table.
Not far in front of the players sat chief baseball officer Tony La Russa, general manager Dave Stewart and senior vice president of baseball operations De Jon Watson, manager Chip Hale and third-base coach Matt Williams. Special assistants Luis Gonzalez, Randy Johnson and J.J. Putz were there, too.
A video of D-backs president and CEO Derrick Hall kicked off the 2016 Most Valuable Partner Awards and he made quite an impression.
Again.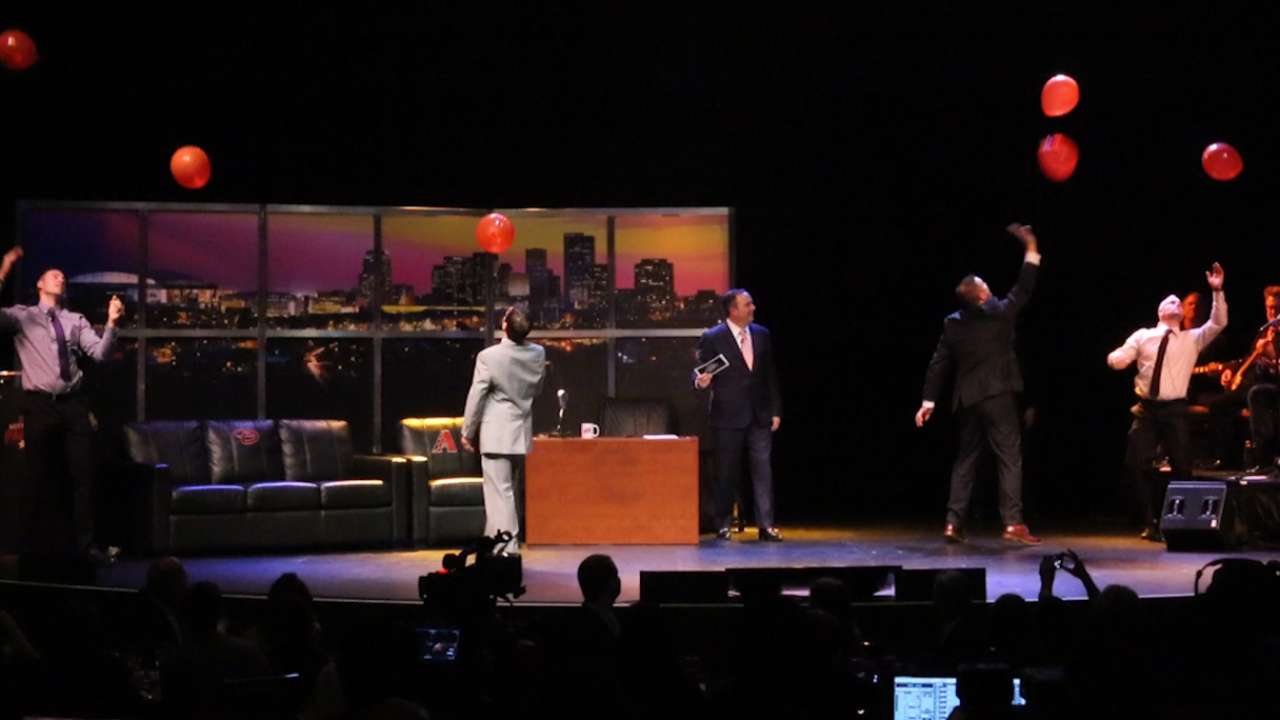 For the fifth year in a row, the D-backs honored their best corporate sponsors with an award show full of musical performances, games and funny video performances by members of the club's front office. The program was patterned after a late-night talk show hosted in comedic fashion by Hall.
The night was full of jokes, some at the Dodgers' expense, but Hall also had a serious message.
"This is a way for us to recognize our partners and to showcase them and to hopefully, award them," Hall said. "But [it] also provides a ground for all of them to share best practices. We show on video some of their highlights of the year for integration and activation. It's been well-received and the feedback we get every year has been tremendous. It just keeps building and getting larger and larger."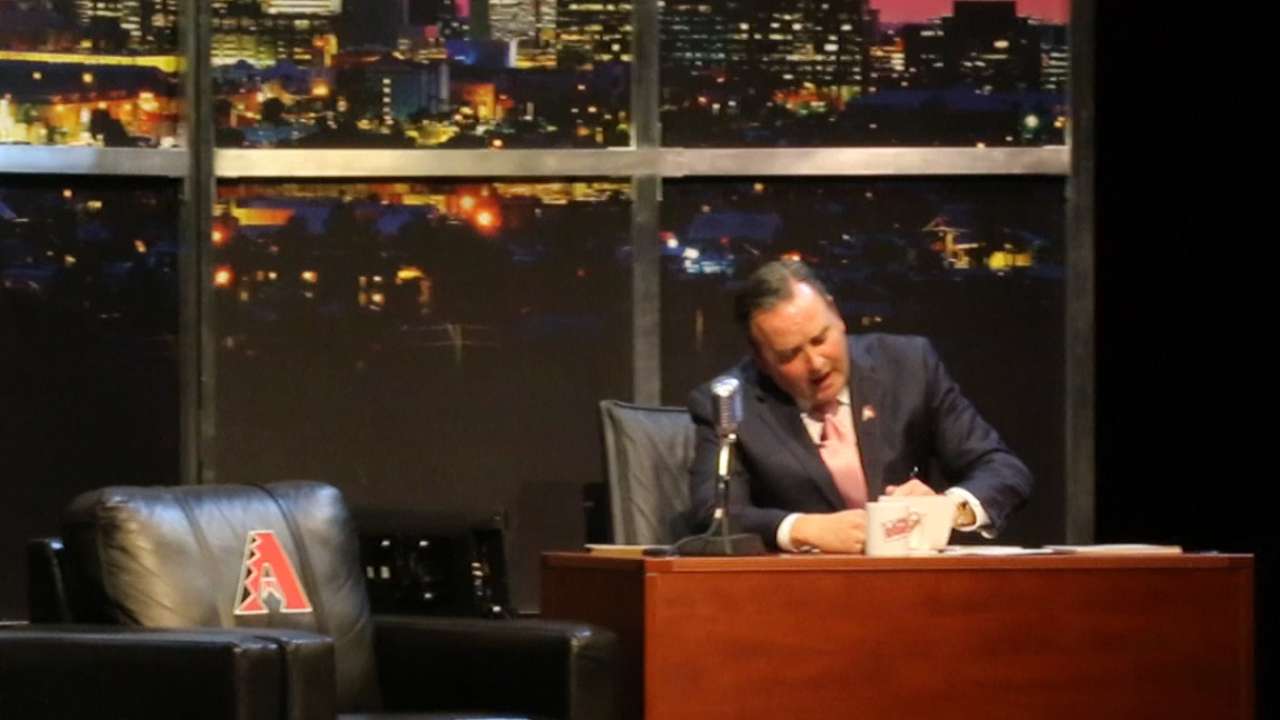 The Not-Quite Late Night Show with Derrick Hall also featured interviews with players and visits with the award winners. Season ticket holders were also invited to attend and submit questions.
"This is pretty cool and Derrick always puts on a good show," Goldschmidt said. "It's more than just him and I know they have been working on this for months, if not the whole year. It's definitely entertaining."
The evening also marked Miller's first appearance in Arizona as a member of the D-backs. The Texan walked the red carpet and was later interviewed on stage by Hall.
"So far, it's been great," Miller said. "I'm here with my wife and we came out here [Wednesday] to try to look at some houses and get settled in. We came to this event and, [went] to the field a little bit, kind of checking everything out. So far, it's been amazing and we are falling in love pretty quick."
2016 Most Valuable Partner Award Winners:
Luis Gonzalez Community Champion Award: Fry's and Western Refining
Brand Integration Award: Circle K
D-backs Ambassador Award: Arizona Office Technologies
Marketing Activation: Budweiser
Fan Choice Award: Dignity Health
Rookie of the Year: One Medical
Lifetime Achievement Award: Dignity Health
Most Valuable Partner Silver Slugger: Sanderson Ford
Most Valuable Partner Gold Glove: Chase
Jesse Sanchez is a national reporter for MLB.com. Follow him on Twitter @JesseSanchezMLB. This story was not subject to the approval of Major League Baseball or its clubs.