Stanton, Gordon give Marlins rare combo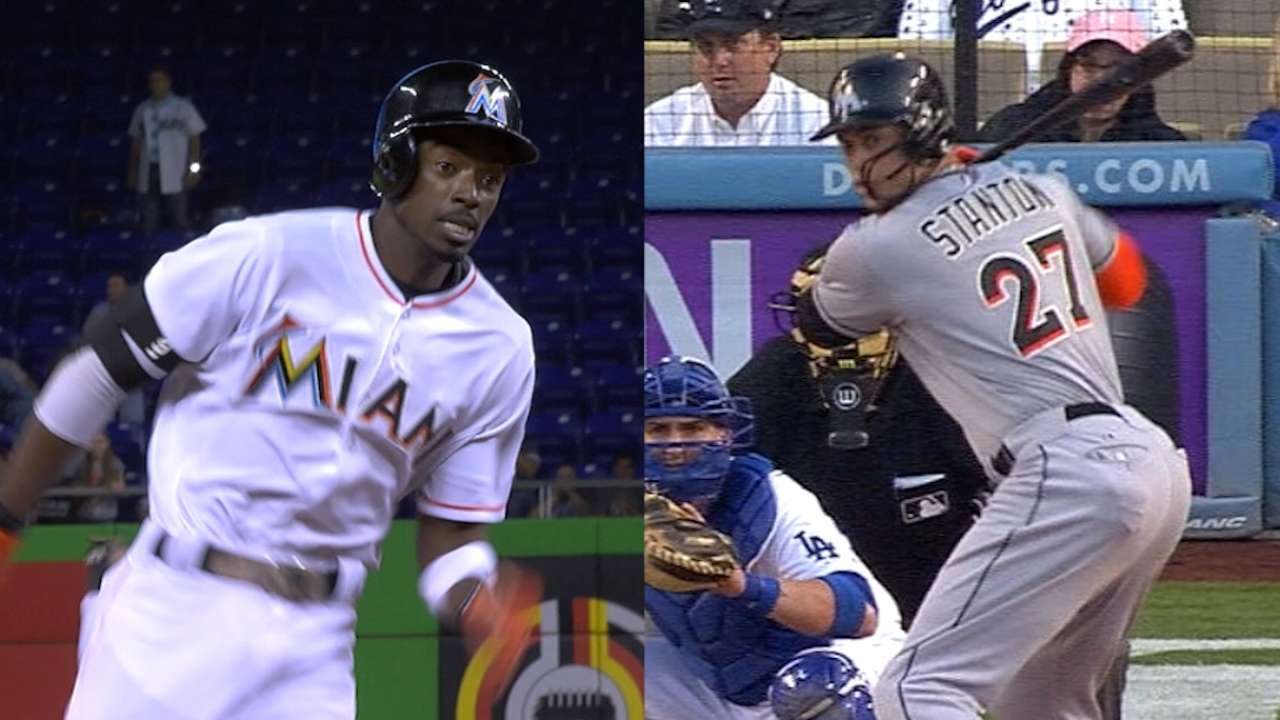 Last offseason, the Marlins locked up one of the game's top power threats in Giancarlo Stanton with a mammoth 13-year, $325 million deal. This offseason, they focused on another aspect of their offense, securing speedster Dee Gordon's services for at least another five years.
In doing so, the Marlins not only solidified arguably the game's best power-speed combo for the next half-decade, but they also put themselves in position to do something that hasn't been done by any team yet this century -- lay claim to both the stolen-base and the homer champion in the same year. The last team to boast the league leaders in both categories was the 1999 Mariners, with Hall of Famer Ken Griffey Jr. leading the American League in home runs (48) and Brian Hunter pacing the AL in steals (44).
• Marlins sign Gordon to five-year deal
Overall, teammates have led their respective league in each category in the same season only six times since 1970, and we have a full breakdown of each of the duos below. For now, however, the question is whether Stanton and Gordon can join that exclusive group.
Obviously, there's no guarantee that Gordon and Stanton will lead the National League in steals and homers, but Gordon has notched back-to-back stolen-base titles, while Stanton was on pace to be crowned the NL home run king for a second consecutive year in 2015 before suffering a left hand injury that ultimately ended his season on June 26.
Steamer -- a projection system used to forecast future performance based on trends and historical comparisons -- projects Stanton to lead the Majors with 40 home runs, while it places Gordon second in stolen bases, behind only Billy Hamilton.
• Projecting the 2016 MLB statistical leaders
As for actual data, Statcast™ lends plenty of support to both players in their quest to make history.
For starters, the player-tracking technology fully confirmed in its first full year what everyone already knew -- nobody hits a baseball harder than Stanton. What we did learn, however, is just how much harder Stanton hits the ball than anybody else. Despite playing his last game on June 26, Stanton still finished the year with nine of the 12 hardest-hit balls, including each of the top three, led by a 120.3-mph scorcher off Mike Bolsinger in May.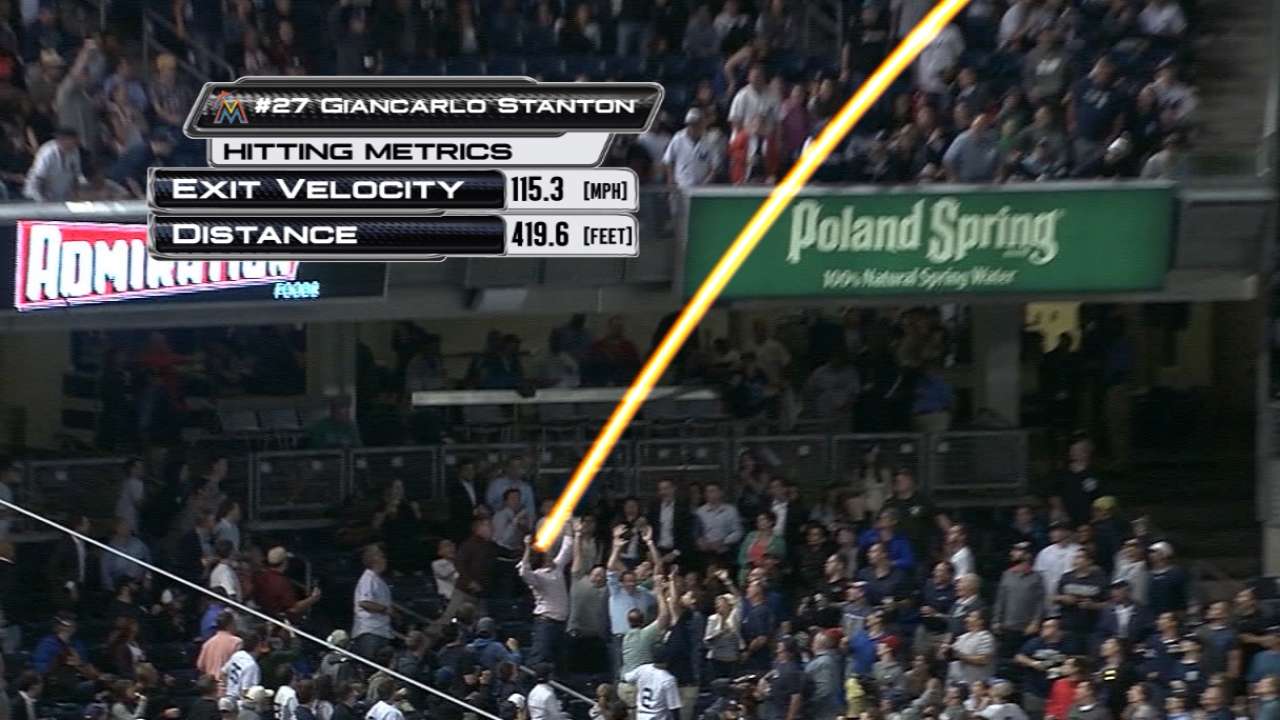 As for Gordon, his work on the basepaths last year provided plenty of fodder for Statcast™. The one play that perhaps best exemplified his blistering speed came not on a stolen base, but a home run -- an inside-the-park homer, of course. Facing the Giants on June 30, Gordon circled the bases in just 14.2 seconds, a full half-second faster than any other player last year. The second-fastest home-to-home time came from Royals speedster Jarrod Dyson, who covered the distance in 14.7 seconds on July 8.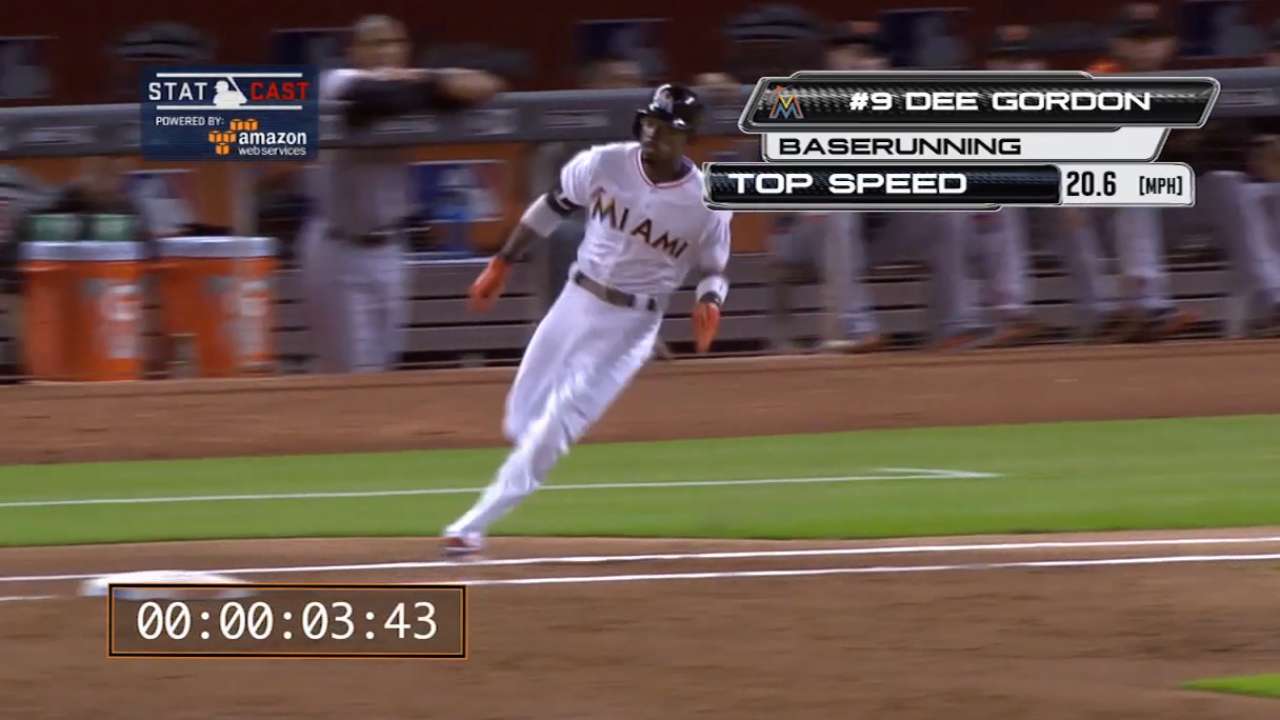 Now, let's take a closer look at the six sets of teammates since 1970 who led the league in both categories in the same year, a group that the Marlins are hoping Gordon and Stanton can join at some point over the next five years.
1999 Mariners
Griffey: 48 home runs
Hunter: 44 stolen bases
Griffey hit his final home run of the 1999 campaign on Sept. 22, bringing his season total to 48 and capping off a streak of three straight days with a homer. His closest competitor, Rafael Palmeiro, actually hit his 47th against Griffey's Mariners on Sept. 28, bu he was held homerless over the final five games to give Griffey his third straight home run title. Hunter, meanwhile, played 18 games for the Tigers before being traded to the M's on April 28. All of his league-leading 44 stolen bases came in a Seattle uniform.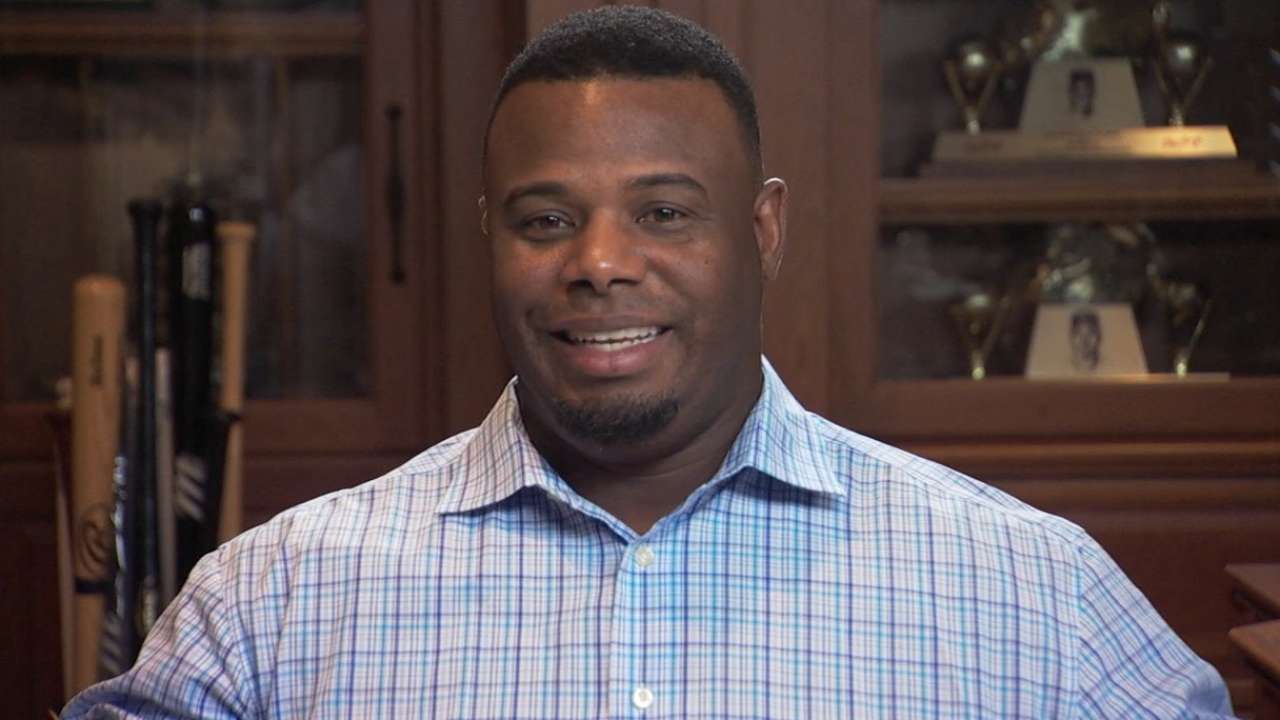 1996 Rockies
Andres Galarraga: 47 home runs
Eric Young: 53 stolen bases
The Rockies produced the NL home run champion three straight years from 1995-97, with a different player taking home the honor in each season. Dante Bichette started the streak in '95, followed one year later by Galarraga and finally by Larry Walker in '97. It was during that middle season that Young swiped an NL-leading 53 bases, one shy of his career high. That '96 season also marked Young's only All-Star appearance.
1995 Indians
Albert Belle: 50 home runs
Kenny Lofton: 54 stolen bases
Lofton led the AL in stolen bases in five consecutive seasons from 1992-96, and Belle secured the duo's place in history by clubbing a career-high 50 home runs during the '95 campaign. Lofton's 54 stolen bases were four more than his closest AL challengers, while Belle won the home run crown in a runaway, finishing with 10 more homers than any player in either league.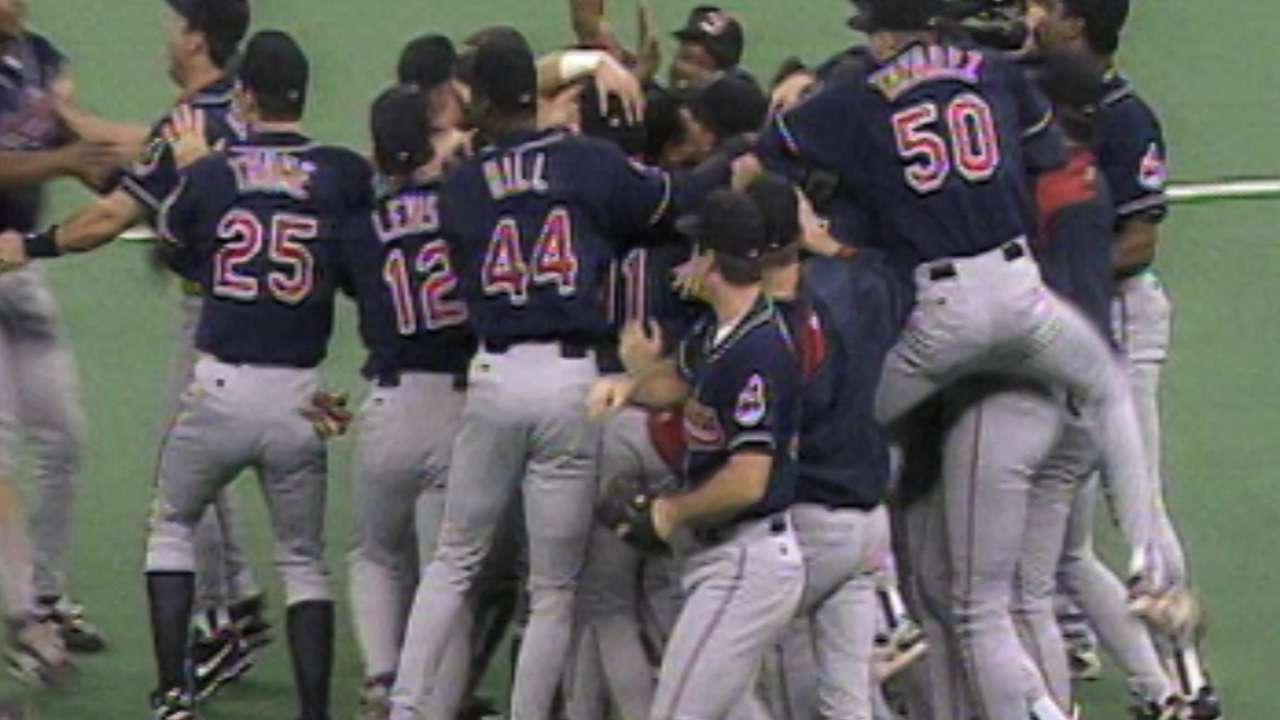 1991 A's
Jose Canseco: 44 home runs
Rickey Henderson: 58 stolen bases
Considering Henderson led the AL in stolen bases 11 times during a 12-year stretch from 1980-91, it's no surprise that he's part of not one, but two of the duos on this list. The second such occurrence came in '91, when Henderson swiped 56 bases and Canseco tied Tigers first baseman Cecil Fielder with a Major League-best 44 homers.
1981 A's
Tony Armas: 22 home runs
Henderson: 56 stolen bases
As previously mentioned, Henderson was part of two of these duos, though this one is certainly the most unusual to make the list. Despite playing only 108 games in a strike-shortened season, Henderson still managed to swipe 56 bases, 13 more than any other AL player -- albeit 15 fewer than the 71 stolen bases in just 88 games by Expos outfielder Tim Raines. The part that makes it unusual is that Armas finished in a four-player tie with Dwight Evans, Bobby Grich and Eddie Murray for the AL lead in homers. Each player clubbed 22 home runs, with Armas snapping a 24-game homerless streak on the penultimate day of the regular season to gain a share of the title.
1970 Reds
Johnny Bench: 45 home runs
Bobby Tolan: 57 stolen bases
This pair is unique in that Bench and Tolan are the only two on this list that led not only their individual league, but the entire Majors in each category. Bench hit his final homer of the year, No. 45, on Sept. 18, before going homerless over his final nine games. Fellow slugger Frank Howard made a late charge with two multihomer games in September, but ultimately finished one behind Bench. As for Tolan, his career-high 57 stolen bases were six more than any other player. He surpassed 30 steals in only one other season during his 13-year career.
Paul Casella is a reporter for MLB.com. Follow him on Twitter @paul_casella.
This story was not subject to the approval of Major League Baseball or its clubs.