MLB Network ranks top 10 center fielders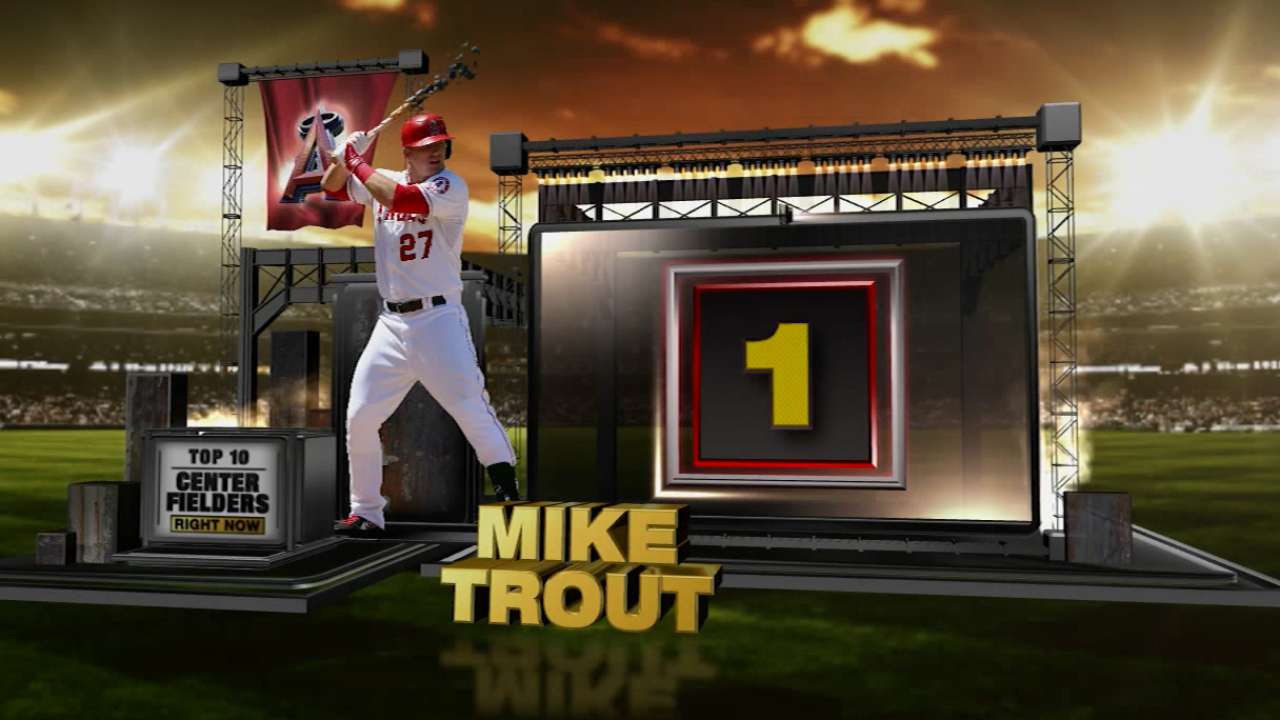 Center field is one of the most stacked positions in Major League Baseball, especially at the top. Some of the top names include perhaps the best player in baseball, former MVPs and Gold Glove Award winners, a pair of breakout stars and one of the biggest free-agent signings this offseason.
MLB Network revealed its top 10 center fielders on Thursday night, based on results from "The Shredder" -- an algorithm based on player performance that accounts for both offense and defense that was put together by MLB Network's research department "without emotion or bias." Host Brian Kenny and guest host Eric Byrnes also provided their top 10s.
"The Shredder" uses an objective methodology to rank players at each position based on their past track records as well as their future projection. It weighs the offensive and defensive statistics for a player in both one- and two-year increments and places more emphasis on defense at positions that are on the right of the defensive spectrum, i.e. catcher, shortstop, second base, and center field. It also takes into account a player's durability as well as the offensive environment of his home park (in other words, it gives more credit to home runs hit in San Diego as opposed to Colorado).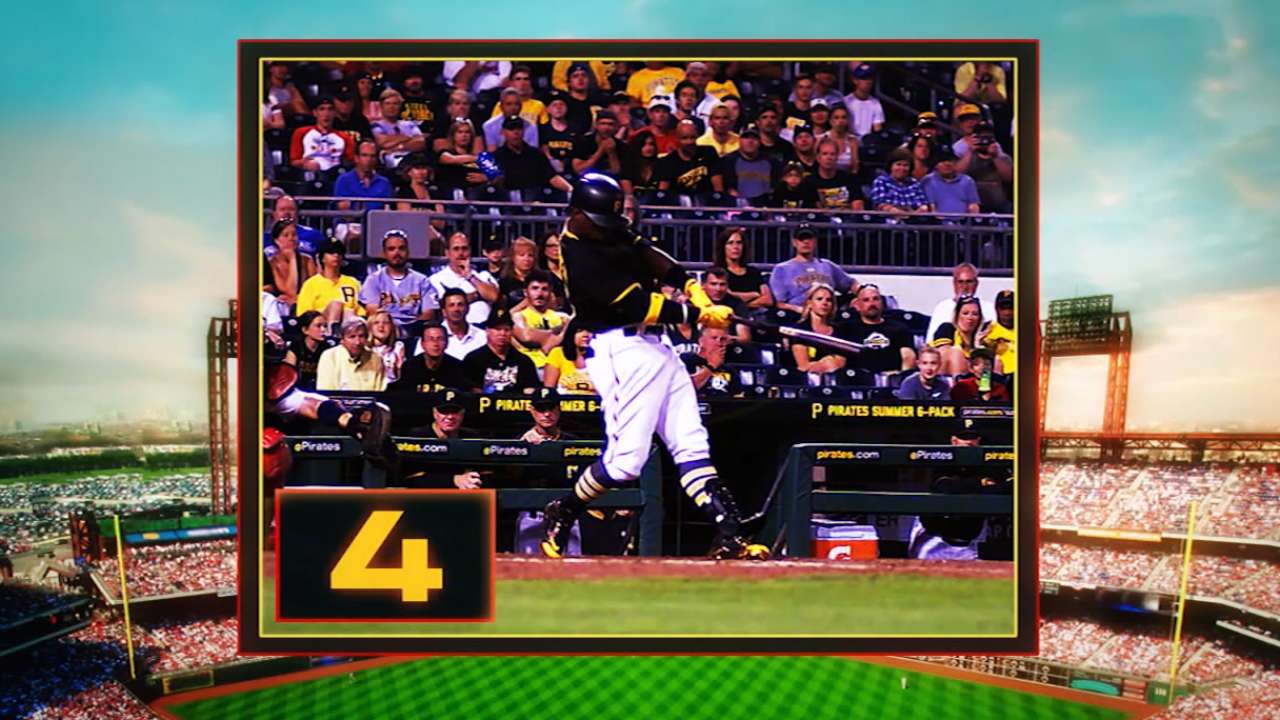 MLB Network's top 10 center fielders
1. Mike Trout
2. A.J. Pollock
3. Lorenzo Cain
4. Andrew McCutchen
5. Jason Heyward
6. Adam Eaton
7. Kevin Kiermaier
8. Randal Grichuk
9. Carlos Gomez
10. Adam Jones
As perhaps the best player in baseball, Trout was the obvious No. 1 atop all three lists. And for good reason. He is coming off another stellar season in which he recorded 41 home runs, a .991 OPS and a 9.4 bWAR (third in MLB) while finishing second in American League Most Valuable Player Award voting.
"We just have to recognize greatness," Kenny said. "Every single year, he's great."
Last season, Trout finished second on the top center fielders list, behind Andrew McCutchen, who dropped to fourth this season. Trout has finished first in MLB Network's rankings in three of his four full seasons (oddly, the year he finished second was the year he won his lone AL MVP Award).
"What Mike Trout has been able to do consistently, year in and year out, in his first however many seasons of Major League Baseball is just astonishing," Byrnes said. "He's well on his way to a Hall of Fame sort of career."
Biggest disagreements
MLB Network's Top 10 CF lists
| RANK | NETWORK | KENNY | BYRNES |
| --- | --- | --- | --- |
| 1 | Trout | Trout | Trout |
| 2 | Pollock | McCutchen | McCutchen |
| 3 | Cain | Cain | Cain |
| 4 | McCutchen | Pollock | Pollock |
| 5 | Heyward | Jones | Jones |
| 6 | Eaton | Heyward | Bradley |
| 7 | Kiermaier | Gomez | Heyward |
| 8 | Grichuk | Pederson | Kiermaier |
| 9 | Gomez | Kiermaier | Pillar |
| 10 | Jones | Eaton | Eaton |
Trout was an easy No.1, but then came the disagreements between the analysts and computers. Both Byrnes and Kenny placed McCutchen second on the list, with Cain and Pollock at third and fourth, respectively. The algorithm took issue with some of McCutchen's defensive metrics.
"I can't put anybody but Mike Trout above Andrew McCutchen, even still," Kenny said.
The analysts also liked Jones -- who was fifth on both lists -- much more than the algorithm, which ranked him 10th.
"I'm looking at this right now like, 'Adam Jones at 10? Who are the other nine?'" Byrnes said. "Adam Jones is a model of consistency in what he's been doing for the Baltimore Orioles."
Even more variety appeared on the bottom of the three lists, and overall 13 players were named, underscoring the depth at the position. The algorithm ranked Grichuk eighth, but he didn't appear on either of the analysts' list.
Byrnes was the lone supporter of Jackie Bradley Jr. (sixth) and Kevin Pillar (ninth), while his list was the only one that didn't include Gomez. Kenny's list was the only one that included Joc Pederson (eighth).
Biggest risers
Pollock and Cain established themselves as two of the best outfielders in the Majors with breakout years in 2015. So it's not a surprise they made the biggest leaps on the MLB Network list, jumping from eighth and ninth, respectively, last year to second and third this year.
Pollock hit .315/.367/.498 with 39 stolen bases and 111 runs scored, good for a 7.4 WAR, fourth in the National League among position players. Meanwhile, Cain had his best season offensively, batting .307/.361/.477 with 28 stolen bases and posted a 7.2 bWAR, the fourth highest in the AL.
Jamal Collier is a reporter for MLB.com. Follow him on Twitter at @jamalcollier. This story was not subject to the approval of Major League Baseball or its clubs.