Tigers ready to hit road for Winter Caravan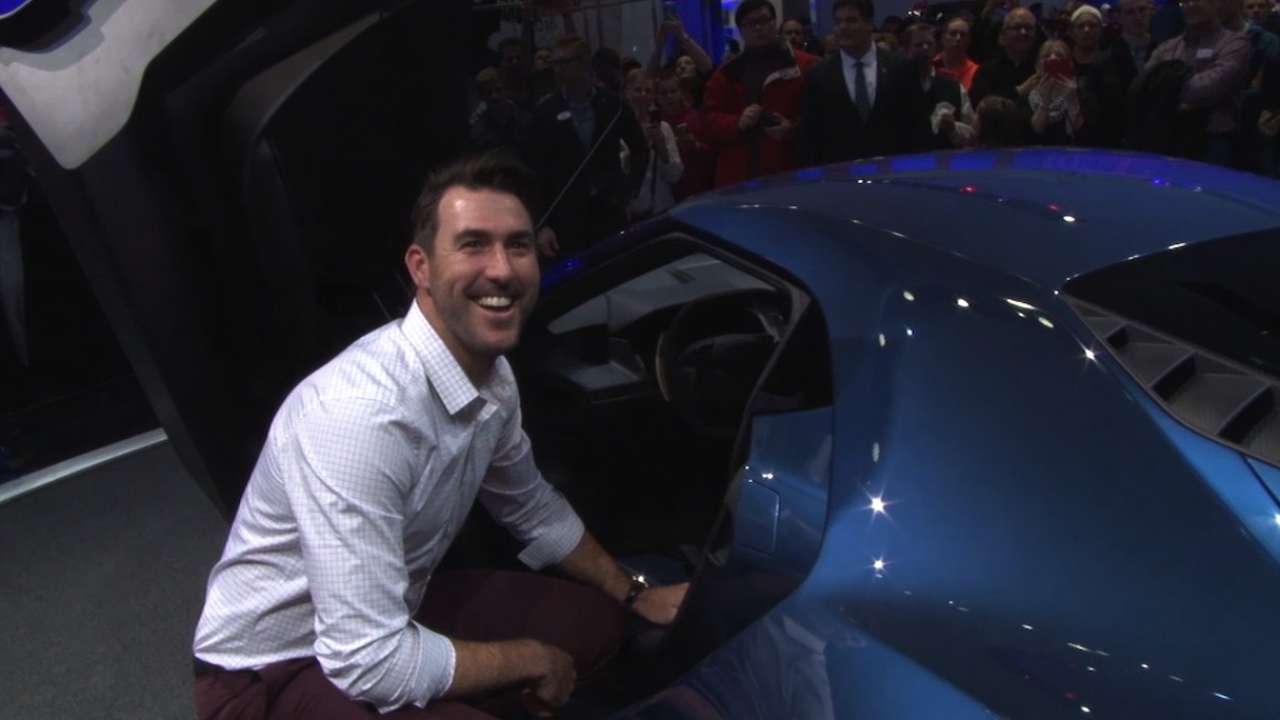 DETROIT -- The Tigers have visits planned to DMC Children's Hospital, the Detroit Public Library, the Tuskegee Airmen National Historical Museum, Carhartt's new Detroit flagship store and the North American International Auto Show as part of the team's annual Winter Caravan, set to roll across Michigan and Northwest Ohio on Thursday and Friday.
The full roster of players was released Wednesday. General manager Al Avila, manager Brad Ausmus, assistant GM David Chadd, special assistant Alan Trammell and executive vice president of business operations Duane McLean are among the front-office members scheduled to take part.
The buses roll out of Comerica Park for stops around metro Detroit and across the region. Down the street from the ballpark, Victor Martinez, James McCann, Anibal Sanchez, Jordan Zimmermann, Mike Pelfrey, Justin Wilson and others will stop at the Children's Hospital to make room visits and give gifts to about 300 patients. At the same time, new Tiger Justin Upton will join Miguel Cabrera, Ian Kinsler, J.D. Martinez and Daniel Norris at the Detroit Police Department headquarters for a rally to recognize the department's 150th anniversary.
Kinsler, McCann, Sanchez, Zimmermann, Victor Martinez and others will celebrate the 150th anniversary of the Detroit Public Library with a visit and a jersey presentation. They'll also head west to tour the Livonia Fire Department as part of its 75th anniversary, having dinner with Livonia firefighters as well as presenting a jersey.
Justin Verlander, meanwhile, will head to Ann Arbor, where he'll participate in a ribbon-cutting ceremony for the renovated physical and occupational therapy wing and Fastball Lounge. The renovations were made possible in part through a Verlander donation to the Community Foundation for Southeast Michigan, which provided a grant. Verlander will also be part of the Tuskegee Airmen Museum visit, which will recognize the Airmen's 75th anniversary and honor the late Arthur A. Green III.
The public visits around the area begin with a stop at Hockeytown Authentics on Big Beaver Road in Troy, Mich., on Thursday from 5:15 to 6 p.m. ET. A photo opportunity with J.D. Martinez and Norris will be available for the first 150 people in line as part of a canned-goods collection for the Salvation Army.
On the other side of the state, Avila, Trammell, Nick Castellanos, Jose Iglesias, Cameron Maybin, Mark Lowe, Tyler Collins, Matt Boyd, Blaine Hardy, Drew VerHagen, Alex Wilson, top prospect Michael Fulmer and others will participate in the West Michigan Whitecaps' annual Winter Baseball Banquet, starting around 6 p.m. at Frederik Meijer Gardens and Sculpture Park in Grand Rapids, Mich. Maybin and former Tiger Don Kelly are scheduled to be inducted into the Whitecaps Hall of Fame.
Ausmus and Kinsler will trek Thursday evening to Toledo, Ohio, where they'll be the featured guests at the Toledo Mud Hens' Helping Hens Winter Benefit dinner. Both will participate in a question-and-answer session afterward. Tickets are $50 for adults, $40 for kids aged 3-12, and are available online at mudhens.com or by phone at 419-725-4367. Doors open at 6 p.m.
The Tigers' annual Auto Show visit will put players in the daily Cars on Parade around 3 p.m. on Friday. Verlander, a noted car collector, is expected to take part with Cabrera, Kinsler, Upton, J.D. Martinez, Victor Martinez, Sanchez, McCann, Norris, Pelfrey, Andrew Romine, Kyle Ryan and Wilson, among others. The group will also take part in a Q&A session with fans in the Chevrolet display area.
The caravan serves as a lead-in to TigerFest, scheduled Saturday from 11 a.m. to 5 p.m. at Comerica Park. Tickets are sold out.
Jason Beck is a reporter for MLB.com. Read Beck's Blog, follow him on Twitter @beckjason and listen to his podcast. This story was not subject to the approval of Major League Baseball or its clubs.