Angels looking for Perez to take next step
Young catcher aims to claim starting job in 2016; Soto expected to add depth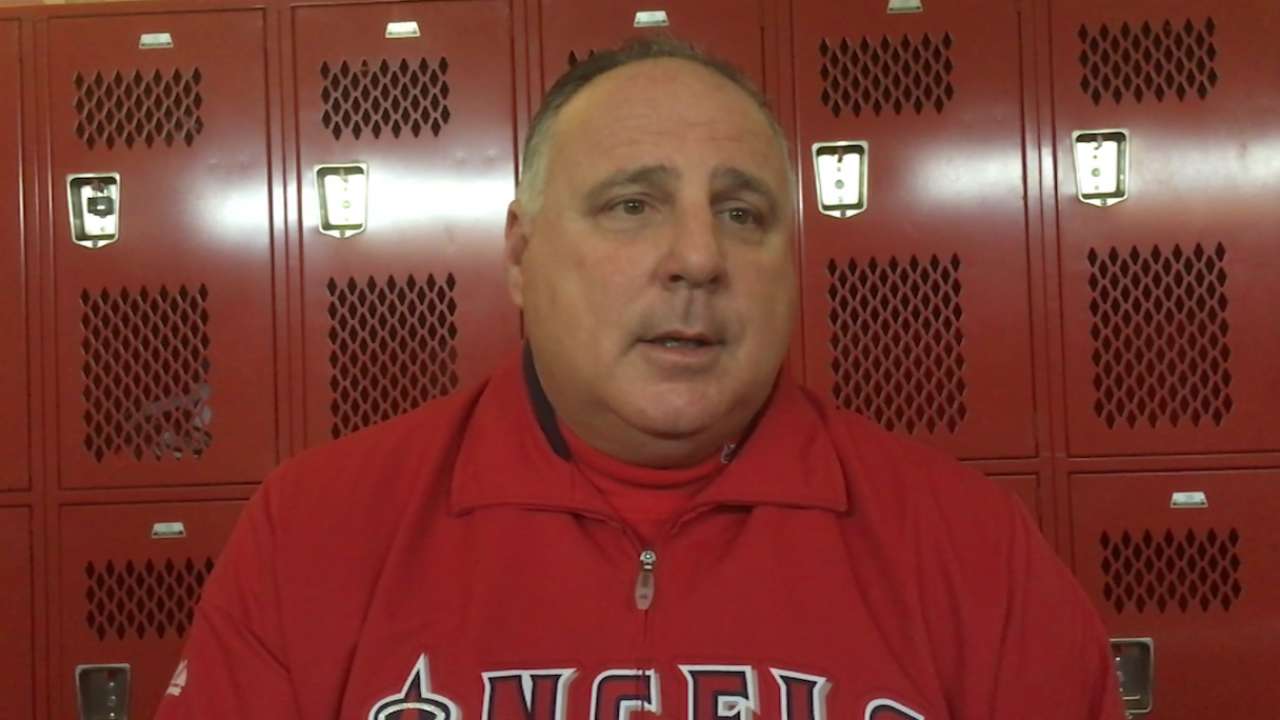 With pitchers and catchers scheduled to report to Tempe, Ariz., by Feb. 18, it's time to dissect the Angels' 2016 roster. This is the first of a six-part Around the Horn series taking a position-by-position look at projected starters and backup options heading into the season. First up: catchers.
ANAHEIM -- In fewer than 12 months, Carlos Perez went from a trade throw-in to a potential starter. The Venezuela product didn't make his Major League debut until the second month of his eighth professional season, but now the Angels are hoping Perez can take the next developmental step -- also the toughest of all -- to lock down an everyday job behind the plate.
Veteran catcher Geovany Soto was signed to a one-year, $2.8 million contract in late November to round out the depth. And though manager Mike Scioscia said "whoever is playing better will win playing time," he also sees 2016 as "an opportunity for Carlos to go out there and be that everyday catcher."
"Carlos Perez showed us so much, particularly in the pennant race," Scioscia said in early December. "He was splitting time with Chris [Iannetta], and then just took off with the position and was playing as well as any catcher in baseball for the last month of the season."
Perez came over in the November 2014 trade that sent homegrown catcher Hank Conger to the Astros for starting pitcher Nick Tropeano, included in the deal largely because the Angels needed to supplement their organizational catching depth. Perez began the 2015 season at Triple-A, then was called up on May 4 because Iannetta was batting .098 and the Angels needed more offense behind the plate.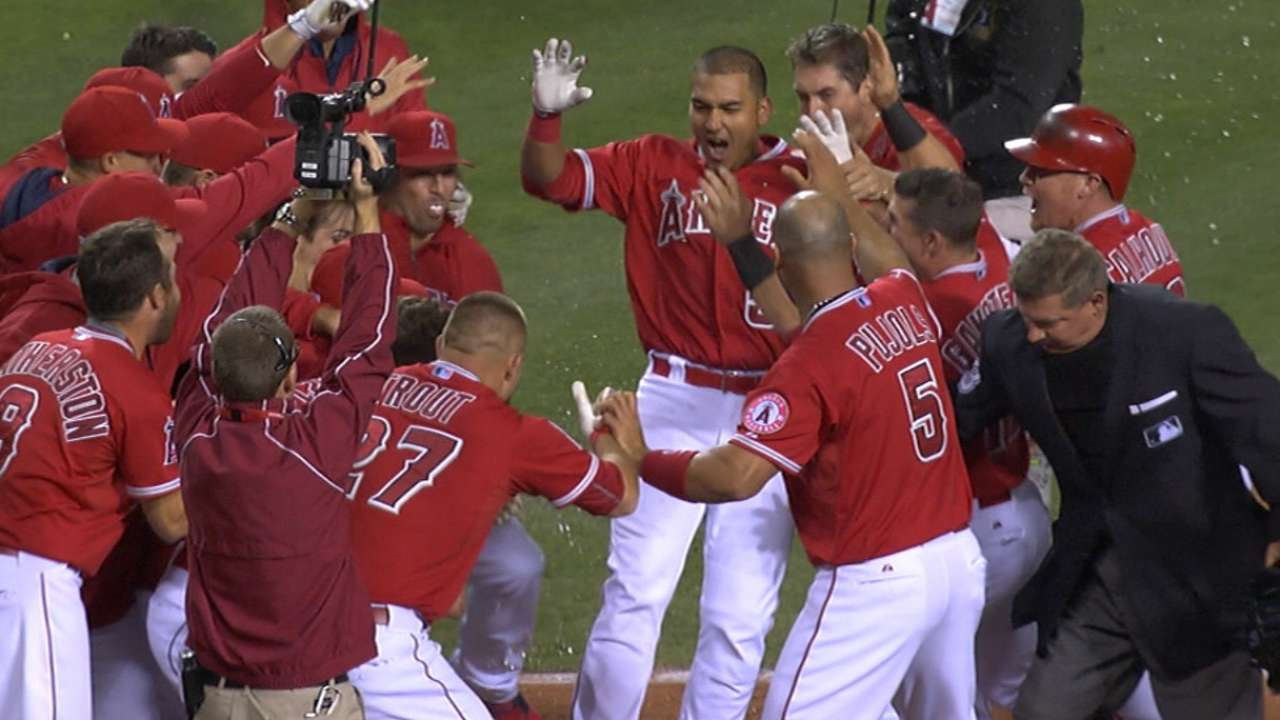 Perez, then 24, became the fourth player in Major League history to hit a walk-off home run in his Major League debut and evolved into the everyday catcher by the start of September, supplanting Iannetta and batting .333 over his final 23 games.
The Angels were immediately impressed by Perez's arm strength, one that helped him throw out 38 percent of would-be base-stealers as a rookie (the Major League average was 32 percent last season). By the end, Scioscia believes Perez became "twice the catcher he was when he came to Spring Training," praising Perez's improved game-calling and overall "presence" behind the plate.
But will Perez hit enough?
Young catchers typically have a hard time transitioning into an everyday role -- usually somewhere between 110 and 120 games -- largely because their bodies get beat up over time and their offense suffers. Perez is a solid .280/.361/.399 hitter in his Minor League career, but he wound up batting just .250/.299/.346 in 86 games with the Angels and walked once every 14.9 plate appearances (the Major League average was one every 13.1).
That's where the Angels hope Soto can help. The 2008 National League Rookie of the Year, Soto was once a fixture with the Cubs, playing in an average of 118 games and sporting a .347 on-base percentage over a four-year stretch. But Soto, now 32, hasn't started more than 53 games behind the plate over the last three years, a stretch that saw him play for three organizations.
Scioscia sees Soto as "an experienced player that's going to come in and hopefully take some of the pressure for Carlos to have to jump right in and repeat" what he did last season. Soto is a .246/.331/.434 hitter in his 11-year career and sports a 27.4 caught-stealing percentage since his first full season in 2008, a rate topped only by Yadier Molina, Russell Martin and Miguel Montero.
Soto also has a funky way of delivering the ball back to the pitcher ...
The Angels let Iannetta walk in free agency, prompting him to join the Mariners -- and former general manager Jerry Dipoto -- on a make-good, $4.25 million contract.
Dismal 2015 season aside, Iannetta possesses an ability to draw walks that Perez and Soto can't match. Defensively they're tough to compare, mainly because of how difficult it is to rate catcher defense in the first place. Advanced metrics simply haven't evolved enough. Game management is impossible to quantify, caught-stealing percentage is influenced largely by pitchers and pitch framing is new enough that we can't quite grasp its overall impact.
Once exposed to the data, Iannetta vastly improved his pitch framing, going from ranking nowhere near the top 50 from 2008-14 to fifth in 2015, according to StatCorner. Soto ranked 22nd while generating 42 additional called strikes last season and Perez finished 92nd. But FanGraphs' overall defensive rating, which doesn't factor pitch framing, had Perez tied with Buster Posey for 16th among catchers with at least 450 innings last season. Iannetta and Soto were tied for 30th alongside A.J. Ellis.
"He didn't grade out great on some of the framing metrics that we use," Scioscia said of Perez. "But as far as his overall production with the pitchers, he was terrific."
Beyond the active roster
Jett Bandy, the only other catcher on the 40-man roster, will start the season at Triple-A as the next man on the depth chart. The 25-year-old is ranked 27th in a depleted farm system, but has power and is athletic behind the plate despite a filled-out, 6-foot-4 frame. Scouts would like to see Bandy improve his release time.
The Angels caught some flak for using their 26th overall selection on Taylor Ward last June, then watched the 22-year-old bat .348/.457/.438 in his first taste of professional baseball. Ward's bat was the biggest question heading in. He's still a couple of years away from the big leagues, but Ward is considered advanced defensively and ranks fifth in the Angels' system.
FanGraphs WAR projections (by Steamer)
Perez: 1.1
Soto: 0.4
Alden Gonzalez is a reporter for MLB.com. Follow him on Twitter @Alden_Gonzalez and Facebook , and listen to his podcast. This story was not subject to the approval of Major League Baseball or its clubs.