Prospects attending winter development program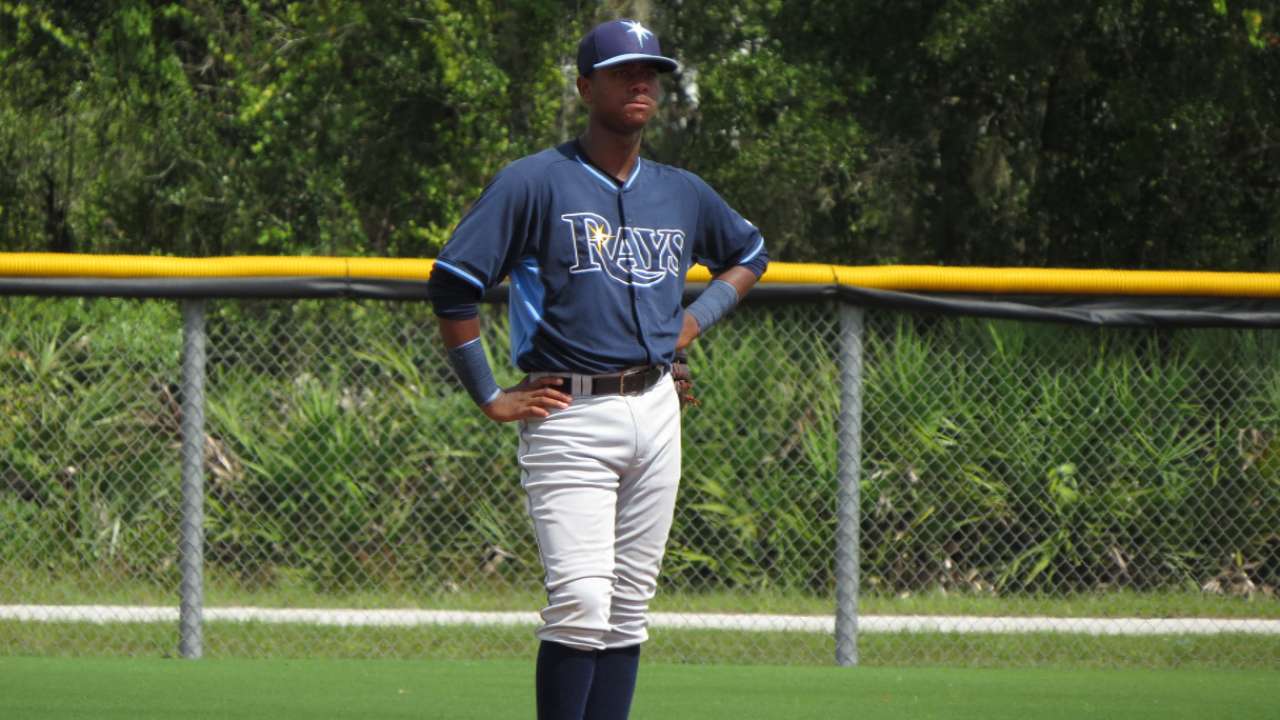 ST. PETERSBURG -- Tropicana Field still bears the markings of its recent use as a football stadium. Out along the right-field wall is one set of goal posts. Along the third-base line is the other. Between the two, the turf is detailed with yard markers. Where the mound usually is, there's a circle of discolored turf.
Baseball, however, returned to the Rays' home this week. The organization is hosting a winter development program for 20 select Minor League players that began Monday and will conclude Friday.
Among the notable players attending are former second-round pick Brent Honeywell, last year's first-round selection Garrett Whitley and onetime top international prospect Adrian Rondon.
"One, they have good talent, and two, they have good character," said Rays director of Minor League operations Mitch Lukevics. "When you have good character and you're a good athlete, you've got a chance, because you have a good work ethic with that character. These kids have a passion. It's a really hard game. The odds are really hard for these young men, but when you have those attributes, it gives these young men a chance."
Each of the 20 players, Lukevics said, is at the camp for a different reason. Whitley has never been through Spring Training before. Rondon is coming back stateside, where he'll remain through Spring Training. Essentially, everyone is in town for an offseason check-in. Spring Training is only a month away and the Rays want an idea of where their youngest players stand.
And no one is younger than Rondon, a 17-year-old shortstop from the Dominican Republic. Rondon, who was the top-ranked international prospect in 2014, signed with Tampa Bay for nearly $3 million that summer and debuted for the organization the following year. Although his bat speed was apparent to Lukevics, Rondon struggled for the Rookie-level Gulf Coast League Rays, posting a .166/.256/.234 slash line.
Lukevics, who once served as the Yankees' director of Minor League operations, was quick to provide a reminder that Derek Jeter struggled during his first year in New York's farm system. Rondon is even younger than Jeter was. Getting a year to see professional baseball can be a major help, and when Rondon finishes the week at Tropicana Field, he'll head down to Port Charlotte, Fla., to continue being monitored by the club.
"The hitting is definitely different up here," Rondon said through a translator. "It's harder, so for me, I have to spend more time on preparation and my focus."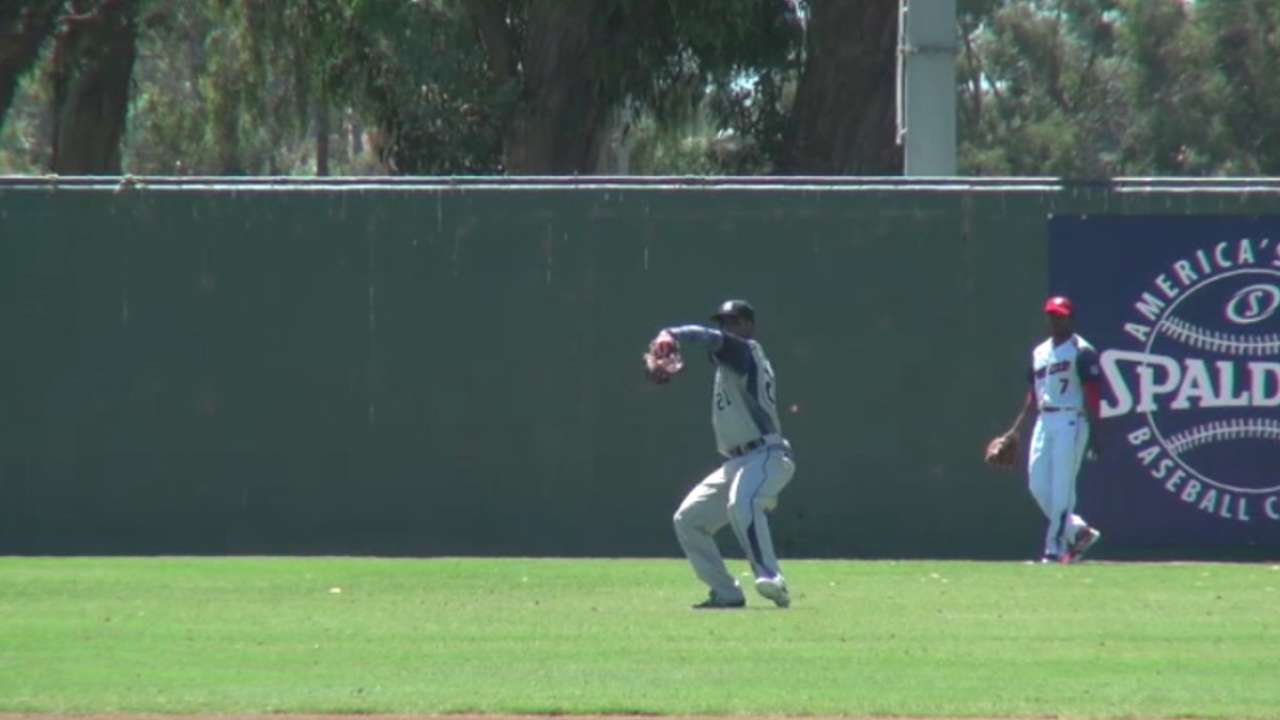 The same goes for Whitley, who Tampa Bay selected with the No. 13 pick in last year's Draft. The 18-year-old outfielder spent most of the season playing with Rondon in the GCL before getting a dozen games with Class A Short-Season Hudson Valley to finish the year. Whitley struggled in his first professional season, posting a .174 average with an on-base percentage of .293 and a .312 slugging percentage.
Lukevics wondered how much coming from a cold-weather climate has affected Whitley, who played at Niskayuna High School in New York. Whitley is advanced both mentally and physically, but he's never gone through a grind similar to the one he had last year as a professional.
"Now I know what I'm getting into," Whitley said. "I wasn't on the field for six hours or anything like that. It is an adjustment."
Whitley is only trumped by one other player at the camp on MLB.com's ranking of Rays prospects. Honeywell, the club's No. 3 prospect, had an impressive season while splitting time with Class A Bowling Green and Class A Advanced Charlotte last year. In 130 1/3 total innings, the pitcher logged a 3.18 ERA, struck out 129 batters and walked only 27.
Honeywell is a success story for the program, having attended the camp in 2015 after a standout season of Rookie ball in '14. He's relishing the opportunity to become a leader this year. Honeywell is getting to know the players drafted a year behind him and he's guiding them into their first Spring Training, just as he was guided a year ago.
And the Rays are excited to get another look at one of their most promising prospects. That's why he's back at Tropicana Field.
"It's like a tobacco leaf. We're trying to make it into a Cuban cigar," Lukevics said. "We've got to roll it right. We've got to do this with him properly."
David Wilson is a contributor to MLB.com. This story was not subject to the approval of Major League Baseball or its clubs.