What roles best suit Sanchez, Osuna?
Decision looms whether to make them starters or relievers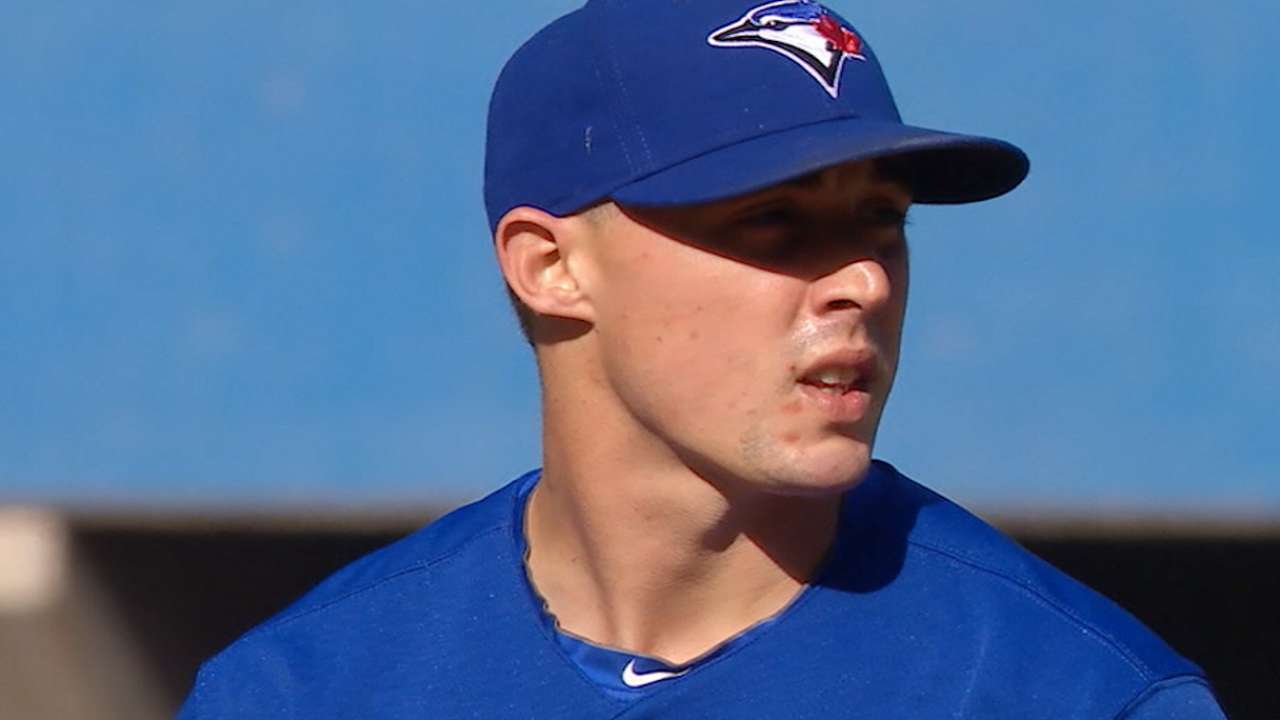 TORONTO -- The Blue Jays have to make a decision whether to use Aaron Sanchez and Roberto Osuna in the bullpen or the starting rotation, and the final outcome likely will impact not only the 2016 season, but their entire careers.
The organization rapidly seems to be approaching a crossroads with its top young arms. Sanchez and Osuna long have been viewed as the future of the starting staff, but they both played integral roles as relievers on a team that went to the American League Championship Series last season.
The Blue Jays have every intention of competing again in 2016, and a strong bullpen will be key to that success. Keeping Osuna and Sanchez in their current jobs would help, but there's a very real danger that focusing on the short-term benefits will cause issues in the future.
If Sanchez and Osuna spend another year as relievers, there's no guarantee they'll be able to transition back to the rotation. Another year of short outings, not using all of their pitches and changes to their delivery could have irreversible effects.
"There aren't a lot of success stories with guys that pitch late in a bullpen [for an extended period] and then transition to the starting rotation," Blue Jays general manager Ross Atkins said earlier this week. "There certainly are guys that transition as relievers, get acclimated to the Major Leagues and then become starters, [but] they are typically pitching in more versatile roles."
This season and beyond
If the Blue Jays were rebuilding, this would be an easy decision to make. Sanchez and Osuna would return to the rotation, and the organization would take the proper time to develop both, even if that meant another stint in the Minor Leagues.
The problem is that Toronto is positioned to contend now. The Blue Jays increased their options earlier this week by acquiring Drew Storen, but is Storen, Brett Cecil and one of Sanchez or Osuna enough? Or does this team need both young arms late in games?
Atkins has yet to make a firm commitment either way, but the expectation is that at least one of Sanchez or Osuna will have a legitimate shot at the starting rotation this spring. Sanchez is better positioned to make the jump since he made 11 starts in 2015, but he'll need to earn a spot, otherwise the temptation to have his presence in the bullpen may be too great to ignore.
Learning from the past
The Blue Jays can learn all they need to know about pitcher development by taking a closer look at the Rangers. Texas, perhaps more than any other team over the past decade, has experimented with its pitching roles, and while there have been some success stories, most of the evidence is underwhelming.
C.J. Wilson, Alexi Ogando, Neftali Feliz, Robbie Ross Jr. and Tanner Scheppers are among the relievers who tried to make it as a starter. Wilson turned into an overwhelming success, but Feliz, Ogando and Scheppers haven't been the same since, while the jury still remains out on Ross after he returned to the bullpen in 2015 with the Red Sox.
Injury concerns
Perhaps the biggest risk of all when moving from the bullpen to the rotation is injury. Starters and relievers have completely different routines, and moving from one role to the other often comes with complications. Feliz and Scheppers each developed elbow problems, while Ogando wore down in his first season as a starter and later experienced arm issues.
Osuna has never pitched more than 78 innings in one professional season, and Sanchez has never thrown more than 131. Toronto would need to take extreme caution when using either pitcher in a different role, and it's a transition more likely to happen over two years than one.
Delivery and pitch selection changes
Starters and relievers have very different mentalities on the mound. Short-stint relievers typically throw with max effort, and they only need a couple of pitches, because they won't go through a batting order multiple times. Starters need to get deep into games and offer hitters different looks each time up. Naturally, the varied approaches cause certain things to happen with delivery and overall development.
"This is my opinion, not research, but there are a lot of things that happen to a delivery from a pitching standpoint and from a pitch repertoire when you're only pitching one inning," Atkins said.
"Effort levels can vary a bit more. You're not having to focus on getting deep into a game, and you can really go max effort for shorter stints. Over time, that makes it more difficult to adjust to a more deliberate delivery that would last 200 innings over the course of a year pitching deep into ballgames."
Gregor Chisholm is a reporter for MLB.com. Read his blog, North of the Border, and follow him on Twitter @gregorMLB. This story was not subject to the approval of Major League Baseball or its clubs.