Inbox: What's Rays plan for Franklin, Miller?
Beat reporter Bill Chastain fields questions from fans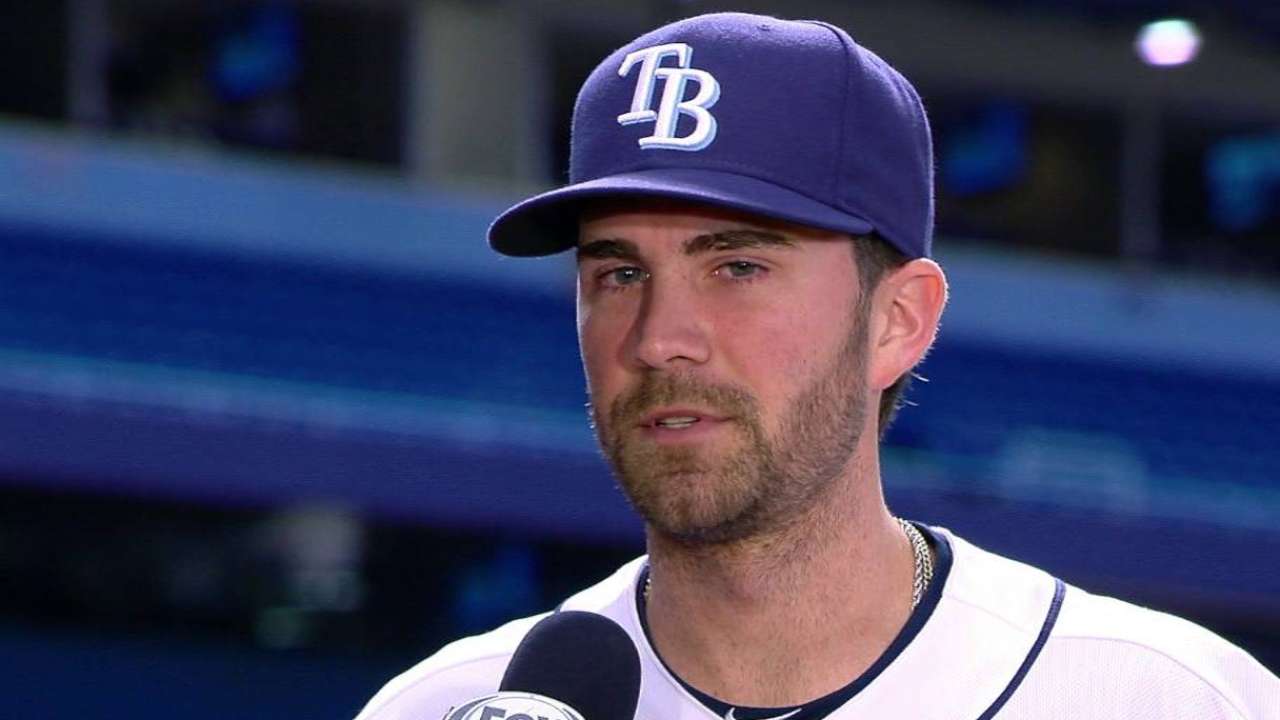 With the acquisition of Brad Miller, what will become of Nick Franklin? Could he possibly be included in a trade?
-- Ian B., Tampa
Trading Franklin would seem to be a possibility, though I think there's a sense the Rays' camp wants to find out what it has in the 24-year-old infielder. He was set to make the team out of Spring Training last year before suffering an oblique injury. Once he joined the team in May, he was slow to get back to form, as if he were going through his Spring Training while everyone else was taking part in a Major League season. He has shown flashes of brilliance, so he might be a player who becomes a surprise this year.
• Submit a question to the Rays Inbox
Most organizations in the league have players that serve long tenures, sometimes their entire careers with one team. Fans love to see that. Evan Longoria once said something to the effect of he wanted to be the first player drafted by the Rays to retire as a Ray. We are lucky to have him. Could this example potentially rub off on some of our other young players? If other proven young players in the organization like Kevin Kiermaier or Chris Archer wanted to make long-term commitments to the Rays, what are the odds they would honor that?
-- Jerry H., Anchorage, Alaska
There have been plenty of players who wanted to make long-term commitments to the Rays. The problem has been that the Rays haven't been able to reciprocate -- other than the players who make the long-term commitments prior to their salary-arbitration years. Cost control is a huge part of what the Rays do. So having a large portion of their payroll tied up with a limited number of players is a difficult proposition. That position could change if attendance improves.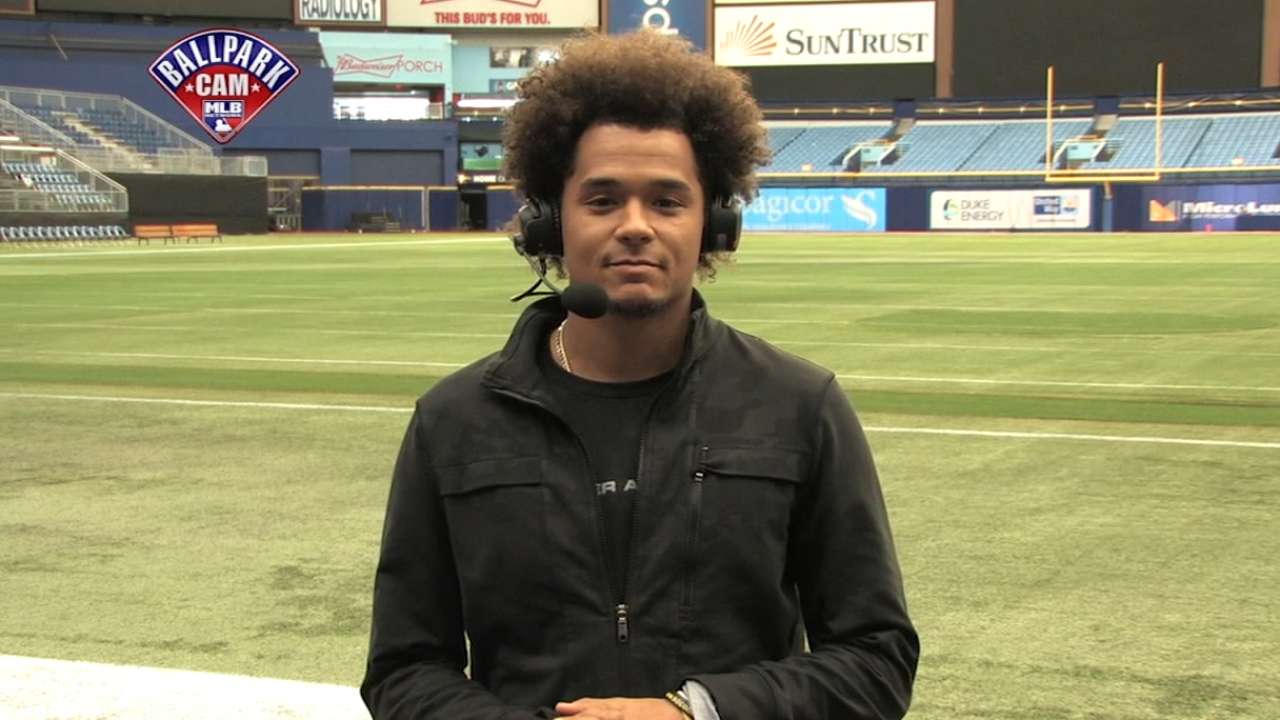 Any ideas on a potential starting lineup for our Rays season opener? Including our five starters?
-- Steve T., Orlando
First, the starting staff: Archer, Jake Odorizzi, Drew Smyly, Matt Moore and Erasmo Ramirez.
Now, the starting lineup, hmmm ...
Because the team opens at Tropicana Field on April 3 against the Blue Jays, let's figure that right-hander Marcus Stroman will be starting for the Blue Jays. Thus, here's the lineup I see at this juncture: Kiermaier, CF; Desmond Jennings, LF; Longoria, 3B; Logan Morrison, DH; Logan Forsythe, 2B; Steven Souza Jr., RF; James Loney, 1B; Curt Casali, C; Miller, SS.
How's that?
• Hot Stove Tracker: Free Agents & Trades
Do you think the Rays are finished putting together this year's team? I'm surprised they haven't traded one of their starters after all the rumors that were going around about Jake Odorizzi and Matt Moore.
-- Peter J., Brooklyn, N.Y.
As I've often written, predicting what the Rays do in the way of trades will usually leave you scratching your head. However, based on what happened last season -- when their starting-pitching depth got severely tested -- I don't think the Rays would mind going into the season with a comfortable amount of depth. So I don't see them all that excited about trading any of their starters, unless the right deal comes along. I would expect the team to sign some veteran starters and relievers to add depth at the Triple-A level. But from my point of view, based on the players the Rays have, I could see the team standing pat as far as making any big trades before Spring Training.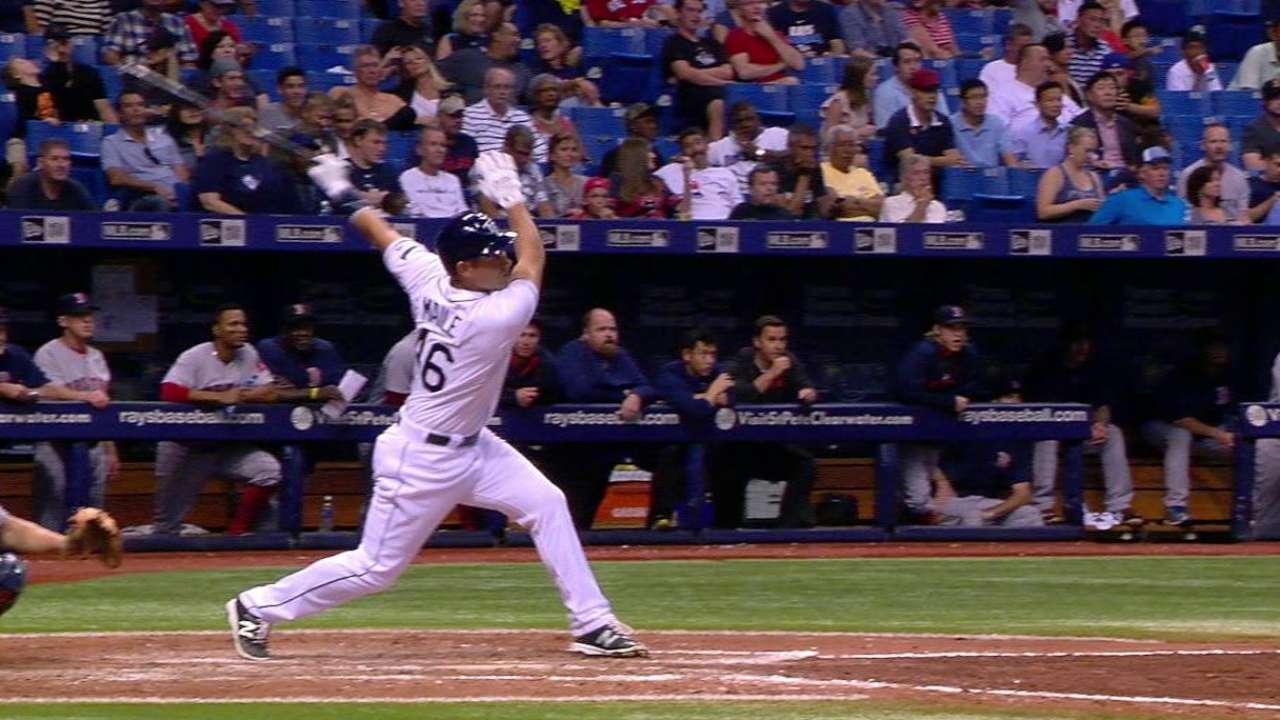 The Rays look like they'll head into Spring Training with three Major League catchers and another knocking on the door in Luke Maile. How do you handicap the race to become the starter?
-- Bob P., Jacksonville, Fla.
First, there are a lot worse problems to have than going to Spring Training with three Major League catchers. Rene Rivera, Casali and Hank Conger appear to be a solid group, with each having strengths and weaknesses. With Rivera, his defense is great, but his offense took a dip last year. Conger's offense is good, but he struggled throwing out runners. And Casali showed a lot of power last year, but he's still new to the Major Leagues. If the Rays don't trade one of the three before the end of Spring Training, I could see the team breaking camp with three catchers. Right now, I would pencil in Casali in the top spot based on his power. And who knows, maybe Rivera bounces back offensively if given the chance?
Bill Chastain is a reporter for MLB.com. This story was not subject to the approval of Major League Baseball or its clubs.