Inbox: Would Tigers sign Davis to play OF?
Beat reporter Jason Beck answers fans' questions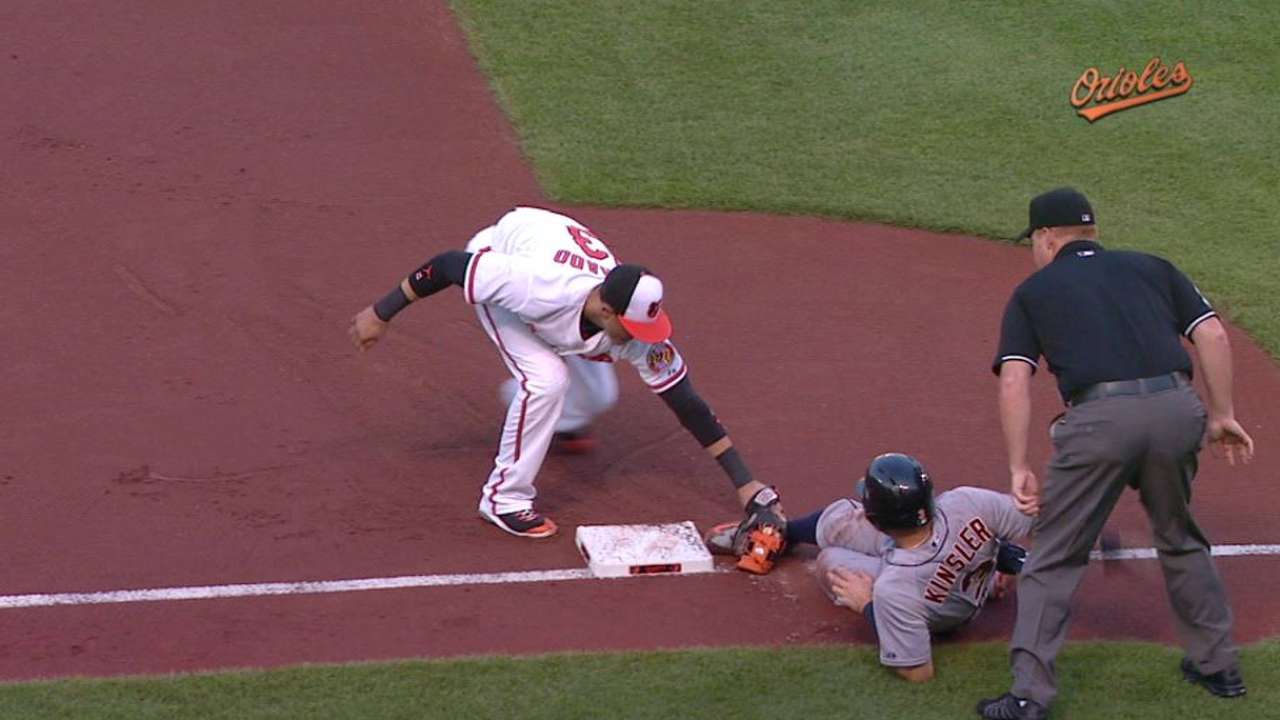 What about Chris Davis as an outfielder for the Tigers? He played there in Baltimore. Would Detroit really consider it to get a big bat here?
-- Mike B., Winston-Salem, N.C.
Well, it's thinking outside the box, or at least off the first-base bag. Given the crazy outfield market that's now sitting around longer than the Christmas cookies -- OK, there might be a few cookies still around that you don't like; we all have them -- and the stalemate that seems to have settled in between Davis and the Orioles, it's not the craziest idea.
To recap: ESPN's Buster Olney tweeted late last week that teams are saying agent Scott Boras, who represents Davis, has been selling Davis as an everyday corner-outfield option in addition to his normal role at first base. MLB Network's Jon Heyman then tweeted Monday that the Tigers have discussed Davis among various outfield options, including familiar names Yoenis Cespedes and Justin Upton, as well as Dexter Fowler and shortstop-turned-potential-super-utility-man Ian Desmond. To me, Desmond seems very interesting, given the versatility. And for an organization that is notoriously thorough discussing ideas, I believe Davis' name came up at some point.
• Submit a question to the Tigers Inbox
Davis played in 30 games in right field last year for the Orioles, including six of seven games against the Tigers after the All-Star break. He even threw out Ian Kinsler trying to go from first to third base on a single. Davis has played 71 games in the outfield over his eight-year Major League career. The question is how he would hold up in the outfield long term. Scouts seem mixed: One called it a bad idea, another thought Davis could give 100 or so games of 35-grade outfield (on a 20-80 scouting scale) but that everyday duty could wear on his legs over the long haul. Therein lies the problem for a team that already has two 1B/DH types in Miguel Cabrera and Victor Martinez signed for at least the next few years; even if one believes Davis can make the move, somebody has to go if he can't.
For what it's worth, I wrote last week about the outfield market and the Tigers' approach to it, and from what I've heard, there's been no change of course since. If they were to make such a move, it would likely have to be a short deal on their terms, for financial reasons. And if reports of Davis having a seven-year, $150 million offer from Baltimore are true, a short-term deal probably isn't an option.
Are the Tigers actively pursuing Cespedes? I have heard many teams are interested in him. Why wouldn't the Tigers have kept him last year as a sign of good faith and attempt to sign him now?
-- Brad S., Waterloo, Mich.
The Tigers wouldn't have top prospect Michael Fulmer in their farm system right now without trading Cespedes to the Mets last July. For that matter, they wouldn't have Justin Wilson in their bullpen, either, considering Luis Cessa, whom they acquired in the Cespedes deal, went to the Yankees in the Wilson trade. If the Tigers planned on making an all-out run at a postseason spot last summer, then they would've kept Cespedes. Otherwise, replenishing the farm system dictated trading him. Even if the Tigers planned on trying to re-sign Cespedes, trading him made sense, since he still had the rare clause in his contract at the time that essentially would've ruled out the Tigers from re-signing him five days after the World Series.
As for now, again, if the Tigers end up signing a big-name outfielder, it would likely be on a short-term deal closer to Spring Training. Under that scenario, it depends on which outfielders are left standing when it gets closer to reporting dates.
Is there any chance Steven Moya can win the everyday left-field job? I understand all the moves made this offseason, but in my opinion, the only way the Tigers are championship contenders is if they get major contributions from multiple young guys currently in their system.
-- Chad N., Bellevue, Mich.
Moya's winter ball campaign, as chronicled here last week, raised eyebrows within the organization, but the plan remains to get him more work at Triple-A Toledo. Unless Moya goes on one of those torrid Spring Training stretches he has enjoyed in past camps and stretches it out, or unless injuries force the Tigers to rely on their depth, I can't see Detroit speeding up the timetable on him.
Jason Beck is a reporter for MLB.com. Read Beck's Blog, follow him on Twitter @beckjason and listen to his podcast. This story was not subject to the approval of Major League Baseball or its clubs.