Inbox: Do Twins need to add an ace?
Beat reporter Rhett Bollinger answers fans' questions
MINNEAPOLIS -- It's been quiet for the Twins recently, as they've yet to make any major moves after trading for catcher John Ryan Murphy and signing Korean slugger Byung Ho Park early in the offseason.
The Twins could head into Spring Training with their current roster, but they are still eying relief help, as there are several bullpen arms available in free agency or trade.
• Submit a question to the Twins Inbox
There are always plenty of questions about the roster this time of year with Spring Training only weeks away, and, with that in mind, here's this week's Twins Inbox:
Over the last few years, it seems like the Twins are finally able and willing to spend money to keep players and sign free agents. Do you see them willing to finally spend money on a top-tier pitcher within the next two years to lead the staff with all of the young talent emerging from the Minors?
-- Chris F., Modesto, Calif.
For all their strengths, including a young core of position players and a top farm system, the Twins lack a legitimate ace in their rotation. They have some top pitching prospects -- including Jose Berrios, Tyler Jay and Kohl Stewart -- but it's hard to project how they'll fare once they reach the Majors and if they can become front-line starters.
An ace would be a major boost for the Twins, who have lacked one since the days of Johan Santana, but it also shows how few No. 1 starters there are in the Majors. That scarcity comes with a cost, and it's one the Twins aren't likely to pay via free agency.
The Twins did sign Phil Hughes to a five-year deal worth $58 million, Ricky Nolasco to a four-year deal for $49 million and Ervin Santana to a four-year pact for $55 million in recent years, but it's hard to see them shelling out more than $200 million like David Price and Zack Greinke received this offseason. And next year's free-agent market for starting pitching is a bit thin with Stephen Strasburg as the headliner.
It's much more likely the Twins use their farm system to trade for an ace-type starter, potentially even during the 2016 season if they're in contention. The Royals went that route last year, acquiring Johnny Cueto before the non-waiver Trade Deadline, and while he went through some struggles, he still helped them win the World Series.
Who do you see as the Twins' primary leadoff hitter next season? It seems with Brian Dozier's power and high number of strikeouts he'd be better suited hitting lower in the lineup. Would the Twins try Byron Buxton there? Or is Dozier the likely candidate again next season?
-- Alex H., St. Paul, Minn.
With Aaron Hicks out of the mix after his trade to the Yankees, Dozier is the most obvious candidate to be the club's primary leadoff hitter to open the season. Dozier led off 102 times last year, and he hit .246/.313/.499 with 22 homers, 29 doubles, 56 RBIs, 69 runs and eight stolen bases in those games atop the lineup.
So while Dozier is not a prototypical leadoff hitter with his power and low batting average, he's still productive and is the club's best choice to lead off until Buxton is ready. Buxton fits the mold as a speedy leadoff hitter who can get on base, but until he proves he can handle Major League pitching, he's more likely to hit later in the lineup, and perhaps even ninth early in the year.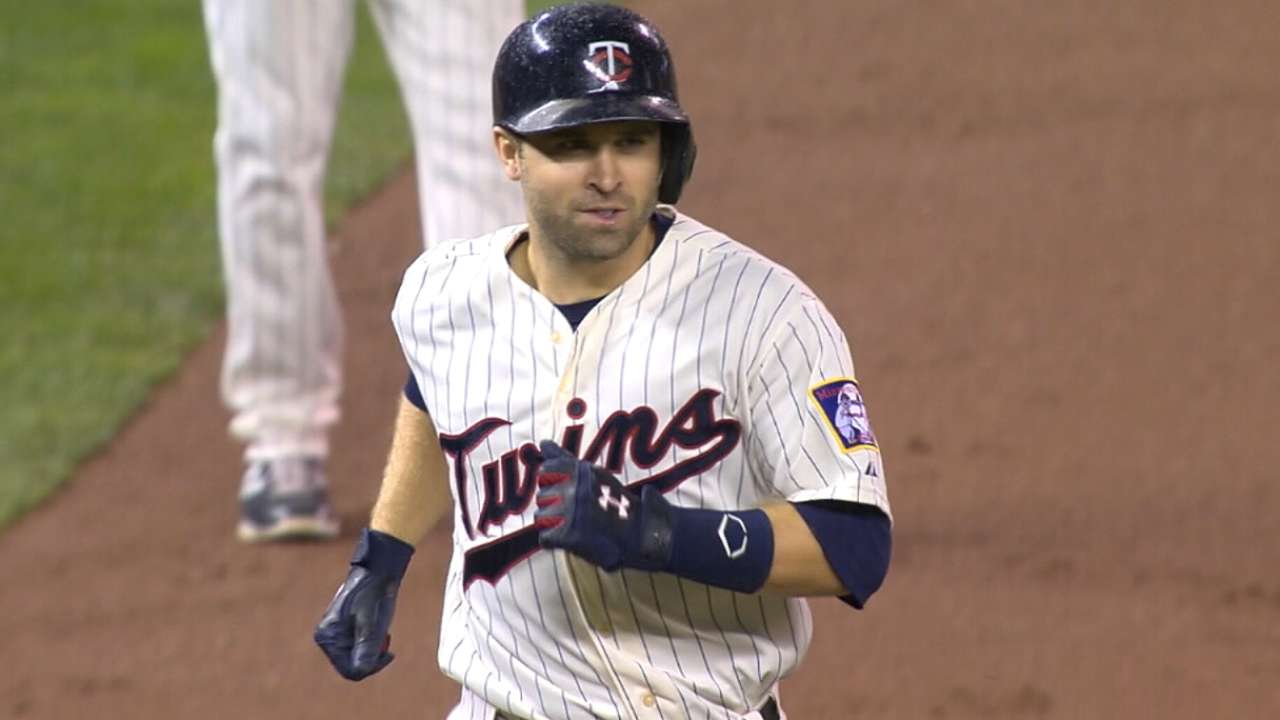 Who on the 40-man roster aside from Oswaldo Arcia and Michael Tonkin are out of Minor League options? Both Arcia and Tonkin are players with great potential whom the Twins would most likely lose were they to try to clear them through waivers on the way to the Minors.
-- Howard M., Jerusalem.
Outside of Arcia and Tonkin, shortstop/outfielder Danny Santana is the only other notable Twins player to be out of options for the first time in 2016. Josmil Pinto, Hicks and Chris Herrmann were all out of options, but the Twins traded Hicks and Herrmann and lost Pinto via waivers this offseason.
Arcia is the most interesting of the group, as he's only 24 and has plenty of raw power, given that he hit 20 homers in 103 games in 2014. But he's coming off a down year and will have a lot to prove in Spring Training. Tonkin is a strong candidate to make the Opening Day bullpen, while Santana is expected to be used in a utility role next season. All three, however, would likely be lost via waivers if the Twins decided to go that route.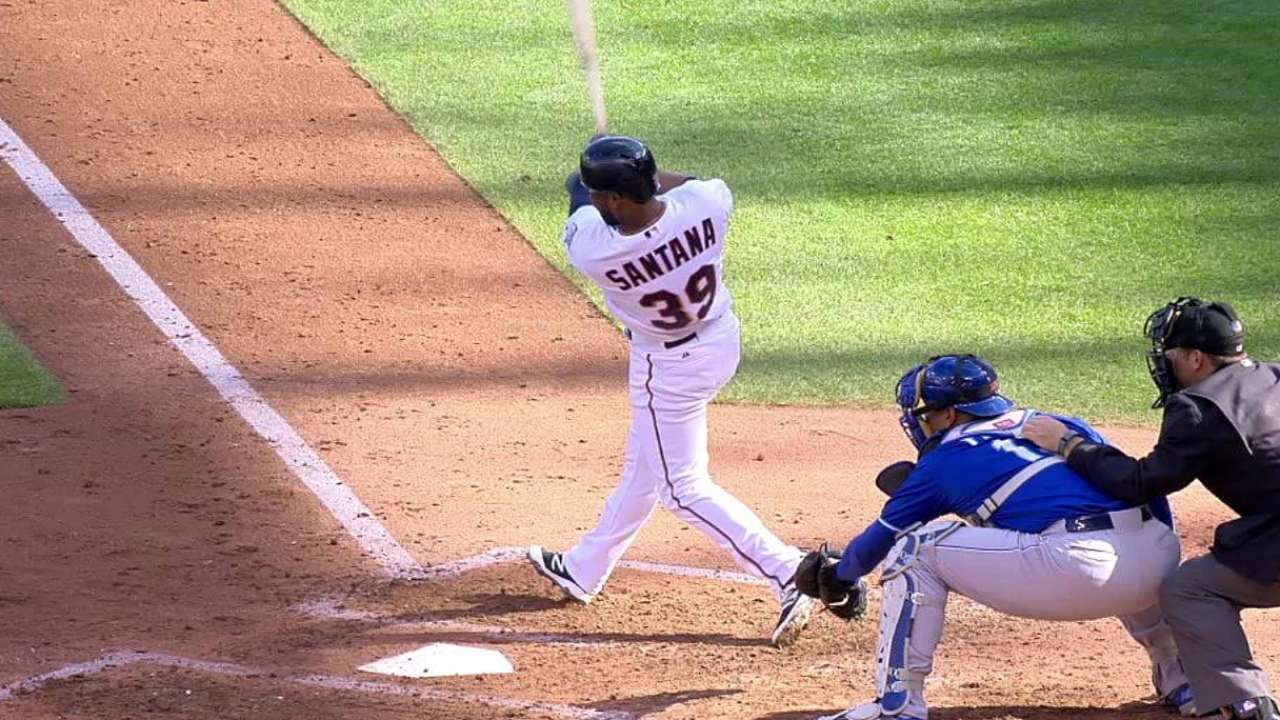 Do the Twins even think about bringing back Justin Morneau for a backup role?
-- Kai F., Zimmerman, Minn.
Morneau was present at Torii Hunter's retirement news conference at Target Field and said at the time he was open to anything at that point as a free agent. But after the Twins signed Park to be their regular designated hitter, it essentially closed the door on a Morneau reunion. There simply aren't enough at-bats for Morneau, who is looking for more playing time than he would get with Minnesota.
Rhett Bollinger is a reporter for MLB.com. Read his blog, Bollinger Beat, follow him on Twitter @RhettBollinger and listen to his podcast. This story was not subject to the approval of Major League Baseball or its clubs.