Inbox: Can Marlins lock up Gordon long term?
Beat reporter Joe Frisaro answers Marlins fans' questions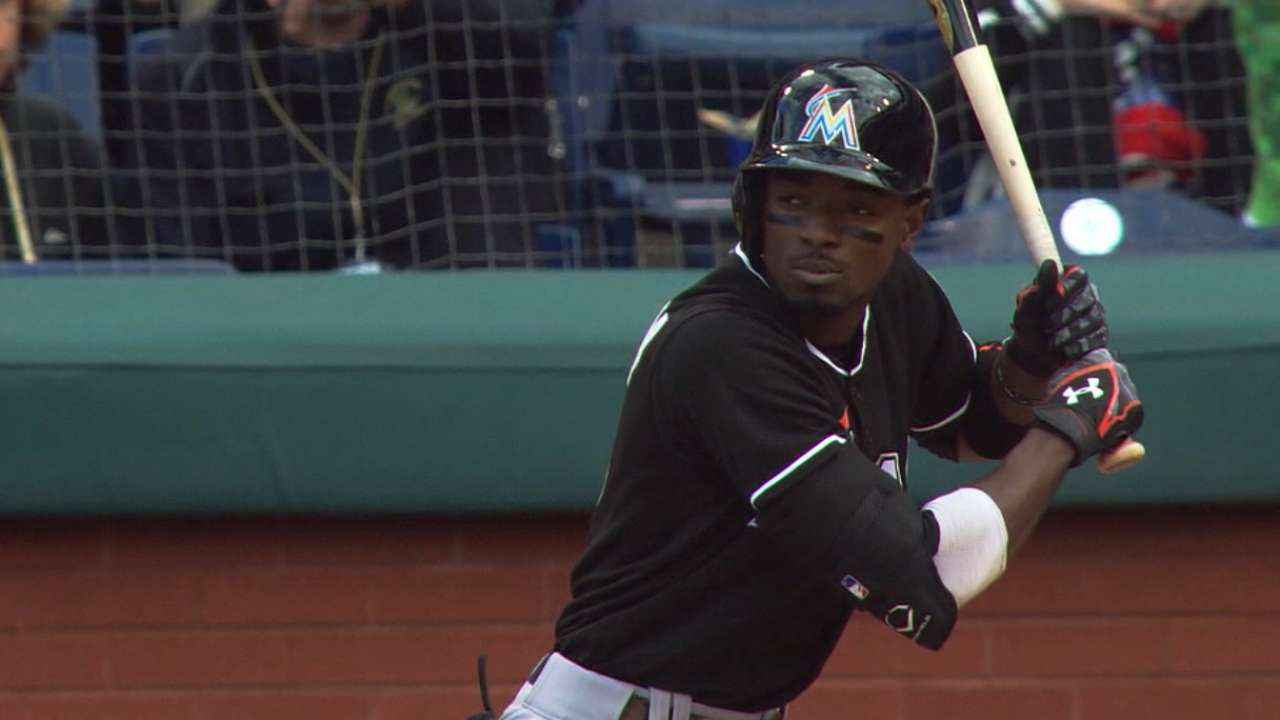 Any updates on talks about Dee Gordon's contract extension?
-- @FrankyRitz11
This will be a telling week on the extension front. Tuesday is the filing date for all arbitration-eligible players, and Friday is when salary figures are exchanged by all clubs and eligible players. Gordon is in his second year of arbitration. Miami has a policy of going straight to an arbitration hearing if a deal isn't reached by the salary-exchange deadline. I don't see that happening with Gordon.
In terms of an extension for the defending National League batting champion, from what I've gathered, a couple of scenarios are on the table. The two sides are talking about a one-year deal for Gordon for 2016, as a fallback in case a multiyear contract isn't reached. Another possibility is that the sides agree on a contract for 2016, then continue talking about an extension through Spring Training. Gordon isn't a free agent until 2019. It seems likely the sides will eventually reach a multiyear agreement. It's a matter of whether it gets done by Friday or sometime before Opening Day.
• Submit a question to the Marlins Inbox
Is there any possibility of the Marlins trying to sign Justin Upton and then trading Marcell Ozuna for a pitcher?
-- Gary R., Rochester, N.Y.
The club has indicated that it will apply whatever financial resources it has to pitching, not necessarily a high-priced free-agent position player like Upton. I don't see Upton as a realistic option.
Ozuna remains in play for a starting pitcher. But finding a match remains a struggle. Because Ozuna has yet to reach arbitration and isn't a free agent until 2020, the Marlins would want a young starting pitcher who arrives with controllable years. Most teams that have such pitchers are reluctant to part with them, even for an everyday outfielder. I see it about 50/50 that Ozuna will stay.
Do the Marlins still have interest in Yoenis Cespedes? They need to score more runs. Just getting Giancarlo Stanton back won't cut it.
-- @DrIanHochman
All offseason, the Marlins have shown no interest in Cespedes, who like Upton, could be seeking a deal for more than $100 million. If Ozuna is traded, then the question would be whether Miami would turn to a free-agent outfielder like Cespedes. I've heard if Ozuna does get traded, the club is willing to move Christian Yelich from left field to center and platoon Derek Dietrich in left.
My opinion is that the everyday lineup could be highly productive as is, if healthy.
Is Tim Lincecum still a potential option for the Fish?
-- @wallacejohn69
No one saw new hitting coach Barry Bonds deciding to go from San Francisco to Miami, so why not Lincecum? Perhaps Bonds could even help recruit the 31-year-old right-hander. But any decision will come down to performance. If Lincecum shows in a workout that he has anything left, then the Marlins may think he is worth a shot. In that scenario, I'm sure there would be plenty of competition for his services. I think Lincecum is possible, but probably a long shot.
Joe Frisaro is a reporter for MLB.com. He writes a blog, called The Fish Pond. Follow him on Twitter @JoeFrisaro. This story was not subject to the approval of Major League Baseball or its clubs.