MLB.com Columnist
Bill Ladson
Storen will miss DC, but excited for chance in Toronto
WASHINGTON -- When Drew Storen's phone rang on Friday night, he noticed that Nationals general manager Mike Rizzo was on the other line. He figured Rizzo wasn't calling him to say, "Happy New Year."
Storen turned out to be right. Rizzo called to say the right-handed reliever had been traded to the Blue Jays for outfielder Ben Revere. The trade for Storen may mean he will be the closer in Toronto. Storen thanked Rizzo for drafting him as the 10th-overall pick in the 2009 Draft.
The 28-year-old pointed out that he was able to move through the system quickly and have success in the big leagues. Storen said winning the 2012 National League East title was his best moment in a Nationals uniform.
"It's sad. I'm going to miss D.C.," Storen said via telephone on Saturday. "I'm forever thankful for the opportunity I was given and the way I was treated by all the fans. I really enjoyed my time [in Washington]. I can't put it into words what it meant to help create something special for the organization.
"Going to the Blue Jays [gives me a chance to play for another] great organization. [Toronto is] in a great spot to win. There is a possibility to be an impact guy."
For Storen, he ended having up-and-down career with the Nationals. This past season, he was having arguably the best season of his career -- going 1-0 with a 1.89 ERA during the first half -- until the Nationals traded for Jonathan Papelbon to become the closer. After Papelbon joined the team, Storen had a 7.13 ERA and broke his right thumb after he allowed a two-run homer to the Mets' Yoenis Cespedes that snapped a 2-2 tie in the Nationals' 5-3 loss on Sept. 9. Storen called it the worst moment of his career.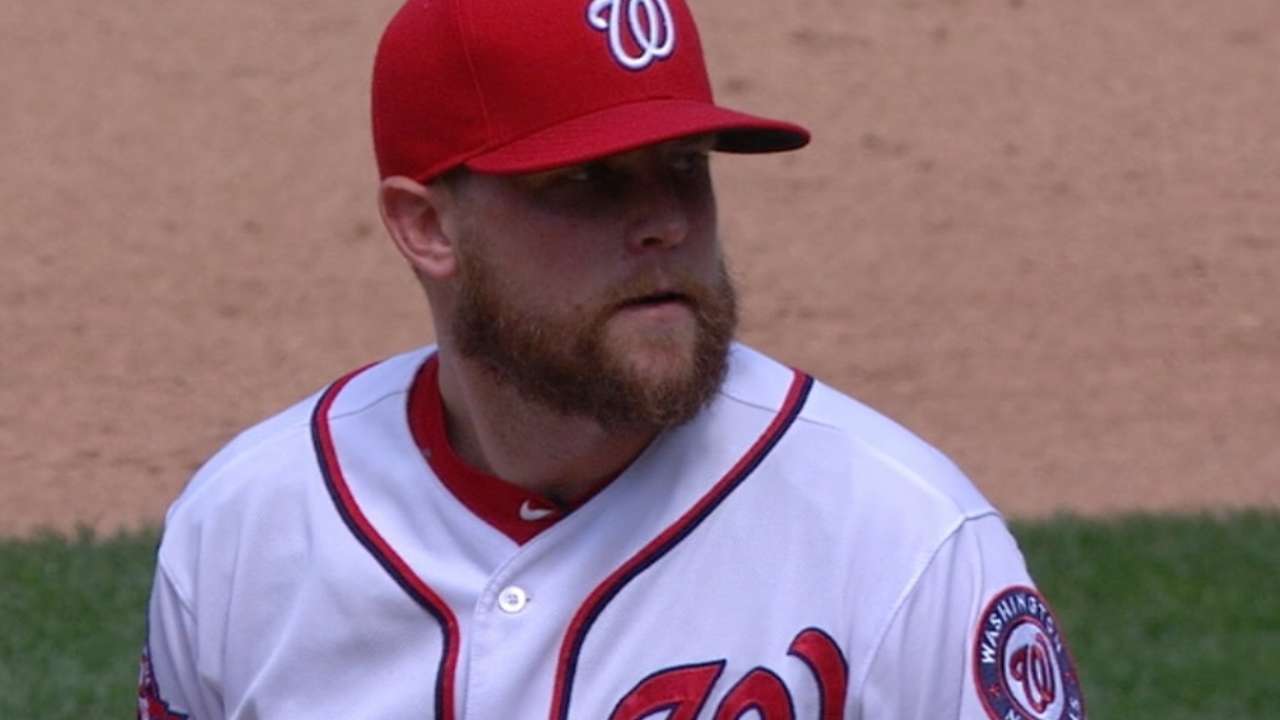 "The end of this year was most disappointing. There was a lot of frustration going around. It's just part of the game," Storen said. "It was tough to sit and watch the end of the year when we were out of it. We had such high hopes to start the year. All the fans were disappointed, we were all disappointed."
After Papelbon joined the Nats, Storen and his agent, Brodie Van Wagenen, had a meeting with Rizzo on July 31 in New York. While no one went into specifics, it was assumed that Storen expressed his desire to be traded.
• Ringolsby: Deal good for all
"I don't know how it works with other GMs, [but] Mike and I were always able to talk about things," Storen said. "That helps. Communication is key."
Said Rizzo, "The one thing I can say honestly is, we had some difficult conversations, but we had them eye to eye and man to man. This is a guy who cared about the organization and handled himself in a professional way every single time. I'm proud to say he is a product of the Washington Nationals."
During his Major League career, which dates back to 2010, Storen has lost his job as the Nationals' closer three times. Coming off a 43-save season in '11, Storen started '12 on the disabled list because of a right elbow injury. When he returned, he lost his job to Tyler Clippard. Storen regained the closer's job toward the end of the regular season that year.
After the season, Storen lost his ninth-inning job again, after the team acquired Rafael Soriano -- who kept the job until he slumped badly during the second half of the 2014 season. Storen flourished during that September -- posting a 0.00 ERA over 14 appearances -- and that success carried over to the first half of '15.
Bill Ladson is a reporter for MLB.com and writes an MLBlog, All Nats All the Time. He also can be found on Twitter @WashingNats. This story was not subject to the approval of Major League Baseball or its clubs.