MLB.com Columnist
Bill Ladson
Rizzo's offseason plan for Nationals coming together
Trade for Revere latest move in GM's quest to upgrade club's offense
WASHINGTON -- General manager Mike Rizzo believes he improved the Nationals' offense on Friday night, after he acquired outfielder Ben Revere from the Blue Jays for reliever Drew Storen.
Not only do the Nats get a player who hits at the top of the lineup, they get a guy who puts the ball in play. In fact, Revere has struck out only once every 10 at-bats during his career. The Major League average is once every 4.6 at-bats.
In a conference call with the local media on Saturday, Rizzo said he wants the team to cut down on strikeouts. The Nationals racked up 1,344 whiffs last season, the third-highest mark in the Major Leagues. Besides Revere, the club signed free agent Daniel Murphy, who is also known to put the ball in play.
"We [gave] our manager, Dusty Baker, a lot of different ways to go," Rizzo said. "We feel good about where we are at -- balance-wise in the lineup, athleticism, speed. Those are all the things we tried to adhere to this winter. If you look at the accomplished Major League hitters we put on the roster -- the guys that don't strike out much and move the ball around -- that's what we went into the offseason trying to do. We've accomplished a lot of our goals."
Revere, 27, had arguably his best season in the big leagues in 2015 -- hitting a combined .306 with 45 RBIs, 31 stolen bases and a .342 on-base percentage -- with the Phillies and Blue Jays. He owns a .292 career average from the leadoff spot.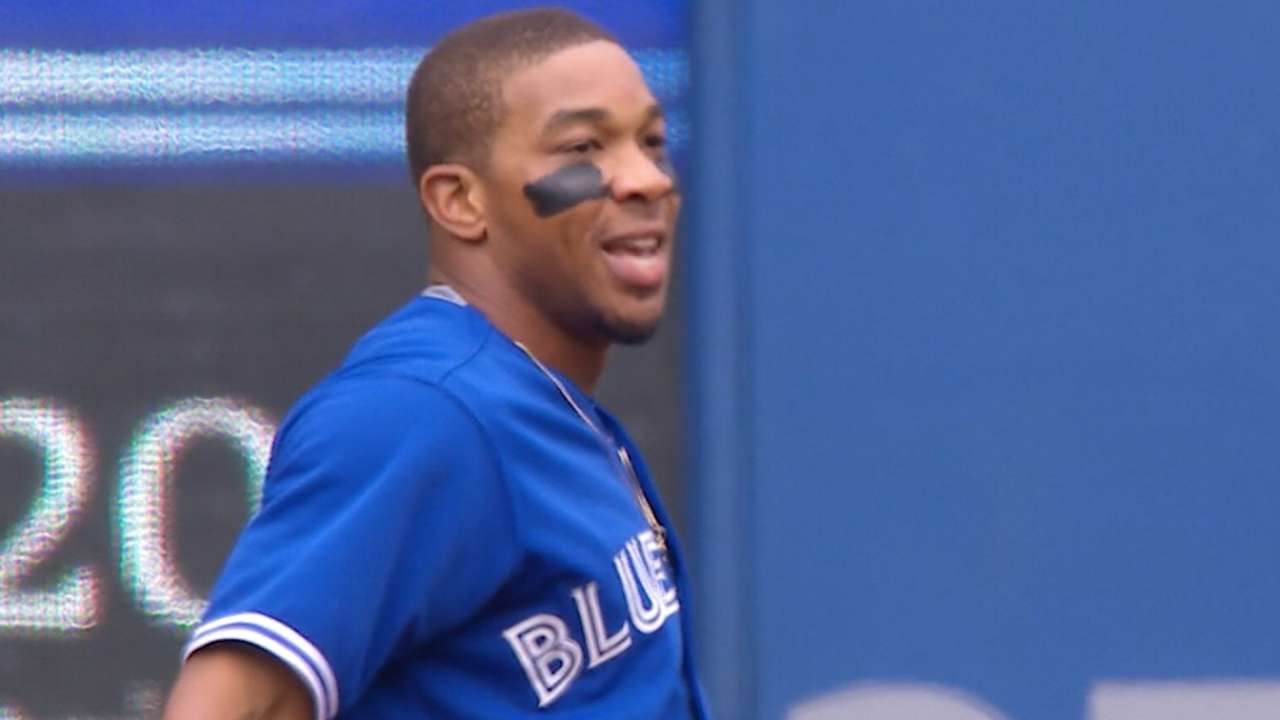 Defensively, Revere can play all three outfield positions, but an American League scout said he is "slightly below average" when it comes to playing out there. Revere has trouble with balls hit directly over his head, but he uses his speed to make up for his route running. Revere also doesn't have a strong throwing arm.
"He is not going to throw anybody out," the scout said. "But what he lacks on defense, he makes up for it on offense."
With Storen no longer on the team, the Nationals have several candidates -- Shawn Kelley, Trevor Gott, Blake Treinen and Felipe Rivero -- who can fill in as the eighth-inning setup man.
• Ringolsby: Deal good for all
"We feel good about where we are at," Rizzo said. "We have depth. We have quality. We have pitchers who have pitched in an array of roles in the back end of games."
As of now, it looks like Jonathan Papelbon will be Washington's closer. Rizzo doesn't seem to be in a rush to trade the right-hander. It would be tough for Rizzo to trade Papelbon because has a no-trade list. He can't be traded to 17 teams -- the D-backs, Braves, Orioles, Reds, Rockies, White Sox, Astros, Royals, Dodgers, Marlins, Brewers, Twins, A's, Pirates, Mariners, Rangers and Blue Jays.
The teams Papelbon can be traded to without his permission are the Red Sox, Cubs, Indians, Tigers, Angels, Mets, Yankees, Phillies, Rays, Cardinals, Padres and Giants.
"If there is a baseball trade, we'll make it. We see Papelbon as [one of our late-inning relievers]," Rizzo said. "He has been very effective, including last year -- except for the last portion of the season. He is a quality reliever, quality closer. ... He knows how to win. He brings a swagger to the bullpen. He is a guy we are going to rely on in the late innings."
Bill Ladson is a reporter for MLB.com and writes an MLBlog, All Nats All the Time. He also can be found on Twitter @WashingNats. This story was not subject to the approval of Major League Baseball or its clubs.