Jaso ready, eager to learn to play first
32-year old has only played five Major League innings at the position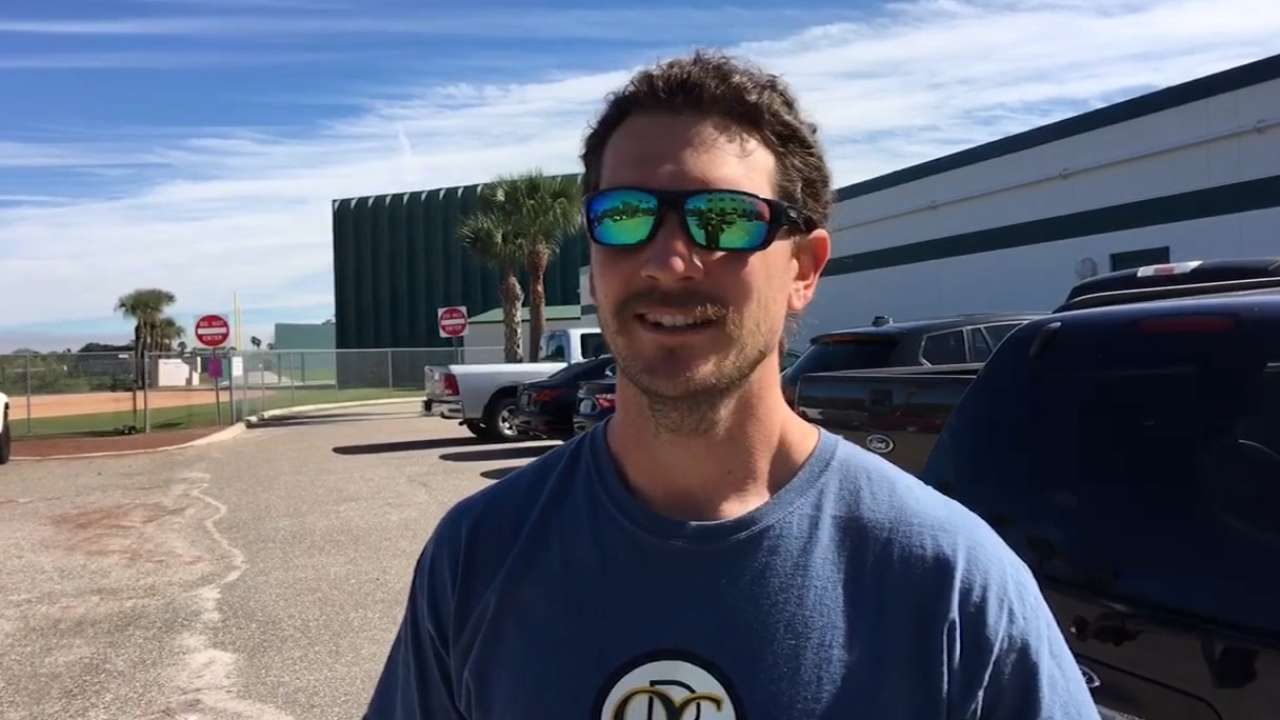 PITTSBURGH -- Over nearly two months as a free agent, John Jaso developed a sense of what the league thought of him. Most interested clubs were in the American League, where he'd spent his entire career, and they were looking for a left-handed designated hitter, the same role Jaso filled with the Rays last season.
Then came the Pirates, searching for a left-handed-hitting first baseman to replace Pedro Alvarez and pair with Michael Morse. In 13 years as a professional baseball player, Jaso has only spent 20 innings at first, including five in the Majors. Still, he was intrigued by the team and the opportunity.
Learning a different position will be a new challenge for Jaso. But it will be a familiar one for the Pirates, who tried to move Alvarez from third to first last season, an experiment with unexpectedly poor results. It's an assignment Jaso is prepared for -- and a more appealing proposition than shelving his glove entirely.
"I'm really looking forward to the whole first base thing. I really like playing with a glove on my hand. That was definitely alluring," Jaso said in a phone interview shortly after signing a two-year, $8 million deal with the Pirates on Dec. 23. "I didn't want to be stuck at DH. It's just exciting to take on that challenge with a new defensive position and everything, which I'm totally confident in accomplishing and getting better at."
Jaso's greatest asset -- the reason teams wanted him as a DH -- is still his bat, a weapon made more potent by his patient approach at the plate. The Pirates needed a left-handed hitter to balance their lineup, and they needed someone with the ability to consistently get on base. Jaso satisfied both criteria.
When healthy last year, Jaso hit .286/.380/.459 for the Rays. Over the last four seasons, his 127 OPS-plus -- a figure adjusted for a player's ballpark in which 100 is the league average -- was actually 16 points higher than that of the home run-mashing Alvarez.
But as was the case with Alvarez, Jaso's offensive production won't be as important if it's negated by below-average defense at first base. After spending most of his professional career behind the plate, Jaso is ready for a crash course at his new position.
"I'm pretty comfortable over there. As long as I have a cup on, I'm pretty comfortable," he said, laughing. "I'm not scared in the least bit of playing a corner like that. I'm more excited. It's just going to be a fun adventure. ... We'll see what happens. It'll be a fun experience."
That essentially summarizes Jaso's outlook: It's something fresh, different -- and, he said, "Not just going out there and swinging a bat with a donut on it. It's going to be exciting."
To a certain degree, it's also a chance for Jaso to reinvent himself.
Recently, catchers have made the move to first base with varying degrees of effectiveness. Mike Napoli has been arguably the most successful example, becoming an above-average defensive first baseman. Joe Mauer also stepped out from behind the plate and turned into a capable first baseman. The Giants have occasionally moved Buster Posey to first, where he's handled himself well.
"He recognizes that it will be a challenge," added general manager Neal Huntington. "But he also recognizes that there's huge upside for him to show that he can play first base."
If he can play it well, there's also significant upside for the Pirates.
Adam Berry is a reporter for MLB.com. Follow him on Twitter at @adamdberry. This story was not subject to the approval of Major League Baseball or its clubs.