MLB.com Columnist
Marty Noble
Junior shared more than No. 24 with Mays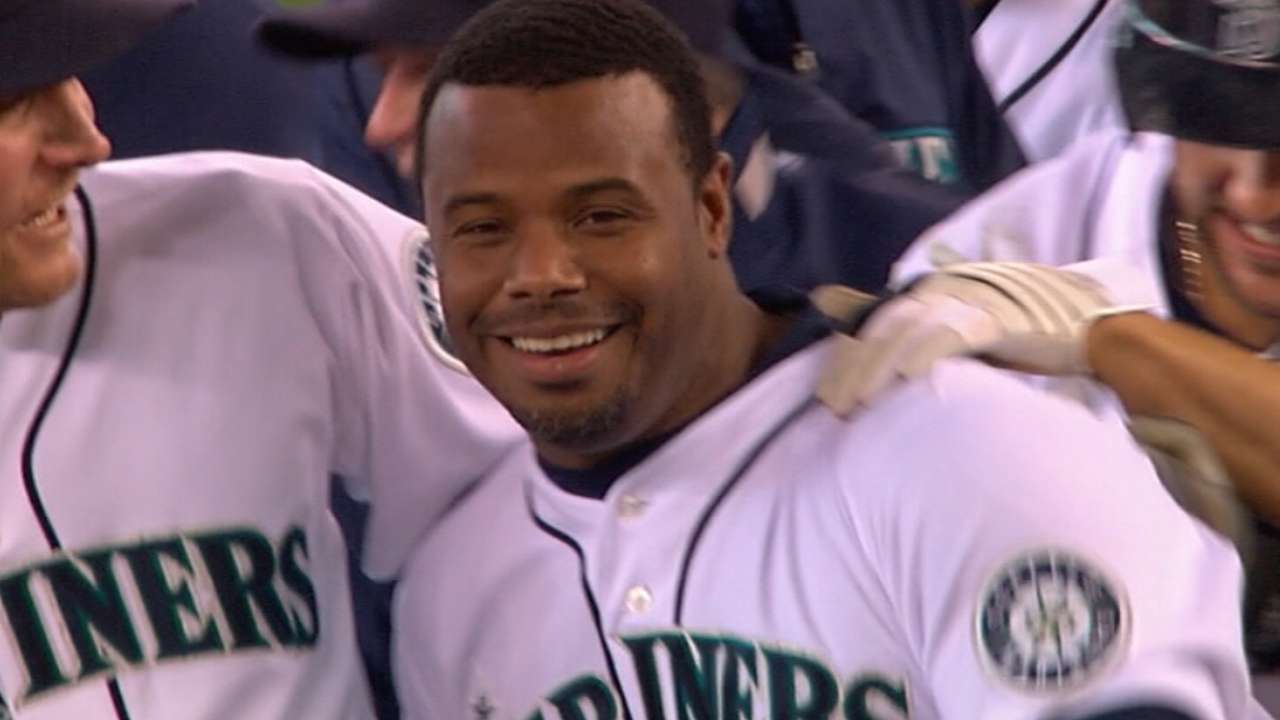 When I visited ballparks more often than I do these days, and when reporters' access to players and other clubhouse personalities wasn't so restricted, I had a few dozen conversations with the fellas who ran the clubhouses -- the older baseball junkies with keen senses of what was good and bad for the game and its participants.
They typically were identified as equipment managers, but their responsibilities hardly were restricted to uniforms, caps and bats. There was a time when, for some equipment managers, those responsibilities included deciding which players wore certain uniform numbers.
In conversations with other clubhouse managers, I learned of reluctance on their parts to assign No. 7 to a hot-shot rookie for fear of inviting comparisons with the "next Mickey Mantle" to, well, the real Mickey Mantle.
"It's unfair to a kid to have him compared with a player with so much talent," one of the guys in the National League said. "And over here [in the NL], you don't want to give a kid outfielder 24 or 44."
Such assignments could prompt comparisons with Willie Mays and Hank Aaron.
* * * *
And then along comes Ken Griffey Jr. Before he saw a big league pitch, he was compared with his father, Ken Griffey Sr., and, because of his handsome and powerful left-handed swing, to Will Clark, Darryl Strawberry and, really, anyone else with a left-handed stroke who routinely hit fly balls beyond the reach of outfielders.
And then after Junior convinced the cautious Mariners he was ready, at 19, to play in the big leagues, he invited comparisons with two of the game's legends, Mays and Rickey Henderson, by asking to wear the uniform number each of them had worn.
Junior knew full well that Mays had worn 24, though the Giants' remarkable center fielder had retired before Junior was 5 years old. Henderson and Junior's dad were teammates with the Yankees in 1985 and part of '86. Henderson had worn No. 35 with the A's from 1979-84, but changed to 24 when he joined the Yankees.
In no way was the Mariners' kid intimidated by the number. Junior indicated Thursday he barely gave it a second thought.
"I had hit 24 home runs in summer ball," he said. "I knew Willie and Rickey had worn it, but it wasn't a big deal for me."
That's confidence.
If he subsequently had reservations about being compared with two of the game's most talented players, Junior never expressed them. He didn't seek comparisons either, but he'd been around the game for most of his 19 years and he knew the comparisons would happen. He never ducked them, and he performed with such skill and pizzazz that he benefited from them. It seemed appropriate that he wore No. 24.
Not that he compared favorably with Mays. Only Mantle and Aaron did in the 1950s and into the '60s. Junior didn't run the bases as daringly or swiftly as Mays, and he didn't have the batting average or raw power of Mantle. And even with the 630 home runs he hit in 22 seasons of 162 games (save the strike-shortened 145-game 1995 season), he finished his stellar career with 30 fewer than Mays, who had played 154-game seasons in his first eight years in the big leagues.
But Junior clearly was in the same ballpark, so to speak, as Mays. He didn't suffer from comparisons with Mays -- or any player.
My sense of it is that Griffey is the greatest player elected to the Hall since Mays. Really, no one is close.
Barry Bonds, before the accusations of PED use tainted his career and undermined his Hall of Fame candidacy, never was the outfielder Griffey was. Bonds didn't have a good arm, much less a great one, hence his assignment to left field. Bonds was a well-above-average defender, but even during his days with the Pirates (when he wore No. 24), he wasn't the dazzling acrobat Junior was.
Griffey's home run total (630) doesn't approach Bonds' 762 mostly because Junior was often injured in the second half of his career, with the Reds, and because he wasn't significantly more power productive after he reached age 35. Bonds was, and we suspect we know why.
So much of what Bonds accomplished statistically happened in a period shrouded by clouds of uncertainty. Not so with Junior. He was above that fray and above all others by any measure. He was a member of the All-Century team at 29 and didn't play a game in the 20th century until its first 88 years had passed.
But that's enough Bonds, actually too much Bonds. This is about Junior and Mays, the Say Hey Kid, about just how marvelous a player each was, what a remarkable combination of offense and defense each provided, how Griffey is close to comparable with the player widely recognized as the best to play the game since Ruth and how deserving of Hall of Fame status Griffey is.
Ninety-nine-point-three-eight percent of the vote is a rather impressive mandate. It deserves to be expressed in words. So what if three voters found reason to omit Junior from their ballots? Perhaps they did have reasons the rest of us would accept as valid.
Griffey outpolled the game's greatest anyway -- Willie, Mickey, Stan the Man, Thumper, Babe, Joe D., Hammerin' Hank, Ott, Frank Robby and Gehrig, Greenberg, Foxx and Reggie, Brett, Schmitty and Mathews, Sandy, Rapid Robert, Lefty, Gibby, Seaver, Pedro, and Spahnie and Whitey, Mad Dog and the Unit. The reduction of the electorate probably played a role in Griffey's near unanimity. No matter, he still hit .994.
Let those without ballots who annually condemn the electorate condemn us all they want. The voters -- the senior members of the Baseball Writers' Association of America -- got this one right, and no one can logically dispute that.
Since the days of Willie Mays, no one has played the game so spectacularly well as Junior Griffey.
That practice probably began with the Nos. 3-4-5 sequence for Babe Ruth, Lou Gehrig and Joe DiMaggio and the baseball sense of Pete Sheehy, who ran the Yankees' clubhouse for decades.
Marty Noble is a columnist for MLB.com. This story was not subject to the approval of Major League Baseball or its clubs.