Griffey has no regrets about time with Reds
Newly elected Hall of Famer was hampered by injuries in Cincinnati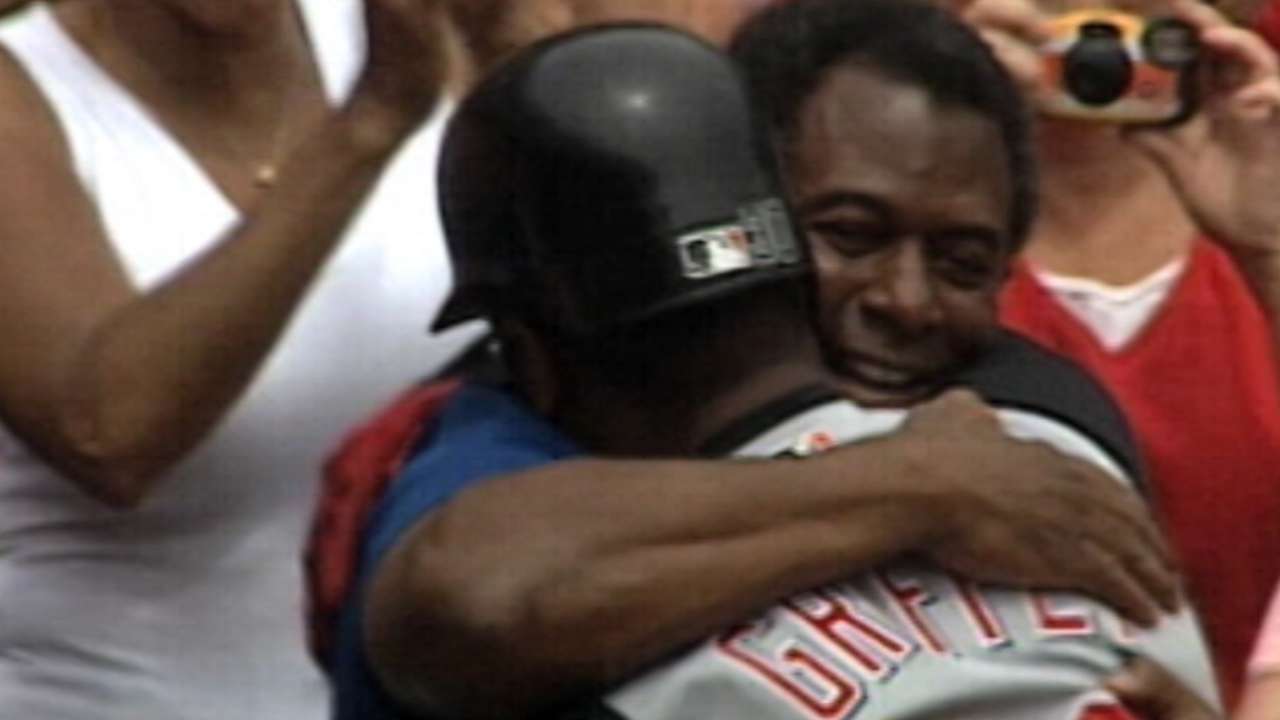 CINCINNATI -- When new Hall of Famer Ken Griffey Jr. asked for a trade from the Mariners to his hometown Reds before the 2000 season, he likely envisioned a much better outcome than he actually had during the latter half of his great career.
But as Griffey noted during a Hall of Fame news conference in New York on Thursday, "Father Time is undefeated."
"It was a learning experience," Griffey told MLB.com later during a drive through the city. "As you get older, you can't avoid Father Time. Things happen. I ran into a few walls and didn't get up right away."
• Griffey: All but 3 votes; Hall calls Piazza, too
During the first 11 years of his career with Seattle, Griffey had already achieved Hall of Fame-worthy feats, even before his arrival in Cincinnati. He slugged 40 or more homers six times, including in four consecutive seasons from 1996-99. He hit a career-high 56 homers in both the '97 and '98 seasons. In '97, he was the unanimous pick for the American League Most Valuable Player Award.
Griffey was also a 10-time AL All-Star and Gold Glove winner while with the Mariners. As popular as he was in the Pacific Northwest, he still desired the opportunity to play in Cincinnati, where Griffey grew up and where father, Ken Griffey Sr., played with the Reds.
With the Reds, there was only one winning season -- Griffey's first year for the club in 2000, also the year of his final 40-homer season. He made three more All-Star teams and did not win another Gold Glove while batting .300 just once -- in 2005.
One of the culprits behind Griffey's decline and unfinished business? Injuries. He missed 453 games from 2000-07 with disabled-list stints for injuries that included a completely torn left hamstring in 2001, a torn patellar tendon in his right knee and also a torn right hamstring in 2002, a dislocated right shoulder in 2003 and torn right ankle tendon in 2003, a torn right hamstring again in 2004 and strained biceps tendon in his right knee in 2006. In only two seasons -- 2000 and '07 -- did Griffey play at least 140 games.
There were no regrets about playing in Cincinnati, however.
"If you play hard, injuries are part of the game," Griffey said. "It would have been disappointing if I didn't get hurt and had those same numbers. Being hurt, you have to constantly adjust. Baseball is a game of constantly adjusting from pitch to pitch."
There were numerous great memories for the Reds, too. Junior was with the team when he hit his 500th career homer on Father's Day in 2004 and slugged No. 600 shortly before his trade to the White Sox in 2008. In 2001, he won a game in walk-off fashion with an inside-the-park home run at Cinergy Field.
And most important, perhaps, Griffey Jr. was able to play for the team his father played on during the elder Griffey's prime with the Big Red Machine of the 1970s.
"I grew up in Cincinnati," Griffey Jr. said. "I put on the same uniform my dad actually wore one time in a throwback game. I just took it from home and wore it."
When his plaque is completed, though, Griffey will be inducted into the Hall of Fame on July 24 while wearing a Mariners cap.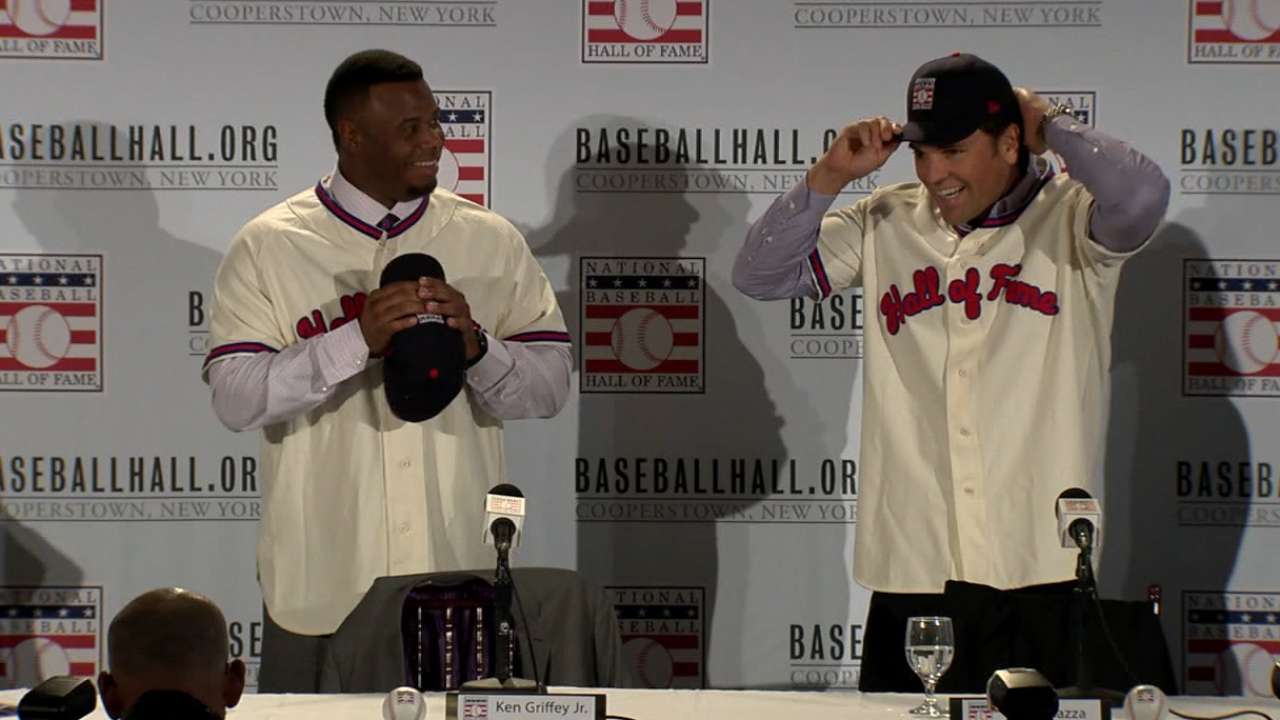 "I think I did most of my damage as a Mariner," Griffey said during the news conference beside fellow elected player Mike Piazza. "I want to be the first in a lot of things. To be able wear a Mariners hat and be the first Mariner to ever go into the Hall of Fame as a Mariner, that's one, or part of, the decisions I had to make. Being 19, they gave me the opportunity to play the game that I love. I spent most of the time in Seattle."
Now 46, Griffey was a local star for Moeller High School and was selected as the overall No. 1 pick of the 1987 Draft by the Mariners. Although he learned much about the game from his father, Griffey also credited his mother, Birdie, with helping him develop as a youth player.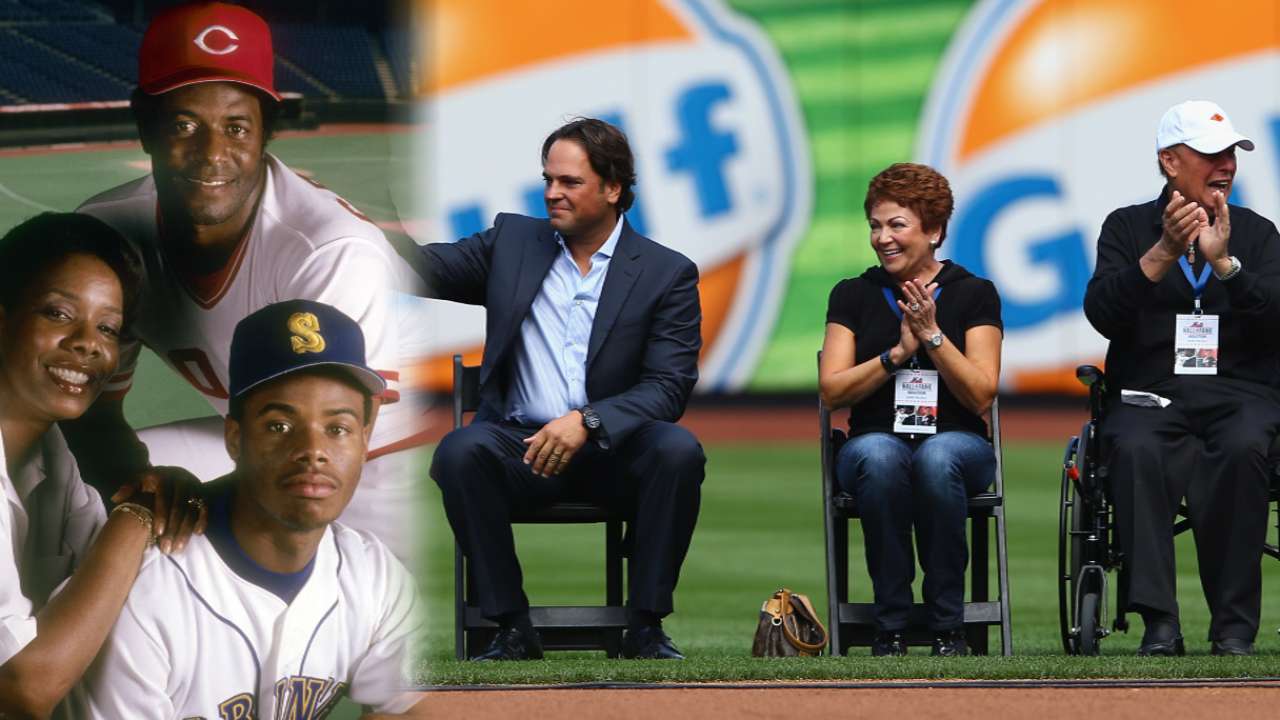 "Having a mom who has seen a whole lot of big leaguers play, it was her work," Griffey explained. "She would take me to the games, go to practices and everything like that. The shuttle, as everybody knows, is what moms do. She would be able to relay things to my dad and my dad would say something. She had a way of saying it much differently than my dad would say it. You know how dads can be sometimes. She knew my swing. She knew if I was fielding right and what I needed to do there. At that time, before I started playing, she watched six years of big league baseball and Minor League ball. She was able to say, 'You're doing these things wrong. You're doing these things right.'"
Over the 22-year Major League career that followed, Griffey certainly did a lot of things right.
Mark Sheldon is a reporter for MLB.com. Read his blog, Mark My Word, follow him on Twitter @m_sheldon and Facebook and listen to his podcast. This story was not subject to the approval of Major League Baseball or its clubs.