Smoltz, Glavine give takes on Hall vote
2015 inductee recalls story of exchanging homer, autograph with new electee Griffey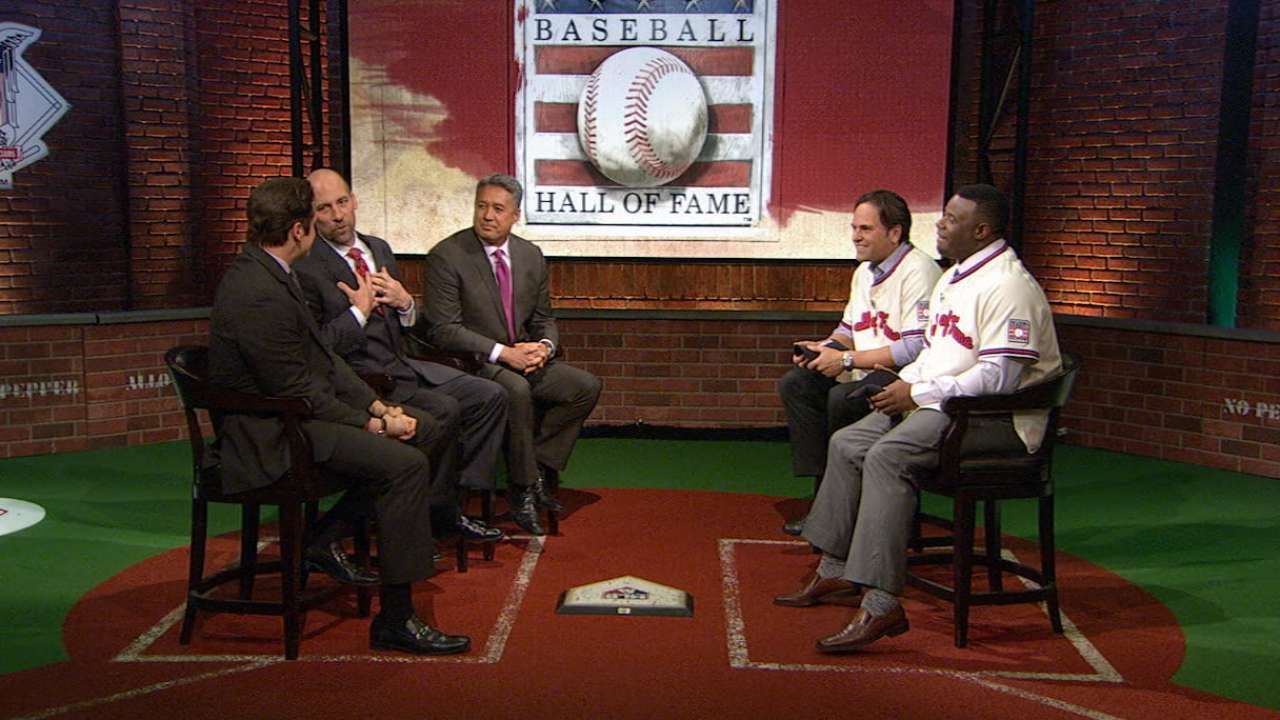 When Ken Griffey Jr. keeps his date with destiny and shows up in Cooperstown on July 24 for induction into the Hall of Fame, John Smoltz will be among the group of enshrined players welcoming him into the brotherhood of immortality.
The two will have a lot to reminisce about.
There was a Reds-Braves series at Great American Ball Park in early August 2006, at the beginning of which Smoltz, a rarity for him, asked Griffey to sign a bat for a friend of his.
"'Yeah,'" Smoltz recalled Griffey's response, "'throw me a cookie and we'll get it done.'"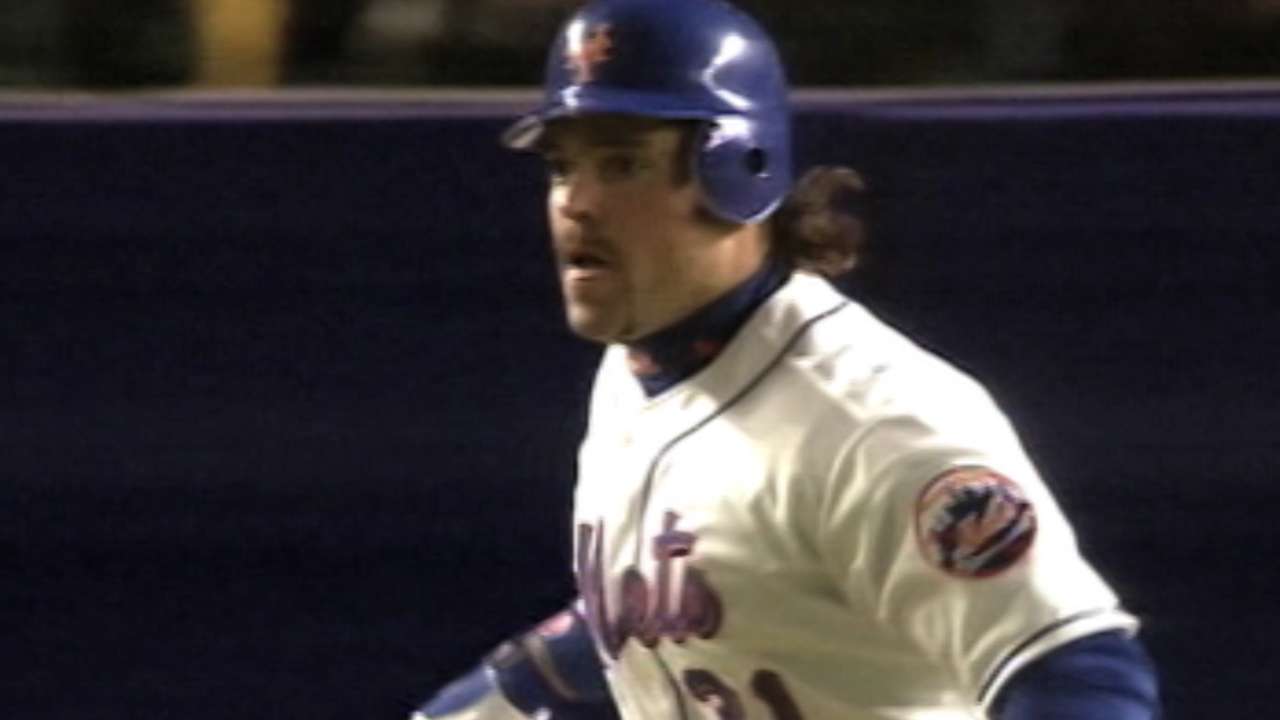 Two days later, bottom of the first, Smoltz's 2-2 pitch becomes Griffey's 559th homer. Smoltz was too fierce of a competitor to ever lay one in there, but Griffey could turn the meanest pitch into a cookie. Smoltz's buddy then got his autograph, in a Griffey "drive-then-sign" production long before an automaker ad campaign went the other way.
A year later, in Atlanta, Smoltz fooled Griffey into an awkward swing ... that produced a weak dribbler into the opposite left field for Junior's 2,500th career hit.
"So when he asks for the ball from first base, I gave him so much grief for getting as weak a hit as you can," Smoltz said. "And he just smirks at me as much as you can imagine."
Smoltz's longtime Braves staff-mate, Tom Glavine, had his own recollections of the other 2016 Hall of Fame electee, Mike Piazza.
"There's probably a few guys in the Hall of Fame I helped get there," said Glavine, including in that group Piazza, who owned the competition between them.
Before they became Mets teammates in 2003, Piazza batted .360 against Glavine, with more home runs (six) than strikeouts (five) in 75 at-bats.
"All those years I played against him, whether he was with the Dodgers or the Mets," said Glavine, who spent most of his 22-season, 305-win career in Atlanta, "in meetings, he was always the first guy we'd identify in the lineup and say, 'All right, we're gonna do everything we can not to let him beat us,' as John can attest."
While Piazza is arguably the greatest offensive catcher in the game's history, his defense took its fair share of criticism. Sure, Glavine admitted, Piazza only threw out 23 percent of base stealers. But he was good at the other things that are important for catchers.
"I don't think he's a poor defensive catcher by any stretch," Glavine said. "Was he the best thrower? No, he wasn't. That wasn't his strong suit. But as far as the rest of it went, he was adequate. I never had an issue in terms of throwing to Mike knowing he was going to call a good game."
Smoltz, Glavine and Indians manager Terry Francona were on a Thursday conference call held to promote a new celebrity golf tournament -- Diamond Resorts Invitational, to benefit Florida Hospital for Children, Jan. 14-16, in Windermere, Fla. -- which predictably morphed into reflections on Wednesday's Hall of Fame election announcement.
"First and foremost, congratulations to Mike and Ken -- both are obviously deserving. I'm sure it was a relief for Mike [to make it on his fourth ballot]," Glavine said.
Also predictably, the baseball royalty trio spent more time discussing those who were not elected than the two who were. Because, as Smoltz pointed out, "It's like anything else in sports: When March Madness rolls out, we focus more on the snubs."
Smoltz on Billy Wagner, the lefty closer whose 422 saves and 2.31 career ERA earned 46 votes: "I was a little surprised by that. Billy was an incredible left-handed closer."
Francona on Edgar Martinez (43.4 percent in his seventh year): "The DH is part of baseball, and he took it to another level."
Glavine on Trevor Hoffman, Lee Smith and Wagner, three closers on the outside with 1,501 saves among them: "With closers, it's a case of people still trying to figure out what it is and what it means. But it's not lost on those within the game; they know how much those guys can impact a game."
Francona on Larry Walker (15.5 percent in sixth year): "When he was in his prime and he was healthy, he was as good as anybody. He was such a good baserunner ... like his head was on a swivel."
Smoltz even got Mark Mulder into the conversation. The former lefty wasn't on the Hall of Fame ballot, but he will be at the Golden Bear Golf Club for the 54-hole event and is the pick-to-click by Smoltz, a premier golfer himself who once considered trying to join the PGA Tour.
"In my eyes, Mulder is the favorite," Smoltz said. "You're going to see some of the longest hitters ever -- not perfectly straight all the time, but ... a guy like [Josh] Donaldson can hit it a long way."
Donaldson, the reigning American League Most Valuable Player, is expected to compete in The Golf Channel televised tournament along with other baseball players Jose Bautista, Justin Verlander, Brian McCann, Greg Maddux, Johnny Damon, Reggie Jackson, Gaylord Perry, Clemens, Smoltz, Glavine and Francona.
Tom Singer is a reporter for MLB.com and writes an MLBlog Change for a Nickel. He can also be found on Twitter @Tom_Singer. This story was not subject to the approval of Major League Baseball or its clubs.