Piazza's path to Cooperstown took detour
Newly elected Hall of Famer recalls brief stint with Marlins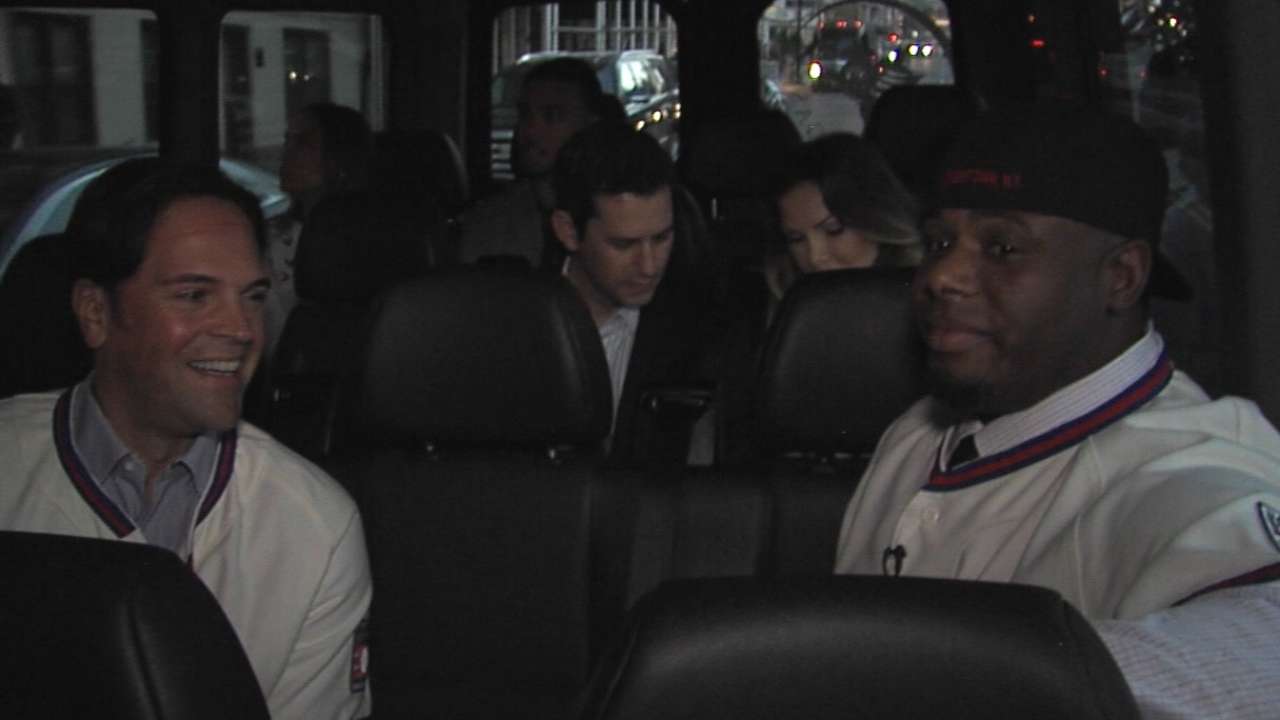 NEW YORK -- It's not like anyone expected Mike Piazza to go into the Hall of Fame in a Marlins cap. But the new electee paused during the introductory news conference Thursday to contemplate his fabled five-game Florida career and those eight strange days that led to his time with the Mets.
"It's funny," he said. "Sometimes in life change is difficult and it's tough. But if it happens, it knocks you out of your comfort zone, sometimes you just have to go along for the ride and try to make the best of it."
On May 14, 1998, on his way to a sixth consecutive All-Star selection in as many full seasons, Piazza was traded with Todd Zeile to the Florida Marlins for Gary Sheffield, Charles Johnson, Jim Eisenreich, Bobby Bonilla and Manuel Barrios. It was an unprecedented swap of nearly $100 million in contracts.
• Griffey: All but 3 votes; Hall calls Piazza, too
Piazza was huge in Hollywood, but he was in his last year before free agency and he reportedly was seeking a contract extension of at least $100 million, having already rejected the Dodgers' six-year offer of between $80 million and $85 million. The Marlins had just won a World Series in only their fifth season, and owner Wayne Huizenga was conducting an infamous fire sale in that year after. The Marlins were continuing their payroll purge.
"It was an interesting time for me and for the team," Piazza said of the Dodgers. "The team was obviously in transition. It was sold. It was sold several times after that. It was just one of those things. It was maybe a combination of egos and bad timing, whatever the case may be. It just wasn't meant to be. We couldn't work out an extension there.
"So I guess the powers that be there just decided to obviously trade me. Somehow I ended up with the Florida Marlins, which was a whole other story. They had just come off a World Series. As you know, Huizenga didn't get the stadium there and decided to unload the team. I ended up there for only a short amount of time."
He immediately joined the Marlins during a road trip in St. Louis -- and drove in a run on the very first pitch he saw with Florida. It was a pinch-hit sacrifice fly off Todd Stottlemyre to tie the game in the seventh.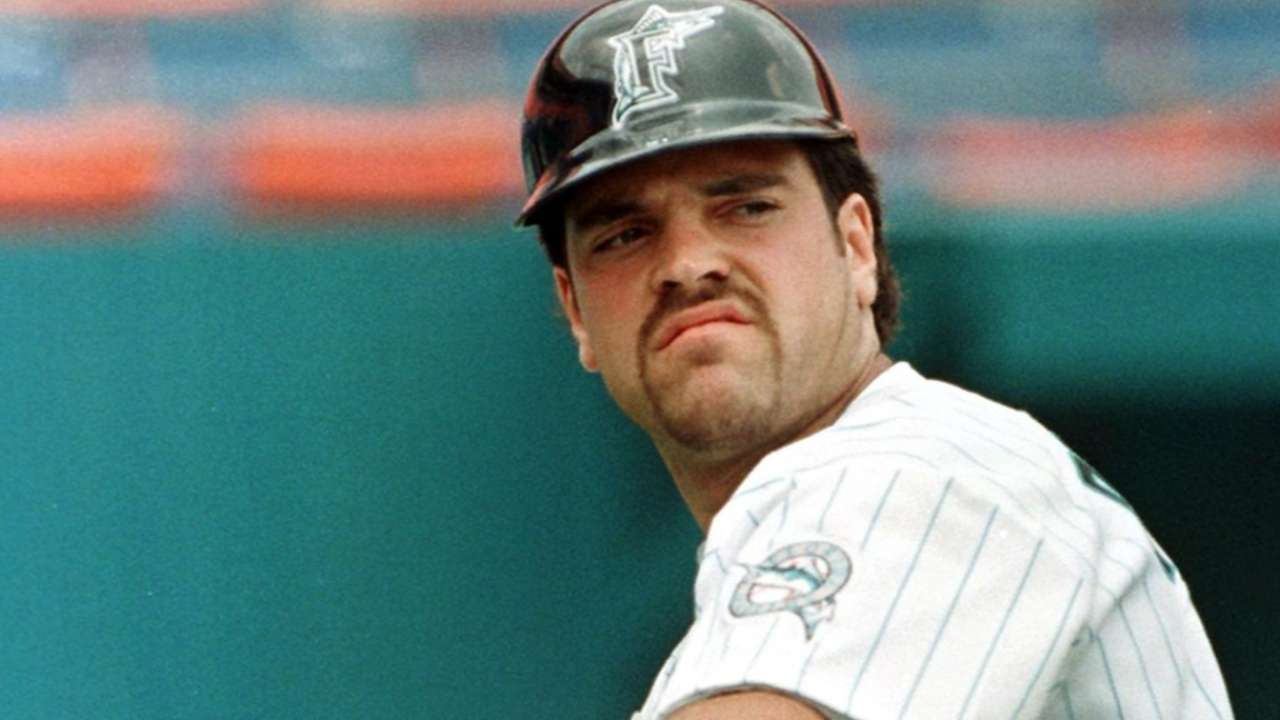 In those three games against the Cardinals and two more at home against Arizona, Piazza put together these career Marlins numbers: 5-for-18, five RBIs, one run and one of only eight career triples.
He played in front of two Marlins home crowds: 17,560 and then 15,116. Then, suddenly, he was gone again.
"At one point, I thought I was going to another team," Piazza said. "Lo and behold, I ended up with the New York Mets, [and] believe it or not, at the time I had no idea I would end up here."
The Mets came out of nowhere to get him on May 22, sending Preston Wilson to the Marlins along with pitching prospects Ed Yarnall and Geoff Goetz. Bobby Valentine had turned the Mets around as their new manager in 1997, and Piazza's acquisition was one of a few moves intended to make them a contender. Veteran reliever John Franco gave up his No. 31 to make Piazza feel at home, and the New Yorkers hyped Piazza first as a "savior."
Piazza made his debut May 23, and auspiciously so: He caught Al Leiter's complete-game victory and provided the key hit, an RBI double off Jeff Juden. But Todd Hundley had been a popular catcher for the Mets with an improving game, and being a "savior" from the other coast initially wasn't all it was cracked up to be. Piazza had early struggles with his new club and took some early heat from fans and the New York press. However, he managed to bat .351 in the second half of that season, led the Mets to a playoff push and signed a seven-year contract after the season.
In 2000, he led the Mets to their first World Series in 14 years, and his litany of highlights include the World Series splintered-bat showdown with Roger Clemens, plus the home run that lifted spirits all over America in the first game played following the Sept. 11 terrorist attacks.
That he announced Thursday he will go into Cooperstown with a Mets cap came as no surprise.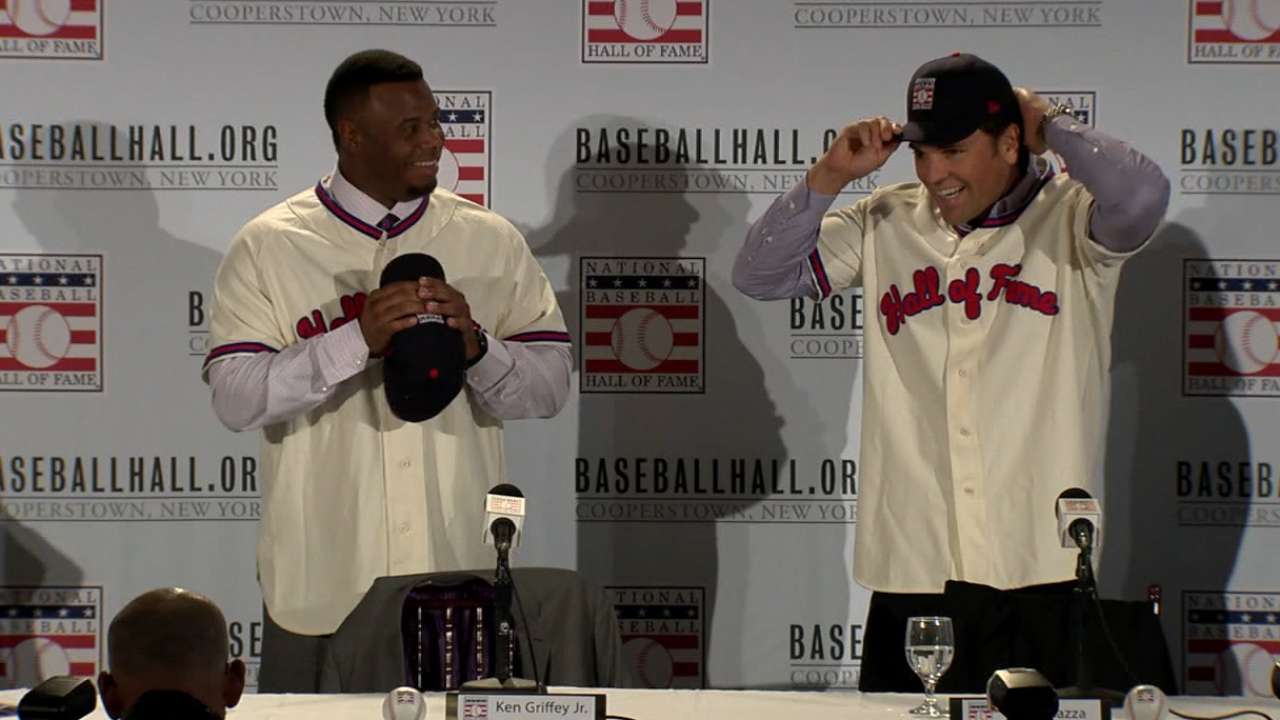 "For me, at first it was a tough time here," Piazza said. "I don't feel like I was embraced. I wasn't by any means playing well. Eventually I decided to try to do the best I could. The fans responded. Ended up having an amazing experience here in New York, eight amazing years. I've been rewarded and blessed by the support I received here.
"To be embraced in New York City is something very special, as you all well know being here. Something I can't describe."
Ironically, Jorge Posada becomes a first-year Hall eligible next year, and there was at least a fleeting notion that he and Joe Girardi -- a backstop platoon in that 1998 championship season -- could have been supplanted by Piazza as Yankee catcher. The New York Times cited a baseball official who said the Yankees "were interested in acquiring Piazza from the Marlins."
Yankees GM Brian Cashman said at the time, "I never say never on anything, but I am not in any talks about Piazza."
Owner George Steinbrenner was tight-lipped, but expected by some to pay big if it was needed.
Joe Torre, then the Yankees' manager, tried to squelch all the Piazza talk by saying: "'I don't see us changing what we've done catching-wise. Obviously he's a premier player. He could wind up anywhere. I like the way our catching stuff is working out."
Instead, it was Piazza and the Mets facing Posada and the Yankees in that Subway Series in 2000. Piazza had plenty to say on Thursday about his career, one in which he hit 427 homers, including a record 396 among catchers, and it was worth a trip down memory lane to recall those crazy times that got him from Los Angeles to New York.
"I eventually ended in New York in some way, shape or form and became a New York Met," he said. "It was an interesting journey, and maybe it was just a transition time in the game. Sometimes you just have to, again, make the most of a situation that is thrust upon you in some ways. That's what I did."
Mark Newman is enterprise editor of MLB.com. Read and join other baseball fans on his MLB.com community blog. This story was not subject to the approval of Major League Baseball or its clubs.